Day 32 (1st April) Dohuk to Amedi
The first place on my schedule to visit in Kurdistan was Lalish, capital of the Yazidi people who are thought to be devil-worshippers by orthodox Moslems. We didn't see any signs for Lalish and drove almost to Amedi before the man who filled the van with diesel sent us back to Dohuk. We spent much of the day driving slowly along small roads through the most glorious scenery, passing through many peshmerga checkpoints where very friendly soldiers kept pointing us in the right direction. I would have got very stressed were it not for the stunning scenery: bare stony hills alternating with emerald-green fields and tiny villages with kiddies playing football in the road. There were no signs, possibly because the Yazidis are not well-regarded by anybody, possibly because they don't want their temple to become a museum for tourists with selfie-sticks.
Eventually we found it and were told by soldiers at the entrance to take our shoes off like everyone else, although you can wear socks. A very friendly family invited us to sit down with them for tea and a plate of small cakes and sunflower seeds. The Yazidis we met were lovely welcoming people. I think Saturday must be their holy day because large numbers were walking into the temple, many carrying large pots on their shoulders.
Leaving Lalish, I tried to be smart and take a short cut to Amedi without going back to Dohuk, but kept getting lost so we arrived there after dark. We found a 2-star hotel where we got the penthouse suite for $35. The owner couldn't speak English so he got the owner of the supermarket next door to translate (he had worked in a kebab restaurant on Wilmslow Road in Manchester for 6 years). Because the sun had set, pious Moslems were breaking their fast and going to restaurants. We were directed to Pel House where we had very nice meals of kebabs, salad, pomegranite sauce and chips which the Kurds call fingers. A Canadian of Kurdish extraction had a most pleasant conversation with us. Returning to the hotel, we found that there were no towels so Jennifer went downstairs and precipitated a family row with the owner shouting at his 7 children as they sorted through a vast mound of clothes, sheets, towels etc which had been taken out of the tumble-dryer. This is a Fawlty Towers hotel with the owner even more Basil than John Cleese.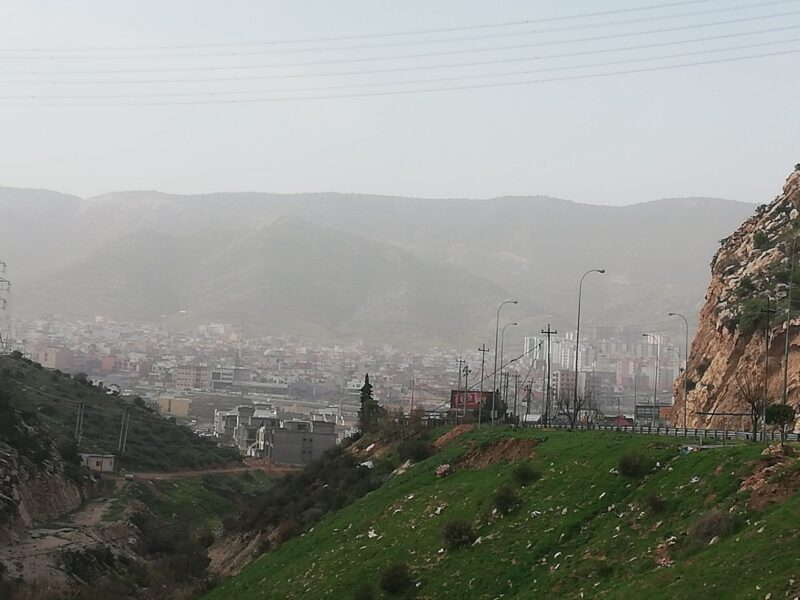 Dohuk from the east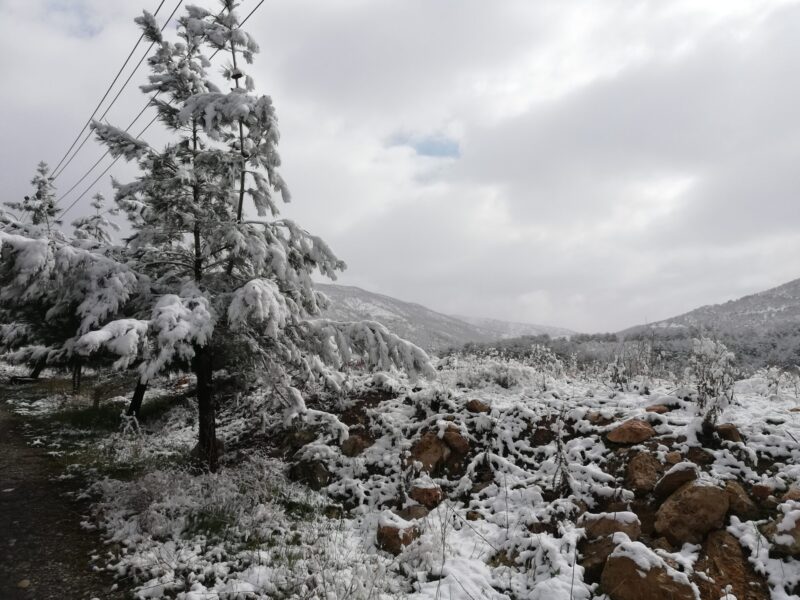 Believe it or not, this is Iraq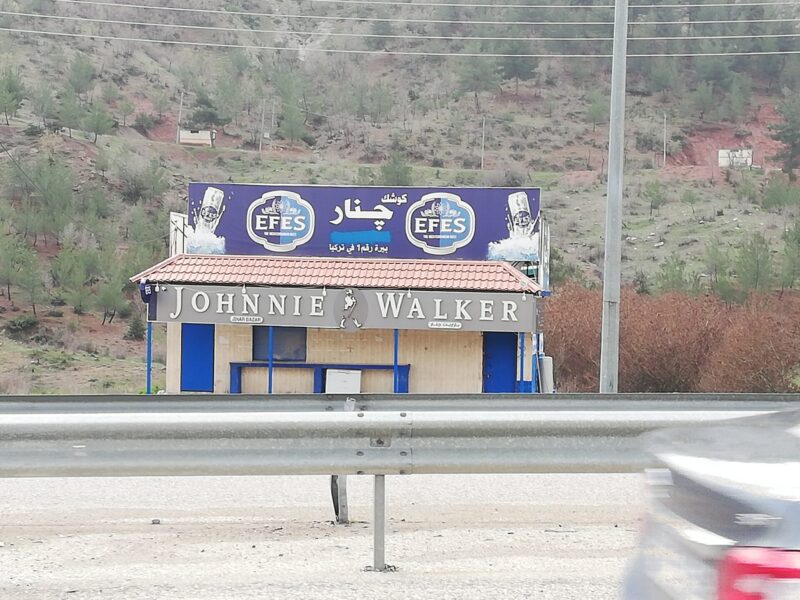 A strange advert in Iraq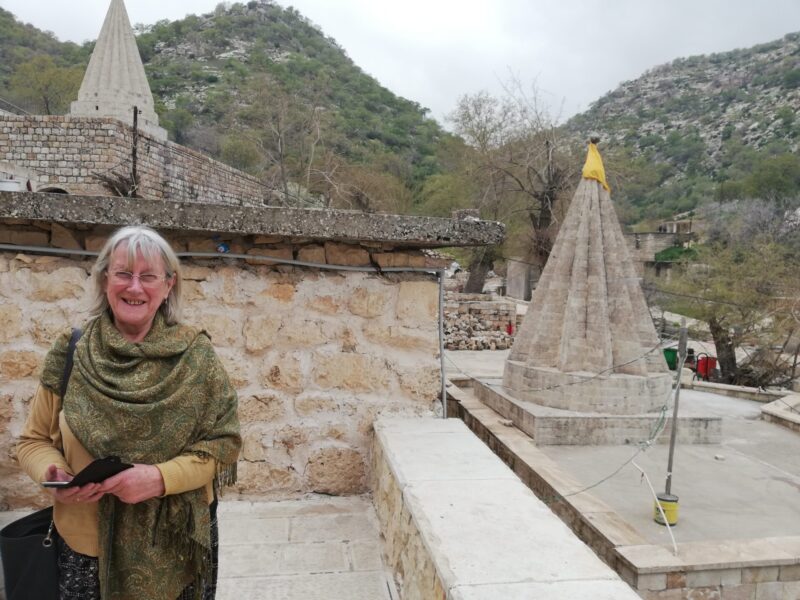 Lalish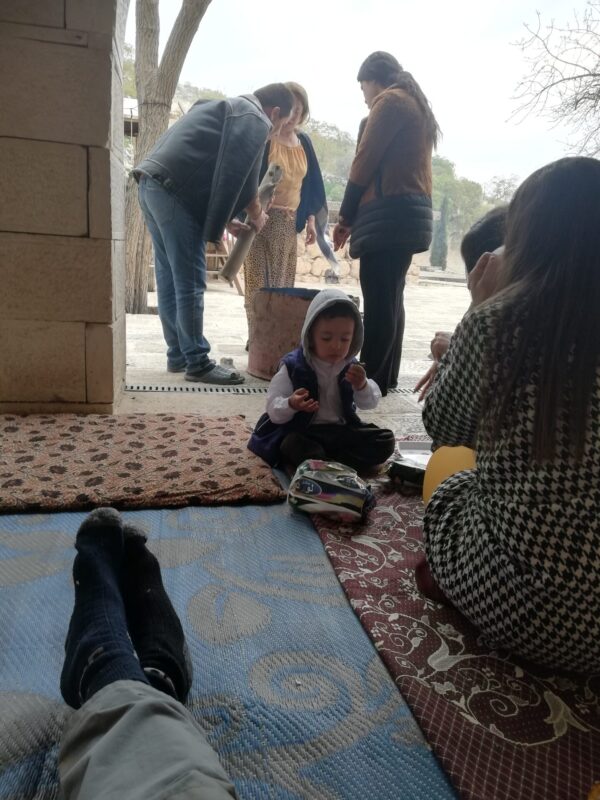 A beautiful Yazidi family getting the fire blazing to brew tea. My feet in the foreground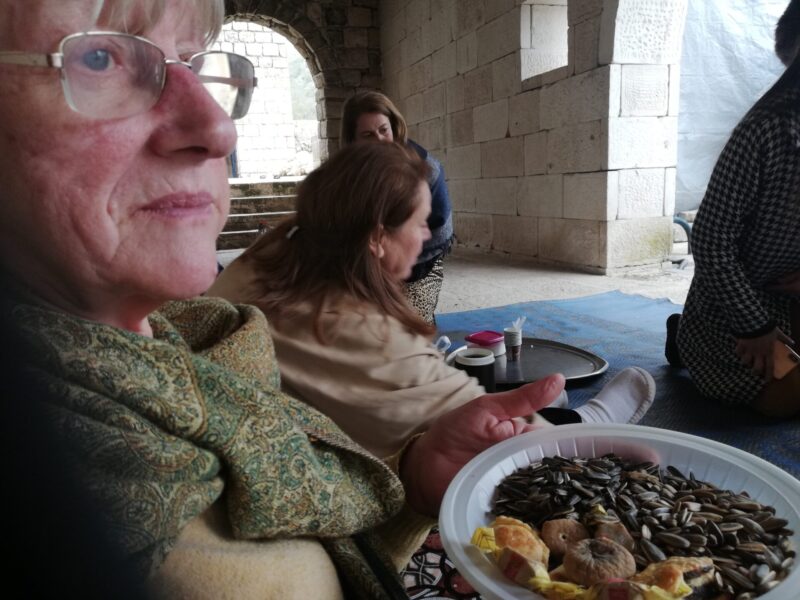 The dinner they gave us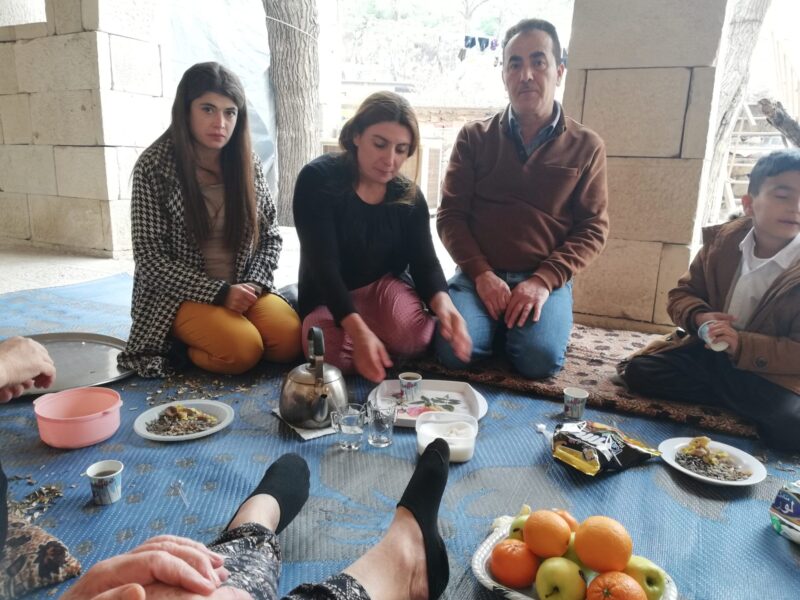 Lovely Yazidi family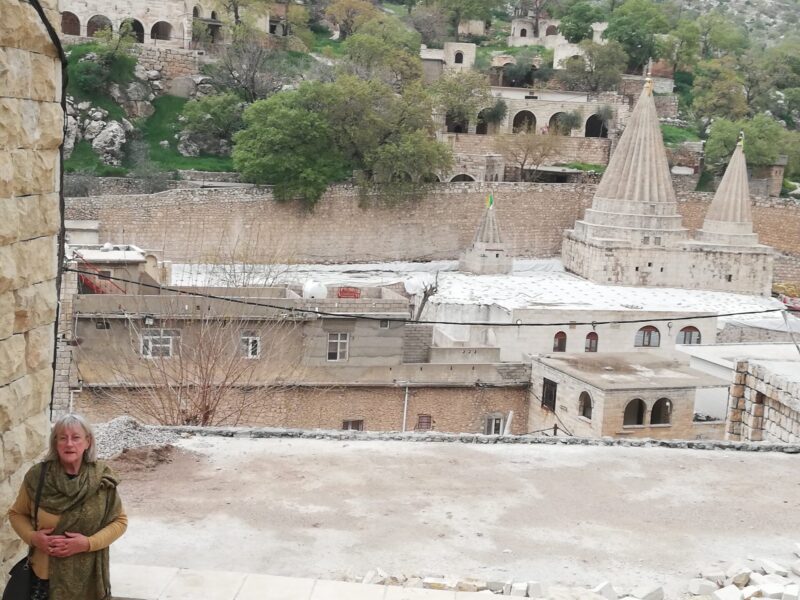 A Yazidi temple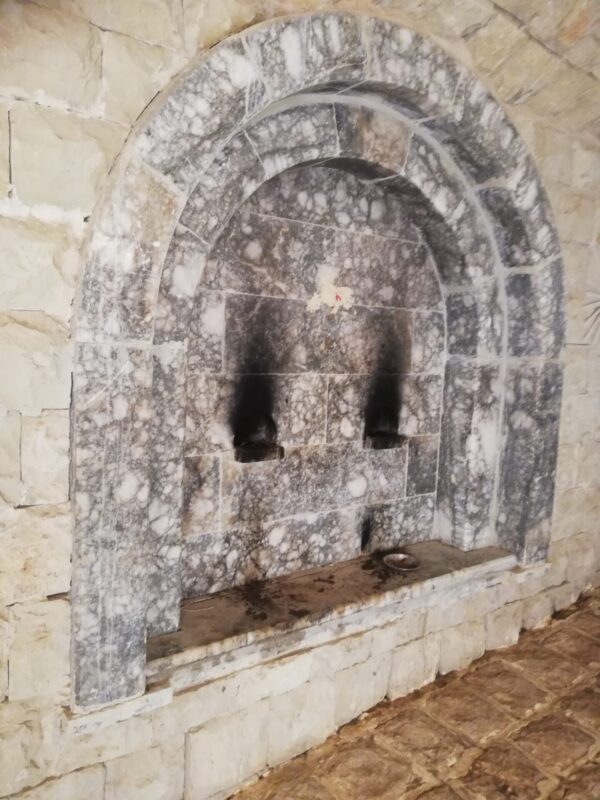 Incense-burning altar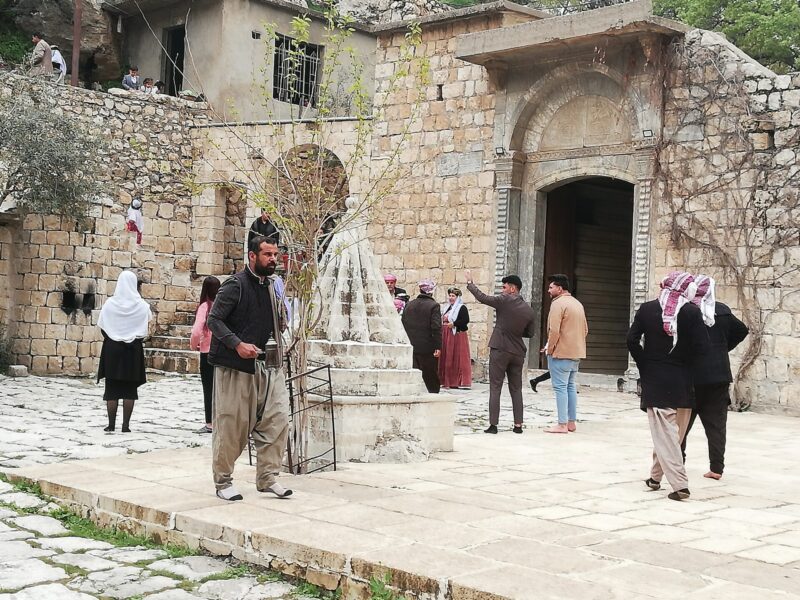 The main temple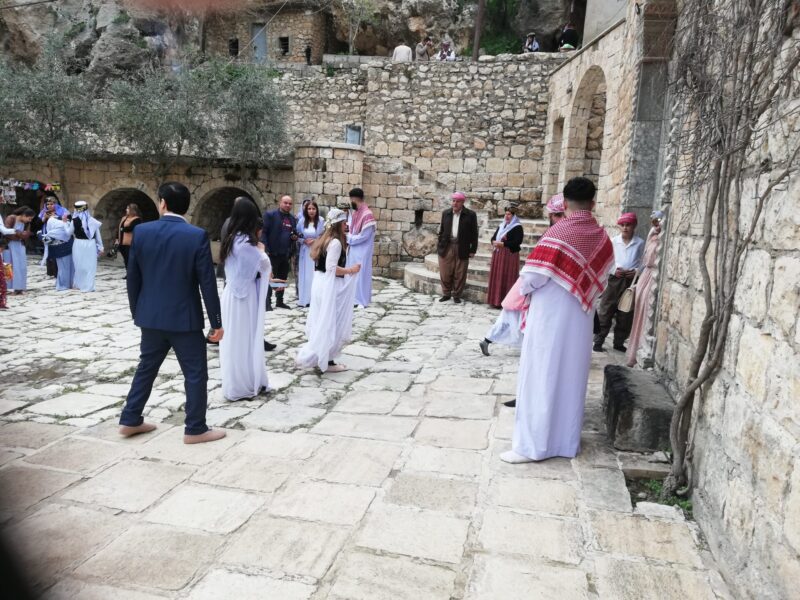 People arriving for prayers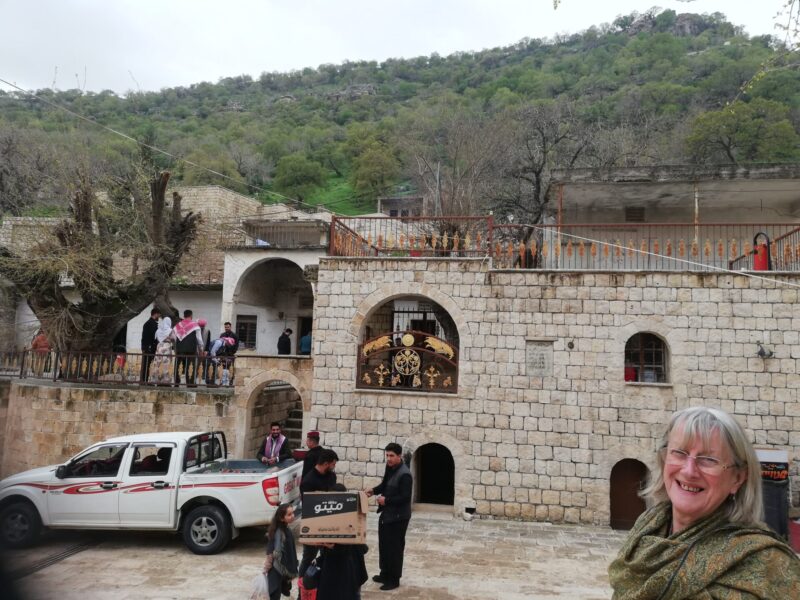 Yazidi home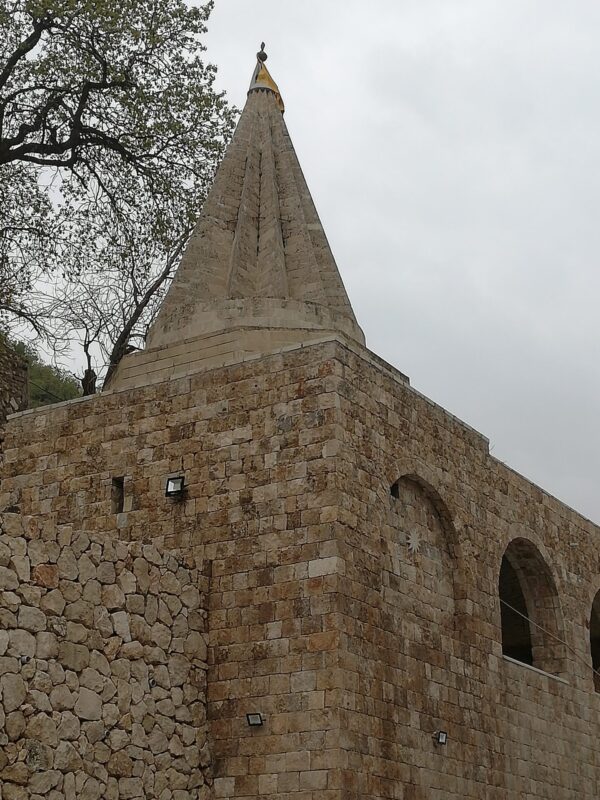 A temple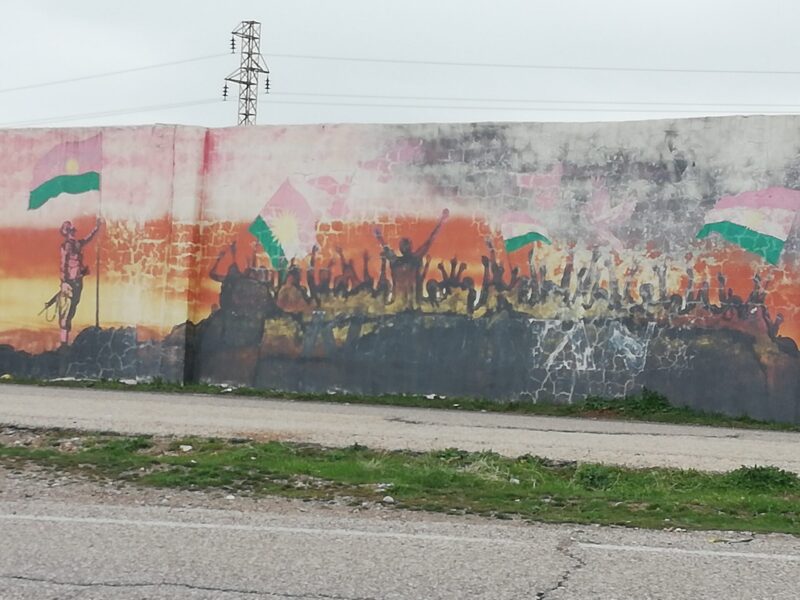 A mural showing Kurdistan's struggle for independence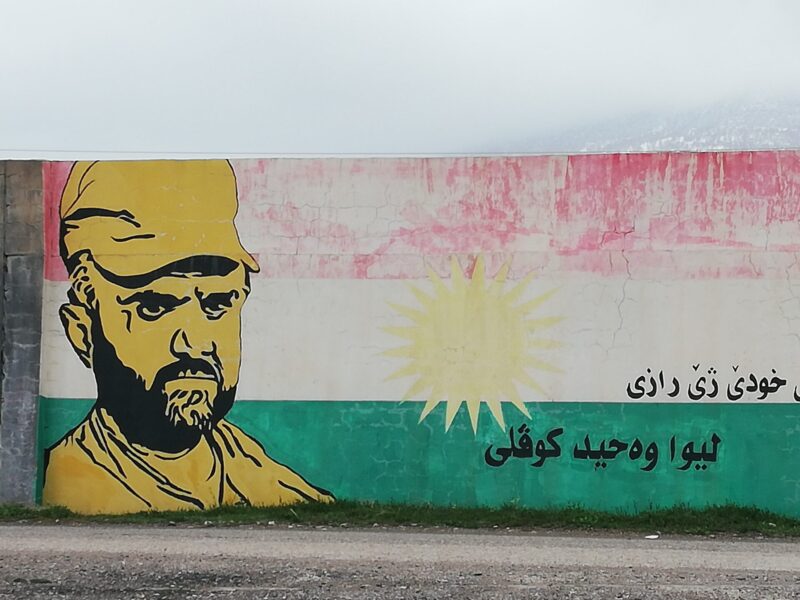 Kurdistan flag and one of the leaders of the independence movement.
Day 33 (2nd April) Amedi to Shanidar
Our hotel was part of the ribbon development along a river running past the ancient city which is on the top of a hill, geologically called a mesa.. The "old" town dates back to more than 1,600 years BC and is said to be the place from where the Three Wise Men set off for Bethlehem. I didn't expect to see three old men carrying gold, frankincense and myrrh, but I did expect to see something better than a boring modern town with not an old building in sight. The only interesting feature is a gold-plated statue of a KKP leader.
So we left Amedi and drove towards Shanidar to see the famous cave. On the way, we saw a sign for the Barzani Genocide Memorial which commemorates the 8,000 men and boys from the Barzan area murdered by Saddam Hussein in 1975. A young man speaking perfect English and dressed in a traditional peshmerga uniform told us about the events; the skeletons of 693 people have been found so far in mass graves and searches are continuing in the Diwaniya Province of southern Iraq for the remaining 7,000. See: https://www.rudaw.net/english/kurdistan/27072021
We then drove to Shanidar and booked into the super-posh Rubar hotel having negotiated a 20% discount. The receptionist pointed us towards the Shanidar Cave where excavations have revealed a number of Neandertal skeletons from between 65,000 and 35,000 years ago. The cave is high in the Zagros Mountains and is finally reached on foot up 305 steps. Coming down we passed two Kurdish men, one of which could speak some English. He invited us to stay the night in his house but we explained that we had already booked into the hotel. He was so typical of all the kindness we have received from people in Kurdistan. I then took a wrong turning and drove along some of the wildest scenery we have seen on the entire trip. Soaring vertical cliffs either side of the road consisting of horizontal slabs of rock piled on top of each other. Utterly dramatic.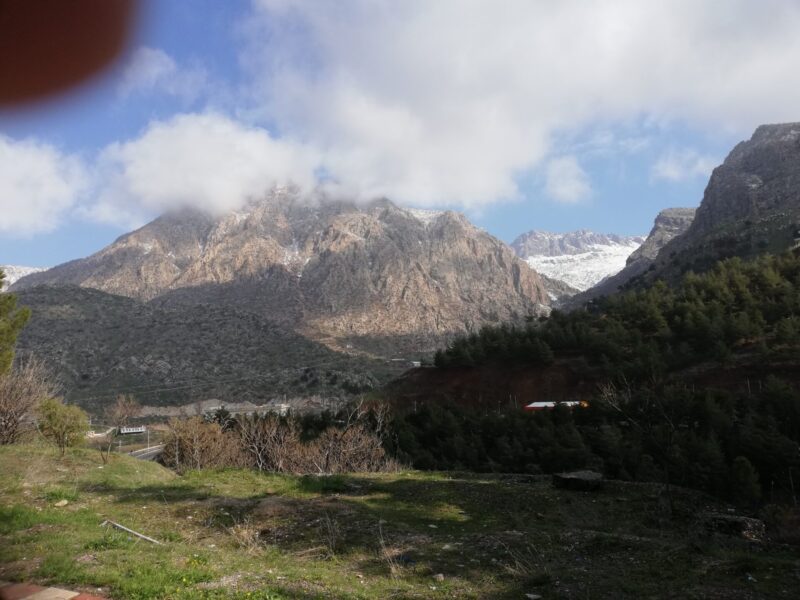 The mountains near Amedi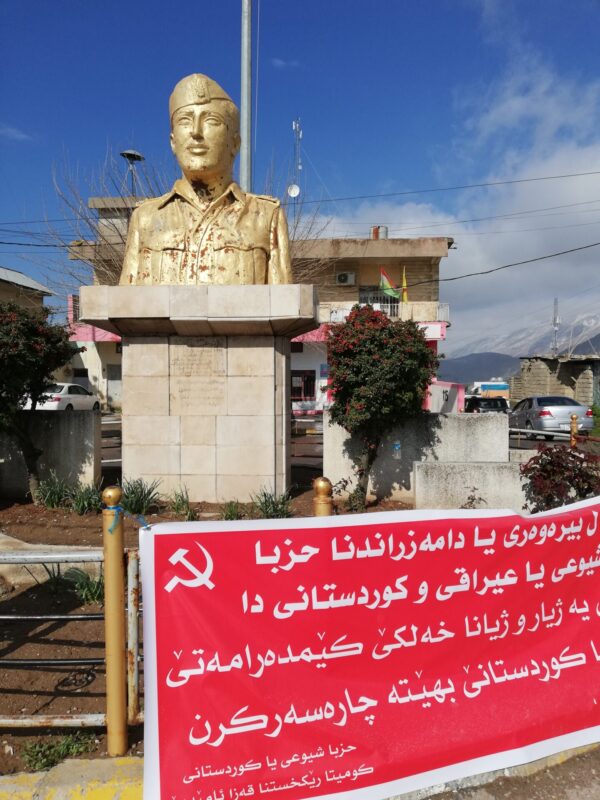 Statue of PKK leader killed fighting Saddam Hussain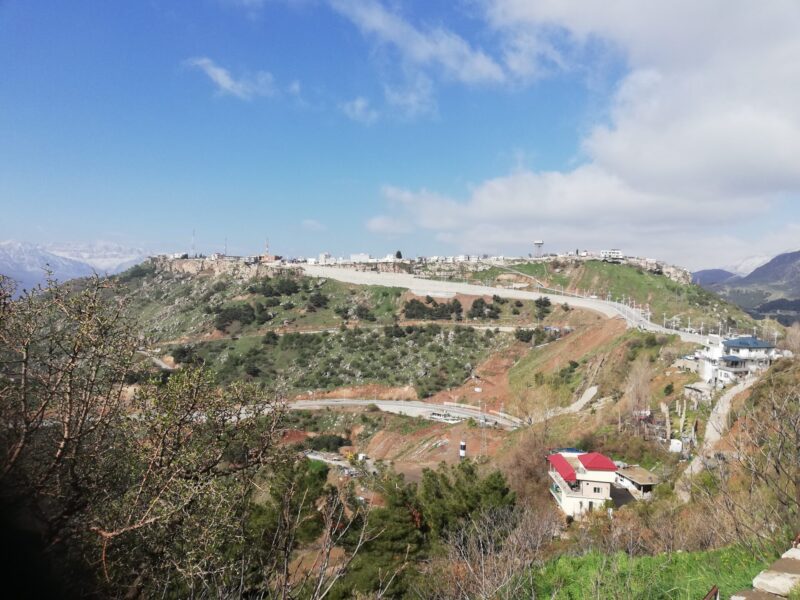 The old town of Amedi on top of a mesa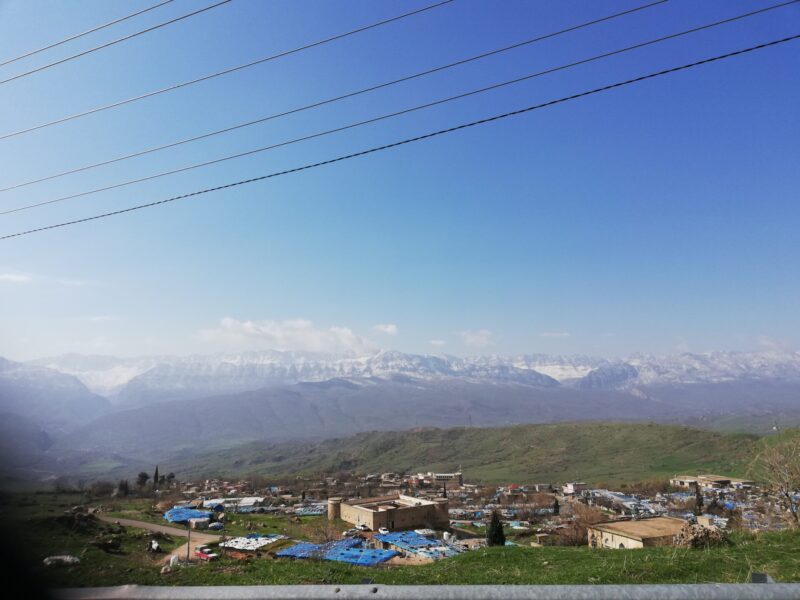 Snow covered mountains on road to Shanidar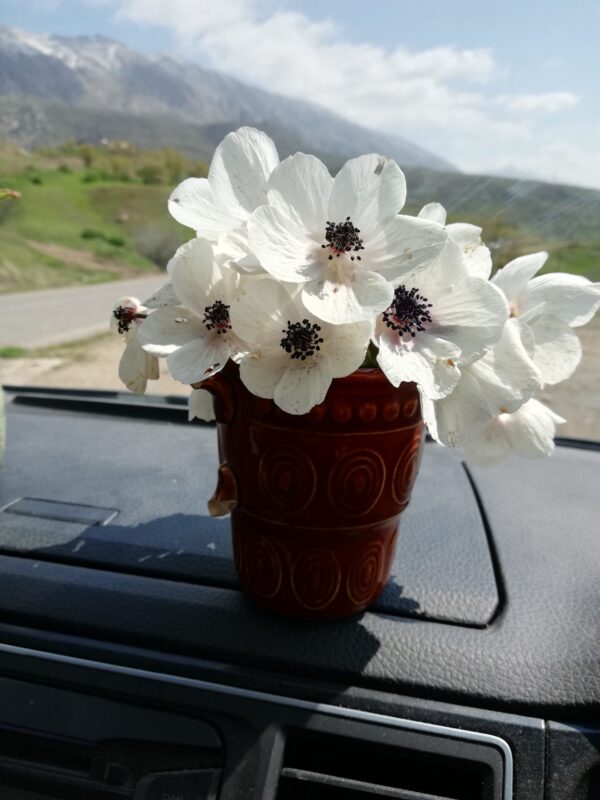 white anemones I picked for Jennifer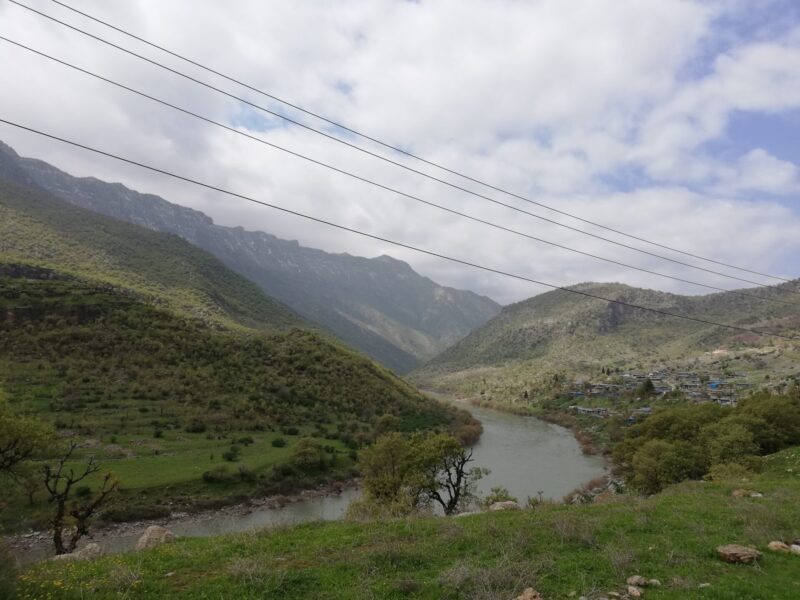 The Dore Canyon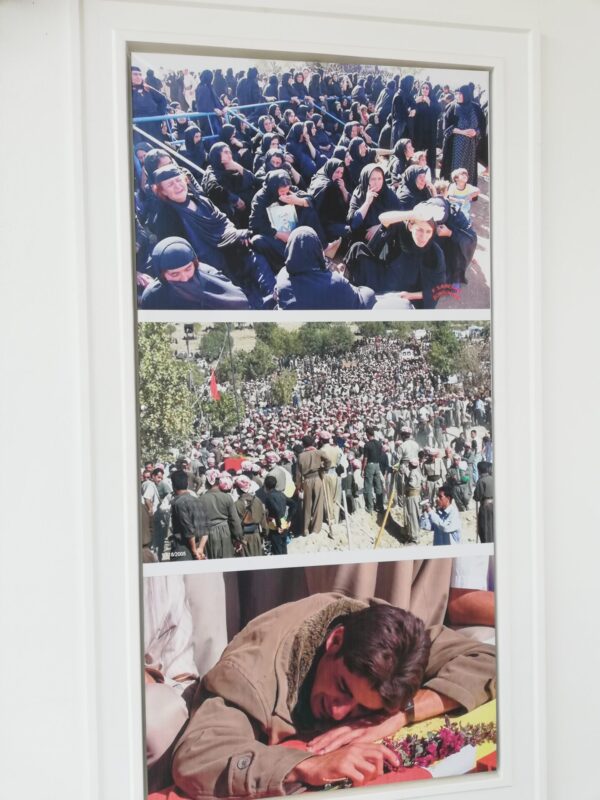 Pictures at the Barzani Genocide Memorial
Burial of a victim. Mahmud Barzani on the right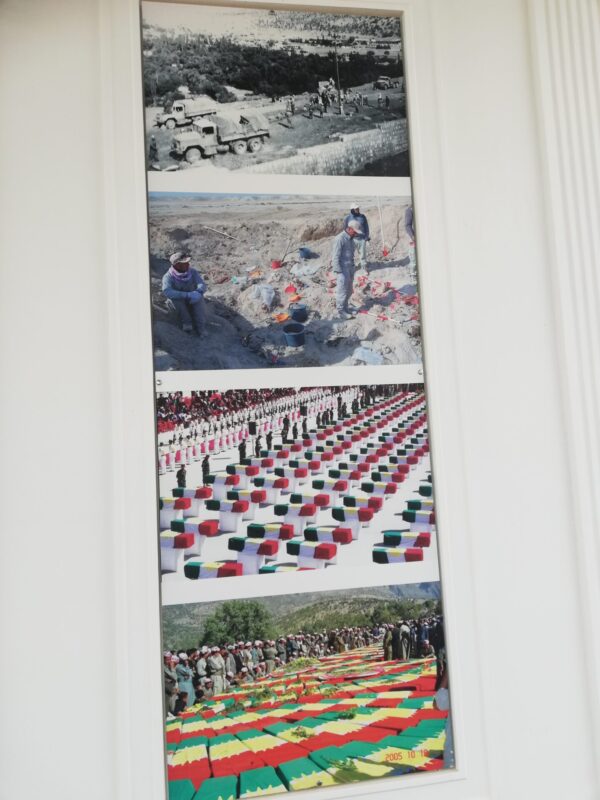 Iraqi trucks taking victims away, uncovering a mass grave, funerals of the victims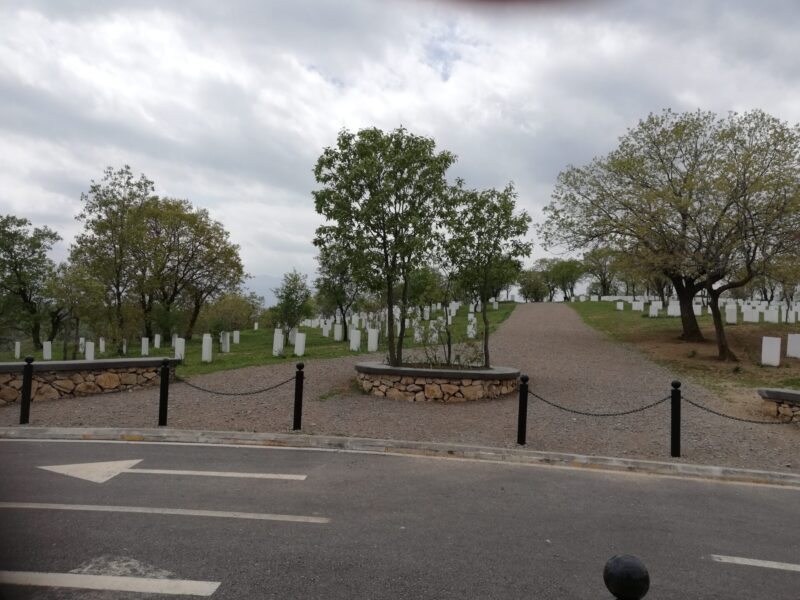 Graveyard of victims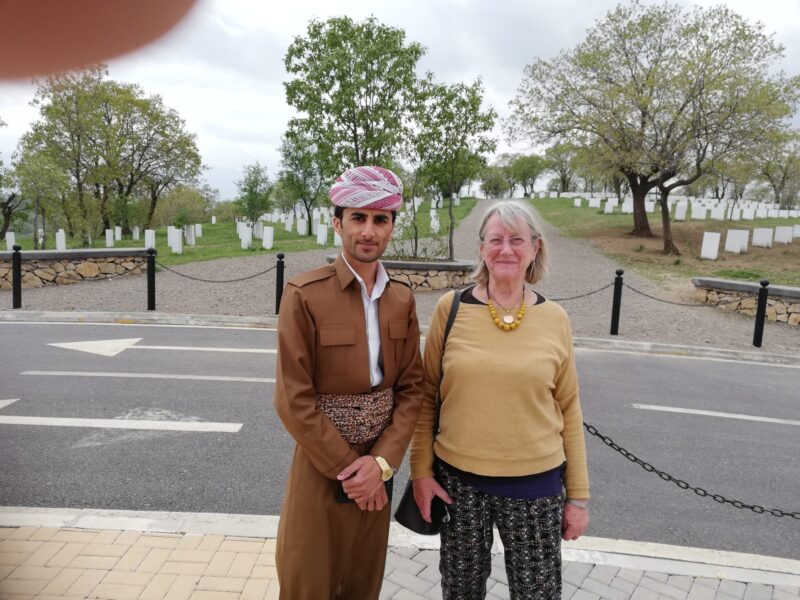 Our guide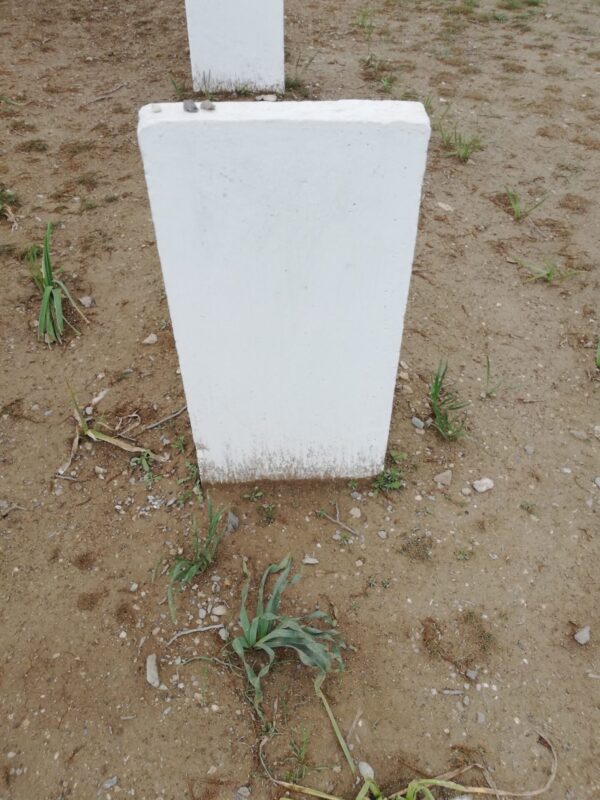 The gravestones have no names because the victims haven't been identified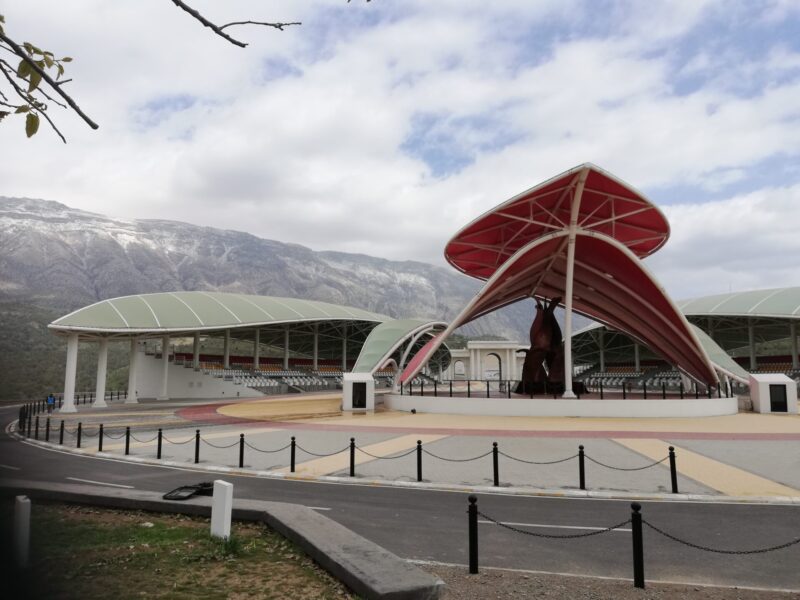 The memorial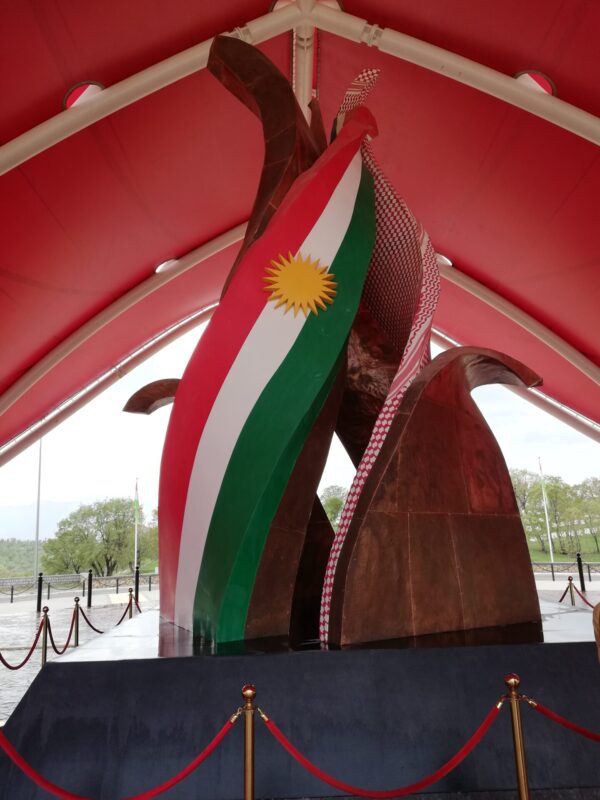 The memorial is a poppy, Kurdistan's national flower. This one has 8 petals, each petal for 1,000 victims. The flag and the Kurdish head-dress represent the 2,000 whose names are known. The outside has 182,000 indentations, one for each Kurd killed by Saddam.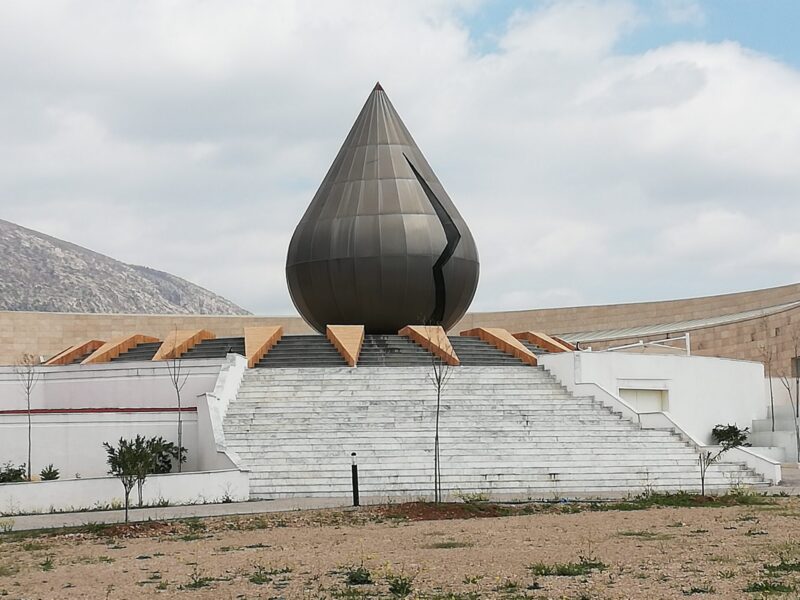 Feature at the museum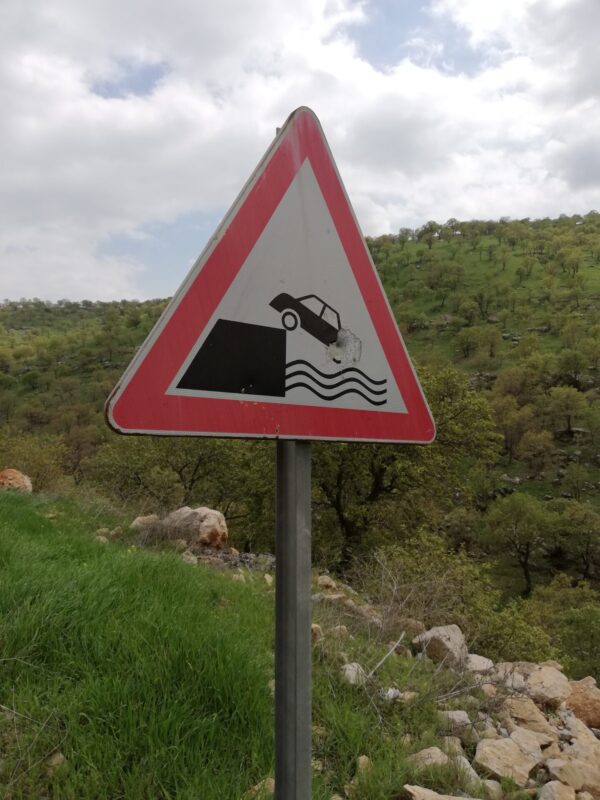 A silly sign for a landlocked country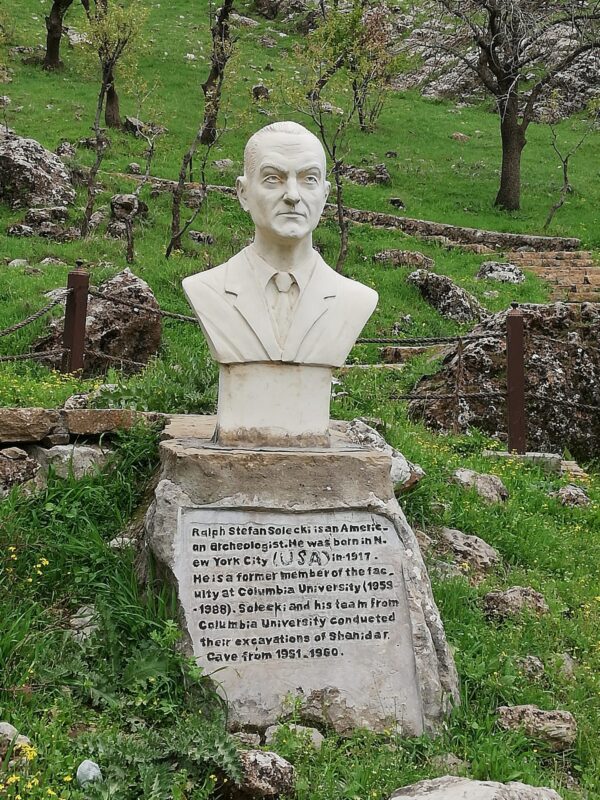 The man who found the Shanidar skeletons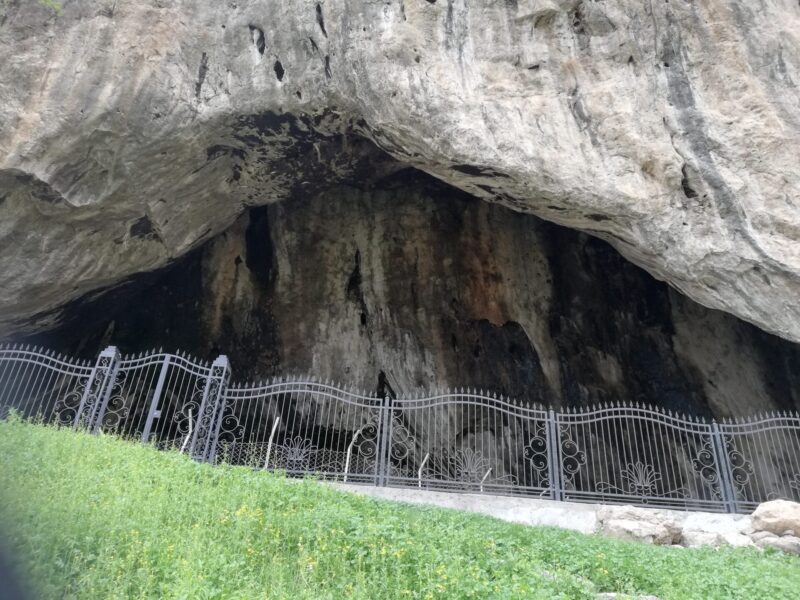 The cave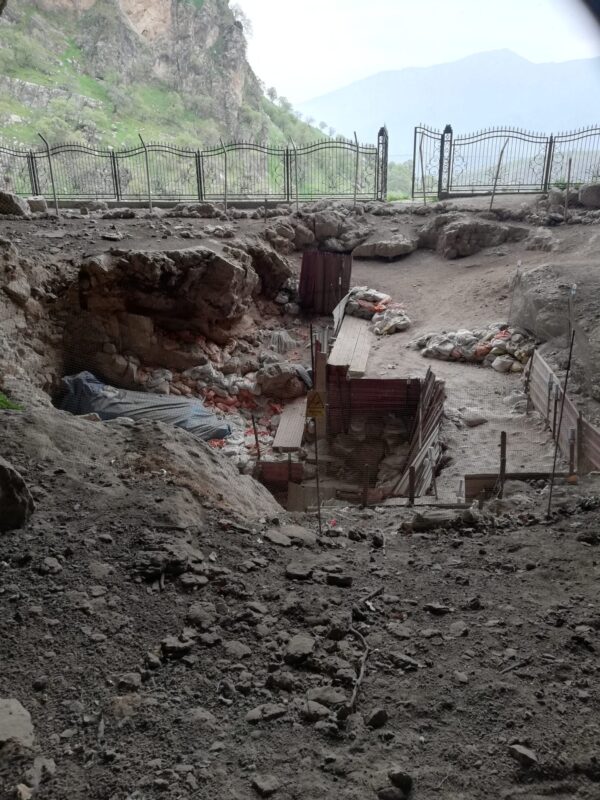 The excavations are continuing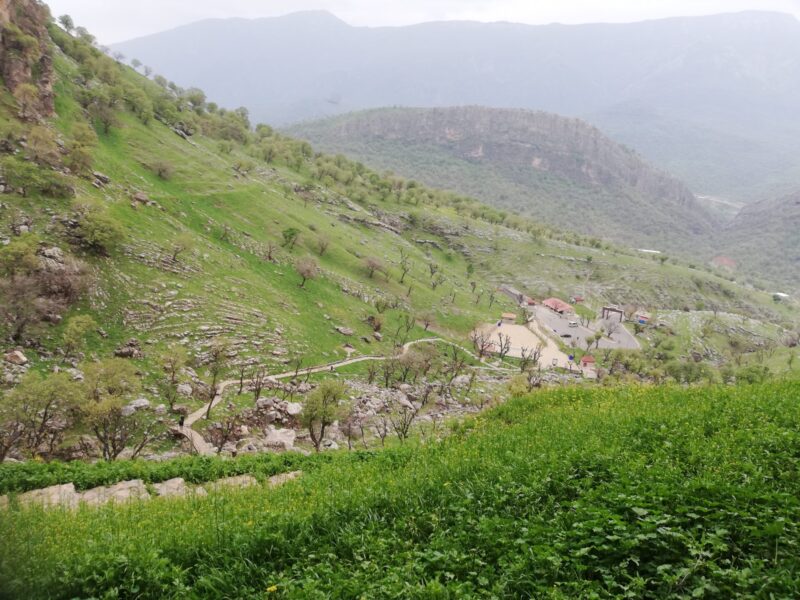 The path up to the cave. Our van can be seen in the car park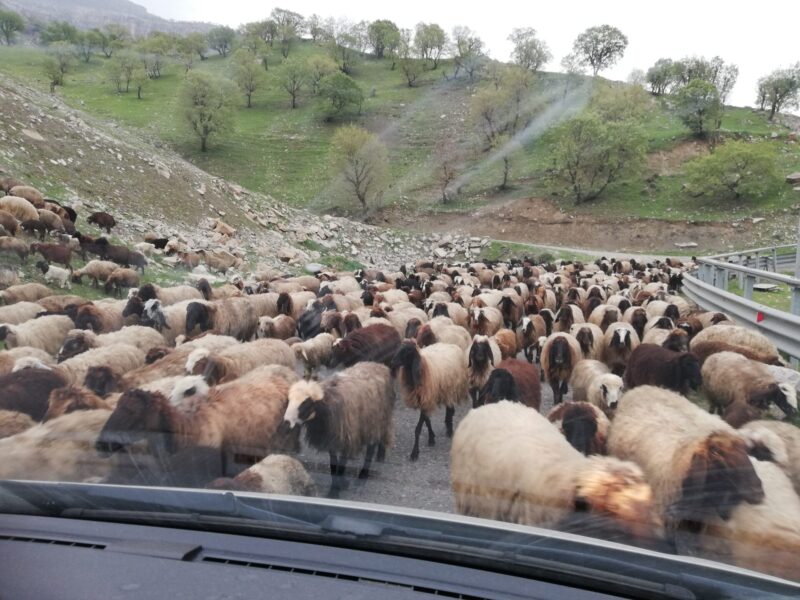 Sheep in the road. This flock stretched for about half a mile
Day 34 (3rd April) Shanidar to Alqosh
We drove from the Rubar Hotel in the hope of finding the Rabban Hermizd monastery and got lost on the road to Dohuk without seeing any signs. A shopkeeper looked it up on his phone and said you need to find the village of Alqosh. A soldier at a checkpoint told us how to get there and his commander asked a taxi to show us the way. On arriving at the village, we were amazed to see a house highly decorated with Christian symbols including a huge painting of the Last Supper and a Christmas crib with Wise Men, donkeys etc. Walking through the village we heard a priest singing and came to a church where a service was taking place. While walking back to our van, a voice called out "Are you lost?" I walked in the direction of the voice and met Eduard, a German who has been living here for 7 years and is rebuilding an old house. He told us that the monastery is 3 kms away up a winding road but has closed for the day. So we thought of looking for a hotel but were told there are no hotels in Alqosh so he phoned his friend Randy who is running an Air B&B from the house he lives in with his parents. We were invited back and this is where we will be spending the night.
People in Alqosh speak Aramaic, the language of Jesus, and the town is 100% Christian. Eduard is the only foreigner allowed to call himself an Alqoshi, but does not own his house as foreigners are not allowed to do so. Eduard and Randy were surprised to hear that we had not been stopped at the army checkpoint because the Kurdistan Government has discouraged foreigners from coming to Alqosh. Apparently ISIS came to within 7 kms of the town and then, for some unknown reason, withdrew to a line 12 kms away and didn't bother the Christians.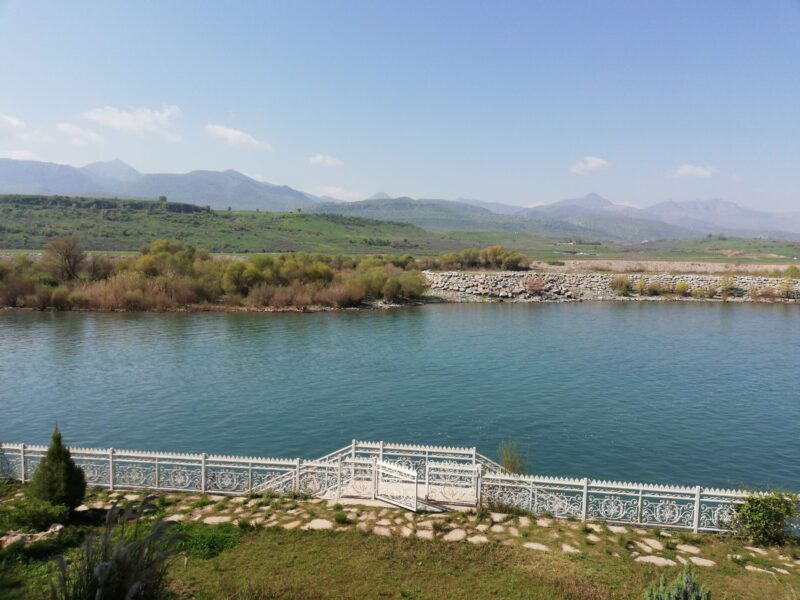 View from hotel window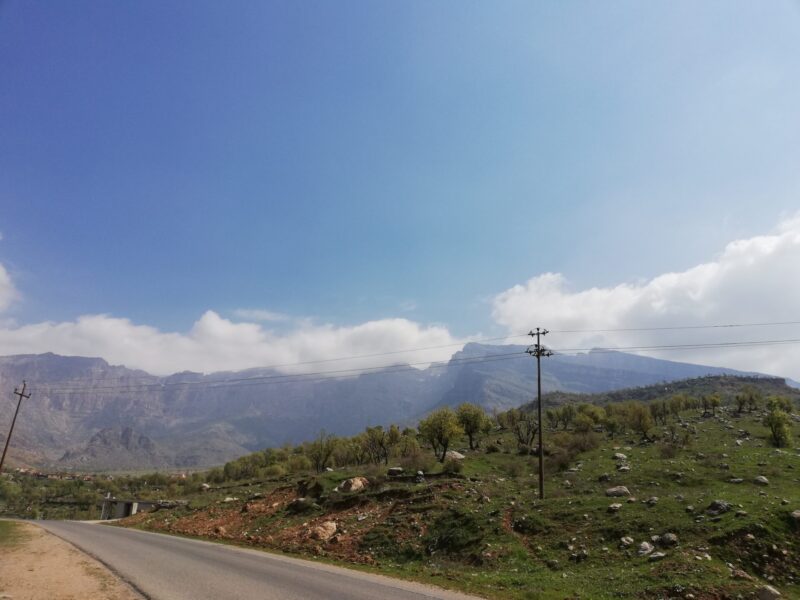 Mountains of Kurdistan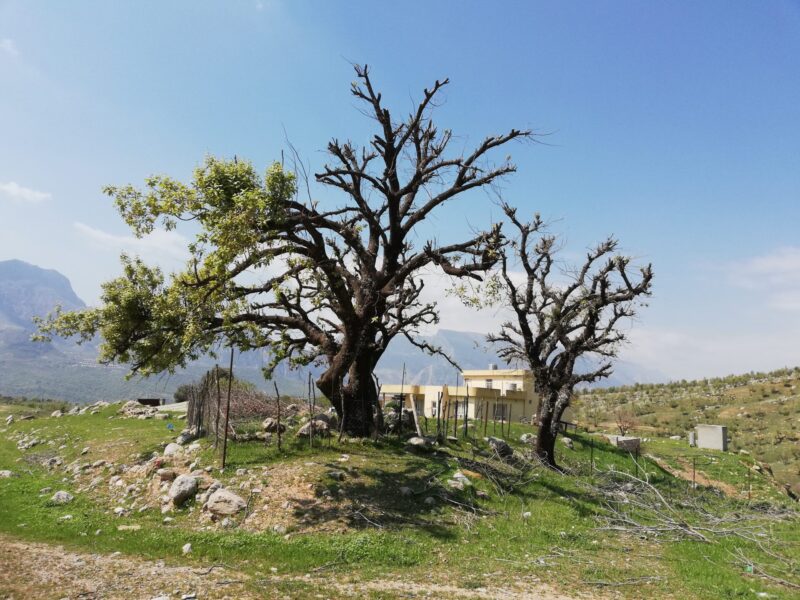 Ancient olive tree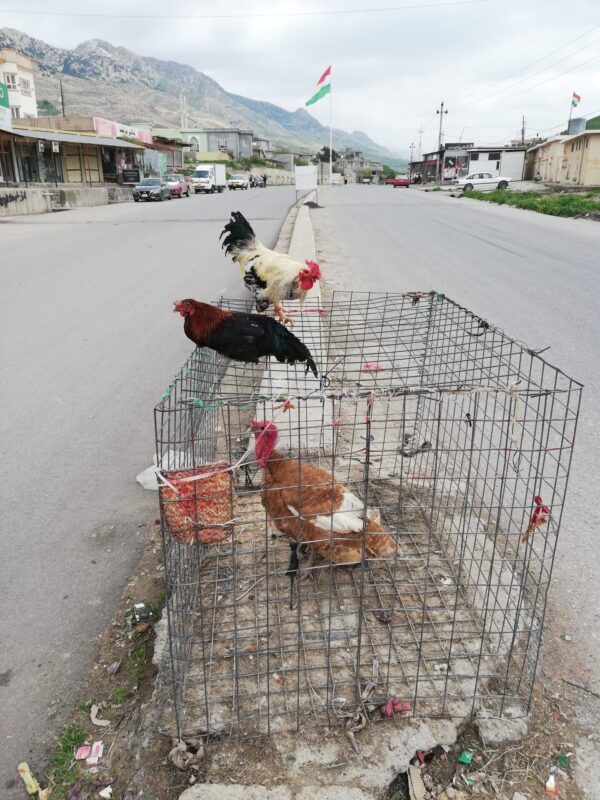 Some bloke left his cock in the middle of the road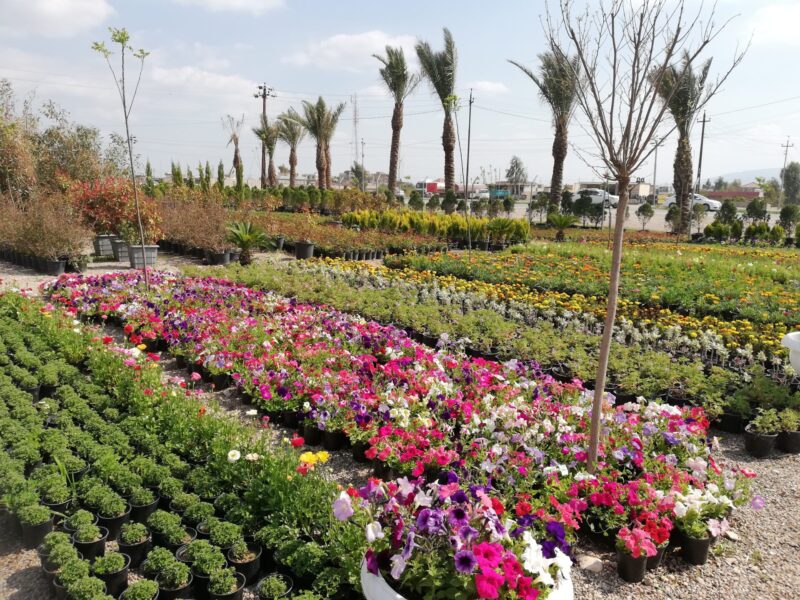 A garden centre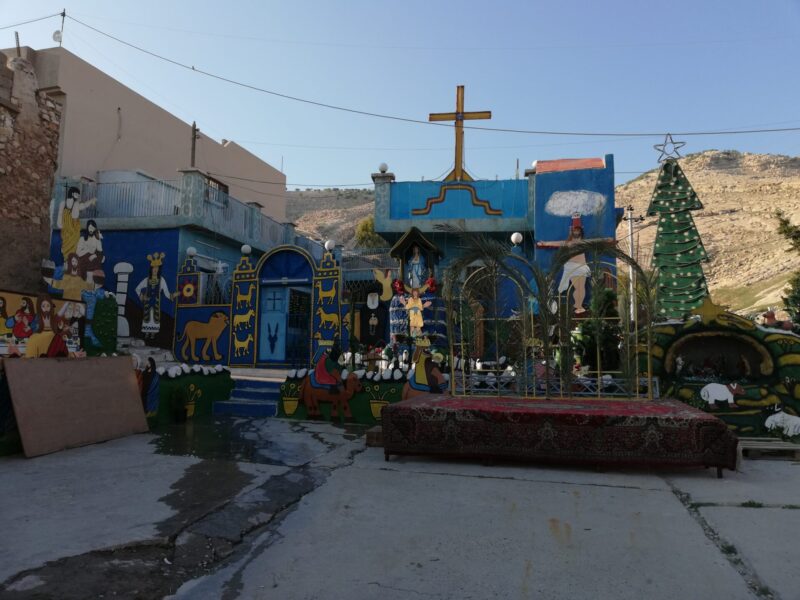 A house in the Christian town of Alqosh
The Last Supper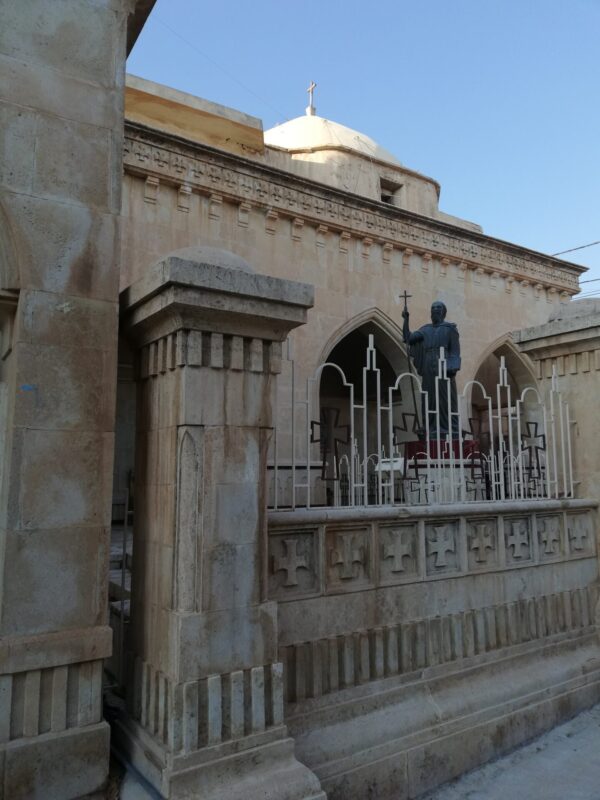 Church in Alqosh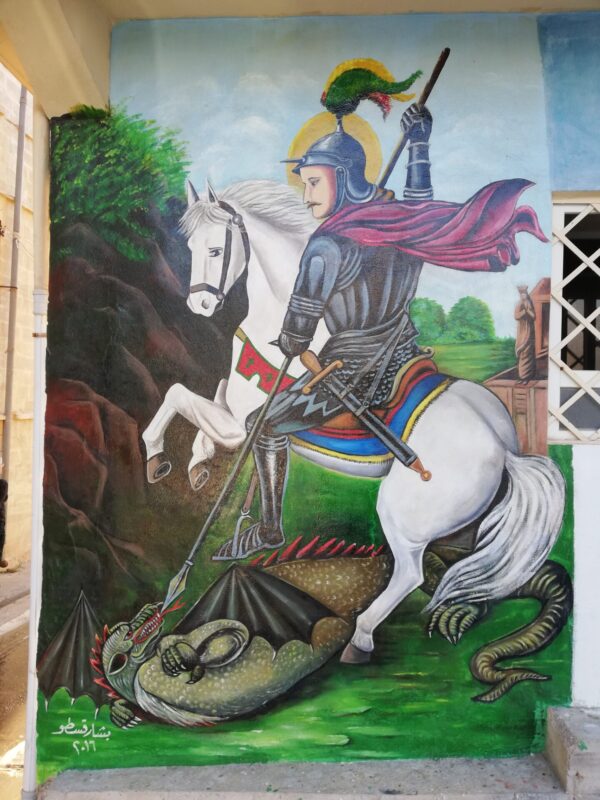 Wall painting of St George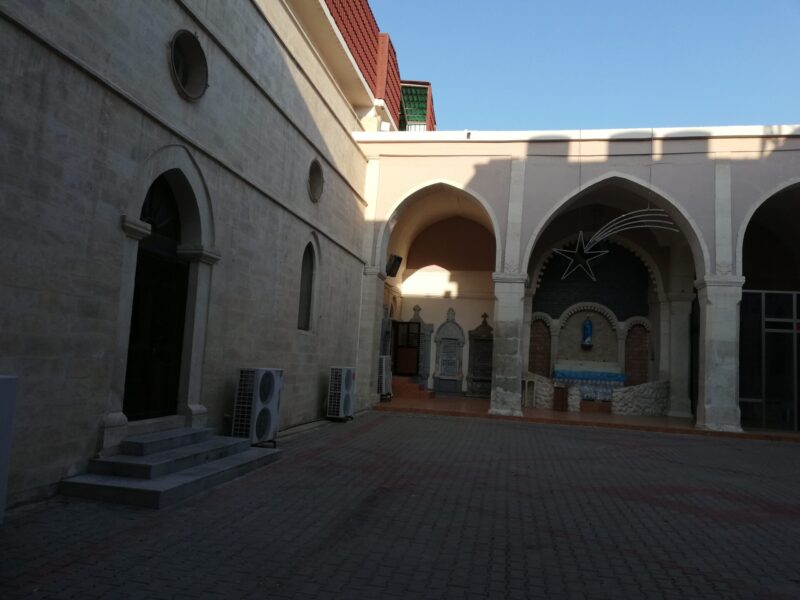 Church courtyard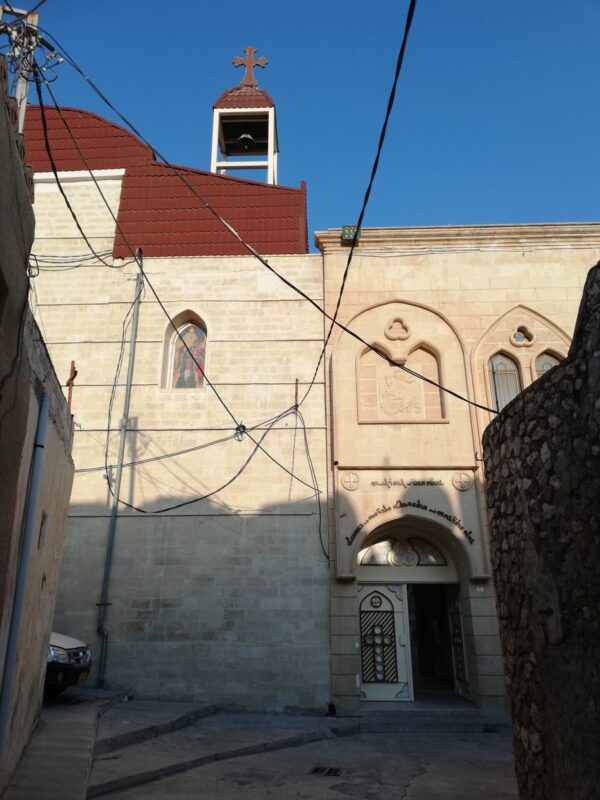 Church entrance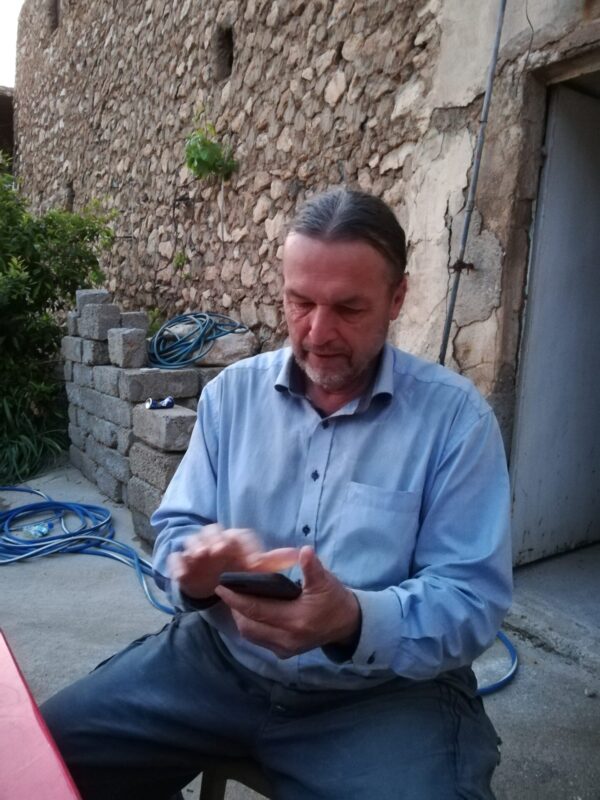 Our friend Eduard
Day 35 (4th April) Alqosh
Having established that the Iraqi consuls in Manchester and London were talking pure ordure when they told me that our visas obtained at Ibrahim Khalil are good for Federal Iraq, I reconciled myself to the unavoidable fact that we would have to fly to Baghdad and get VOAs at the airport. Because we had left it so late, the return air fare was astronomical so I booked a one-way ticket and planned to return to Alqosh by coach. We left the van at Randy's house and he arranged for the village taxi to take us to Erbil the next day. However the taxi leaves at 08.00 which meant a 12-hour wait in Erbil for the plane to Istanbul and a 15-hour wait at Istanbul airport for the plane to Baghdad.
In the morning we went to the annual Easter market in a narrow lane with stalls either side. Free food was being handed out: lentil soup, butter beans in a brown sauce and a kind of porridge being cooked in huge pots. A group of musicians were playing Kurdish music and an impromptu Kurdish dance took place where the dancers moved round in an anti-clockwise circle making a series of complicated steps. The dancers were lead by men in traditional Kurdish costumes wielding knives.
We then drove up to Rabban Hormezd Monastery along a road up an almost vertical cliff with a dozen hairpins so tight that the van could hardly get round. Fortunately, a soldier who opened the gate at the bottom of the cliff guided me (he is Randy's next door neighbour) but it was still a nerve-wracking experience. The Monastery consists of seven churches the oldest of which, the Church of Rabban (Saint) Hormezd, was built in the 7th century AD. The monks lived in caves surrounding the monastery, which is somewhat austere with none of the frescoes we had expected to see. Randy's friend Myran cooked us a beautiful meal in the evening.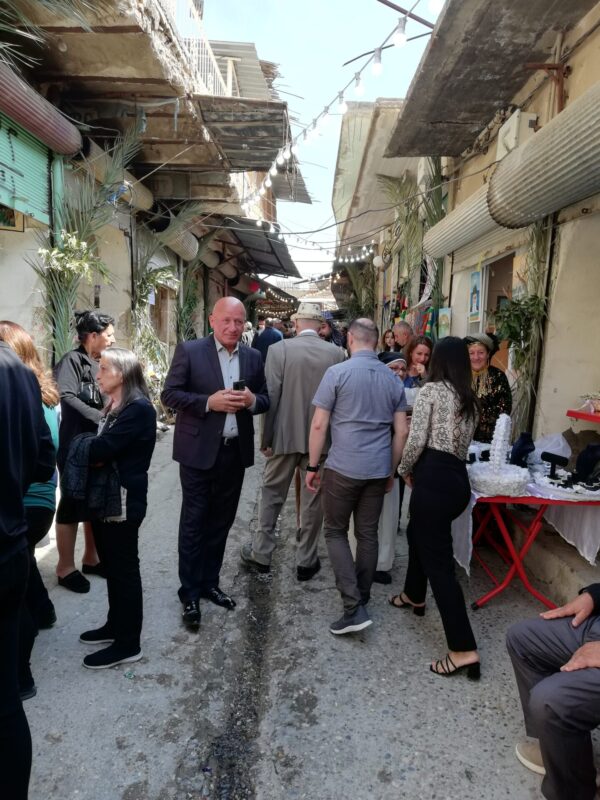 The market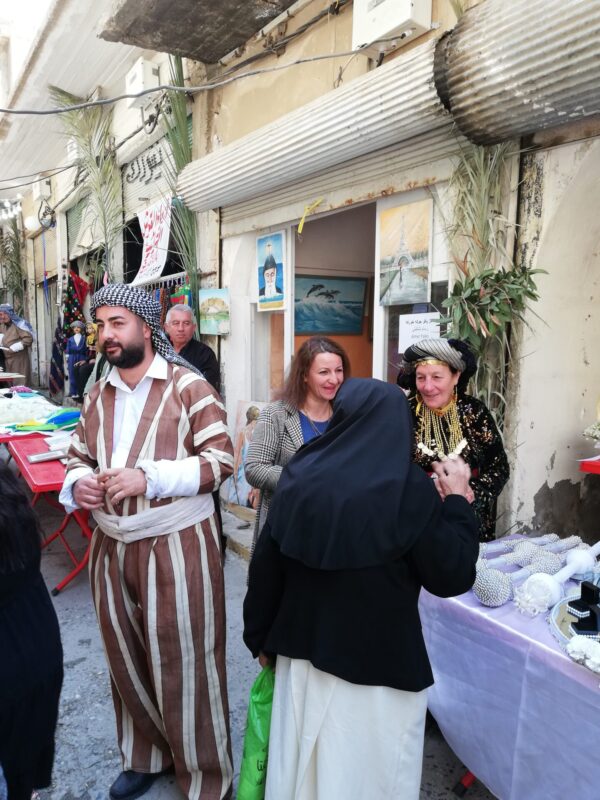 Man in Kurdish dress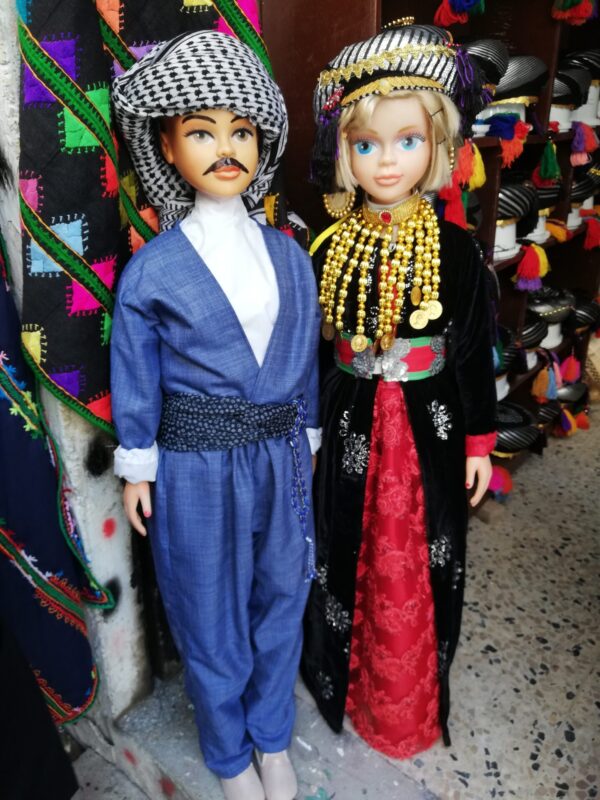 Models of children in Kurdish constume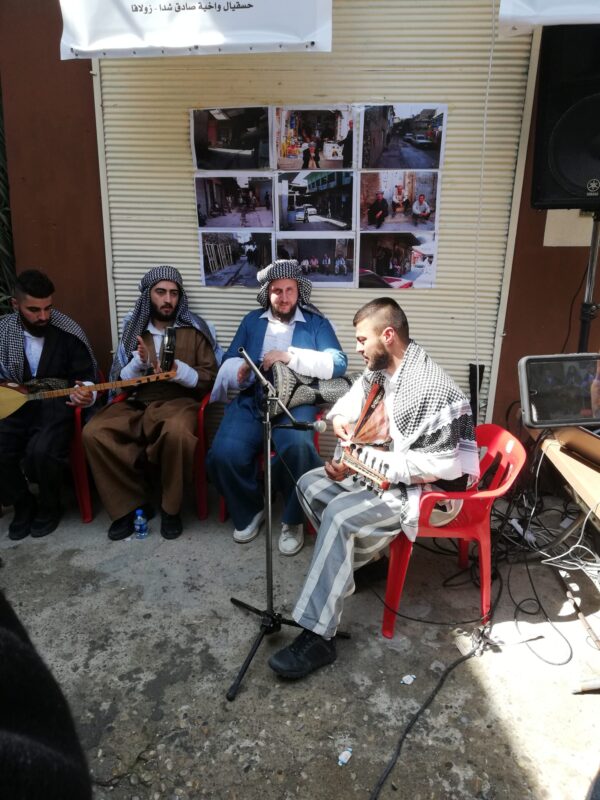 The band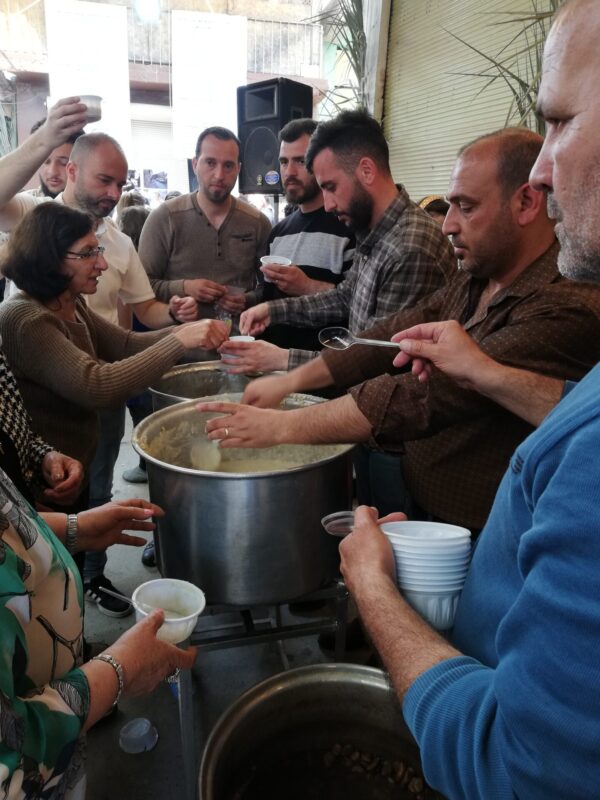 Free food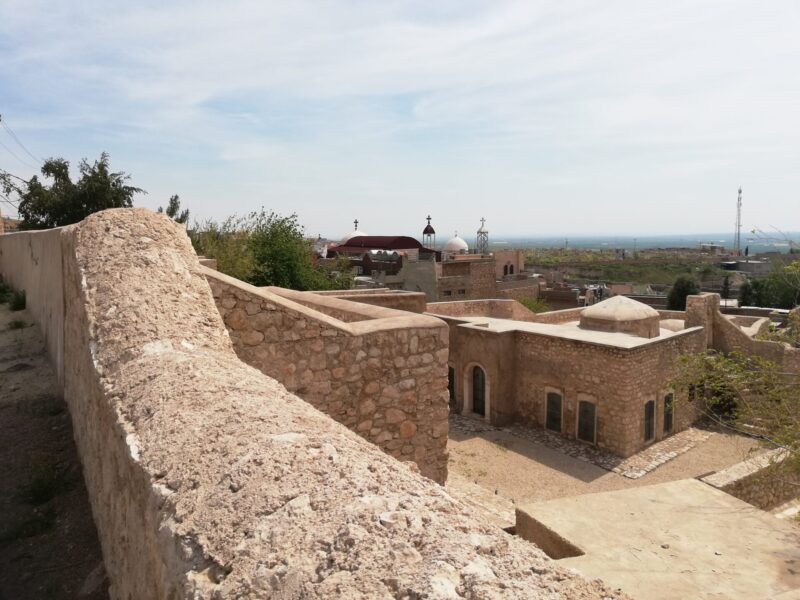 The old Jewish quarter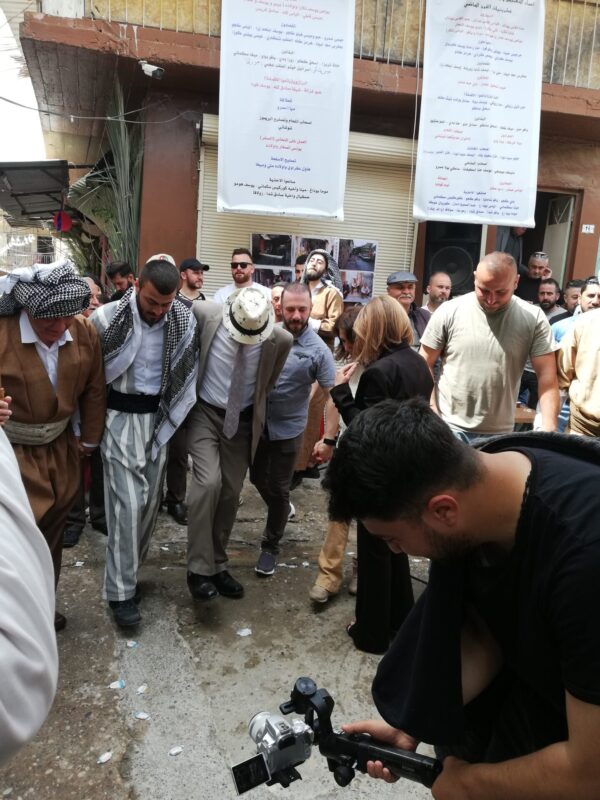 The dance, being filmed for television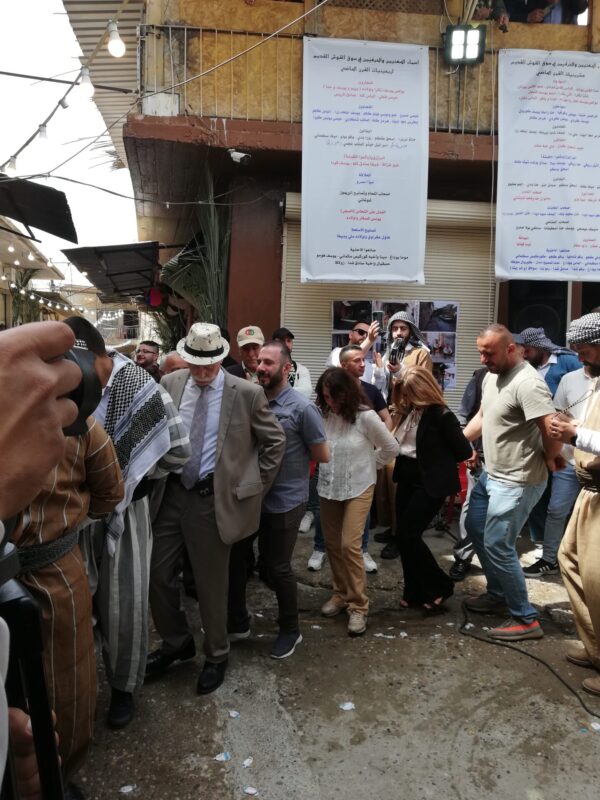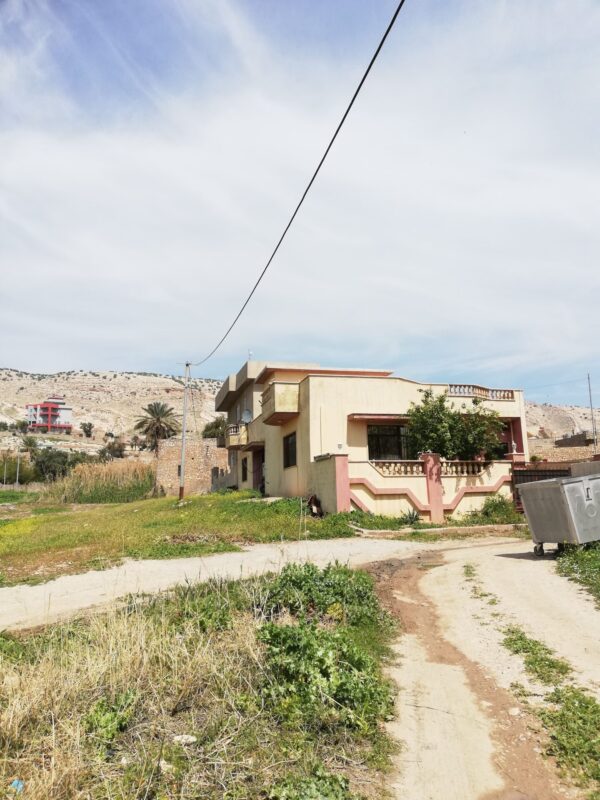 Randy's house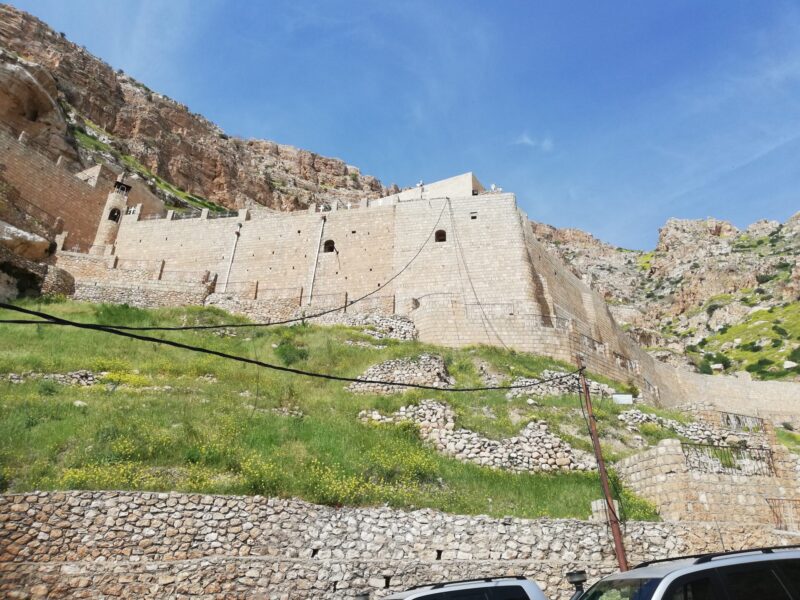 Rabban Hormezd Monastery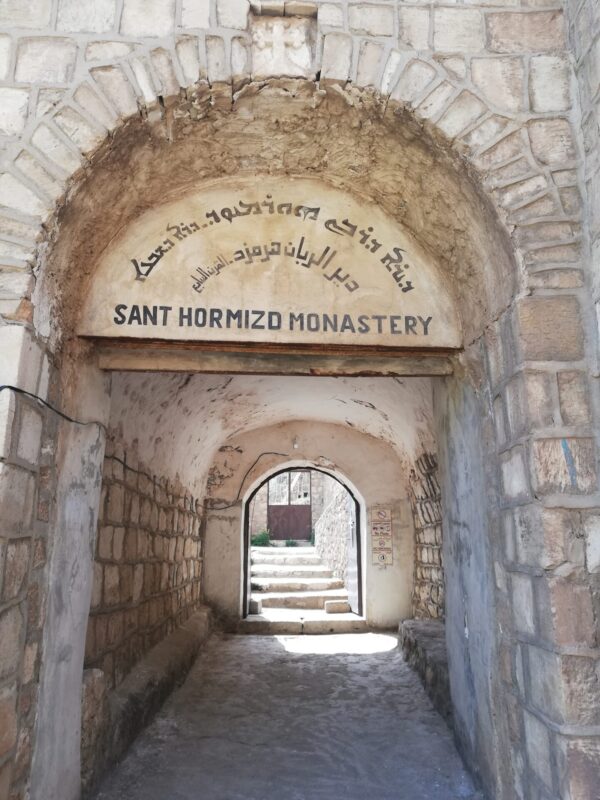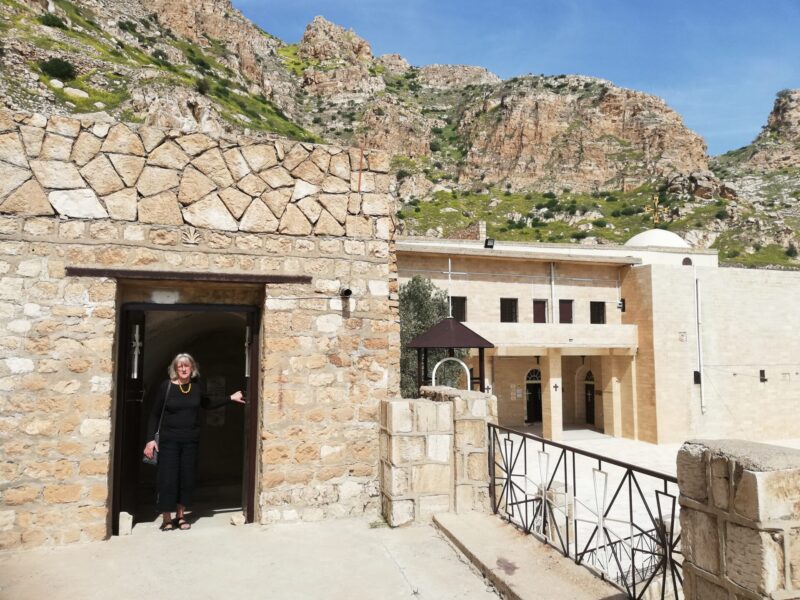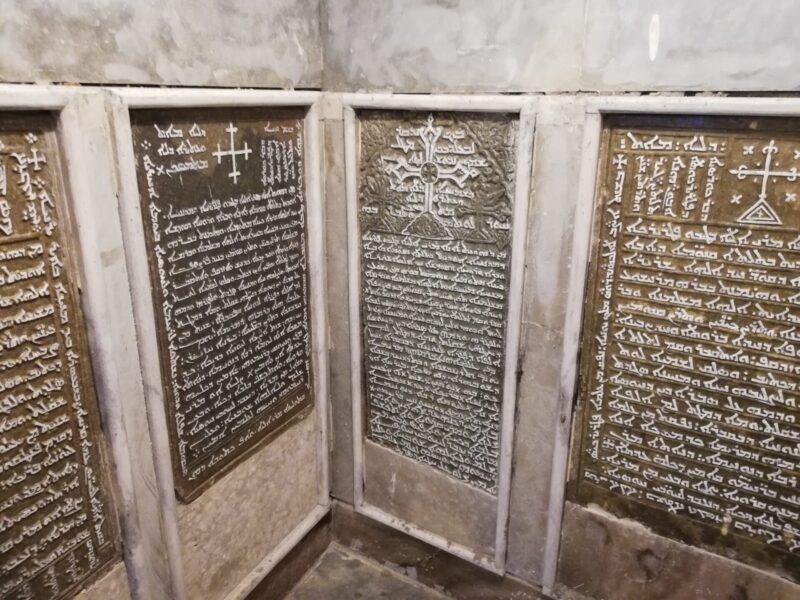 Tombs of the patriarchs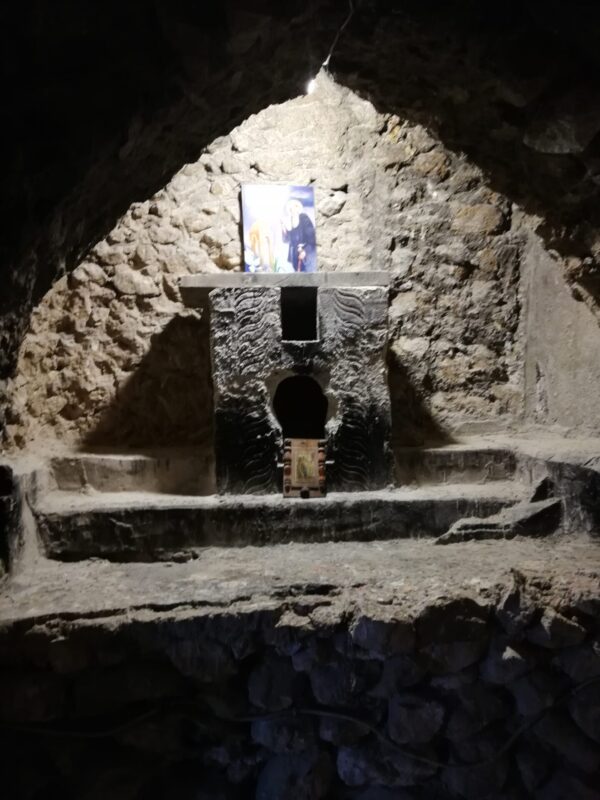 Rabban Hormezd church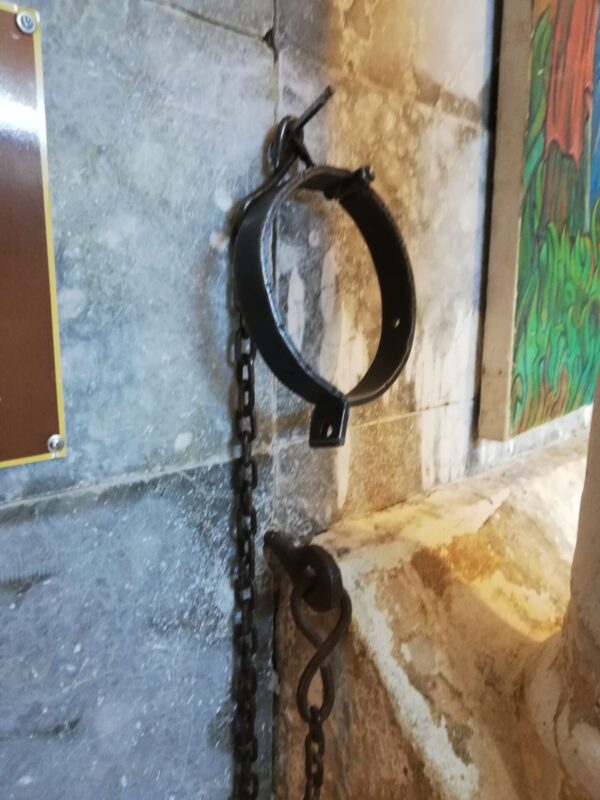 Not sure what this was for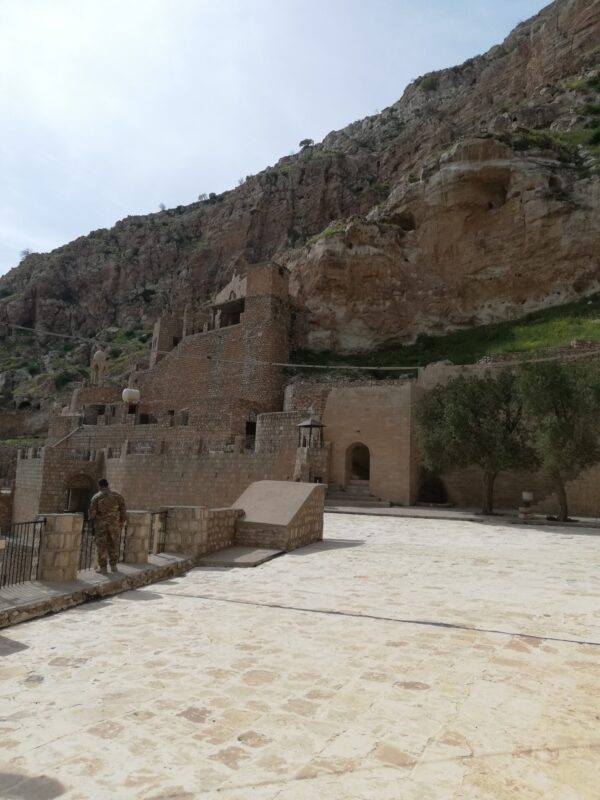 The monastery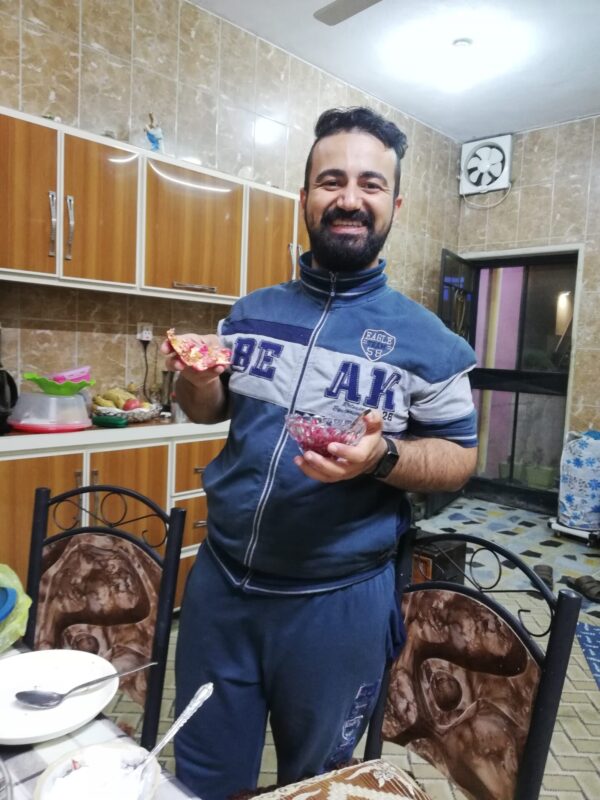 Our good friend Randy Jamil Sulaiman
Day 36 (5th April) Alqosh to Erbil
We were driven to Erbil in the morning and went to look at its most (if not the only) significant site, the Citadel. It was settled more than 6,000 years ago and is said to be one of the world's oldest continuously populated sites. It now includes a number of museums and we went to see the Kurdish Textile Museum which exhibits some glorious carpets and examples of Kurdish clothing from the 19th century. We also went to look at the Museum of Gems and Precious Stones.
Feeling hungry, we went to look for a restaurant but, this being the Ramadan period, the only places available were couple of greasy-spoon caffs in the Bazaar. It is located adjacent to the Citadel and is surrounded by a colonnaded road packed with stalls selling all manner of goods. We walked into the city centre looking for a more salubrious establishment. No luck, although there must have been at least a million shops selling mobile phones, including one for Huawei where some very helpful men printed off our plane tickets.
We decided to go to the airport in the belief that there must be at least one open cafe. There was, although the food was barely edible. Settling down to the prospect of a hungry night, waiting for the Istanbul plane to come at 05.25 the next morning, we sat and watched the airport fill up with most of the men wearing shalwars (baggy trousers) and the women in long cloaks and head scarves. Almost simultaneously, when the sun is officially deemed to have set and the fasting ended, hundreds of families laid their table cloths on the terminal floor and unpacked their food. We were given plates of food by a group of men sitting near us, consisting of dolma (rice and mince wrapped in vine leaves), salad, dates and a drink of pomigranite juice Three women sitting opposite us gave us bottles of water, nuts and falafel (little torpedo-shaped pies filled with chick peas, herbs and spices). A man came round handing out sweets. Then evening prayers started with a man singing and leading a congregation of perhaps 10 men while the women prayed separately.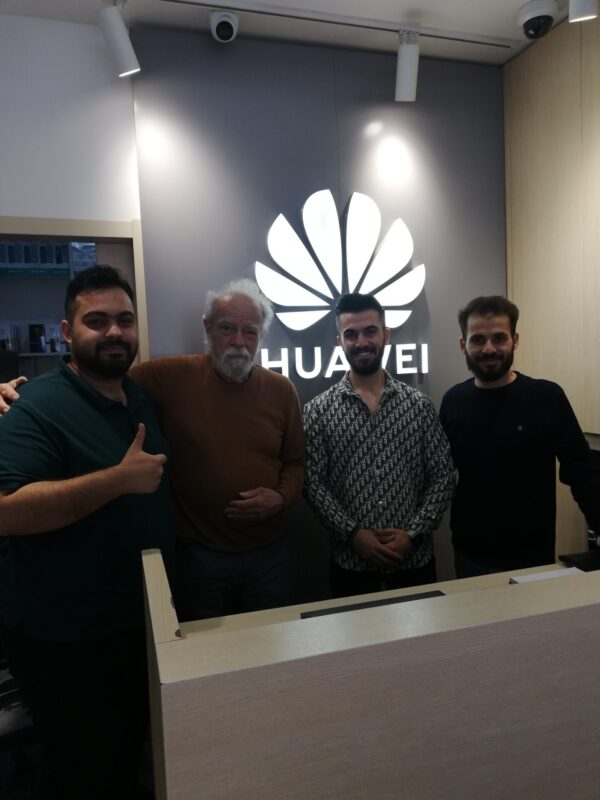 The helpful men at Huawei.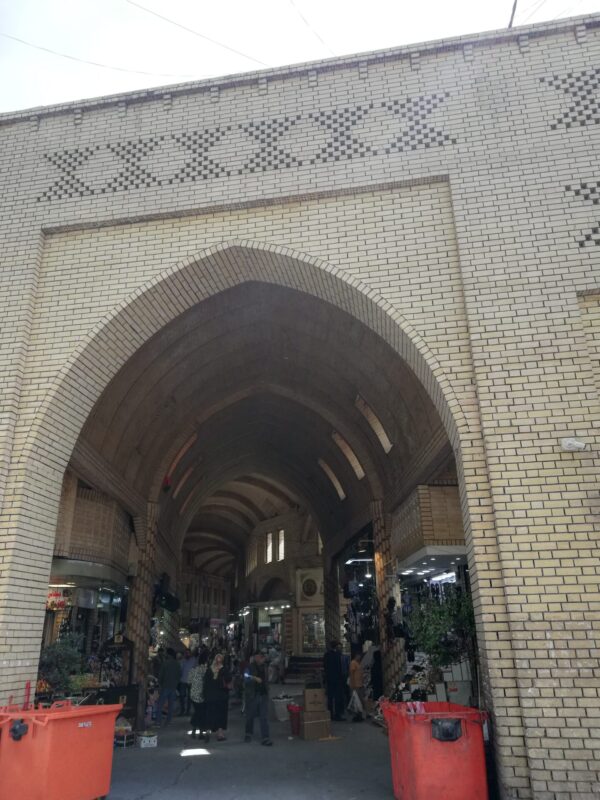 The bazaar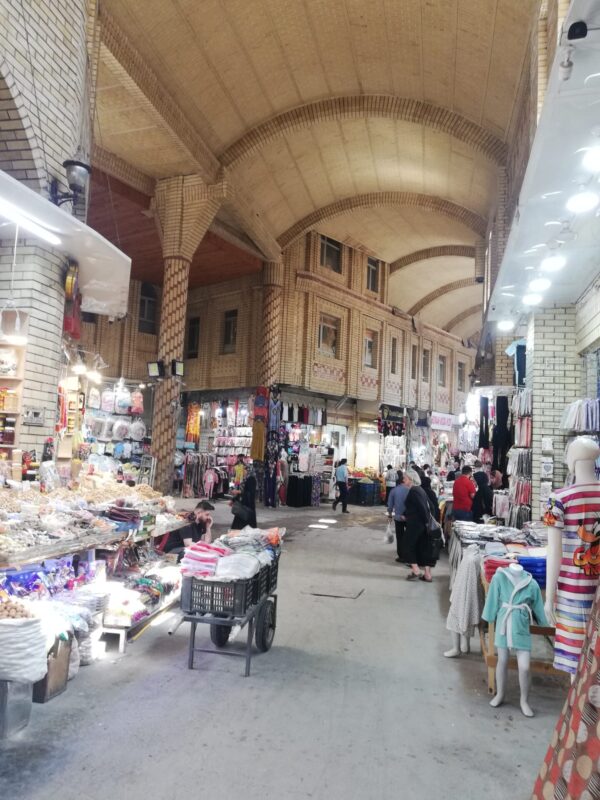 Jennifer enjoying the bazaar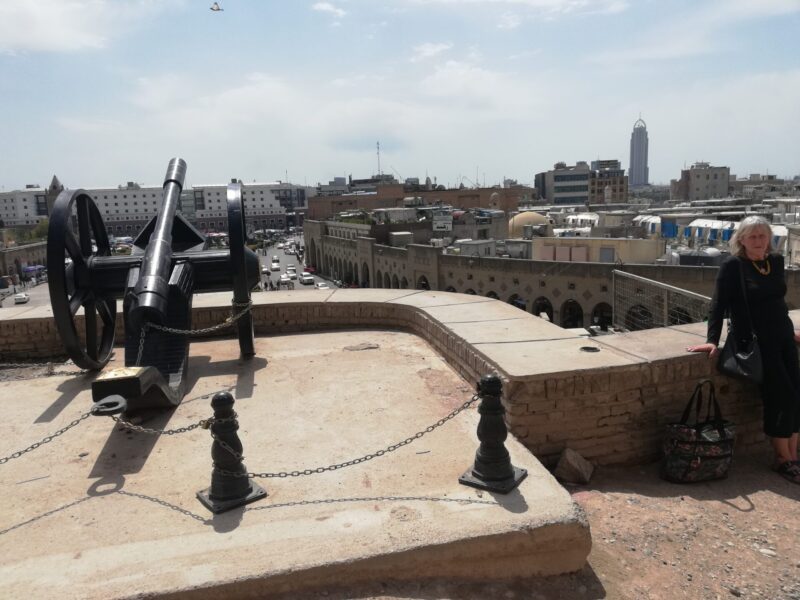 The Bazaar from the Citadel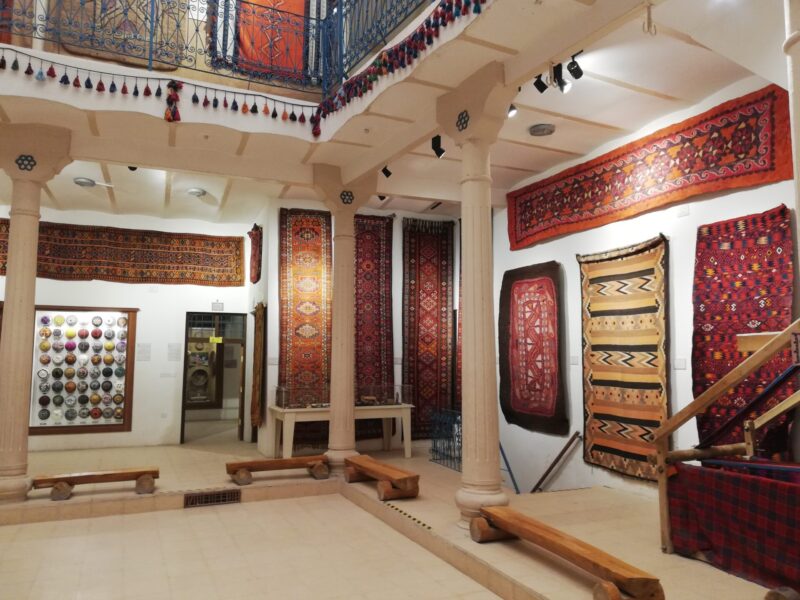 Museum of Kurdish Textiles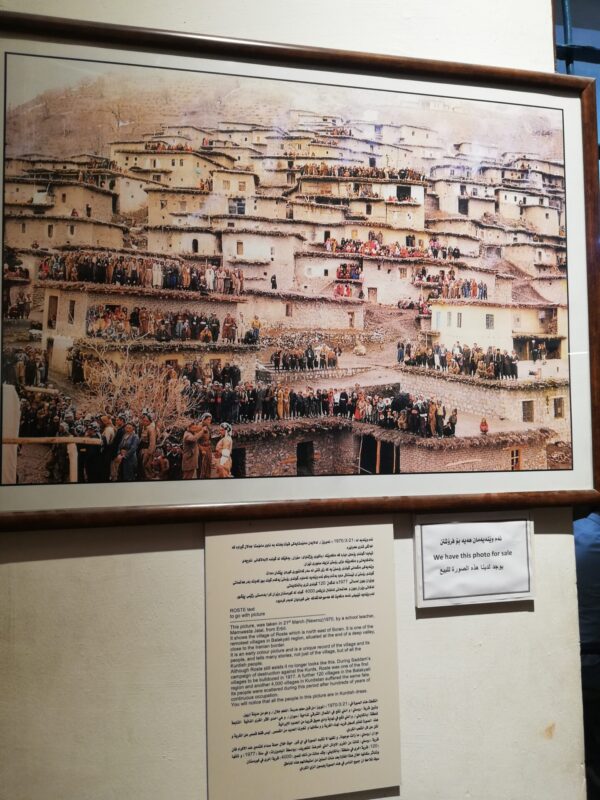 Picture of a Kurdish village taken in 1970 before it was destroyed by Saddam during the Anfal campaign of genocide against the Kurds.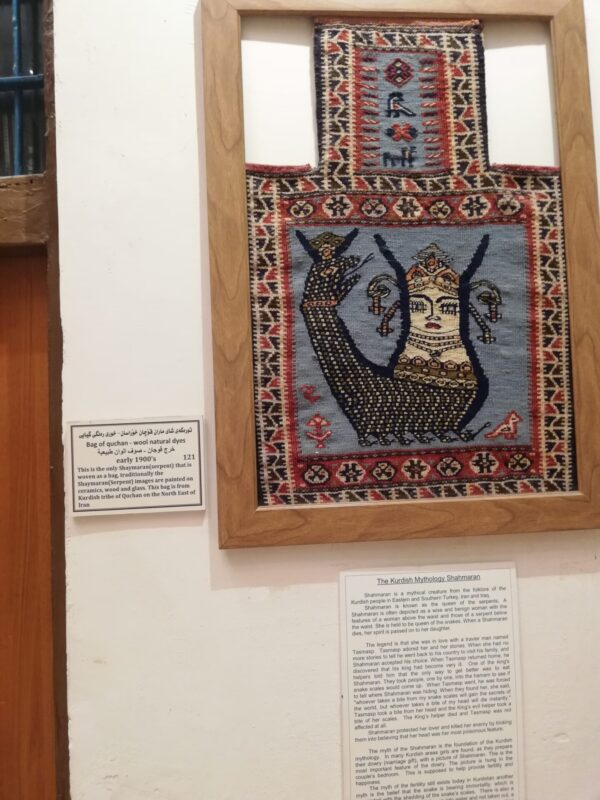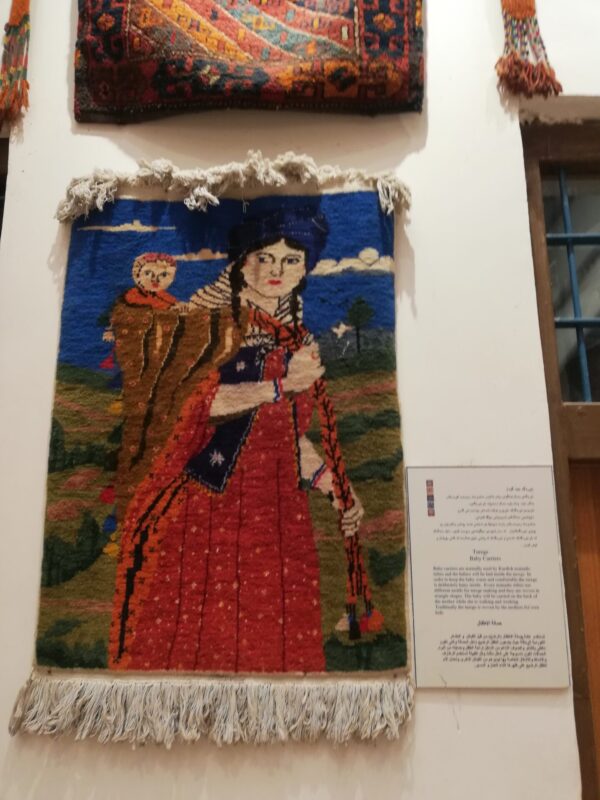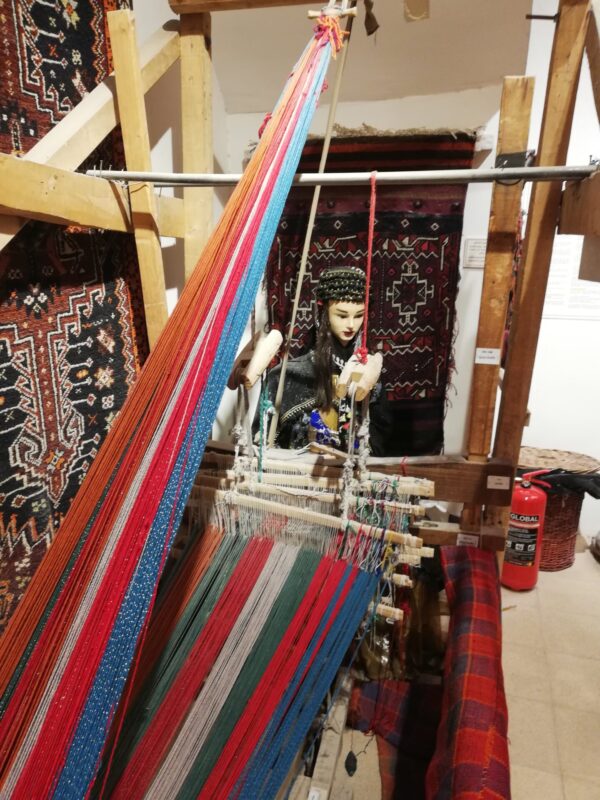 Kurdish loom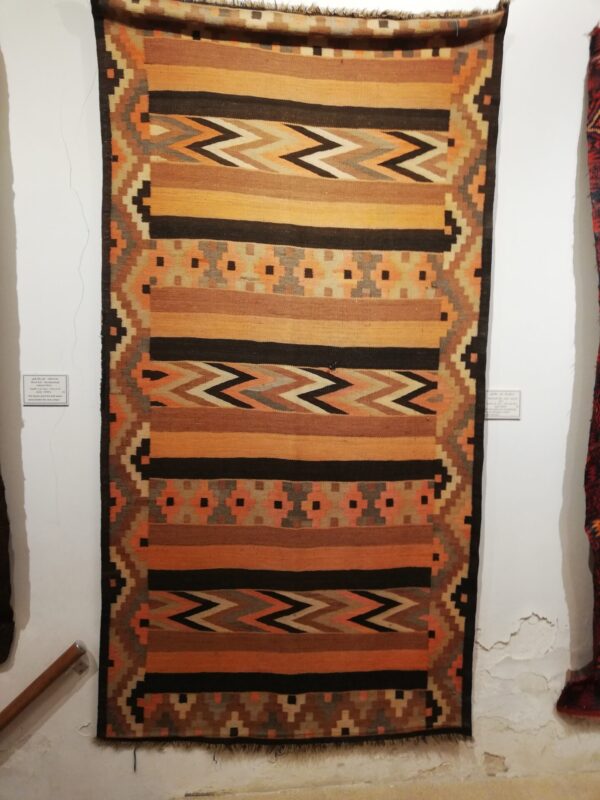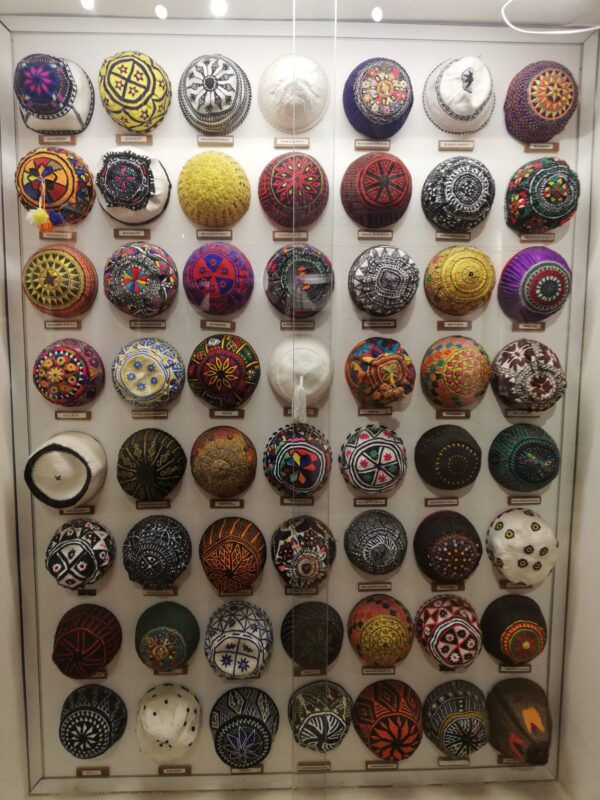 Caps from districts of Kurdistan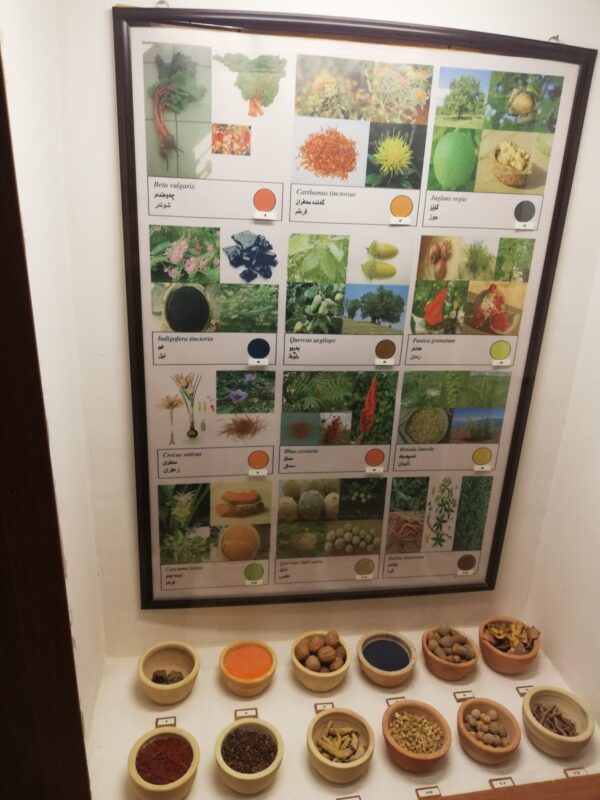 Dyes used for Kurdish textiles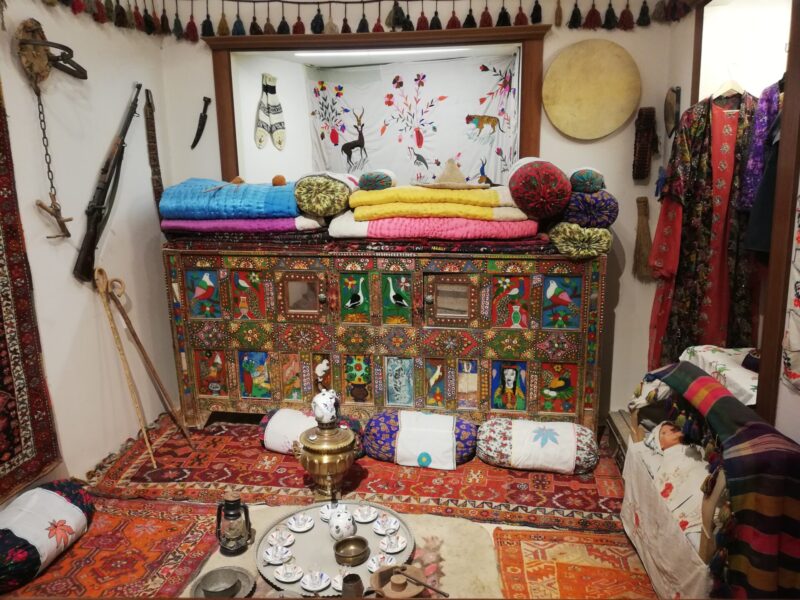 A decorated chest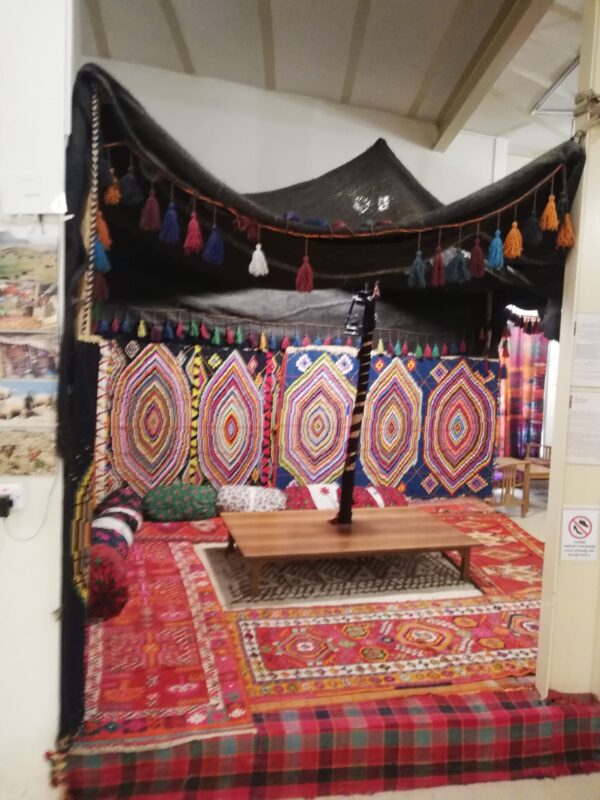 A bedroom. The brightly-coloured wall at the back consists of reeds with coloured threads wrapped around them.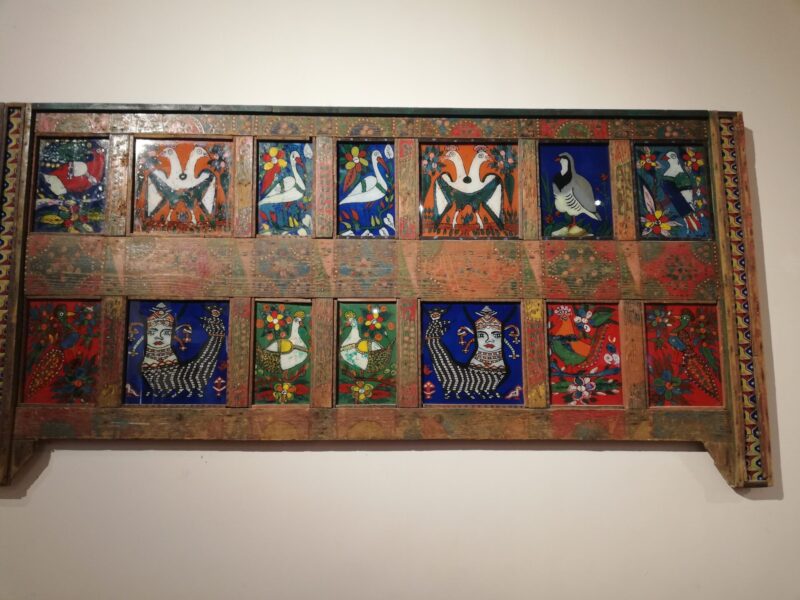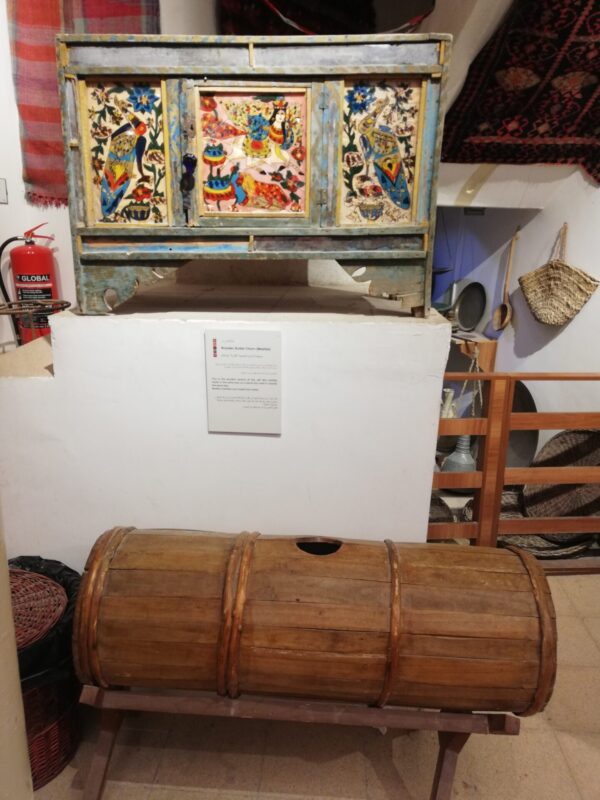 Butter churn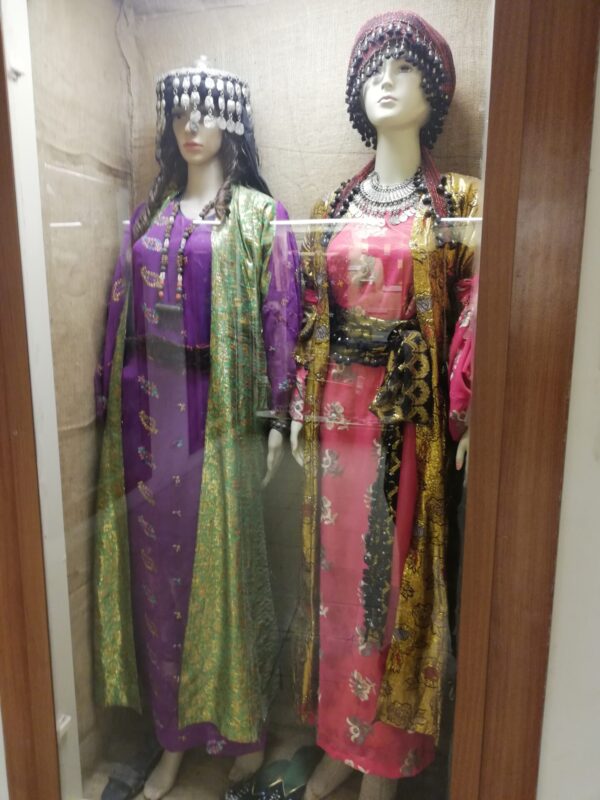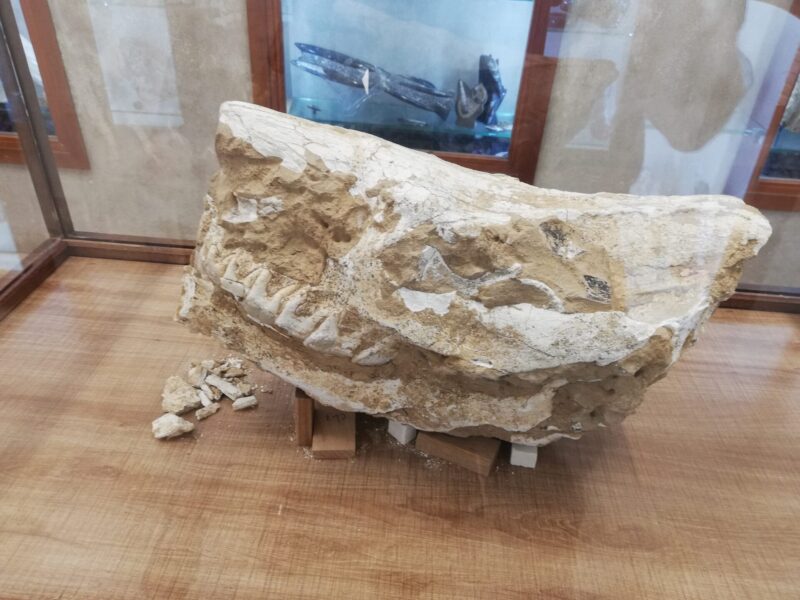 Fossilised hippopotamus head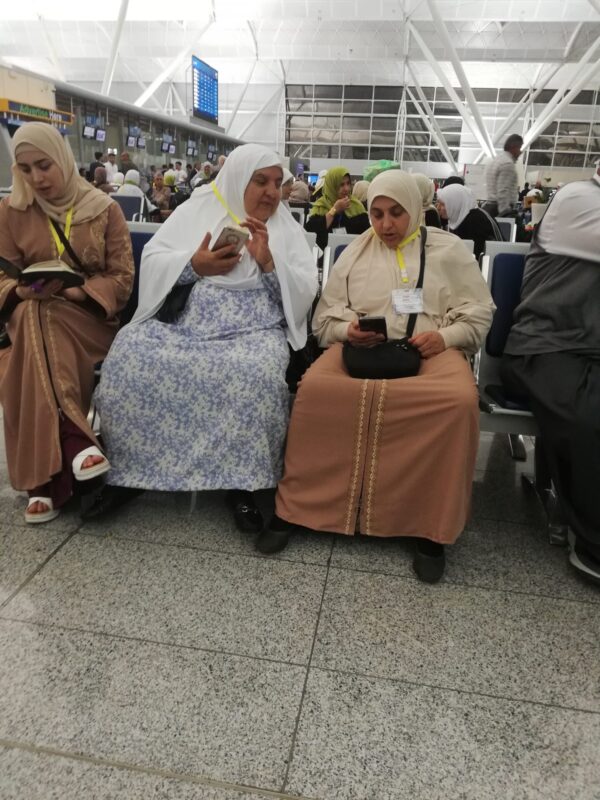 The women who gave us water and nuts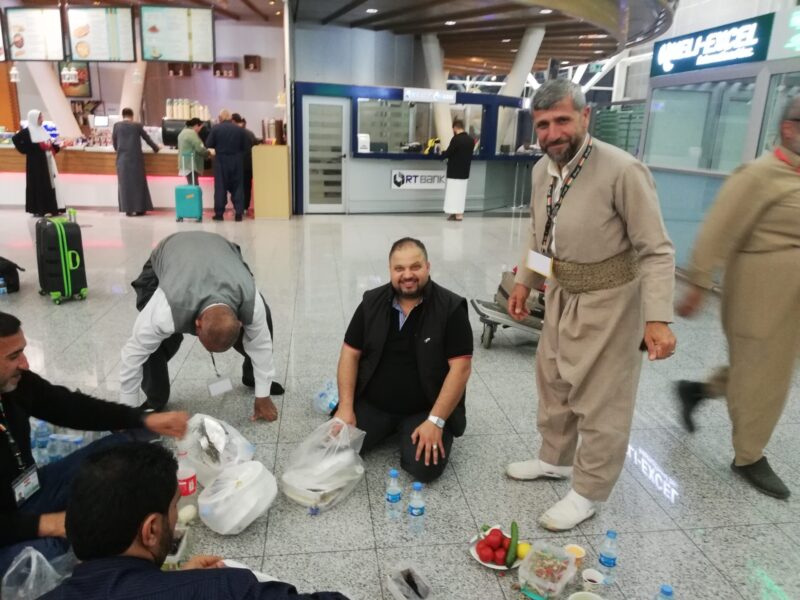 The men who shared their meal with us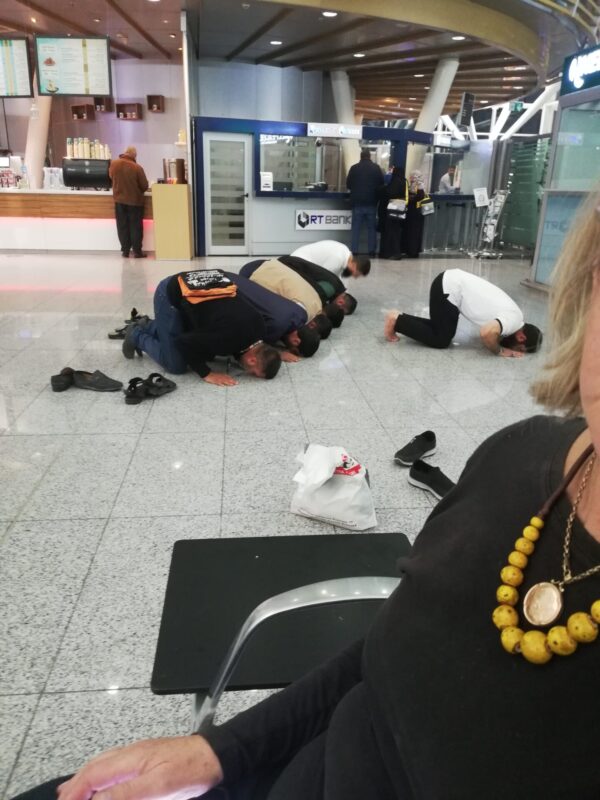 Praying
Day 37 (6th April) Erbil to Istanbul
We got the plane at 05.25 and reached Istanbul at 08.00. That meant that we had to wait 15 hours in the departures lounge for the plane from Istanbul to Baghdad at 23.15. The seats were designed so that we could not sleep comfortably on them and every 30 seconds there was a deafening announcement "this is the last call for passengers on flight ABCD to goodnesskowswhere". Utter misery and the less said about this torture the better. The fact that a pic of Starbucks was the best I could do sums it up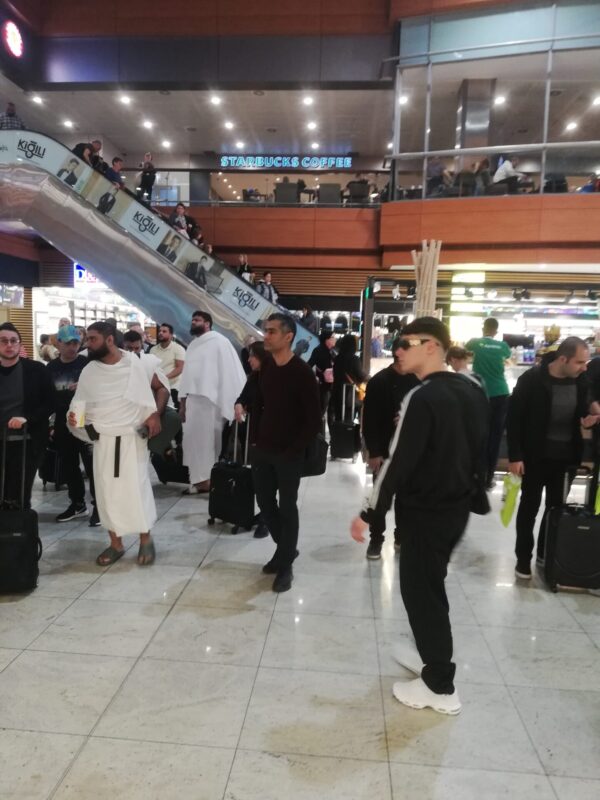 Istanbul airport
Day 38 (7th April) Baghdad to Alqosh
We touched down in Baghdad at 02.00 and the visa acquisition could not have been easier. The aim was to get a taxi to the bus station and then get a bus to Mosul and thence to Alqosh. We were accosted by the inevitable phalanx of taxi drivers telling us that the price to "Checkpoint" was $10 and to "Barqa" was $27. My insistance that we wanted the "bus station" was greeted with polite smiles. Eventually I got fed up and agreed to pay $27 to "Barqa". We were driven to an office and a man charged me $27. The taxi driver then took us to a taxi rank which was apparently "Barqa" and was officially called al-Alawa, and told us that Iraq doesn't have buses, only taxis. Which I suspect is true because I haven't actually seen a bus. The driver said he would find a taxi for Mosul; he didn't want us wandering round central Baghdad in the middle of the night because it wasn't safe! He found a rather quiet but friendly enough man who charged us $80 for the 250-mile journey undertaken at breakneck speed. We stopped at a truckers caff for breakfast (it seems that not all Iraqis do Ramadan) and a lady at an an adjacent table told us what we should pay for the meal of mutton stew and salad. The driver found another driver in Mosul who took us to Dohuk and then Alqosh for a total $60.
In the late afternoon, Randy took us to the Good Friday vigil in the main church (the Chaldean Catholic church) which had been going on all day and was still packed to the rafters with people, especially teenagers. The chanting by the priests and the response by the congregation was spine-tingling and the music was beautiful. I have to admit that, even as a militant atheist, I was almost moved to tears by the beauty of the sounds and the infectious fervour of the congregation. Some interesting features: all the (very pretty) girls had hair down to their waists, the boys had the modern hair style of shaven sides to their heads, and nobody wore socks. Is this fashion or is it religious. I was going to ask Randy but we (ie me Jennifer and two Germans staying in his house) couldn't find him so we walked home.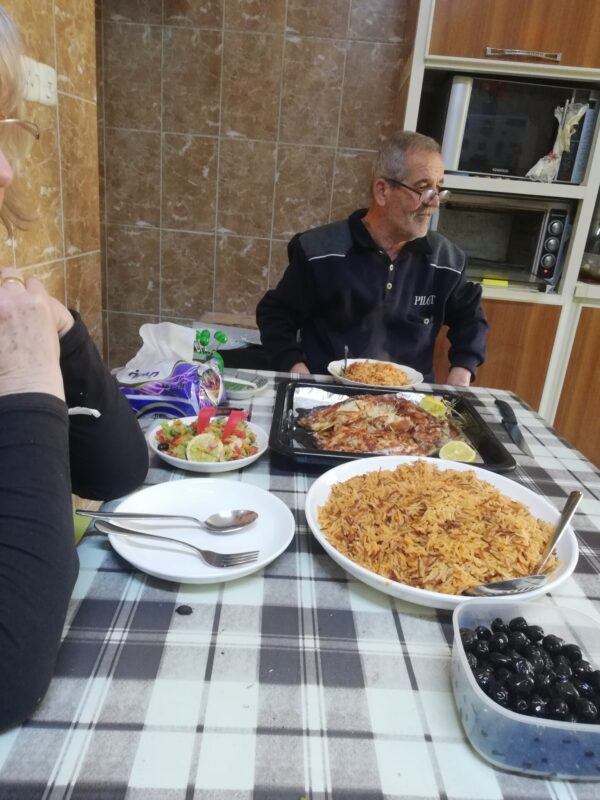 Randy's father and delicious meal. It was Good Friday, so a big fish that looked like a very fat mackerel and tasted like cod
Day 39 (8th April)
In the morning we followed Randi's car (which also carried Eduard and two Germans to the Mor Mattai (St Matthew) monastery, 20 kms north of Mosul on the slopes of Mount Alfaf. It is a Syriac Orthodox Church and is recognised as one of the oldest Christian monasteries in the world. This saint was born near Diyarbaker and the monastery was founded in 363 after he fled persecution by the Roman emperor Julian the Apostate. He healed the daughter of Sennacherib, who was the Governor of the area of Nimrud, and appointed by the Persian King Shapur. He had killed his son and daughter when he learned they became Christians, but he later recanted and built a church and a monastery at Mor Mattai's request on Mount Alfaf. The monastery as been repeatedly modernised, but a very old section can be seen behind the new buildings. We met the bishop and Jennifer talked to him about religious stuff
In the afternoon we went to see the Jerwan aquaduct built in 693 BC by Sennacherib, and it is said to be the world's oldest aquaduct. It is covered in cuneiform inscriptions, which are being stolen and smuggled abroad. We bought a large plant at a garden centre on the way back for Randi's mother, whose own mother had recently died, as a mark of condolence. I also stopped for some diesel, but the young lad who fills tanks didn't understand the word "diesel". He told me he sold "benzin" and "mazut", which is the Russian word for residual fuel oil burned in factories. He used Google Translate to tell me "it is carswell my dear friend". Apparently it is called "gasoil" in Iraq and "carswell" is the literal Iraqi translation of "gasoil".
We had intended to go to the Palm Sunday mass at the church on Sunday the 9th, but the Chaldean church measures a day from sundown to sundown rather than from midnight to midnight for religious purposes. Thus a Palm Sunday mass was held at 8.00 pm on Saturday evening. The first hour was a beautiful experience, the second hour was rather tedious and the third was a bit boring. It consisted mostly of the bishop's sermon in a language we didn't understand and the communion when perhaps 1,000 people went up the bishop for a wafer (but no wine). About half the entire population of the town go to the two services and many more go to the other Chaldean church. They all seem to know the ritual inside out, constantly standing up and sitting down, and chanting the response to each statement by the bishop. Ashqol is evidently a very devout town but, strange to relate, about one-third of electors vote for the PKK (Kurdistan Communist Party). I suppose that when a population is oppressed and constantly afraid of attack, religious and political affiliations become subsumed and the PKK's appeal is due to its decades-long struggle against Saddam Hussein, Kurdish religious extremists and ISIS.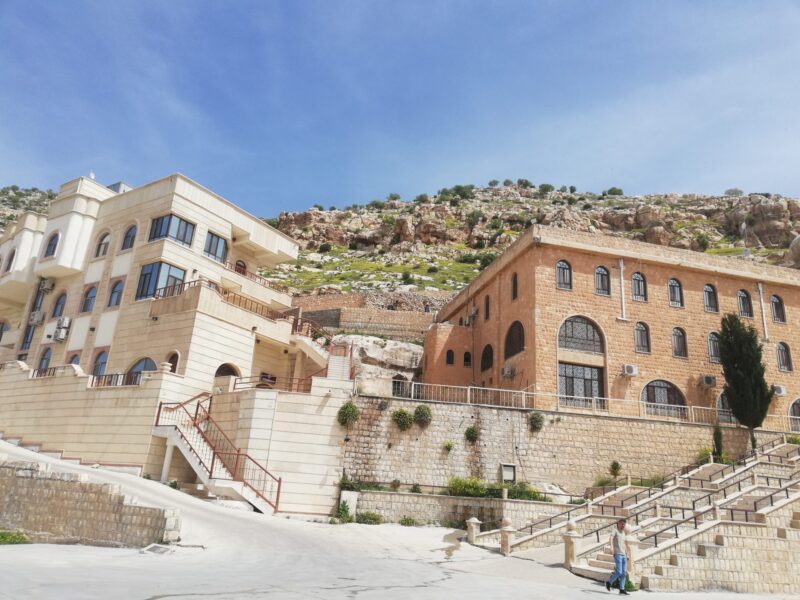 Mor Matei monastery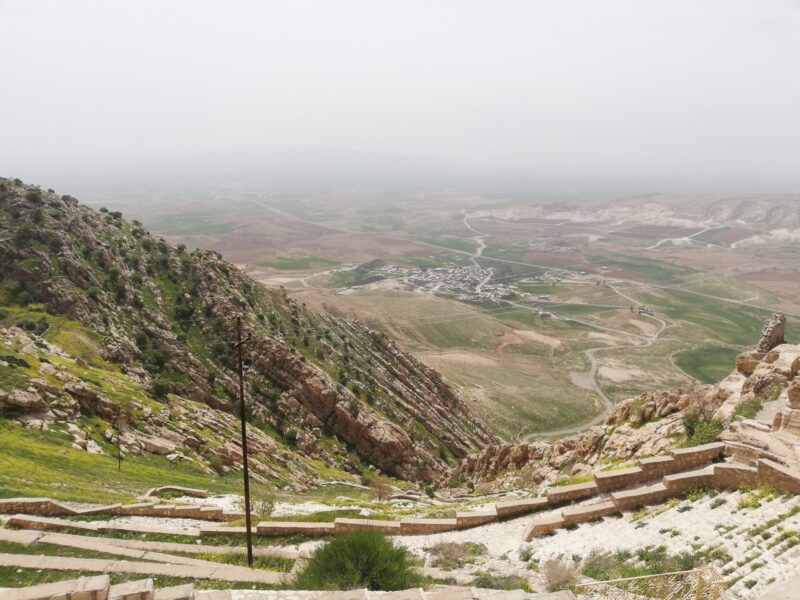 View from the monastery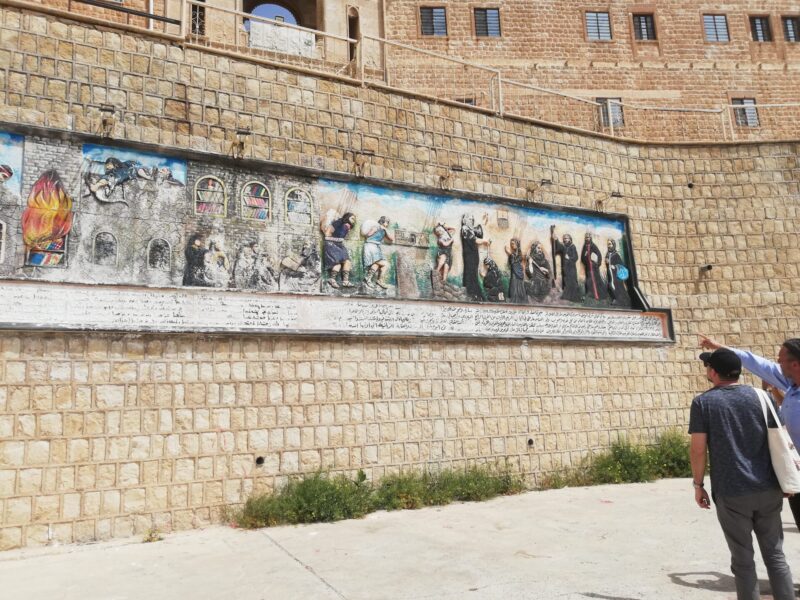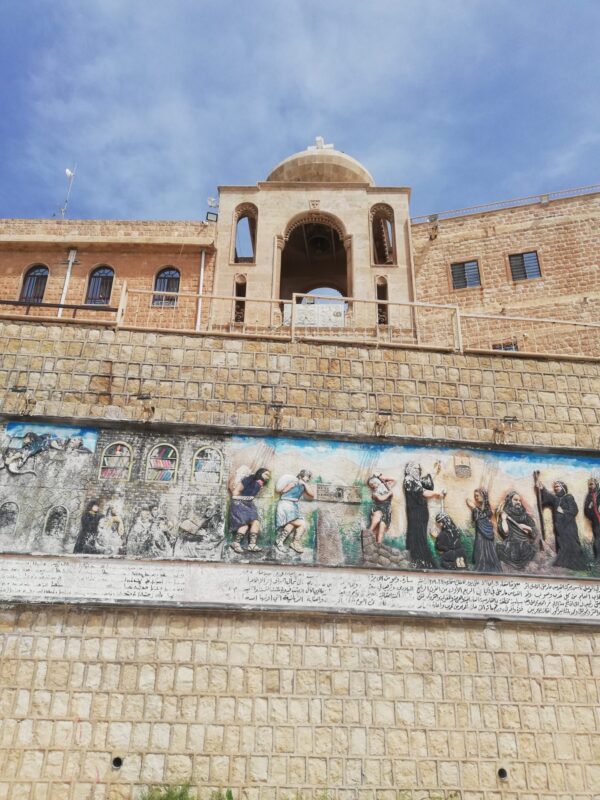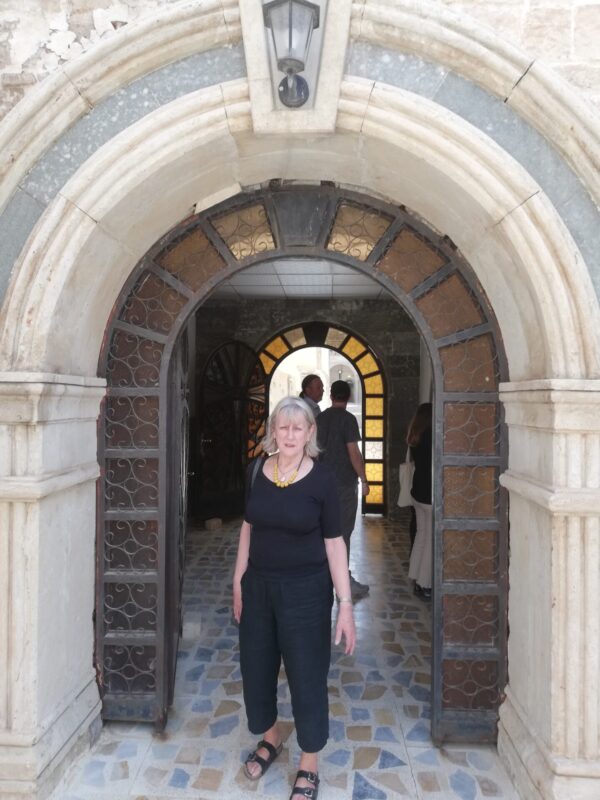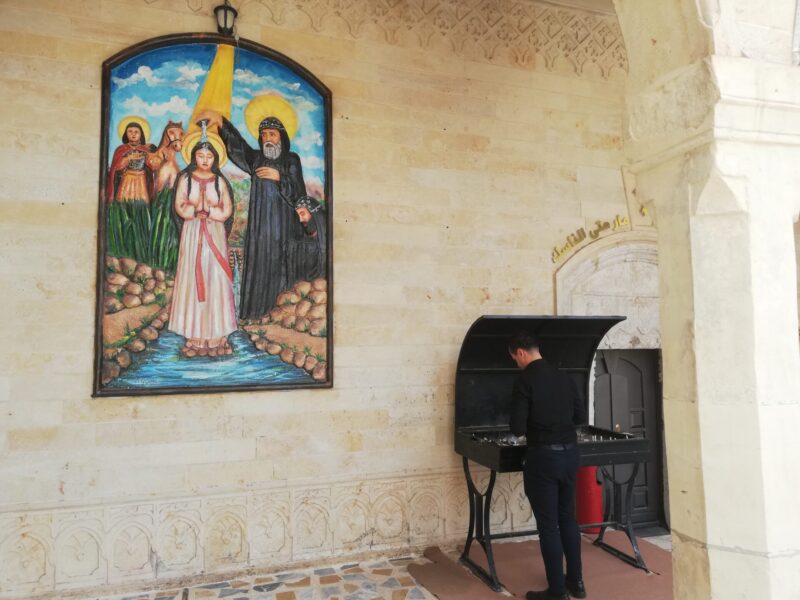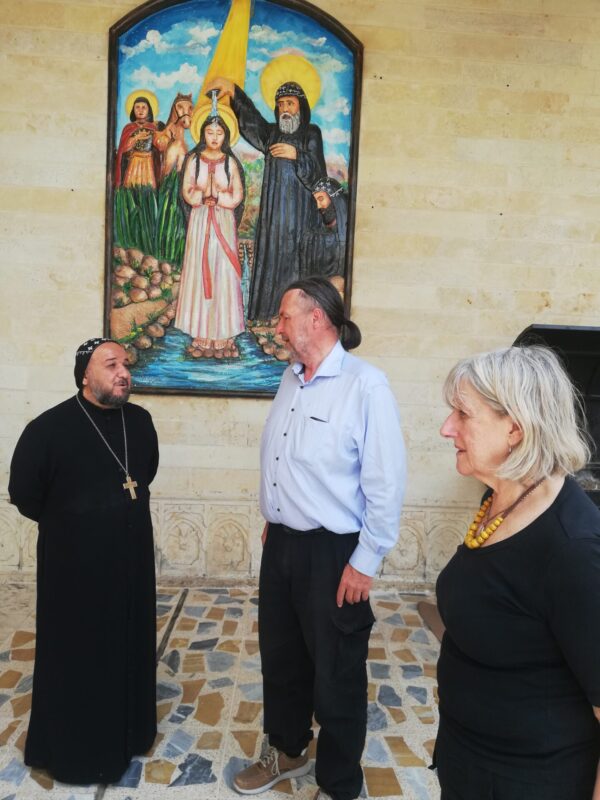 Jennifer and Eduard talking to the bishop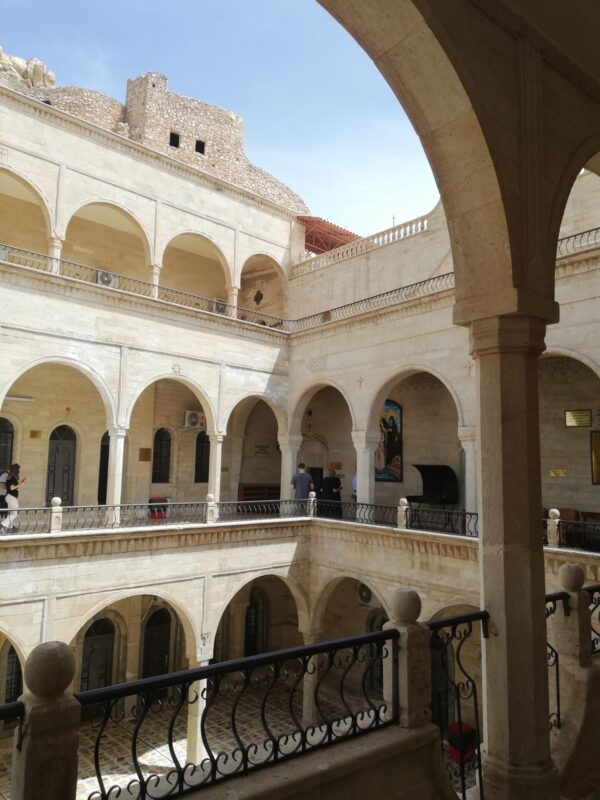 Section of the old monastery higher than the new one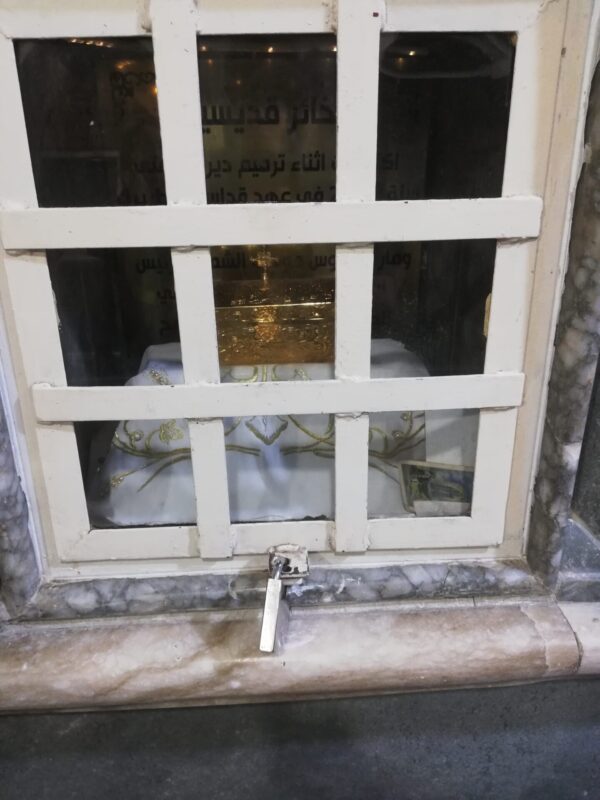 A relic of Saint Matthew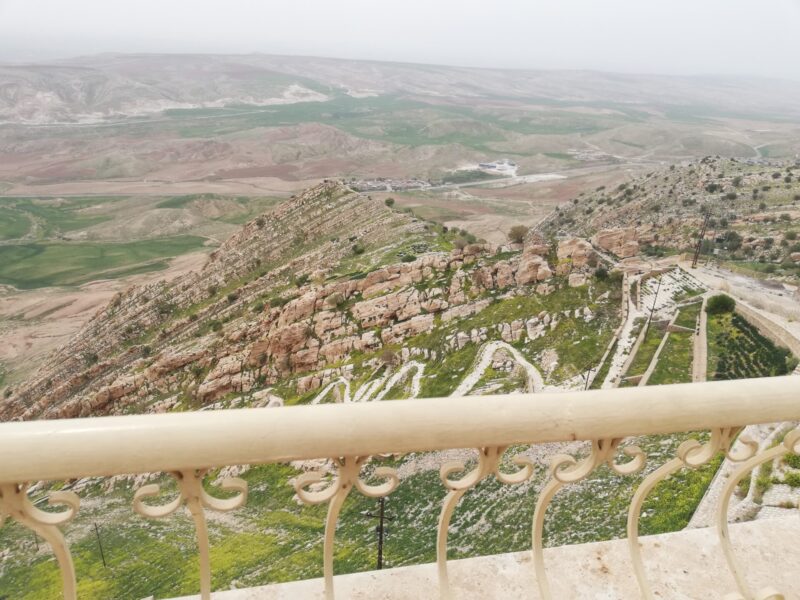 Footpath from the monastery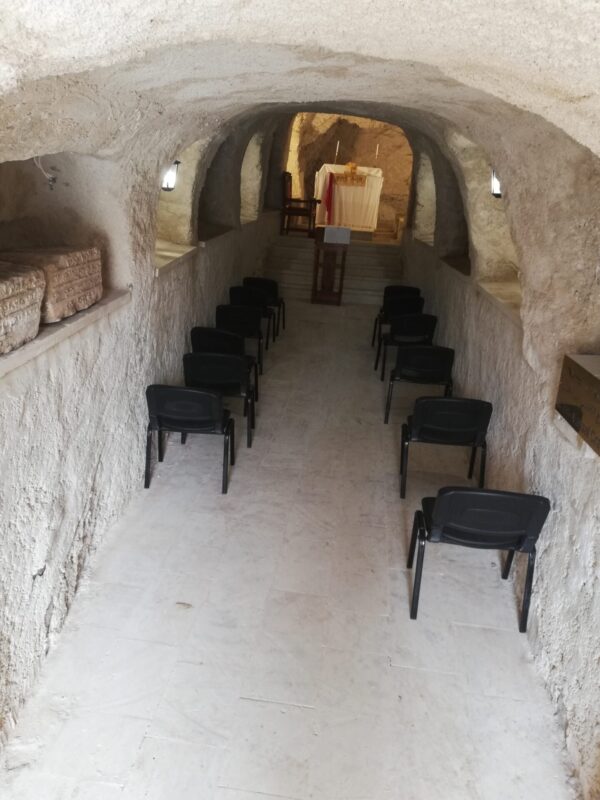 Tomb of the patriarchs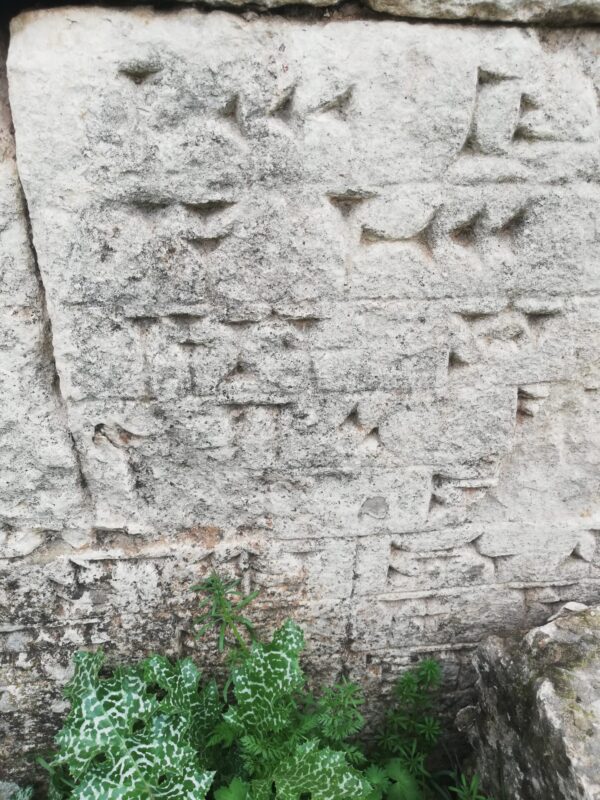 Cuneiform at the Jerwan aquiduct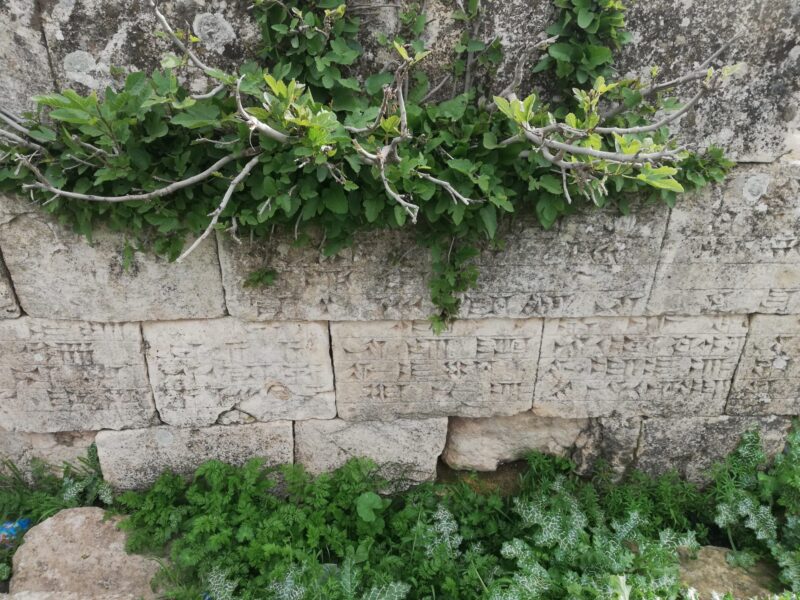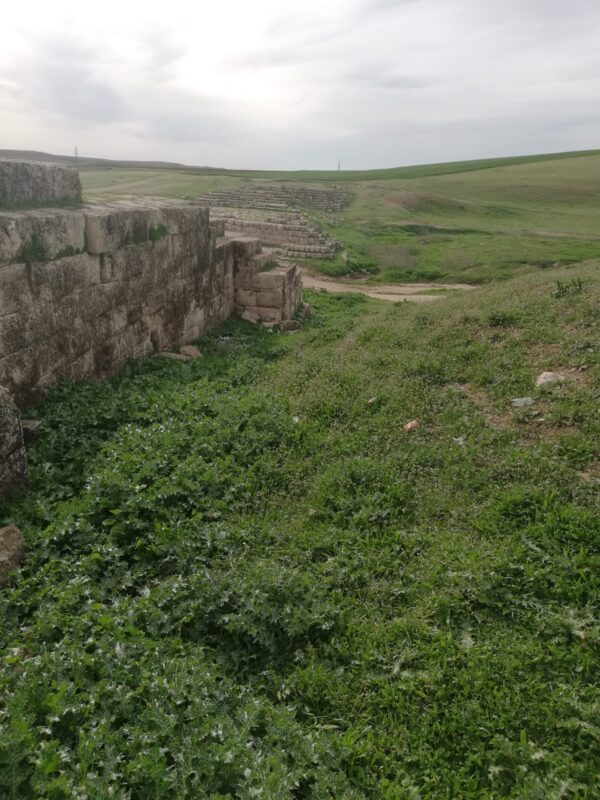 The aquaduct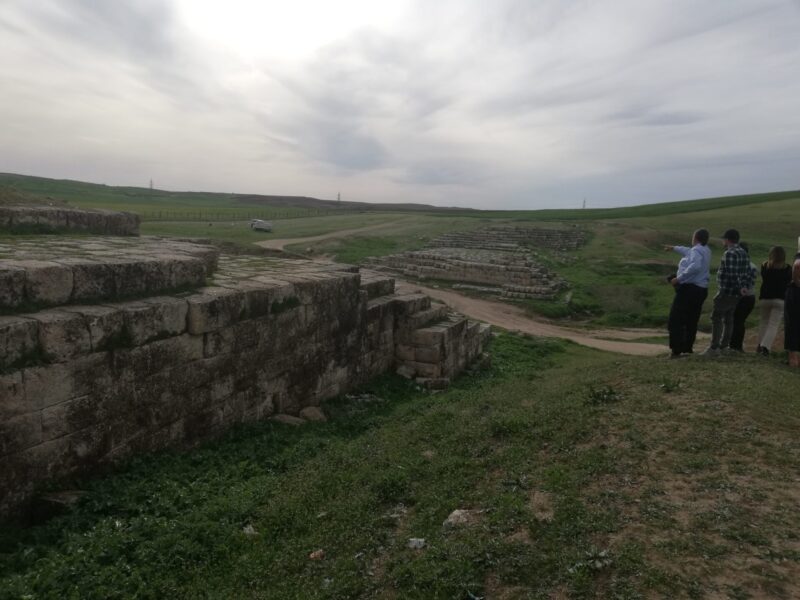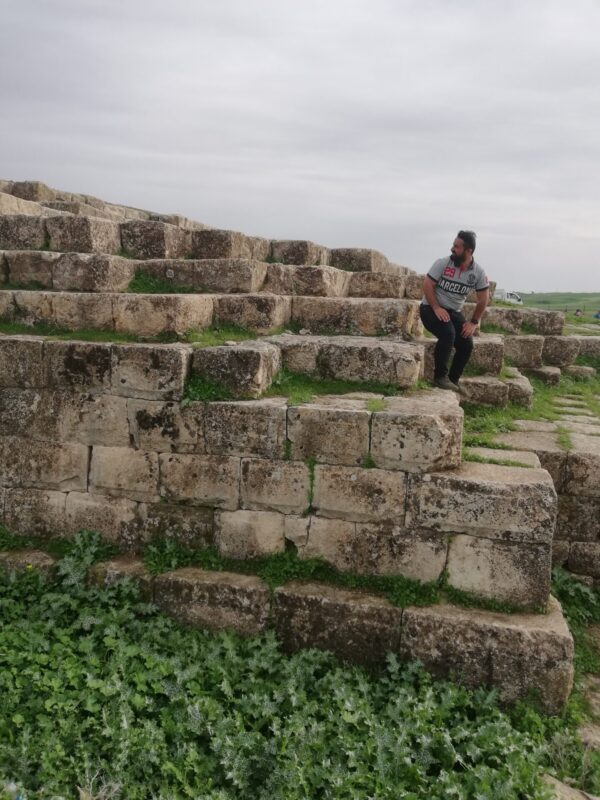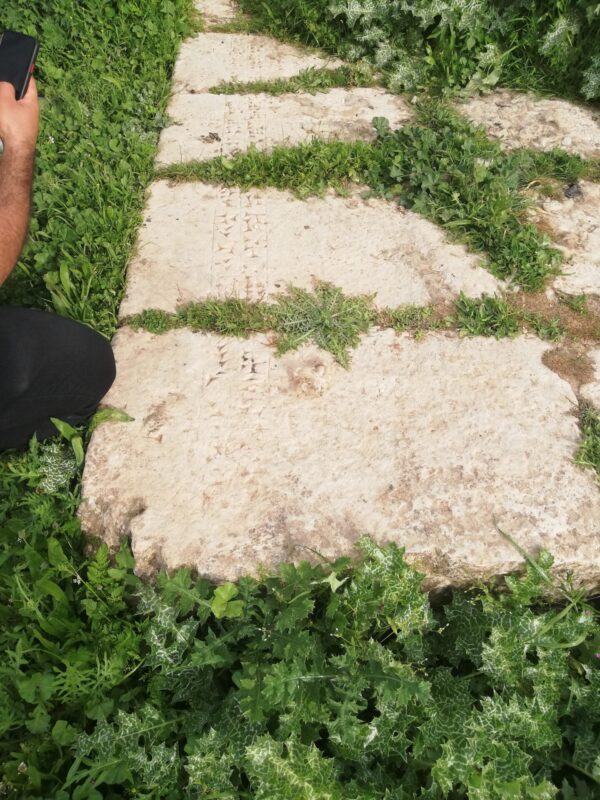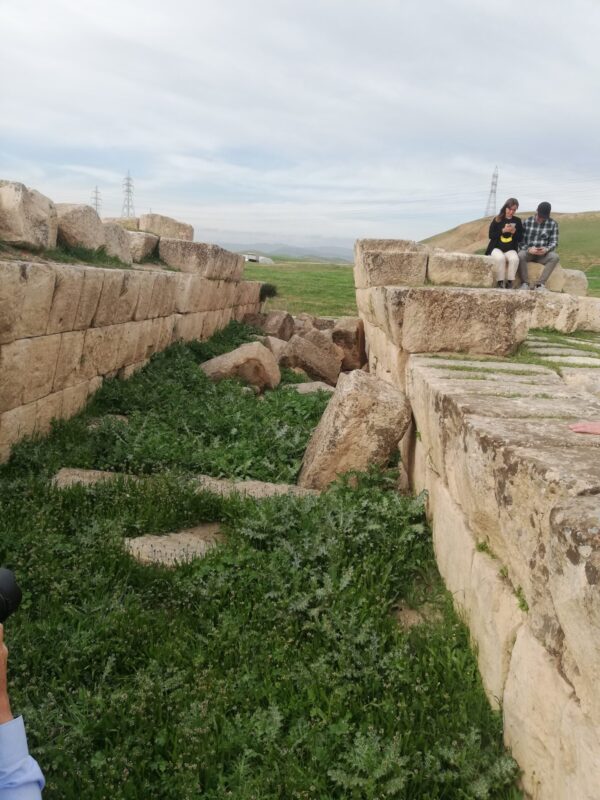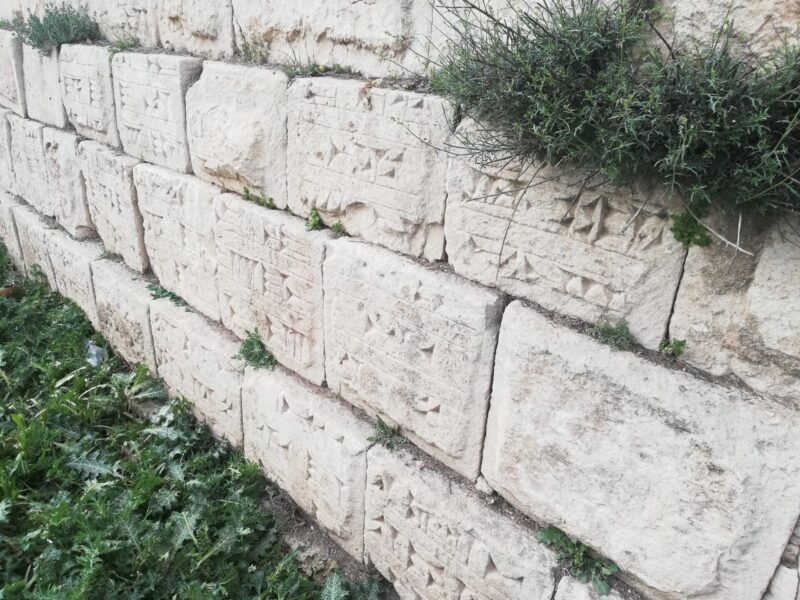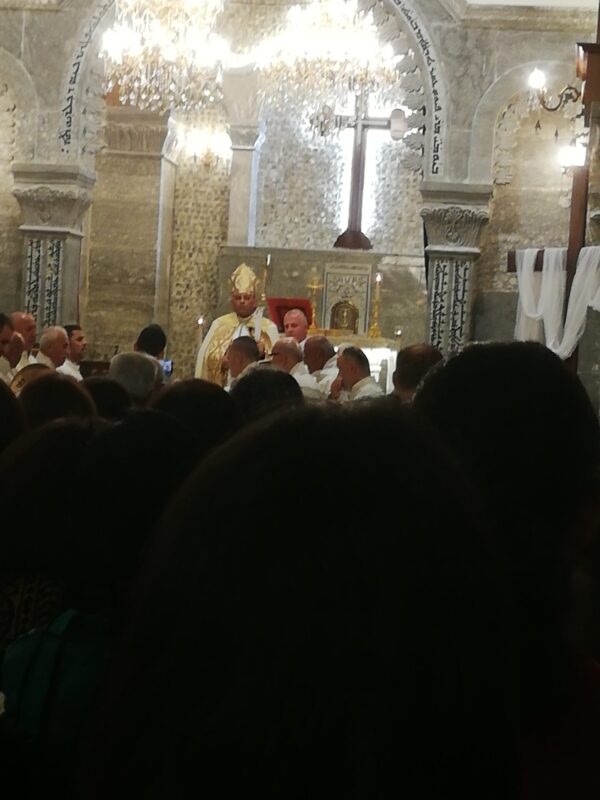 Good Friday Chaldean Church Service with the bishop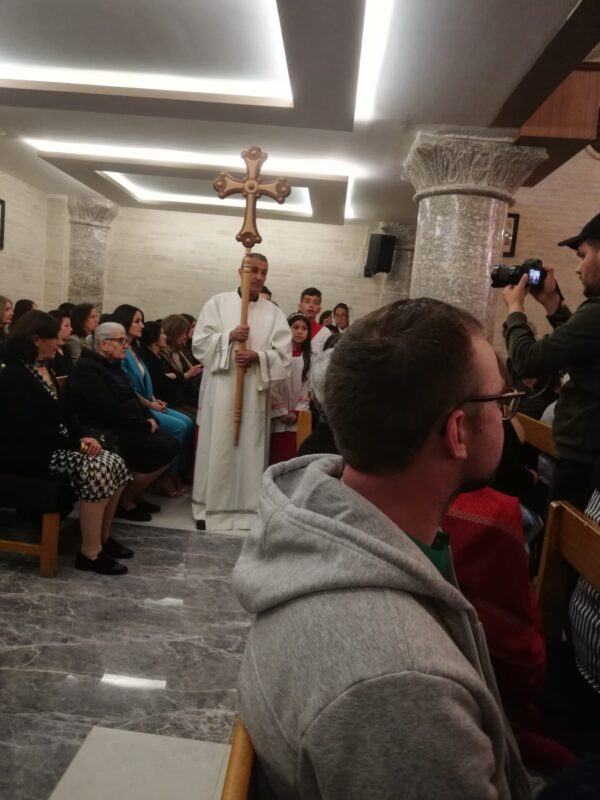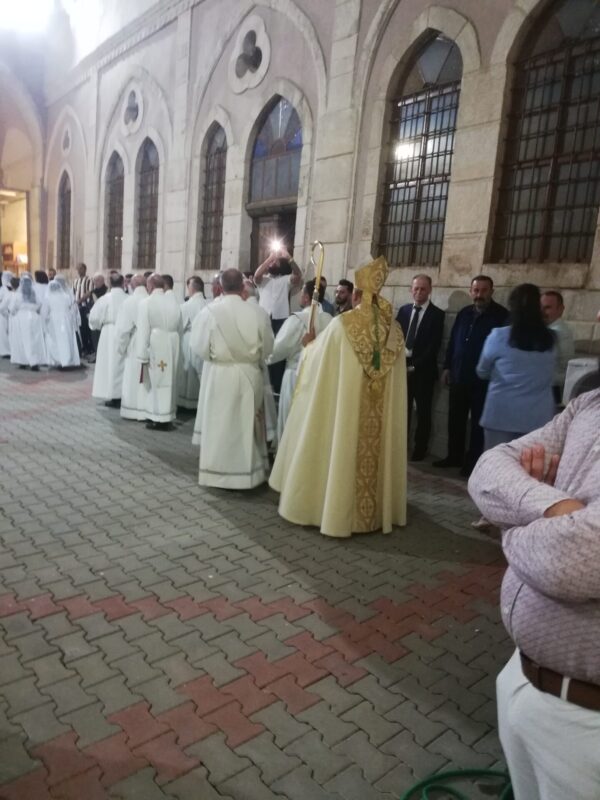 Day 40 (9th April) Alqosh to Baiji
We had a beautiful breakfast in the morning, consisting of omelettes made with cheese as well as eggs sprinkled with black honey, homemade Ashqol cheese, which is rather like mozzarella, and a black coffee made by Randi to his own recipe. We then set off for Mosul on a direct road which was suspiciously quiet until we came to a checkpoint where we were ordered to turn back on the grounds that "there are Iranian militia groups in the area and it is dangerous" according to a soldier's Google translate.
The main road to Mosul has frequent checkpoints where we are almost always pulled over and our passports are taken away for inspection by a general. He usually comes to talk to us about where we are from, as if the passport has not already told him, where we are going and how do we like Iraq. I made the mistake of saying that it is beautiful, and he smiled sadly, saying "No it is not beautiful". It is clear that they are curious and we are helping to lighten their dreary boring day. A wrong turning took us into the centre of Mosul which was a nightmare to get out of
The Ninewa (or Nineveh) Plain was as flat as a pancake and totally devoid of trees. We had a splendid evening meal at a truckers caff in Baiji and spent the night outside it. This is "Sunni Heartland" territory consisting of Samarra (where we intend to drive tomorrow to see the magnificent Maliwa ziggurat), Ramadi, Tikrit (which was Saddam's birthplace), Fallujah and Baiji, and where most of the victims of Bush and Blair's invasion died.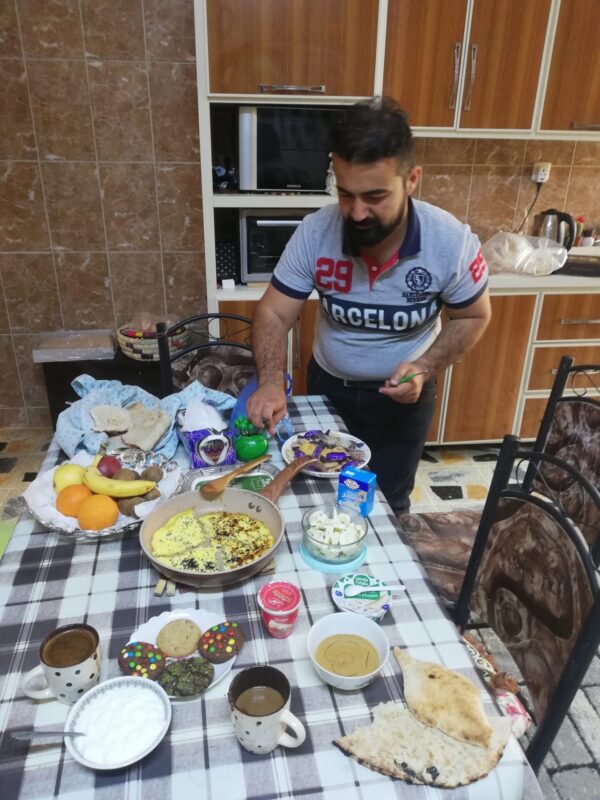 Randi preparing breakfast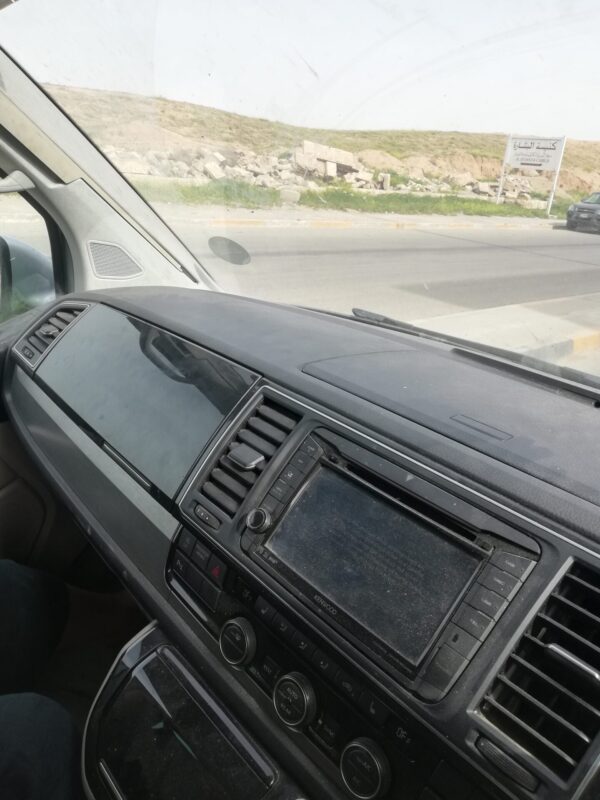 Bombed area at Tikrit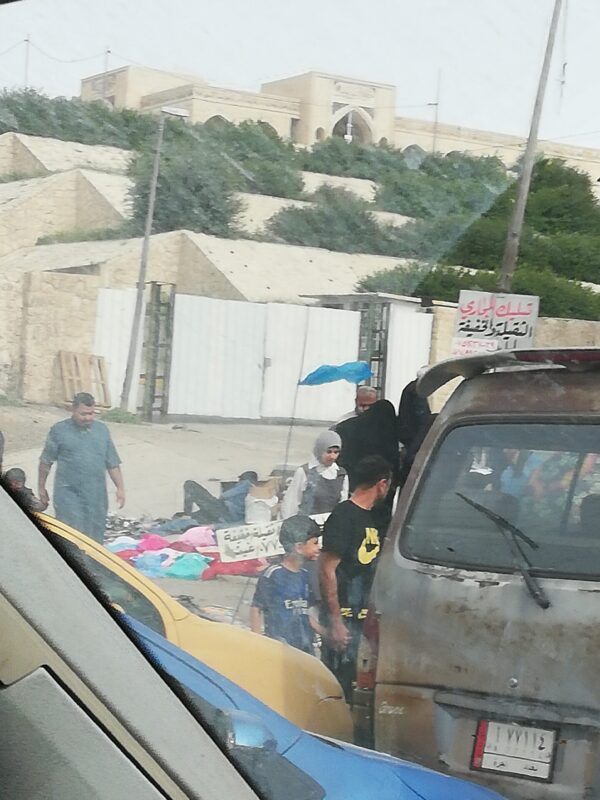 Government building at Baiji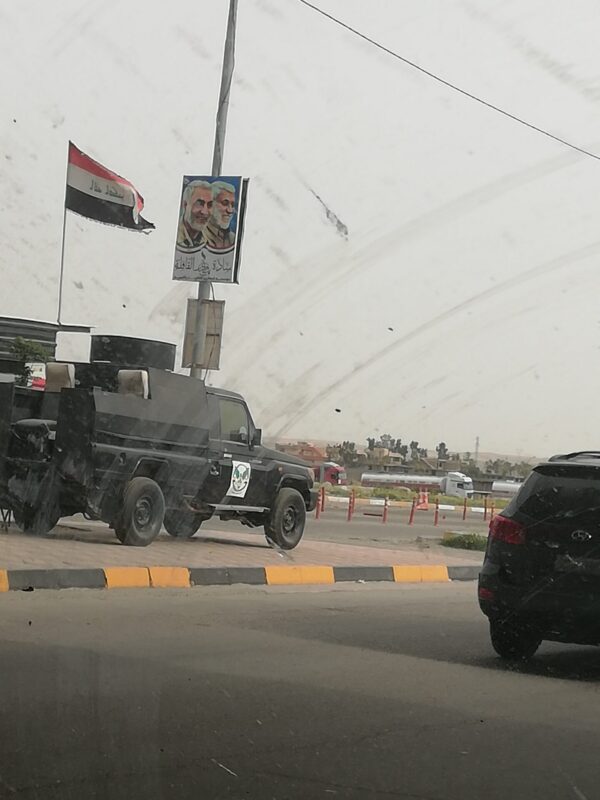 Baiji checkpoint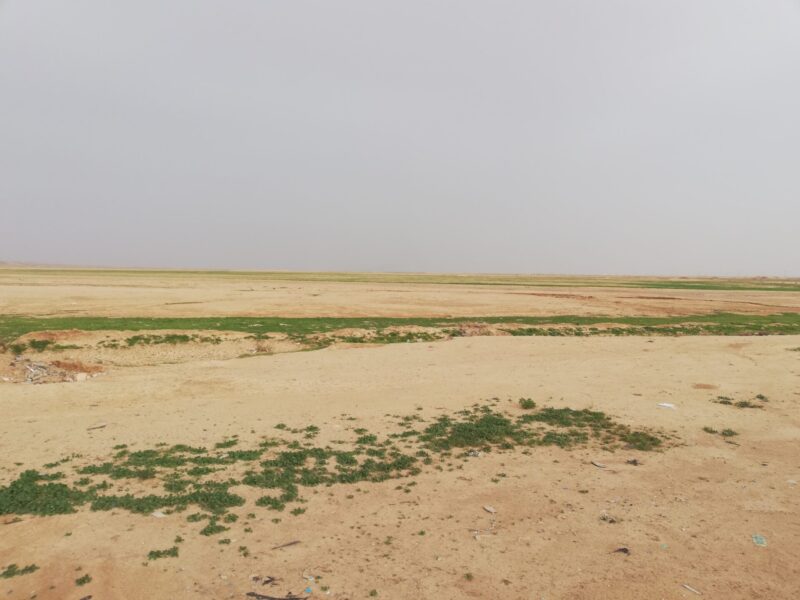 Baiji landscape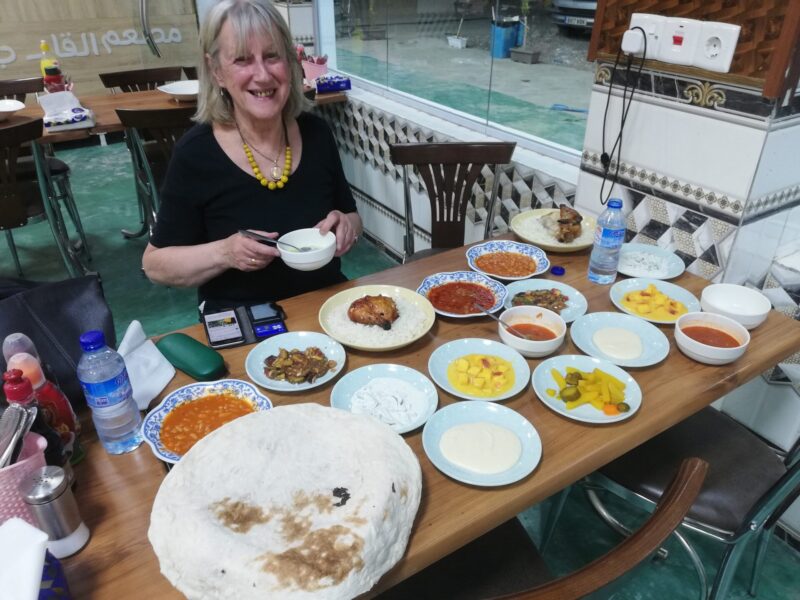 The truckers caff at Baiji
Day 41 (10th April) Baiji to Baghdad
This was a busy day. Assuming that the population of Tikrit were mostly Saddam's family, neighbours and supporters, the Americans subjected Tikrit to particularly ferocious bombing and it is still possible, 20 years later, to see many ruined buildings. However the Iraqis are rebuilding the town at a frenetic pace and it now consists of one massive traffic jam, made worse by a haphazatd road-building programme.
There is nothing to see in Tikrit so we continued to Samarra with the checkpoints becoming more and more frequent. Just outside Samarra, there were three checkpoints in about three miles, I suspect that this is due to the Shiite Government wanting to rub Sunni noses in the shit by putting Shiite soldiers in charge of the road blocks. At one place there was a large picture of what I thought was Imam Khomeini but a soldier told me it was Moqtada al-Sadr, a Shiite militia leader. Western travellers must be very infrequent because we attracted a huge amount of intention at every checkpoint while the soldiers telephoned their General to get permission to let us through. On one occasion we had been given the passports back and a soldier came out with two bottles of water. Thinking we had permission to leave, I set off and shortly afterwards a car came racing past, darted in front of us and made me stop. I was ordered to return to the checkpoint where all the soldiers were roaring with laughter because the General had not yet given us permission to leave the checkpoint. The Commander took my arm and tapped it as a punishmnt, which evoked more laughter. Having said which, all the police and soldiers have been extremely friendly and polite.
The Malwiya is so tall that it can be seen from miles away and we had no trouble driving up to it. It had been the minaret for the Grand Mosque at one time, but survived after the mosque collapsed. Sadly it was closed so I was unable to make the scary walk to the top.
Dreading the prospect of driving through 30 miles of built-up suburbs and bad roads to reach Baghdad's most prominent attraction, the Al-Khadamiya Grand Mosque, I toyed with the idea of driving straight to Karbala to see the Shrine of Imam Hussein, but found ourselves in Baghdad more by accident than design. It is a huge city and took forever to get to the western suburb of al-Khadamiya. I then assumed we could drive up to the mosque. Wrongly as it turned out, because you have to park some distance away and walk. We were directed by a friendly man pushing a barrow to a bit of roadside kerb purloined by an enterprising Iraqi who charged me £2 for leaving the van there. We were directed up a deathly-quiet road, which had me a bit worried, until we came to a checkpoint, turned left and saw a huge crowd walking to the mosque up a wide avenue. The middle of the avenue was spread with rugs on which people were sitting, breaking their fast. Some of their food was freely provided by the mosque: little bowls of thick lentil soup or plates of rice with some kind of stew. We were given the soup. We then had to deposit our phones in exchange for a small plastic token and take our shoes off. Jennifer was then directed to the women's entrance while I went through the men's. Literally thousands of people were praying. I went through an arch into the very centre of the mosque which was mind-blowing. Everything was covered in gold of which the light refected to make a dazzling display. Thee was a large golden cage with people peering through the lattice work to see a large black blox inside.
When I eventually met up with Jennifer, wrapped up in a black cloak which a sweet old lady had lent her, and fastened in the correct way, she told me that she had seen the same spectacle from another side. The mosque was an unforgettable experience with the combination of a muezzin singing and the sight of literally thousands of people praying.
We then drove towards Karbala and stayed the night at a filling station. We were initially told it was impossible, but the night manager then relented and told us to park with some trucks. Some time later he arrived with the security man who spoke extremely good English; strange for a bloke who works patrolling a filling station. Called Mustafa, he wanted to know why we were there and was amazed when we told him we had driven from England to see Iraq and were staying in lorry parks. The night was grim because, not using our brains, we left the van door open because the van was boiling hot (the outside temperature was 34 and it had been 37 in mid-afternoon) and every mosquito for miles around came to visit us. And bite us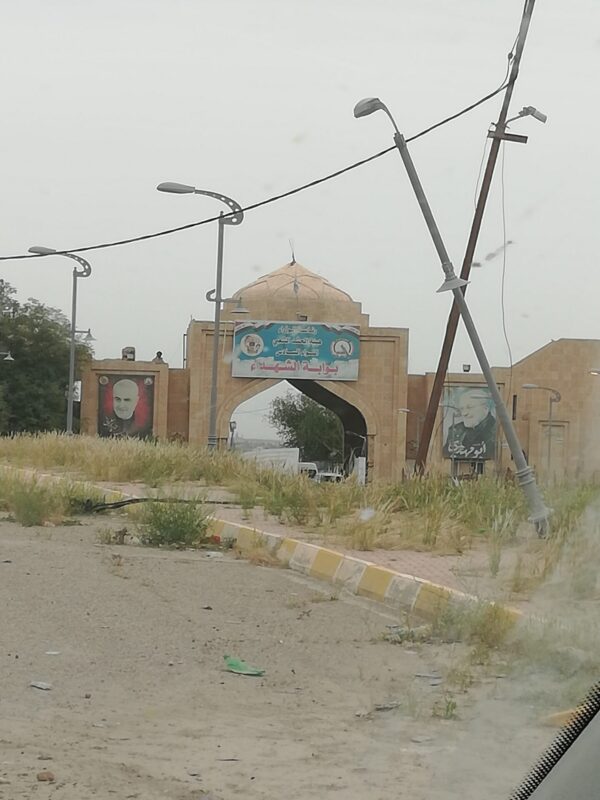 Mosque at Baiji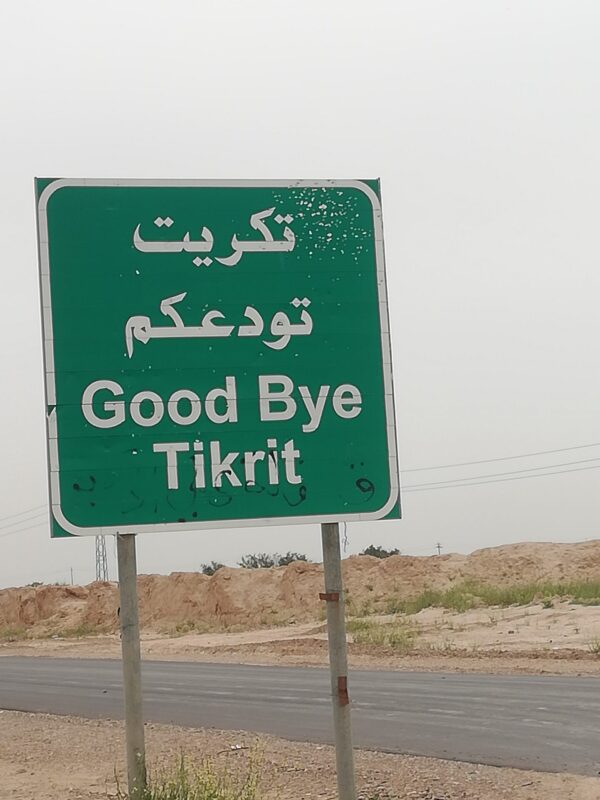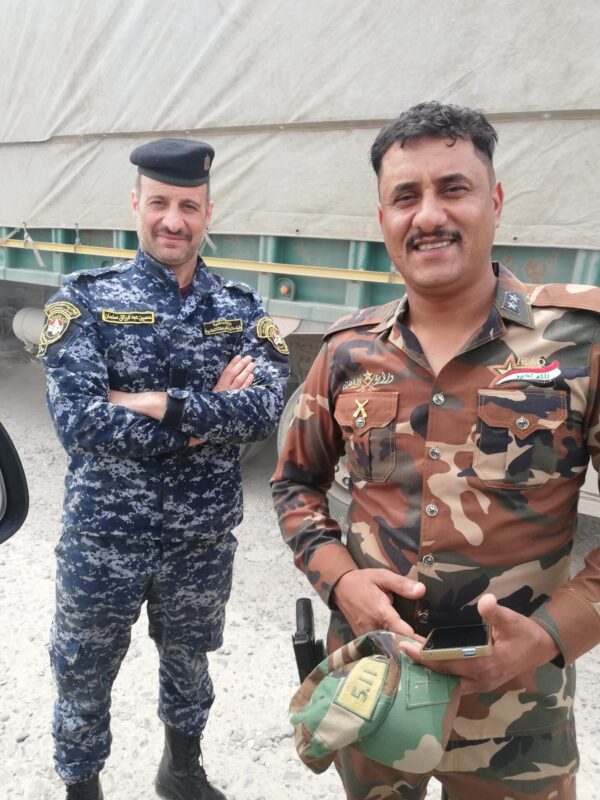 Super-friendly checkpoint guys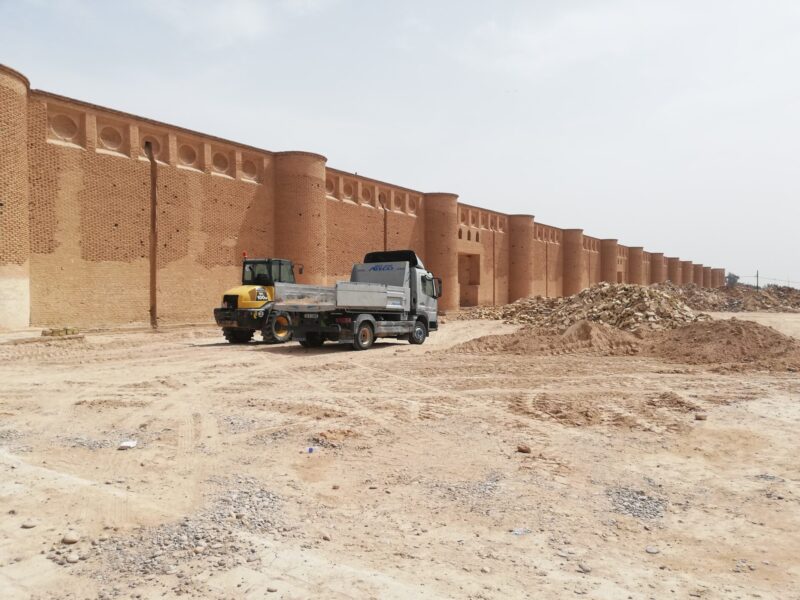 Wall of Grand Mosque at Samarra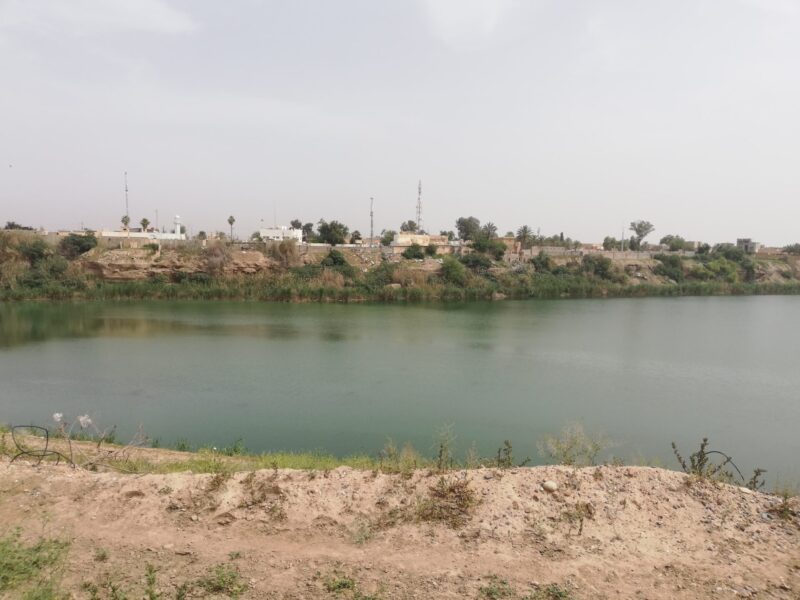 Lake near the Tigris at Samarra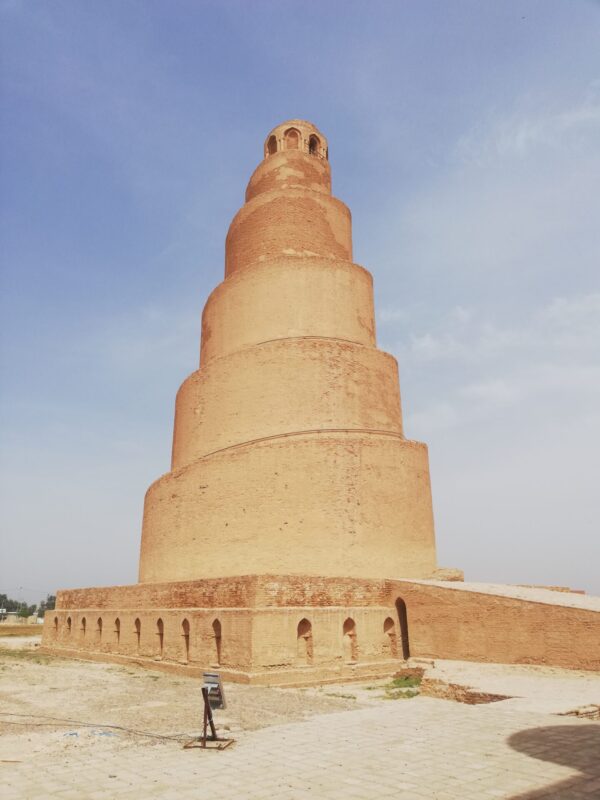 The Malwiya at Samarra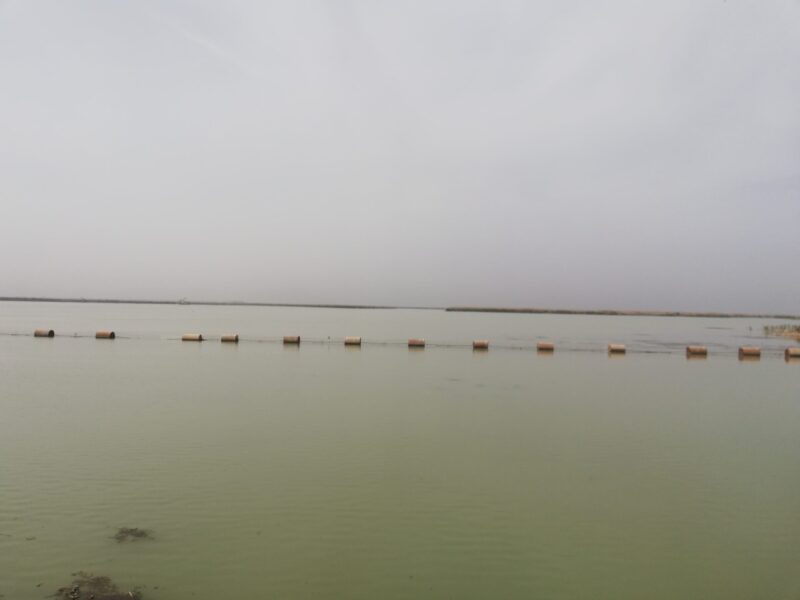 The Tigris river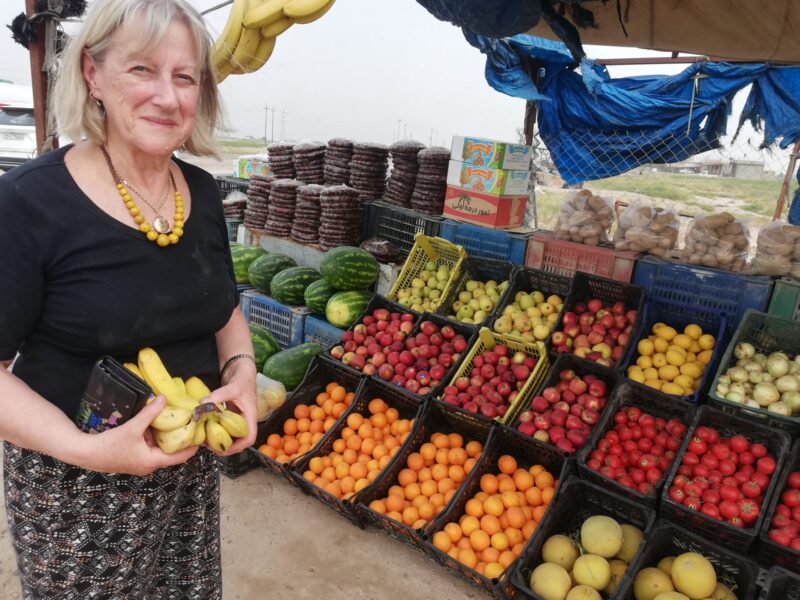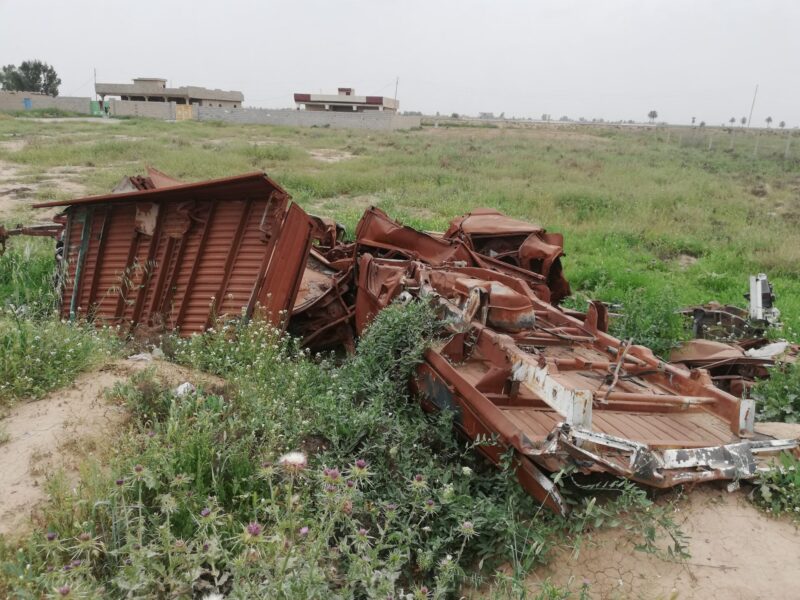 Bombed army vehicle near Samarra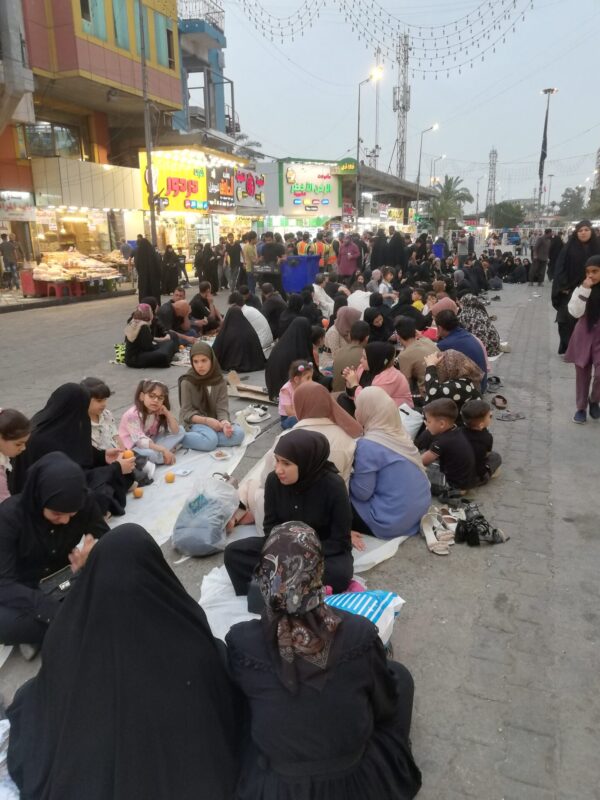 Communal eating at al-Khadamiya Grand Mosque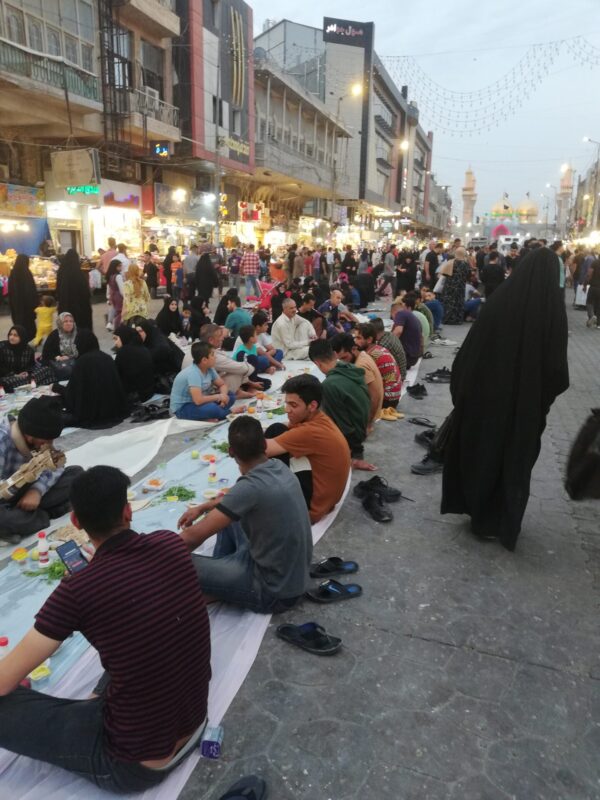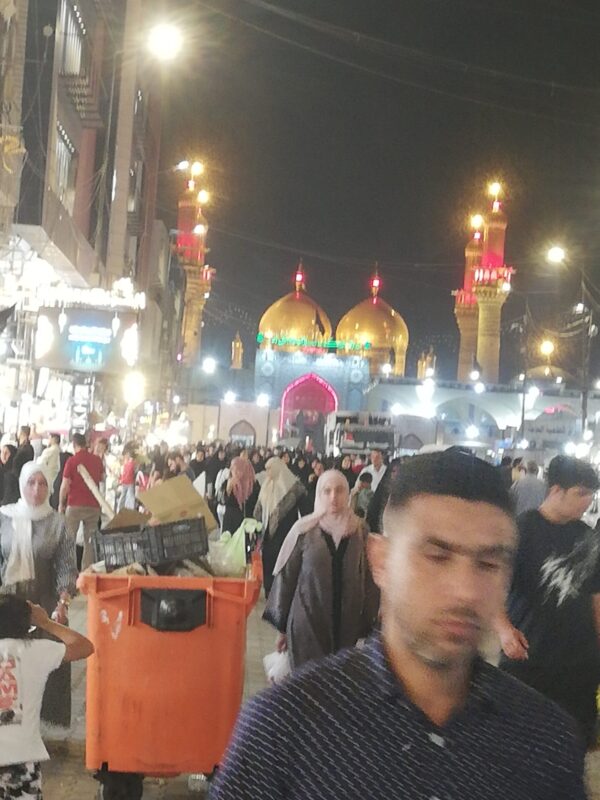 al-Khadamiya Mosque. It cant be filmed any closer
Day 42 (11th April) Baghdad to Diwaniyah
This should have been one of the highlight days but was a major disappointment. It started well because we tried to get some diesel at the filling station where we spent the night, and were told that we needed an Iraqi number plate. The problem was resolved by the staff positioning the van where the camera could not see it, and we got 30 litres which was as much as they dared let us have. The aim was to visit Karbala, Babil (Babylon) and Najaf. Firstly we missed the road off the Baghdad-Basra motorway to Karbala, and decided to go there when we return home through Iraq to see the Shrine of Imam Hussain. We reached Hillah and, after some difficulty, found the sign for the Babylon site at Babil. It was a massive disappointment. The entrance fee was $35 and everything has been rebuilt. The temple of Minlakh was vaguely interesting and was being rebuilt by some workers. The site of the Ishtar Gate was just a big hole because the Gate itself is in a museum in Germany, although there is a reproduction at the beginning of the site. I suppose the aim was to show what Babylon looked like when it was built in 1894 BC, although there has been a settlement there since 2217 BC, but it just looked naff. The Southern Palace on top of a hill looked promising so we drove towards it and were stopped by someone who said we must walk 800 metres up a hill in sweltering heat. When we got there we noted that it was also rebuilt recently, but I thought I saw some beautiful frescoes inside. On closer inspection it was graffiti covering every available square inch of the inside of the building. Pathetic.
We then drove on to Najaf in the hope of returning to the Baghdad-Basra motorway, and got stuck in a massive traffic jam caused by an inadequate road, an accident and a massive flood following a torrential downpour. We tried looking for a hotel and saw a likely-looking building which turned out to be a mosque. We were invited to stay there, but in separate rooms! Huge numbers of pilgrims come to Najaf but it seems that they stay in mosques and there are very few hotels. We decided to leave Najaf and make for Diwaniyah. We passed through several small towns which were teeming with people, men sitting in small cafes drinking tea and women and children in ice cream parlours. In one such town the van was surrounded by jolly people shouting "welcome" until a policemen banged on the door with a stick, asked where we were going and pointed the way, clearing a path for us. We parked at a potential place at the side of the road just north of Diwaniyah, which is apparently a building site. About midnight the owner and his son came and woke us up. They were very polite and, after looking at the passports, let us stay there for a good night's sleep.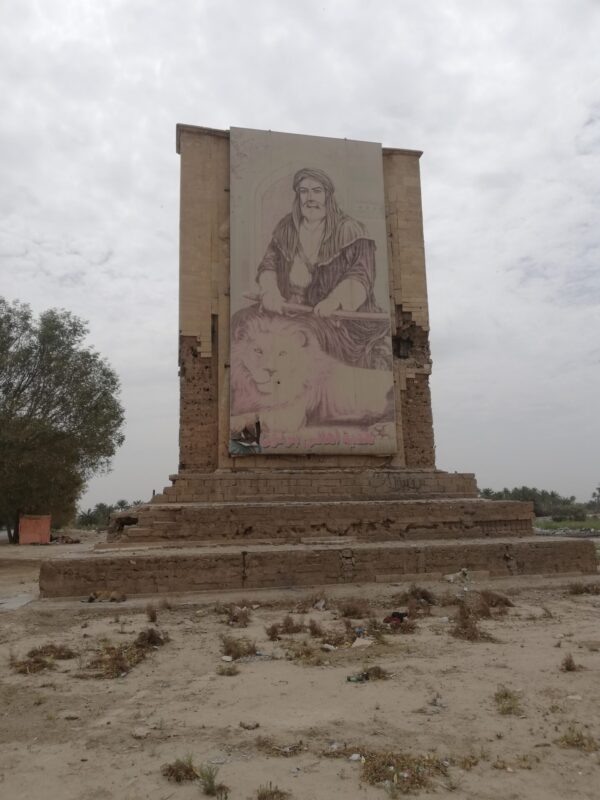 Babylon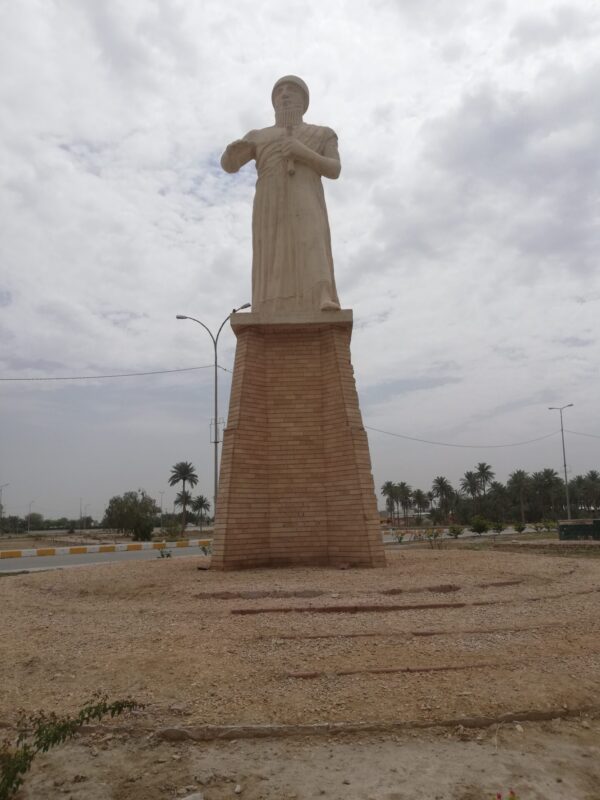 Nebuchadnezar
Babylonian map of the world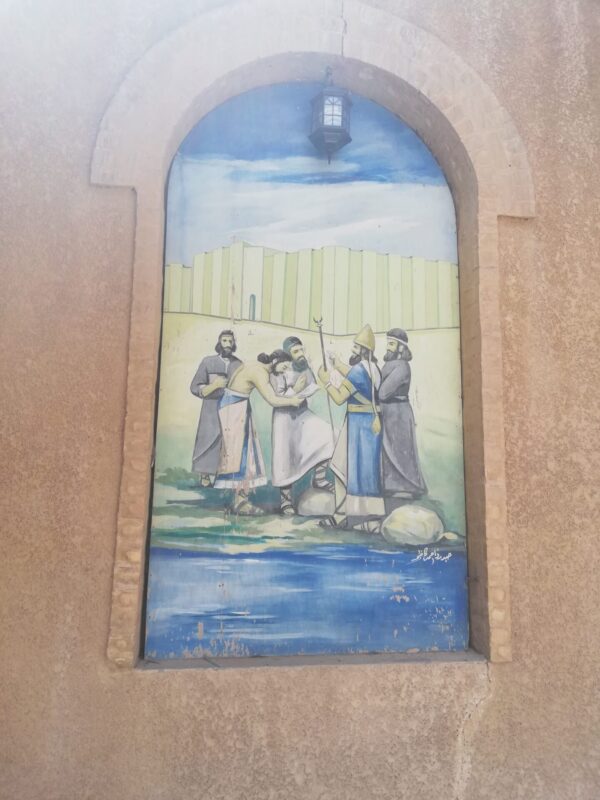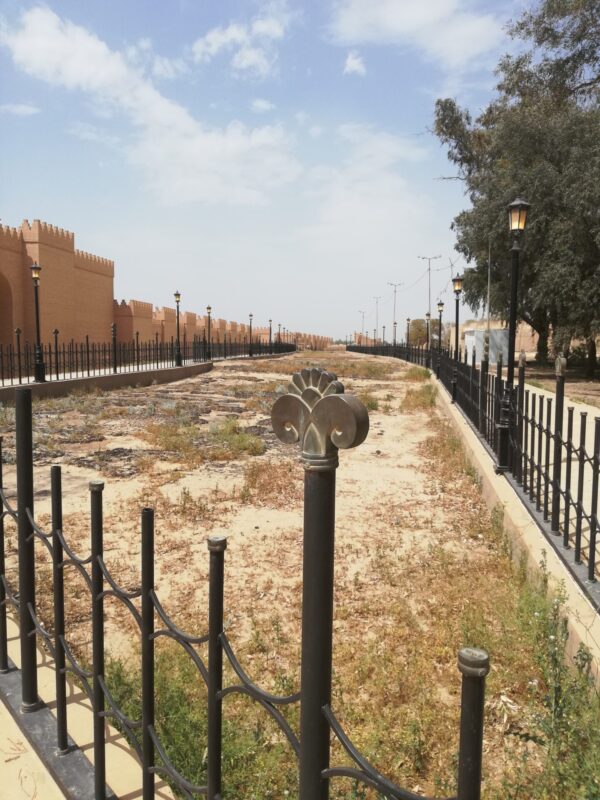 Road of the Procession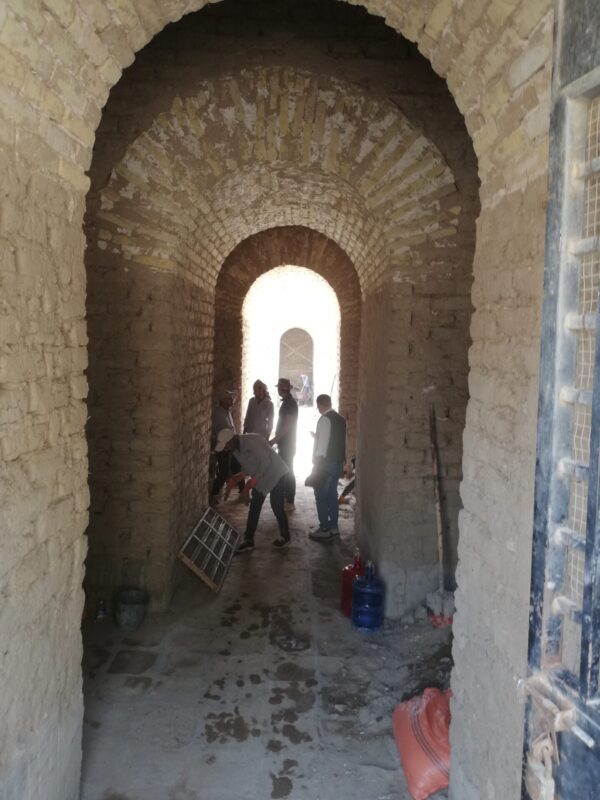 Manlakh temple
Inside the temple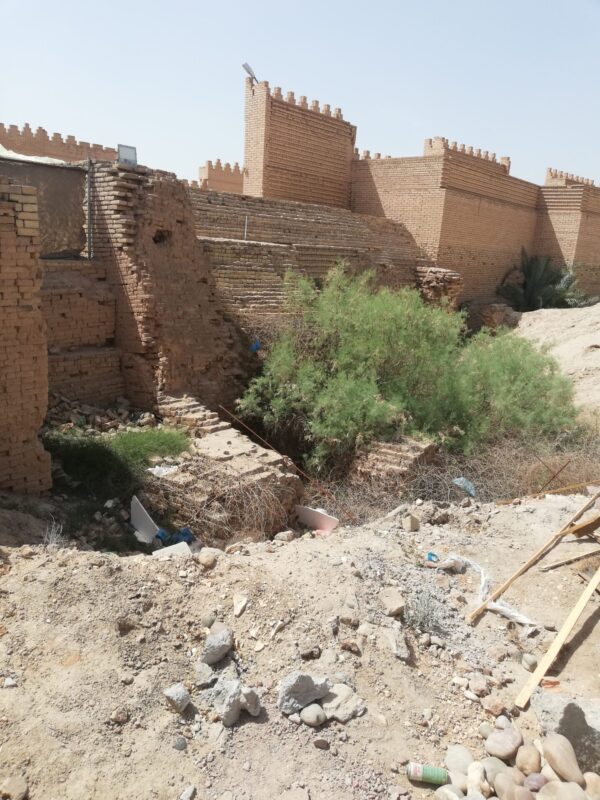 Site of Ishtar Gate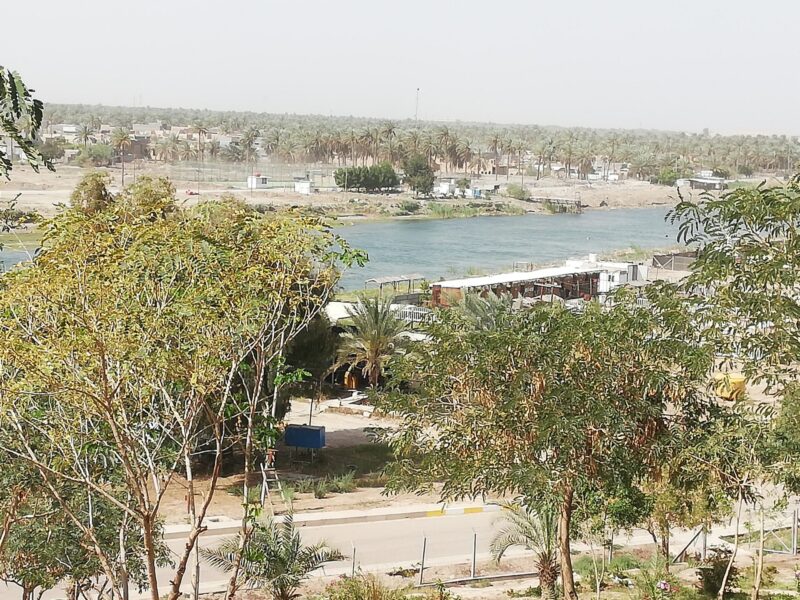 The Euphrates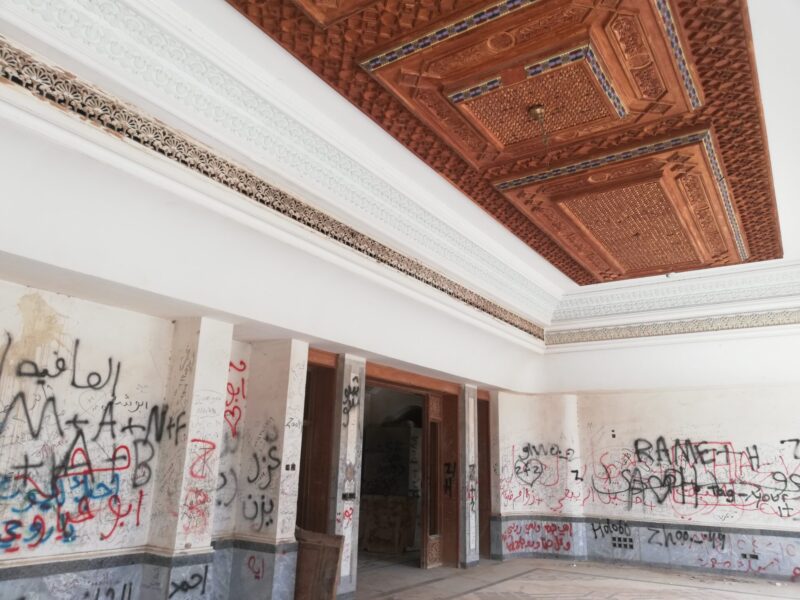 South Palace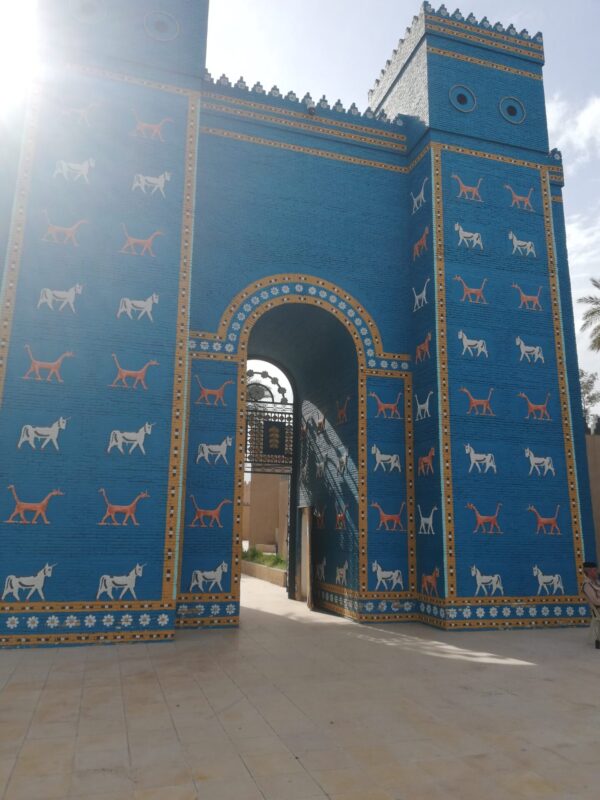 Reproduction of Ishtar Gate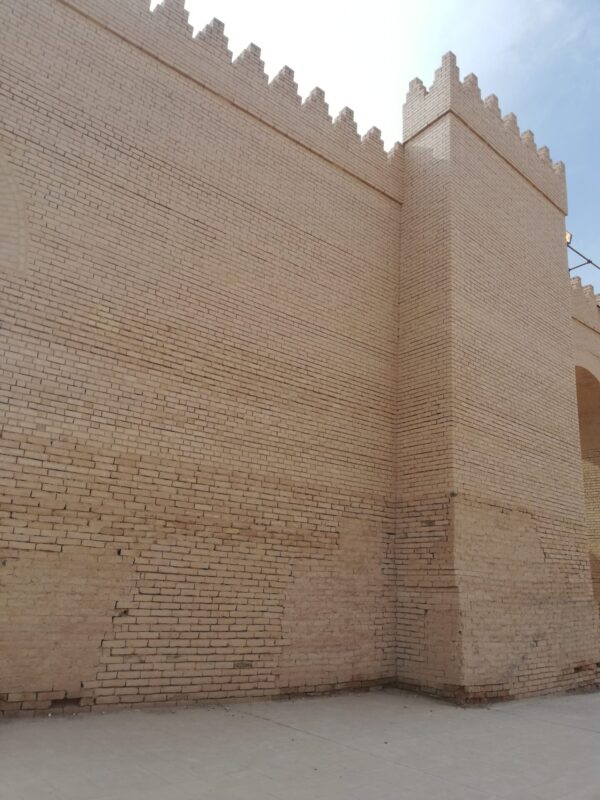 Nebuchadnezzar's Palace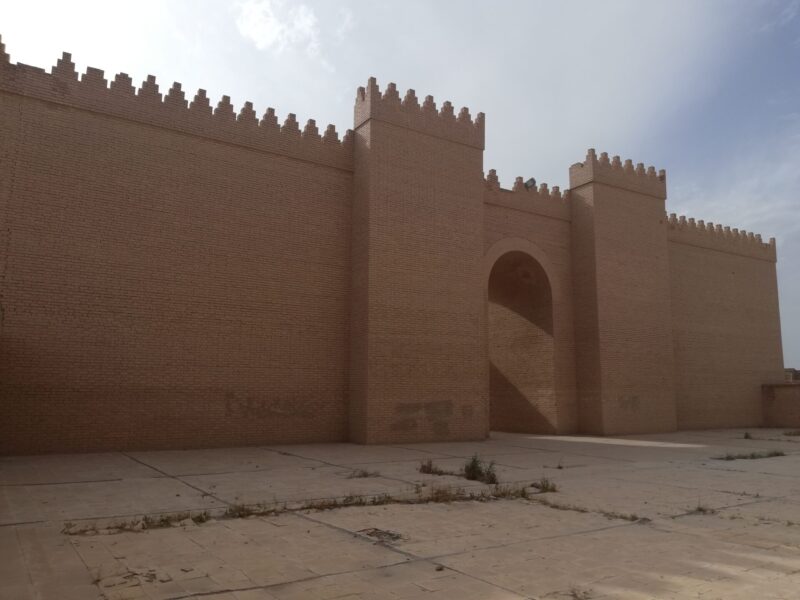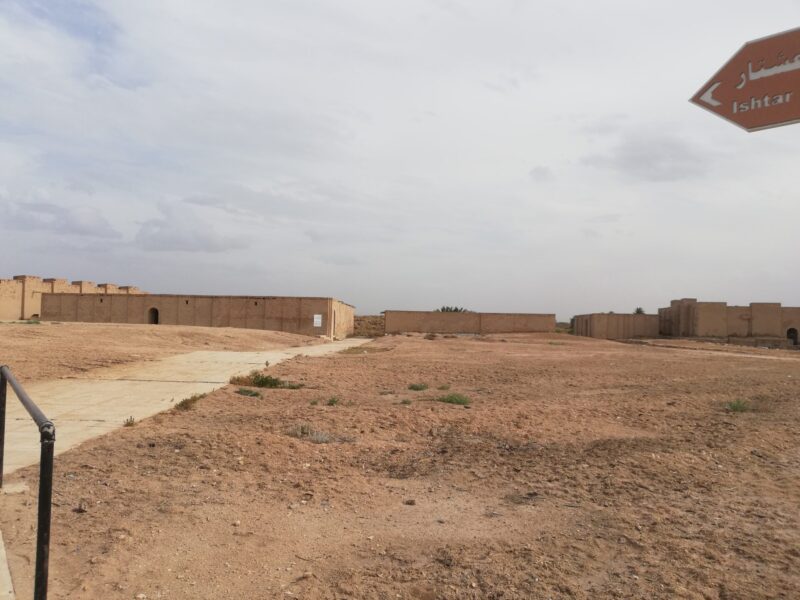 Day 43 (12th April) Diwaniyah to Basra
The vegetation here was very lush with plantations of coconut palms and we bowled happily along in the direction of Nasiriya until we came to a checkpoint. One policeman seemed fast asleep and others were gossiping so we drove through. Five minutes later a car came chasing after us and ordered us back to the checkpoint. A short examination of the passports, watched by 20 small kids, and we were sent on a different road to Nasiriyah and, rather ominously, told not to stop. The reason was soon obvious because a reception committee of five policemen was waiting for us, standing in the middle of the road . We were directed into a police station and told to sit down.
I think we were arrested, although not in the sense that I was handcuffed, hurled into a subterranean dungeon and buggered by 100 dirty smelly old blokes. But we were confronted by a total of eight policemen, each with a pistol and semi-automatic Kalashnikov, while the commander, a pleasant-looking man in his late 40's thumbed his way through our passports and tried to question us. Eventually he gave up and phoned someone who spoke reasonable English and who asked us where we had come from, where we were going and why we were in Iraq. The police didn't seem to believe his answers so the commanders No.2, a portly man who looked like a chubby version of Eric Morecambe, phoned someone else and got to the root of the problem: Where did you enter Iraq? Ibrahim Khalil. So how did you get a visa for Federal Iraq? We flew from Erbil to Baghdad and got a VOA, then got a taxi back to Erbil. Why are you in Iraq? We are tourists. Tourists? In Iraq? Why? Because its there. Then they gave us 4 cartons of water and two bottles of mango juice and the youngest policemen drove to the Baghdad-Basra motorway with us following. So all's well that end's well. All the Iraqi police and soldiers we have met have been not only courteous but utterly charming.
We felt that, after a rubbish couple of days we deserved to stay in a hotel and went through a bureaucratic nightmare to get to the airport where we expected to find some cheap but adequate hotels. At least Jennifer was delighted to make the acquaintance of Coco, a sniffer dog. He turned his nose up at a biscuit offered him (perhaps trained to do so?) but gobbled it down when a soldier gave it to him. The one hotel at the airport wanted $250 so we drove into central Basra and after asking people several times we got directed to the Basra Safiya where we got the price reduced to $120, but enjoyed a huge buffet dinner which we got reduced from $40 to $20.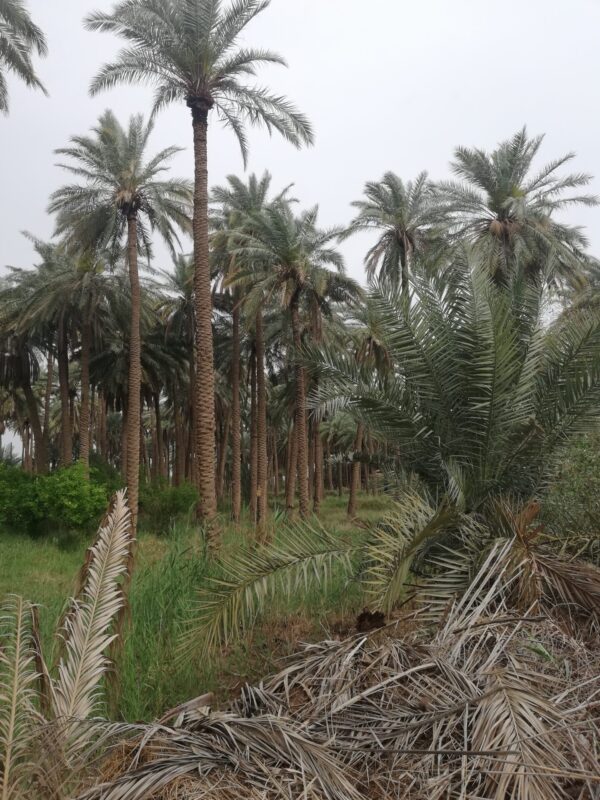 Landscape near Diwaniyah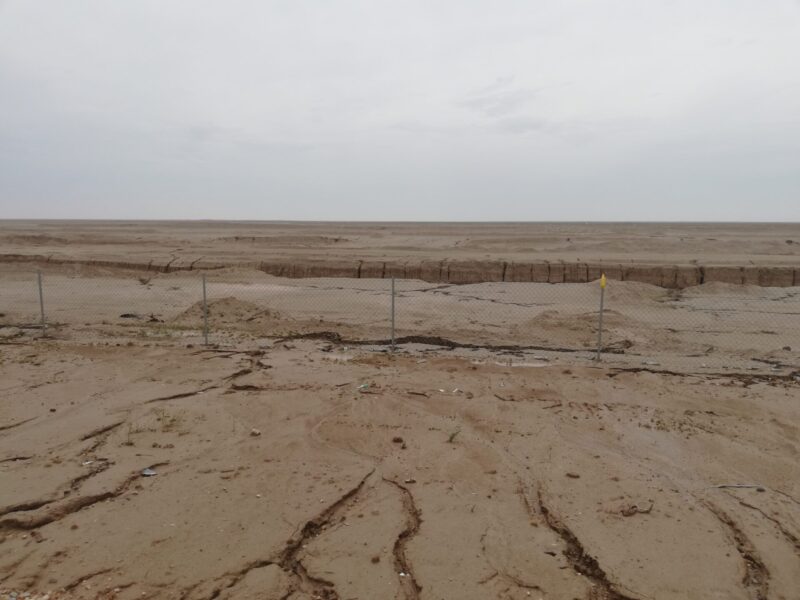 Landscape near Basra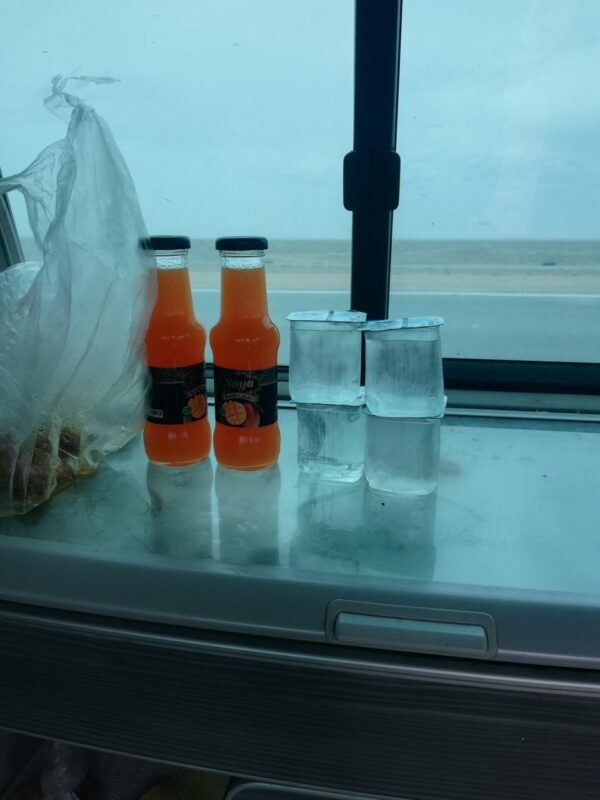 Gift from the cops at al-Sidir police station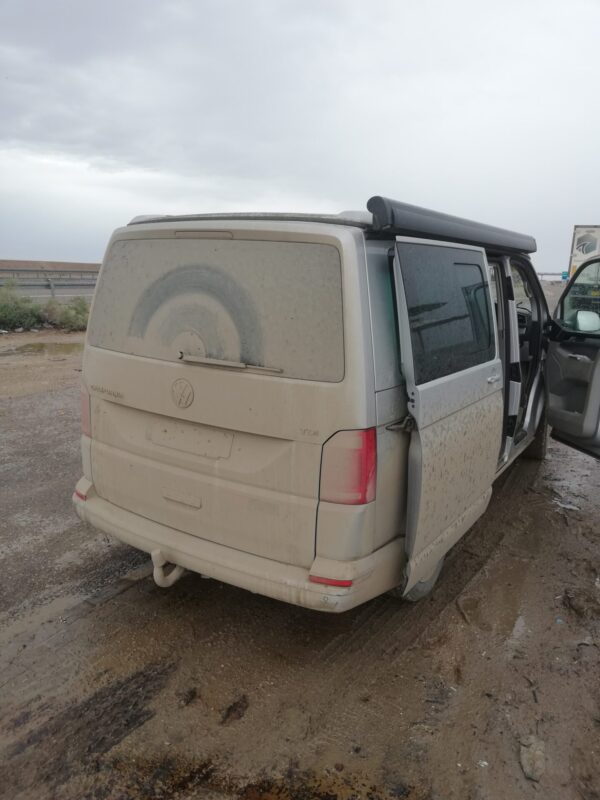 The van driving through the desert
Day 44 (13th April) Basra to Nasiriyah
The morning was spent touring Basra with the hotel guard looking for a garage that knew about VWs (almost all the vehicles in Iraq are Japanese) because the engine had been making a horrific grinding sound the night before. Mohammed in the next room to us reckoned it was a fan belt. We eventually found a good garage and the man diagnosed the problem in 3 seconds: The oil level didn't reach the minimum level on the dipstick. In fact it didn't even reach the dipstick. Much laughter! We then toured small car accessory shops looking for the correct oil and finally found a garage with signs of foreign car makes on the front which sold "German" diesel oil. The van was drained of the teaspoon-full of dirty oil left and filled with 7 litres of new oil. They also blew out the air filter which was full of sand. I had got used to the engine getting noisier and couldn't believe the engine was on when I turned the key. I gave the hotel guard $20 for his trouble which he refused to take until I forced him to. The oil cost $40
We then set off for al-Qurna to see the confluence of the Tigris and Euphrates and, being a smartarse I decided to go down a good road which was heading in the right direction. Unfortunately we blundered into the Rumaila oilfield and got stopped by the police who took us to a police station where the "General" asked us the same old questions and got some lady who used to work for BP before it was thrown out of Iraq by the new Government that the British and Americans installed!!!! All the cops were very friendly and we left with arms full of bottles of water and fruit juice as well as bread and apples.
We decided to rejig the trip and head for Nasiriya to see the ancient ziggurat of Ur. On the outskirts of the town we were flagged down by Ali, an Iraqi who had lived for many years in Sweden and spoke excellent English. He recommended the Sumerian Hotel which turned out to be exotically lavish, even garish, but surprisingly cheap compared with all the hotels in Basra. We had a good nights sleep despite being woken by an hour of religious singing coming from the mosque.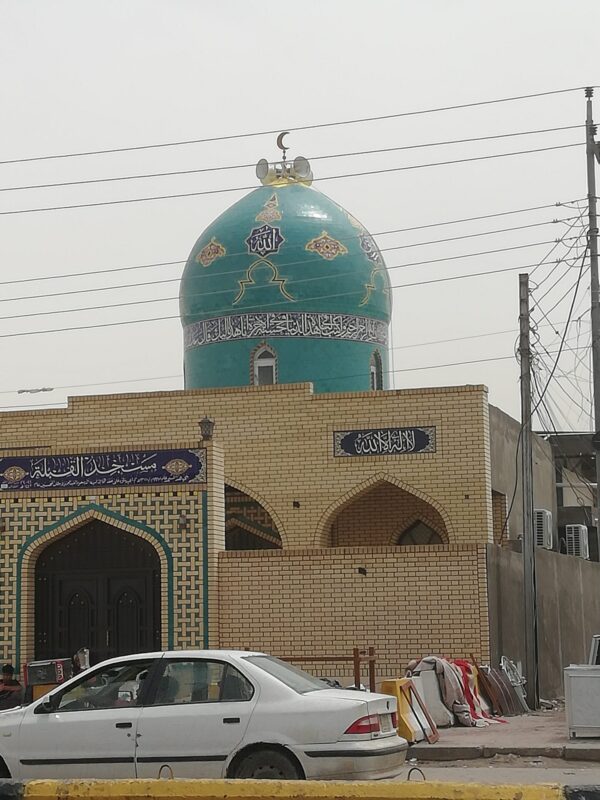 Mosque in Nasariyah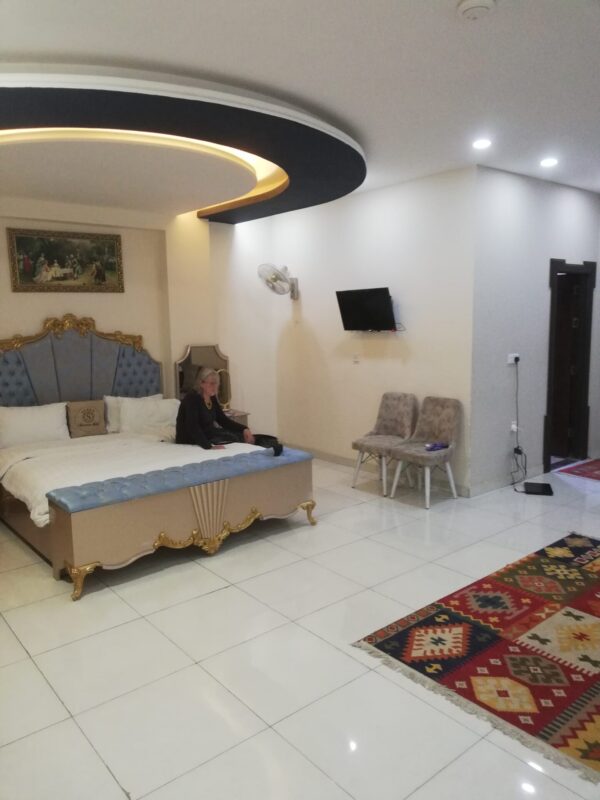 Sumerian Hotel bedroom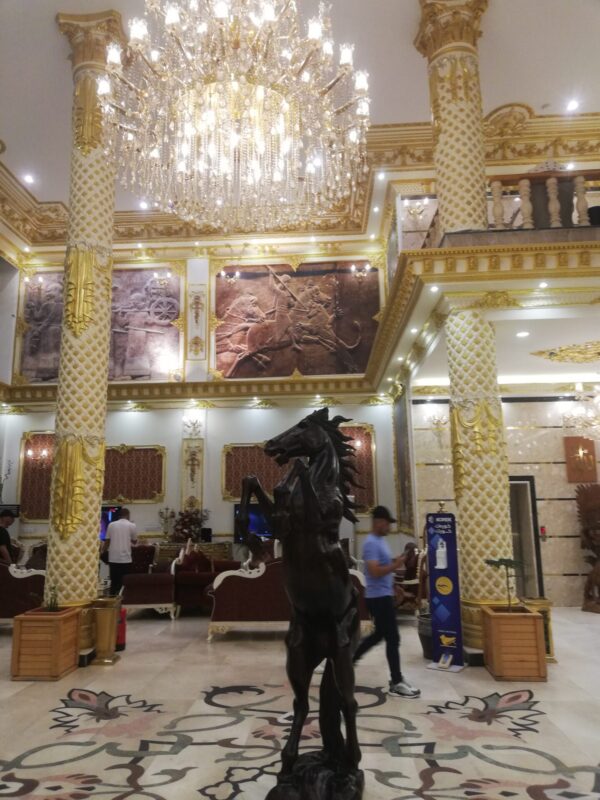 Day 45 (14th April) Nasiriya to al-Qurna
Following the road signs to the "Ancient City of Ur" we passed through several checkpoints and then saw this huge building in the desert miles away in front of us. It was the Great Ziggurat of Ur, built in 2095 BC and the settlement dates back to the Ubaid period of 5,000 to 4,000 BC. We spent a happy hour wandering round the sites of the excavations which are still taking place. We then followed the signs for "The Marshes", looking for Chibayish from where boat trips into the marshes can be arranged. The Marsh Arabs have been largely displaced after Saddam drained the marshes, although we did see a settlement of the traditional arched reed houses next to the main road.
However we missed the turning into Chibayish, which is actually located on the banks of the Euphrates, and finished up a short distance down the road in al-Qurna. We asked a soldier at a checkpoint if he could direct us to a hotel and he pointed to a man running towards us, Ismail Aliraqi, who insisted that we stayed in his house. He explained that there are no hotels in the small towns of southern Iraq: you turn up, ask around and eventually somebody puts you up in their house. He has two houses which he shares with four sons and two daughters. We had an excellent meal, he changed money for us and then took us to see "Adam's Tree" located at the confluence of the Tigris and the Euphrates. We then had an excellent night's sleep on the floor of his living room.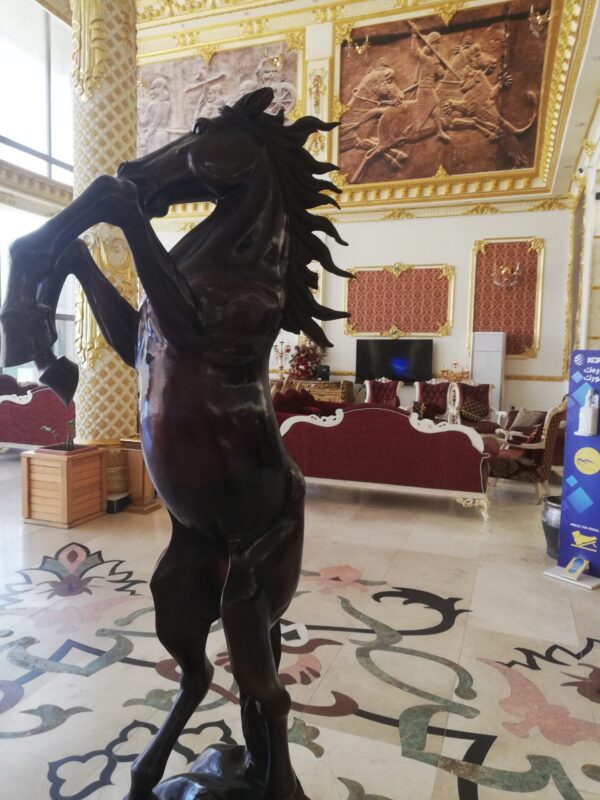 The hotel lobby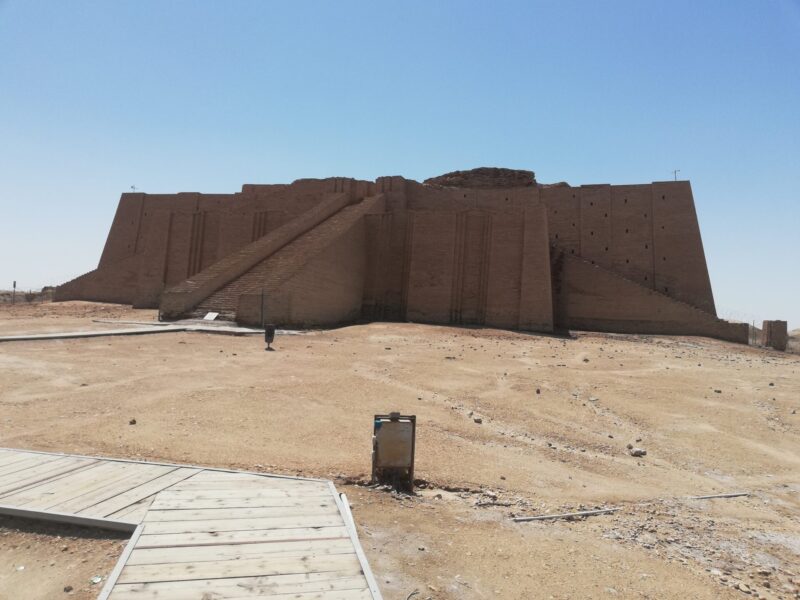 The Great Ziggurat of Ur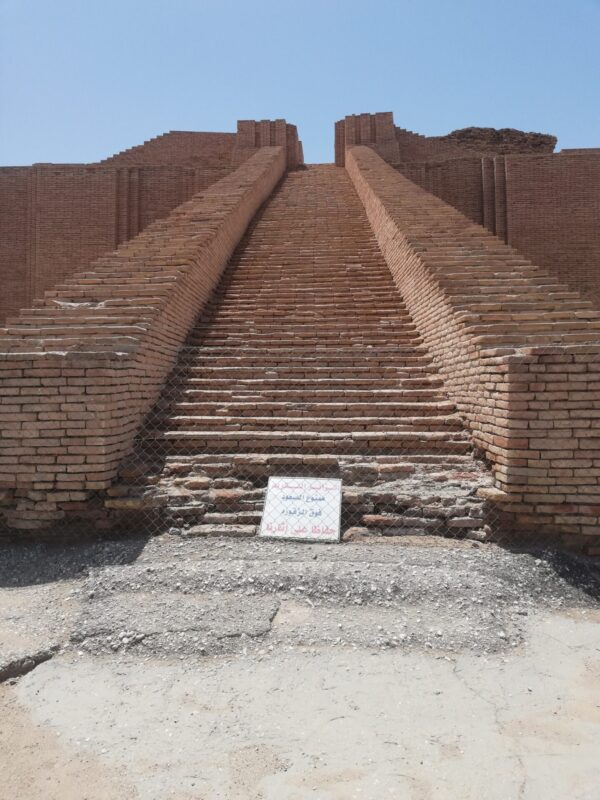 Steps to the top of the Ziggurat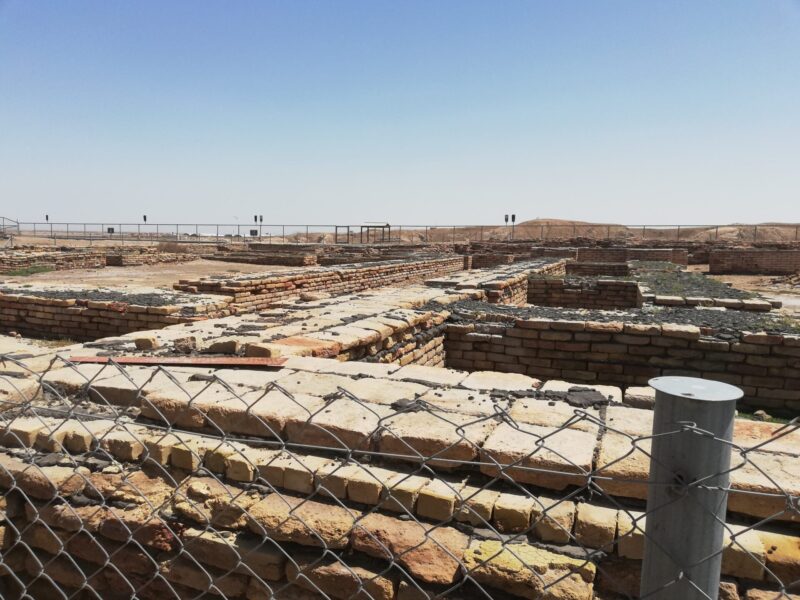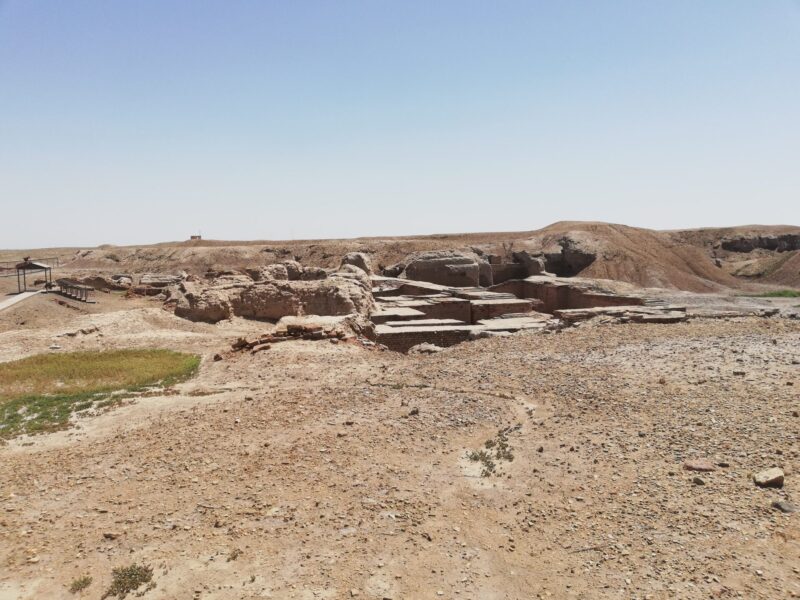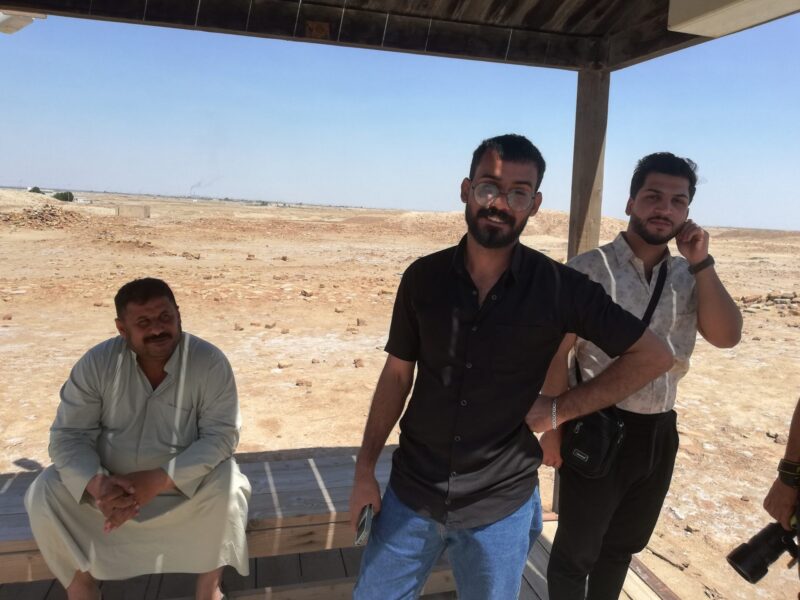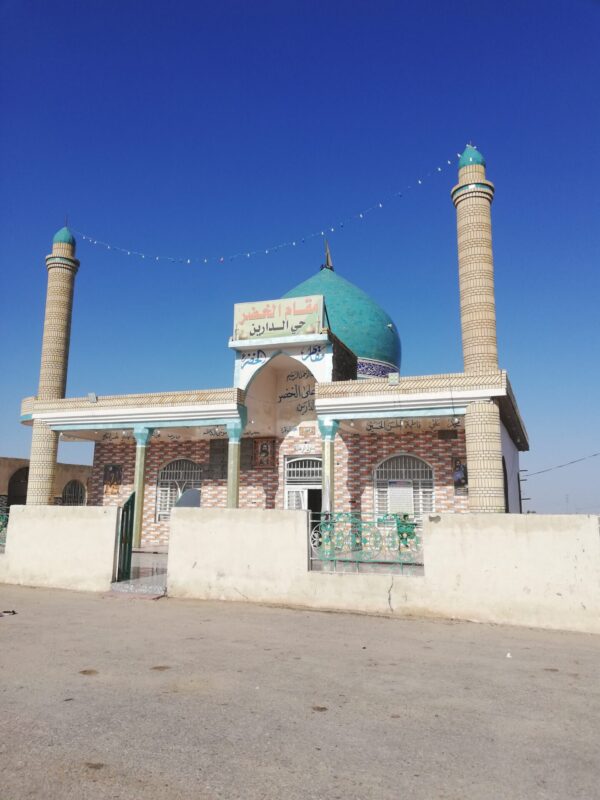 Mosque on road to Chibayish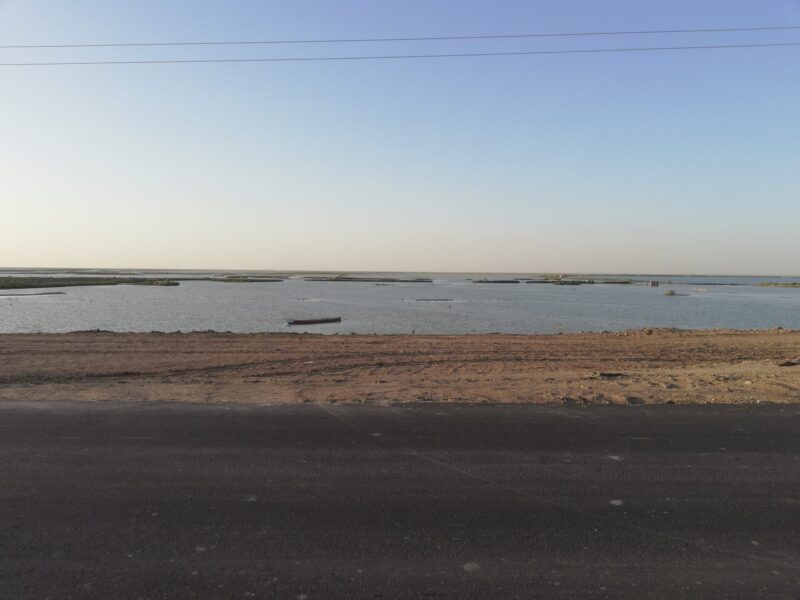 Part of The Marshes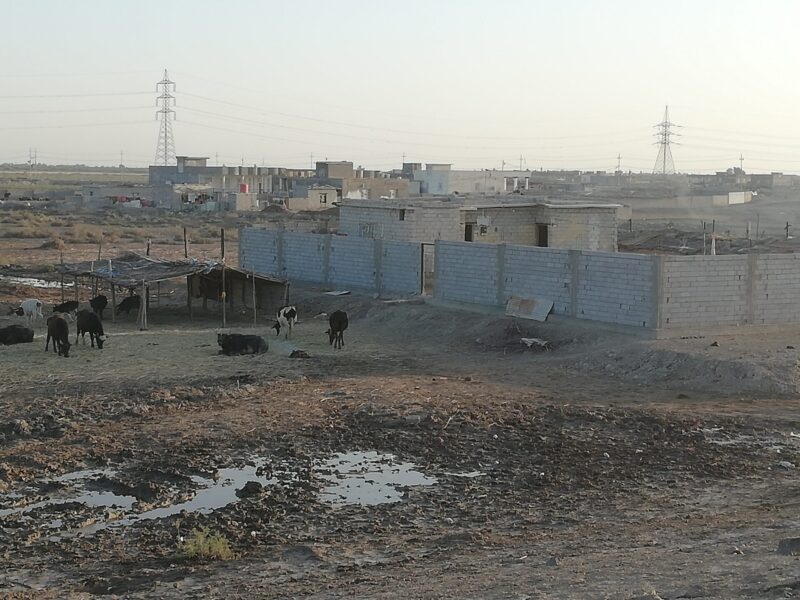 Conditions the Marsh Arabs are now living in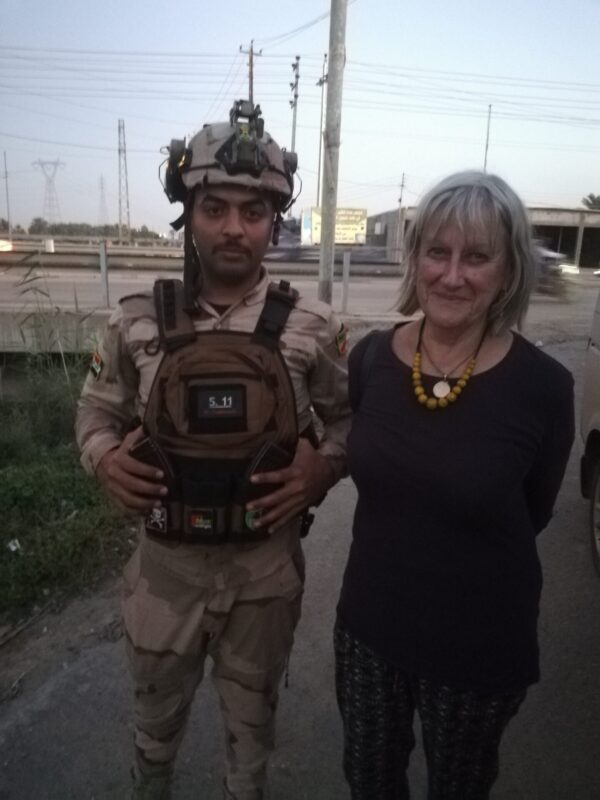 Friendly soldier who introduced us to Ismail Aliraqi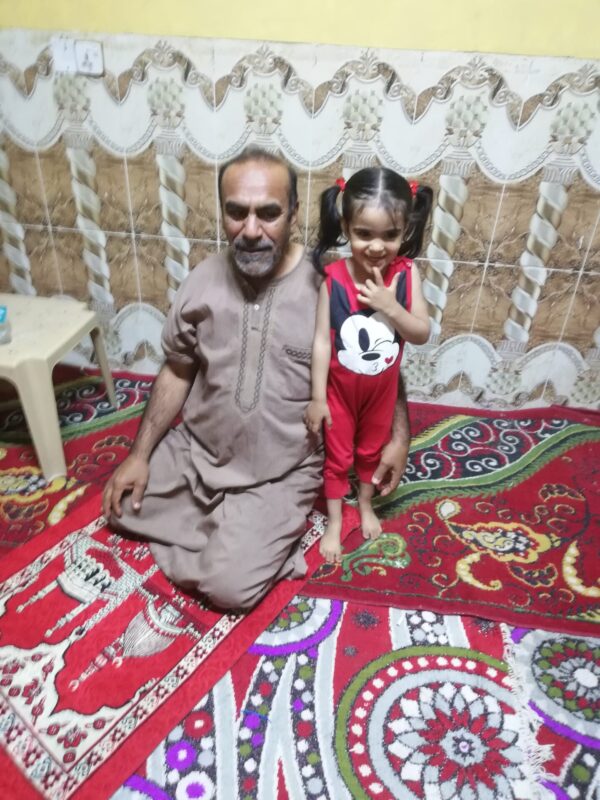 Our lovly host and one of his granddaughters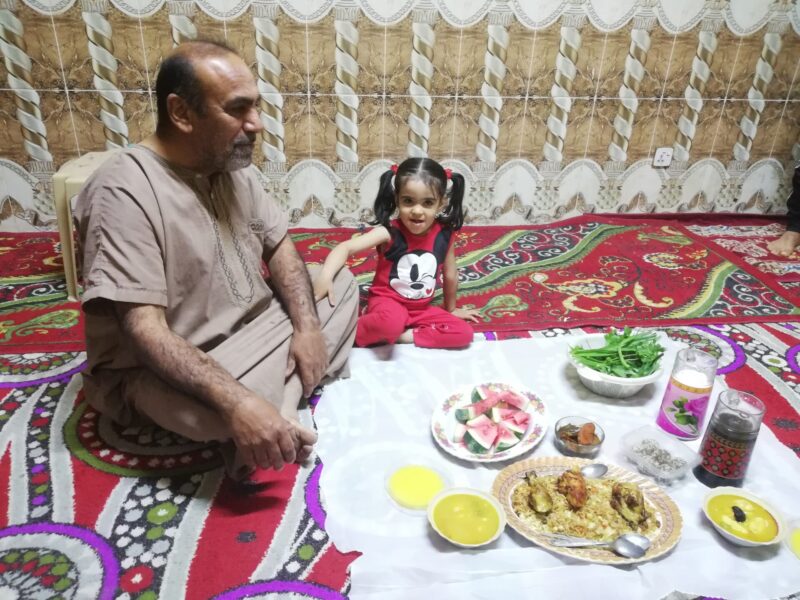 Our delicious meal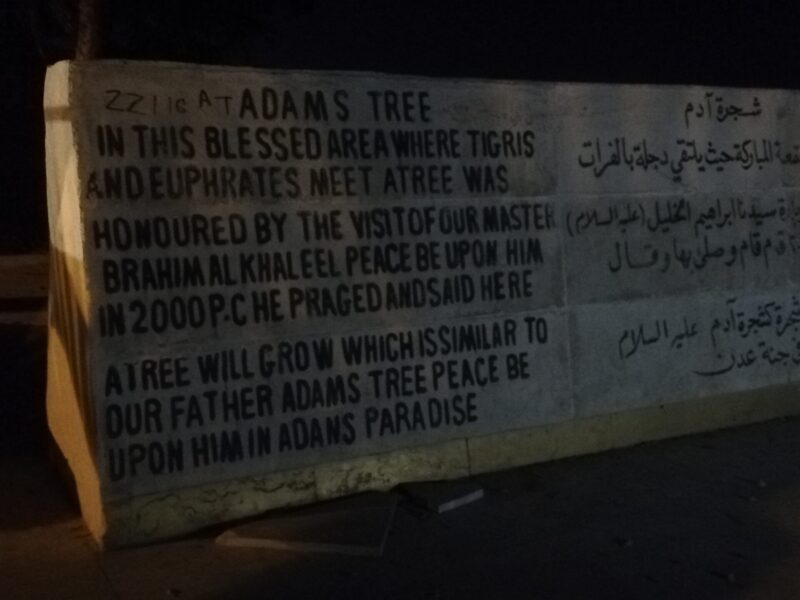 Sign for Adams Tree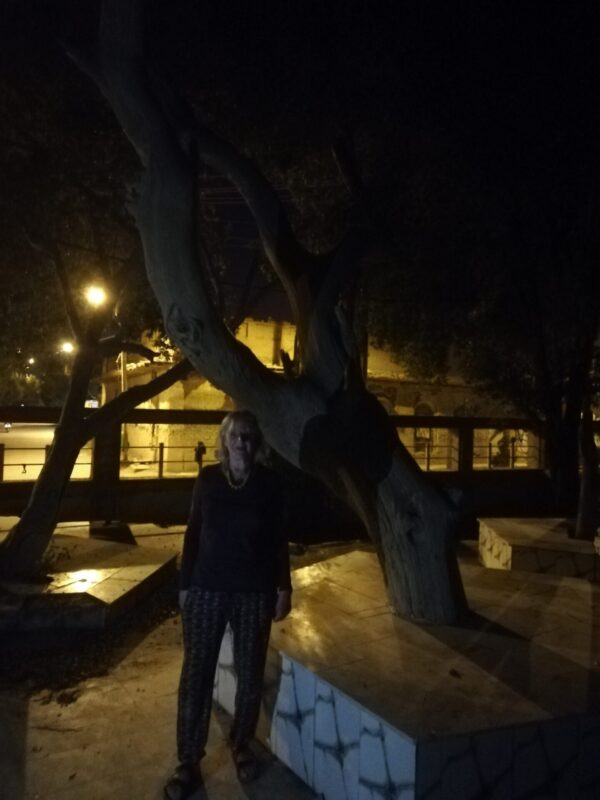 The Tree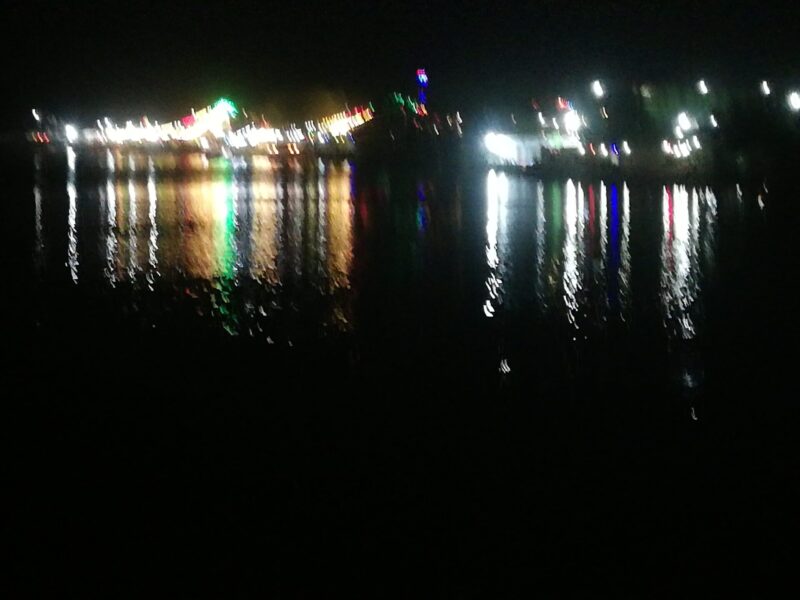 Confluence of the Tigris and Euphrates at night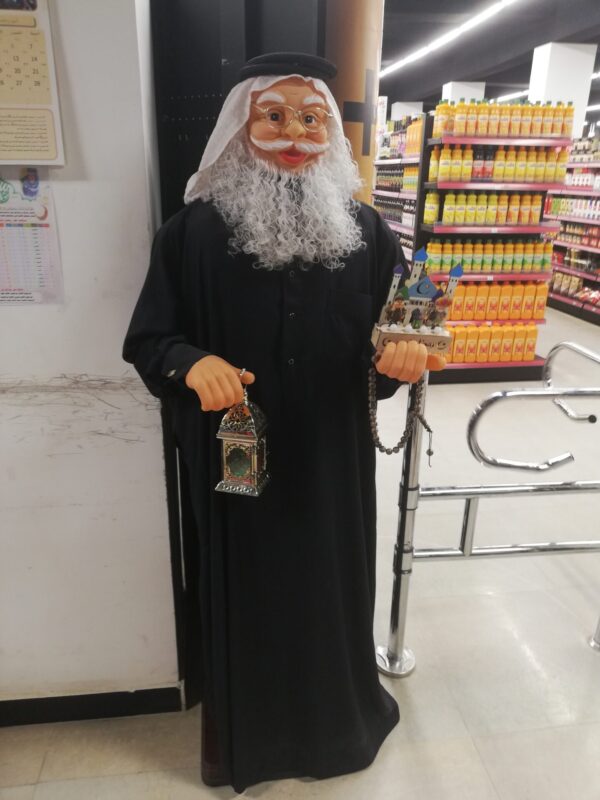 Old bloke in supermarket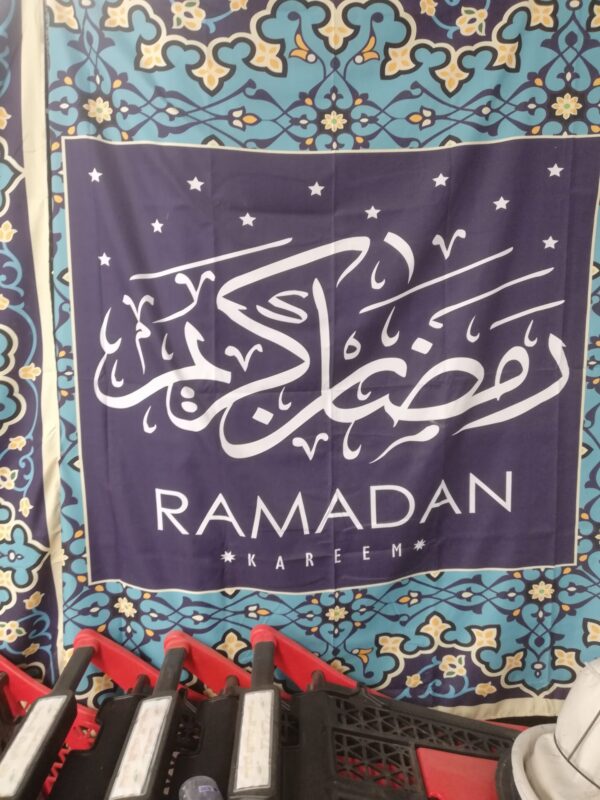 Day 46 (15th April) al-Qurna to Diwaniya
We are still thinking about the kindness of Mr Ismail Aliraqi and his family who took two complete strangers into their house and showered them with kindness. A highlight of our trip. Not wishing to impose on them any further, we set off for Kerbala after saying our goodbyes. We were told that Chibayish, which we had missed completely the day before, was 45 kms west and found a road with no road signs going out into the Mesopotamian Marshes. After a few miles we came to the small, but famous, Chubayish, the main town of the Marsh Arabs.
The internet says that one will be accosted by locals wanting to take us for a trip, but the town seemed deserted. Eventually we saw a man in a red t-shirt working a boat with a long pole like a gondolier and, when he came ashore I asked him if we could have a ride. There was much sign language and then a policemen arrived, so even more sign language. Then the t-shirt man disappeared and I made ready to leave but the policemen signalled me to wait. After 15 minutes, red t-shirt man reappeared pushing a handcart with a boat engine, a can of petrol and some rugs and got into his boat, a long wooden canoe. He signalled us in and we set off up the Euphrates and then up quite a wide branch into the Marsh.
It was a delightful trip. We saw lots of strange birds, basically one like a large pigeon with an orange body and white wings with a long beak. We saw numerous water buffaloes paddling in the marsh or swimming in the deeper water. At one point we sailed up a channel where the reeds could be touched either side of the boat. In another place there was a village of several reed houses which appeared to be deserted although we noticed some people piling up reeds for transportation to Chibayish. The trip was a lovely experence.
The rest of the day consisted of getting lost in Nasiriyah and then a long, long journey up the Baghdad-Basra motorway until we found some filling stations at the side of the road, 34 kms south of Diwaniyah, and had a good nights sleep.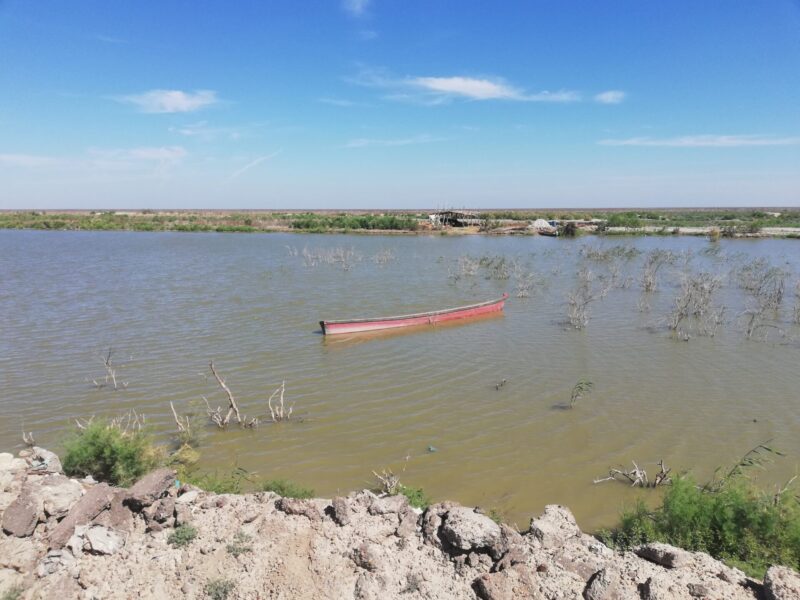 A Marsh Arab boat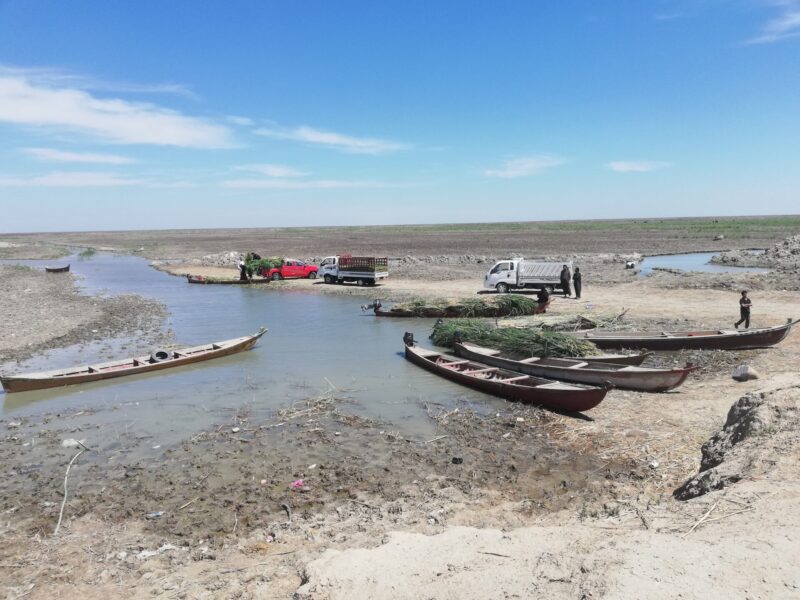 A modern Marsh Arab house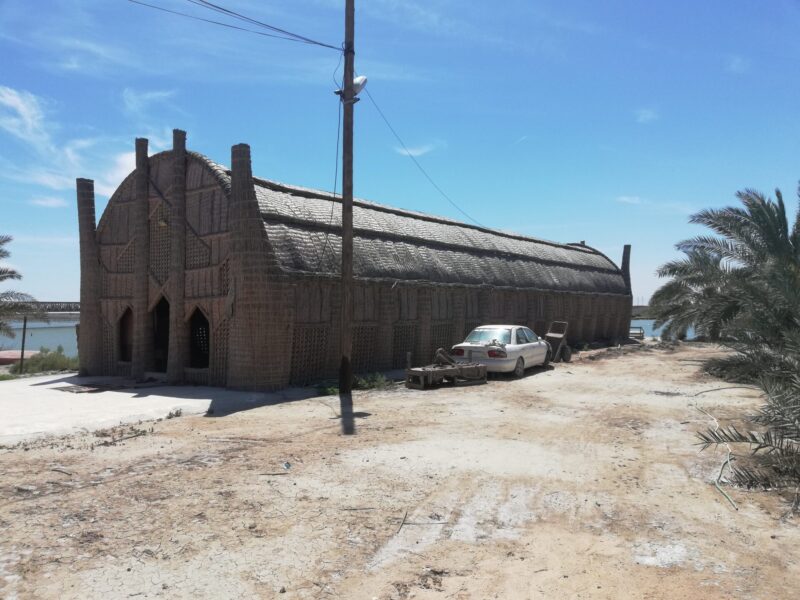 Modern Marsh Arab house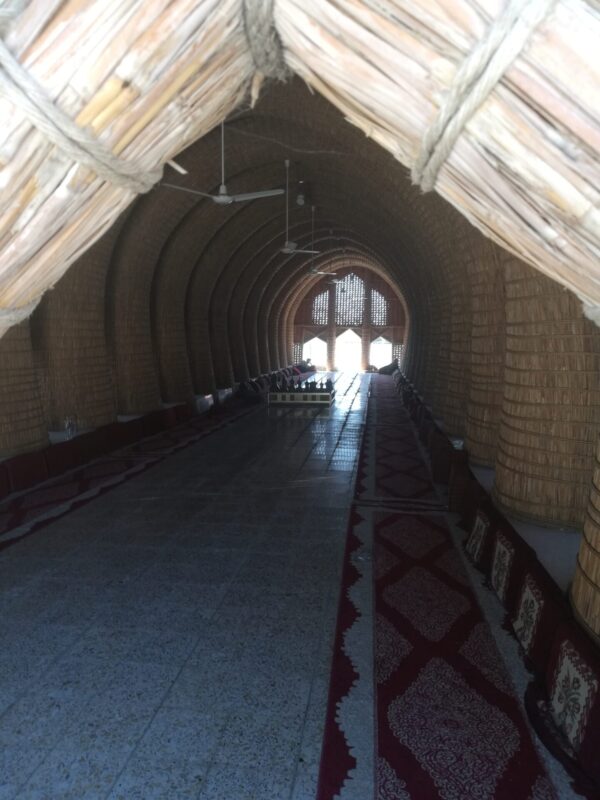 Inside the Marsh Arab house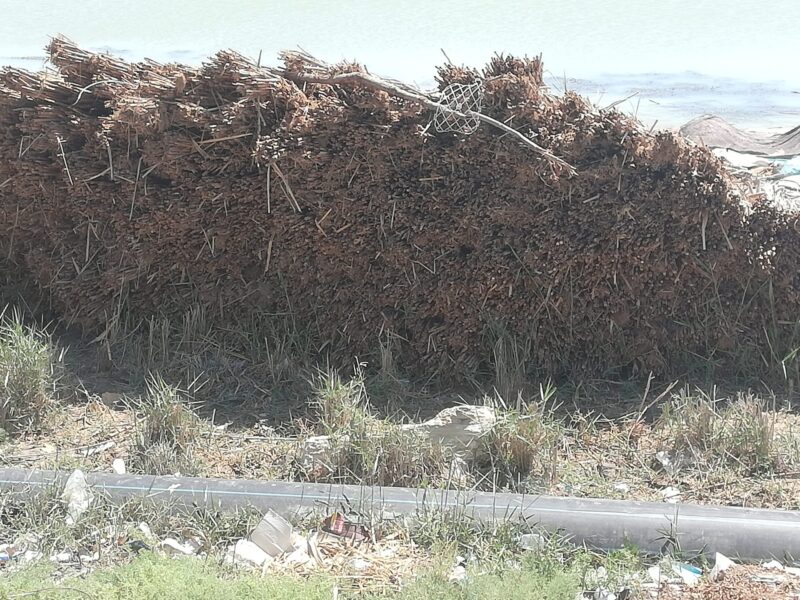 Pile of reeds harvested from the marsh
The Euphrates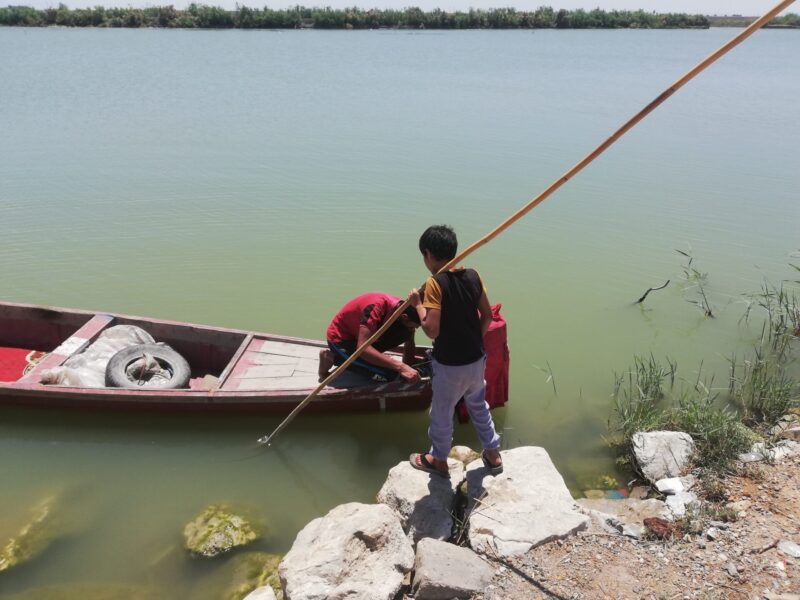 Red t-shirt man fixing engine for our boat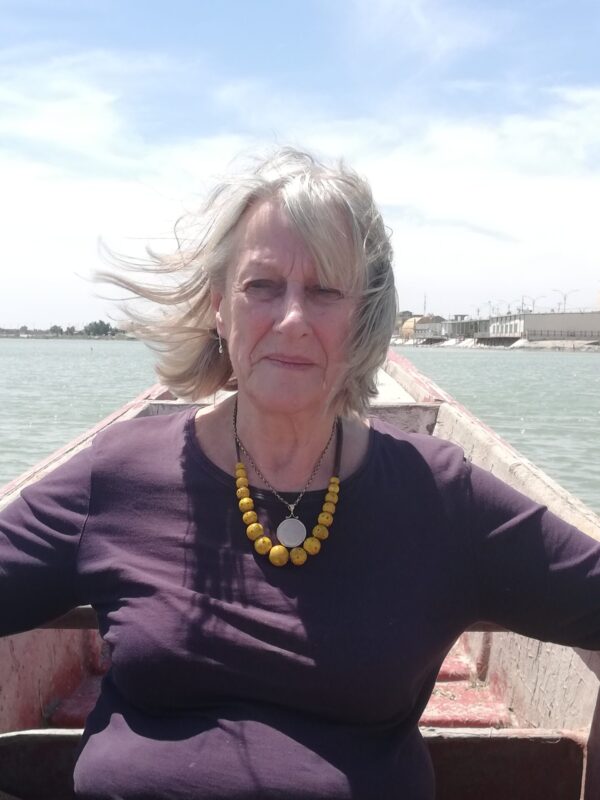 Jennifer on the Euphrates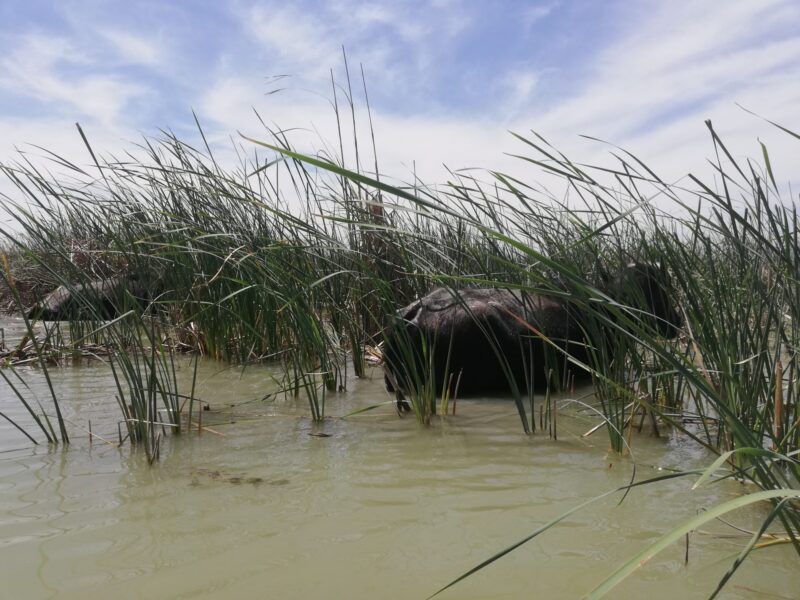 Water buffalo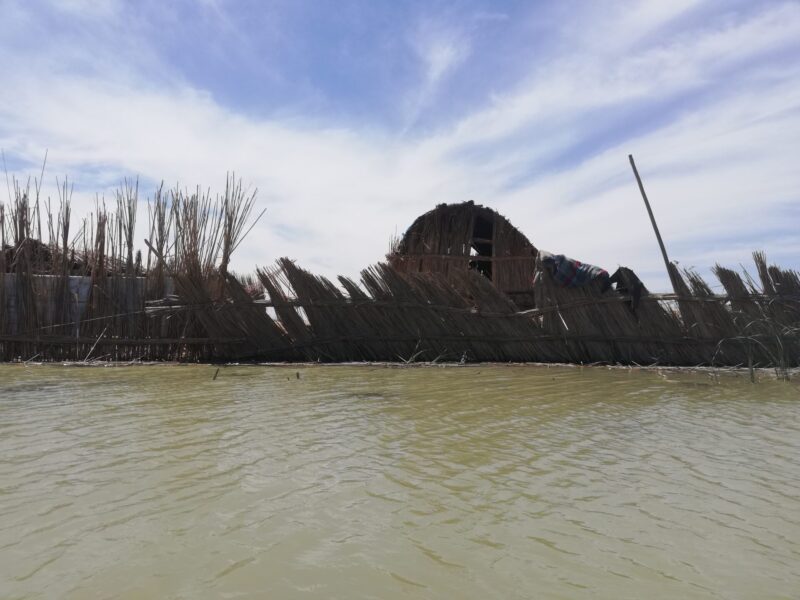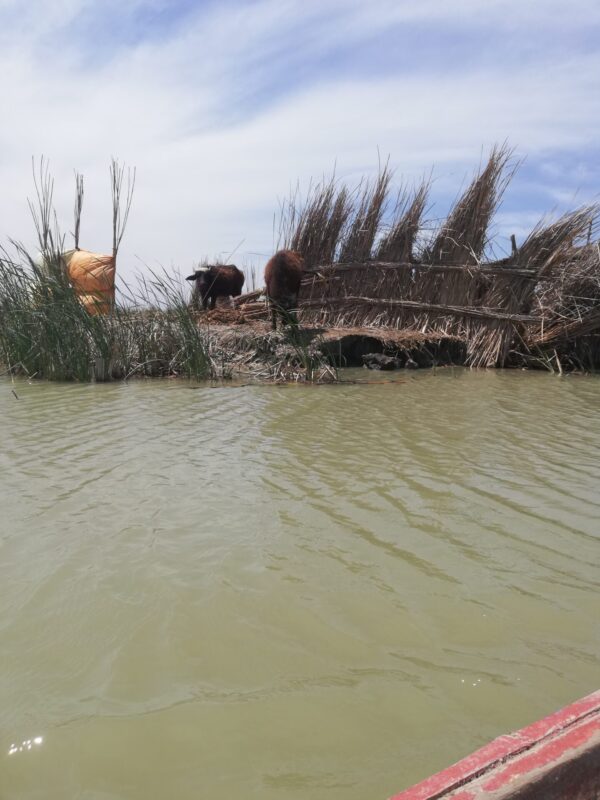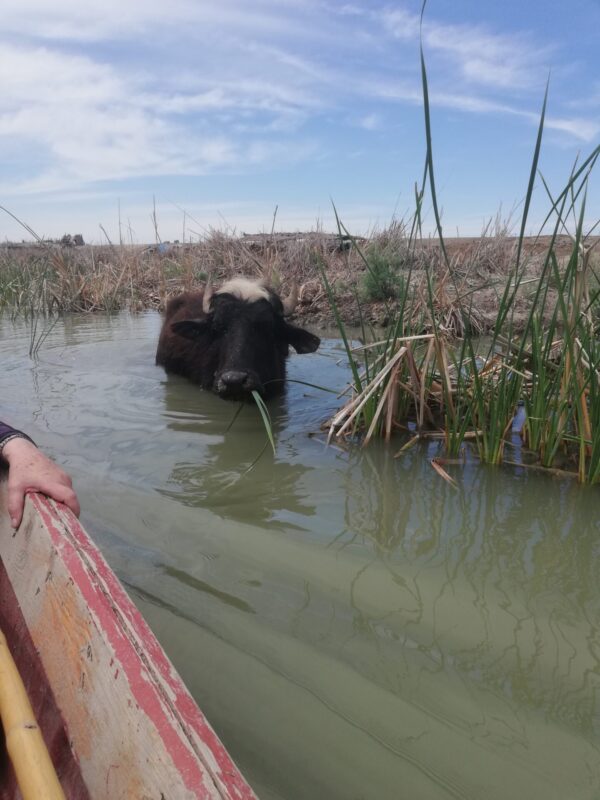 Water buffalo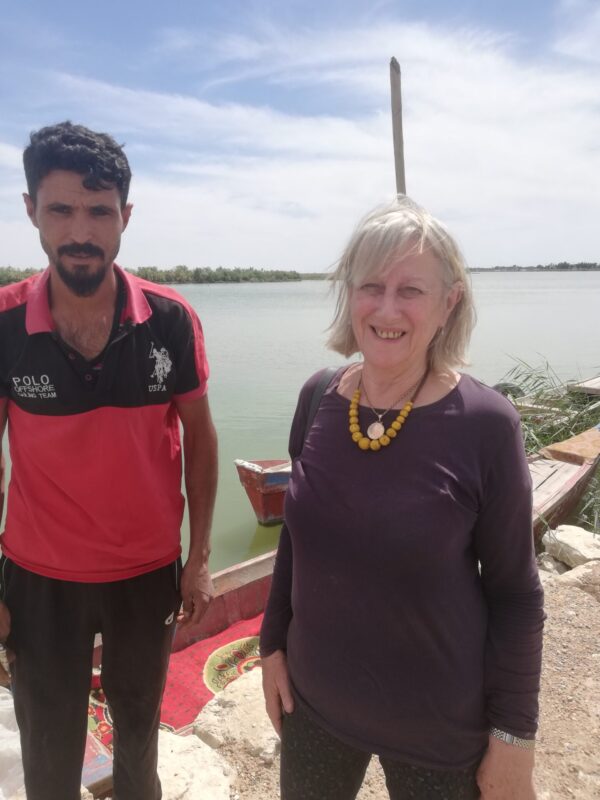 Our boat man
Day 47 (16th April) Diwaniyah to Kerbala
We drove to Kerbala to see the tomb of Hussain Ali, grandson of the Prophet Mohammed, whose martyrdom sparked the birth of the Shi-ite branch of Islam. He was killed at the Battle of Kerbala in 680, although Hussain and 72 of his friends and family members against a cavalry of 30,000 hardly counts as a "battle", more a "massacre". The anniversary is marked in Kerbala by the Ashura festival attracting 34 million pilgrims according to some estimates while that of Ardain, after the statutory 40 days of mourning attracts 40 million from 54 countries. Consequently there are lots of reasonably-priced hotels and we found the Rayhaan on the main road into Kerbela from the north. For $75 we got a large room an an excellemt buffet breakfast as well as a free shuttle bus into the city to see the mosque and its tomb. A very good evening meal was inexpensive.
The shuttle bus driver stopped outside a shop where Jennifer was expected to buy for £6 a long cloak covering her body. Inevitably the one the driver brought was not to her liking and so much time was spent buying a suitably appealing pinkish one: 99% of women wear a black one. After taking our sandals off, we were separated with Jennifer having to go through the women's gate. Just as at the al-Khadamiya mosque in Baghdad, women and men are totally separated in the mosque although we follow identical routes to the ornate tomb in the centre. I saw a rather distinguished looking man in a long brown cloak with small boys clearing the way before him. I think he was the Emir of Kerbala and I asked if I could take a photo. He then indicated that I could take a pic of us together and a small boy took it for us.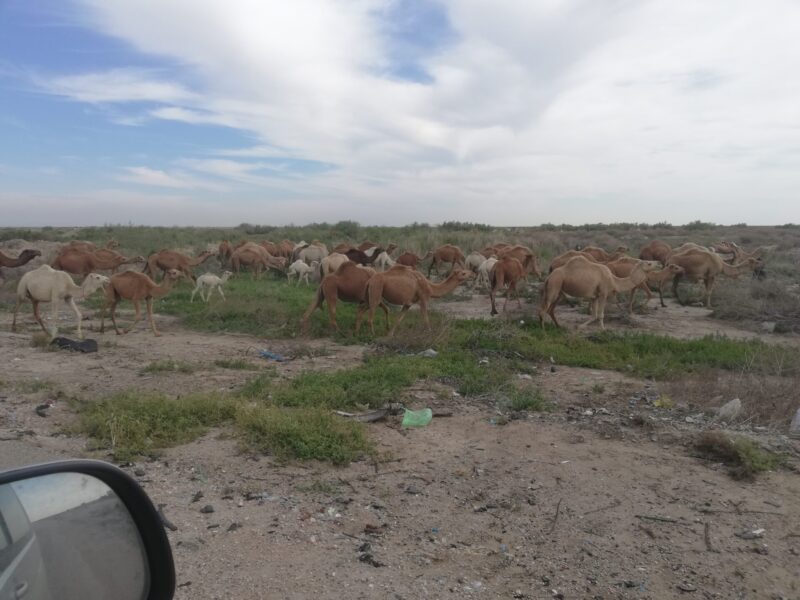 Camels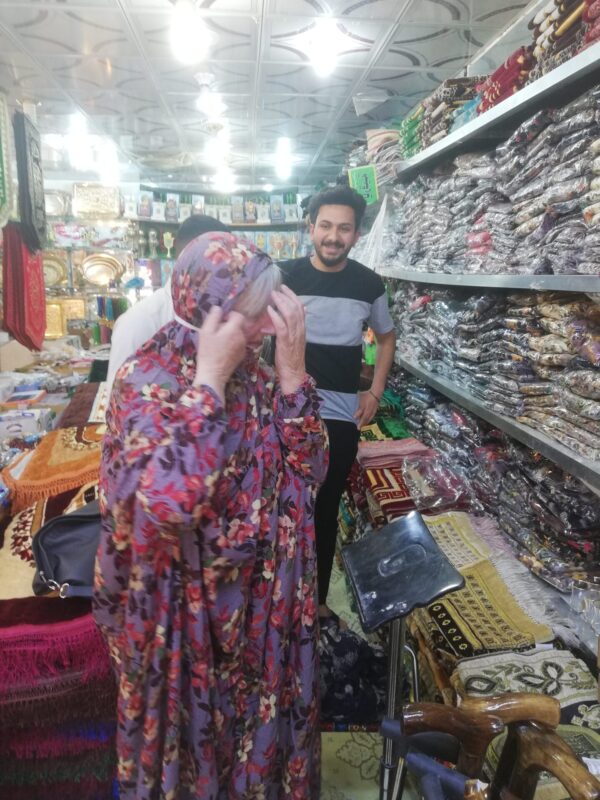 Jennifer's beautiful new outfit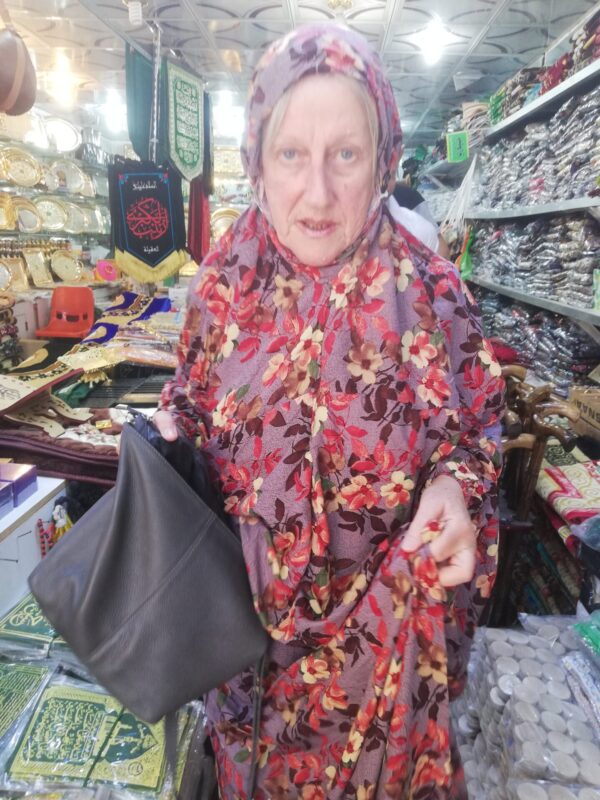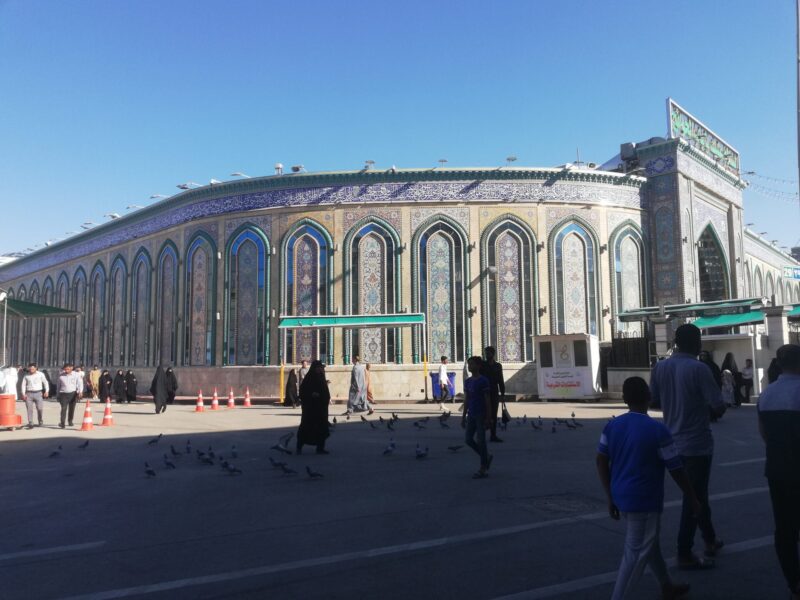 The mosque containing the tomb of Hussain Ali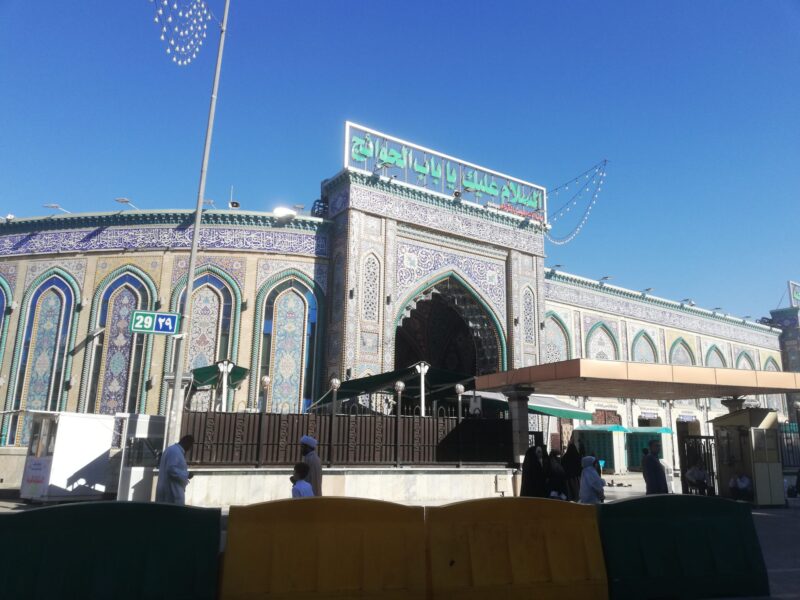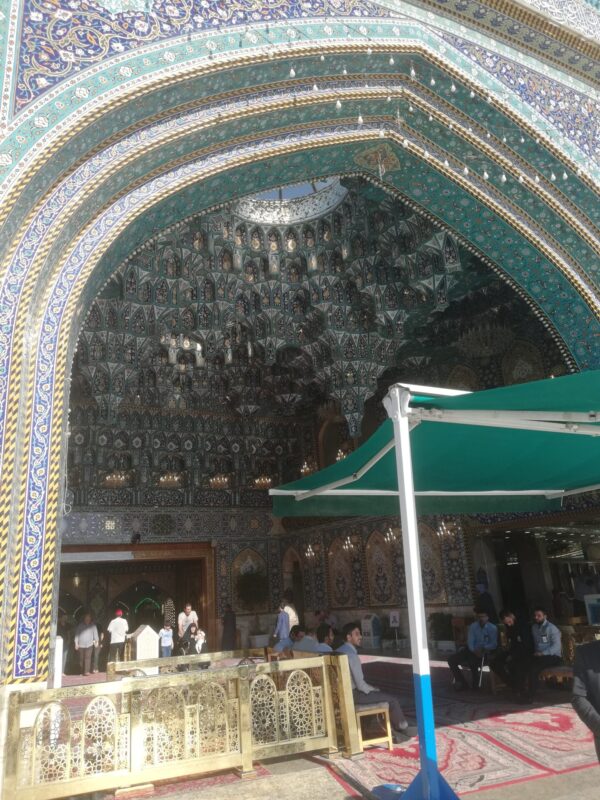 Entrance to the mosque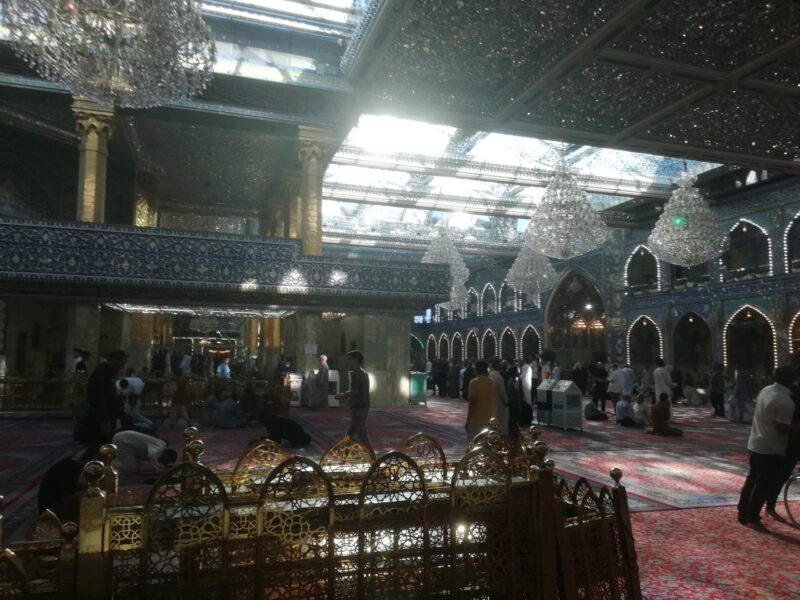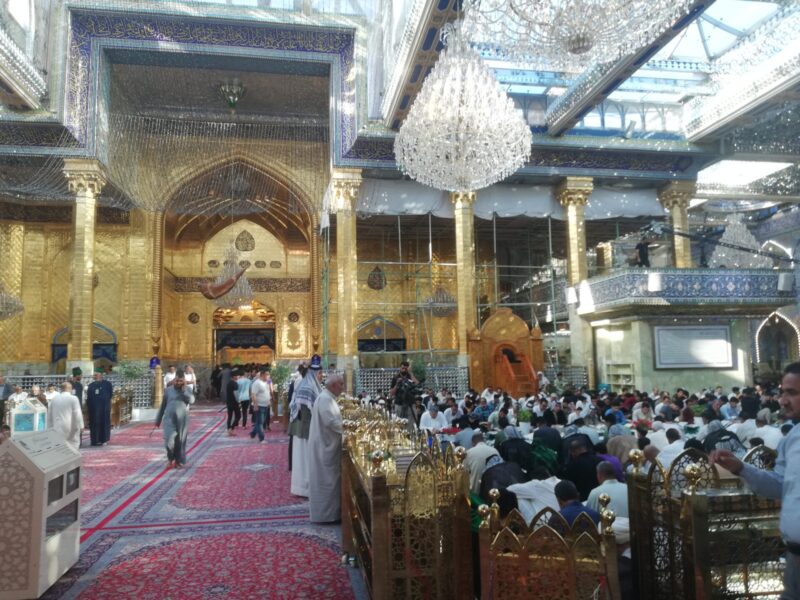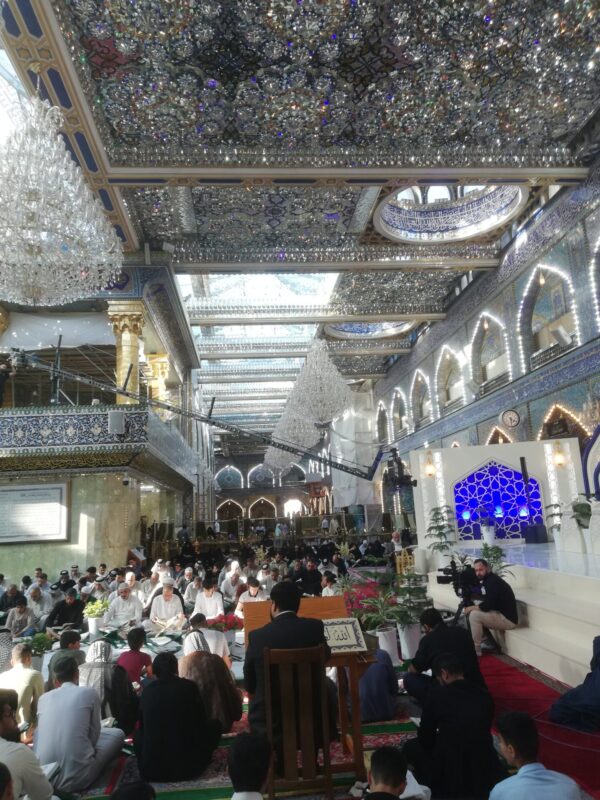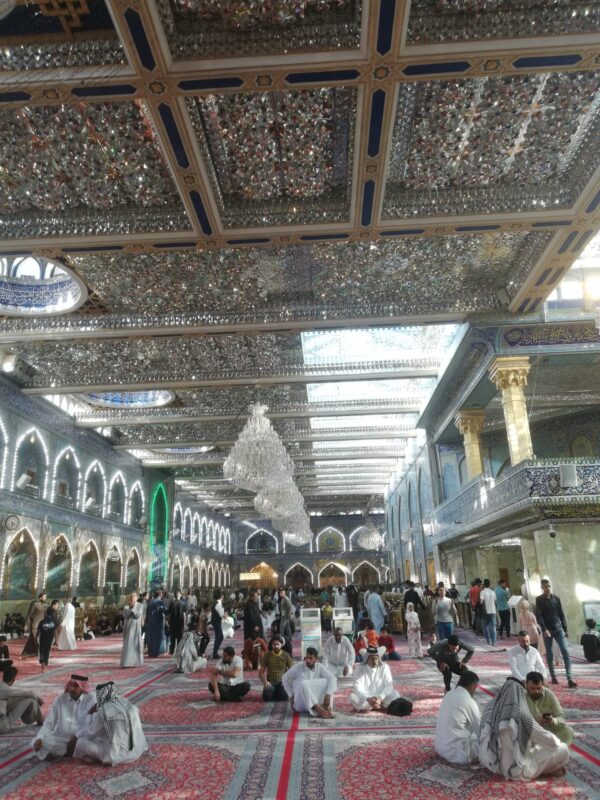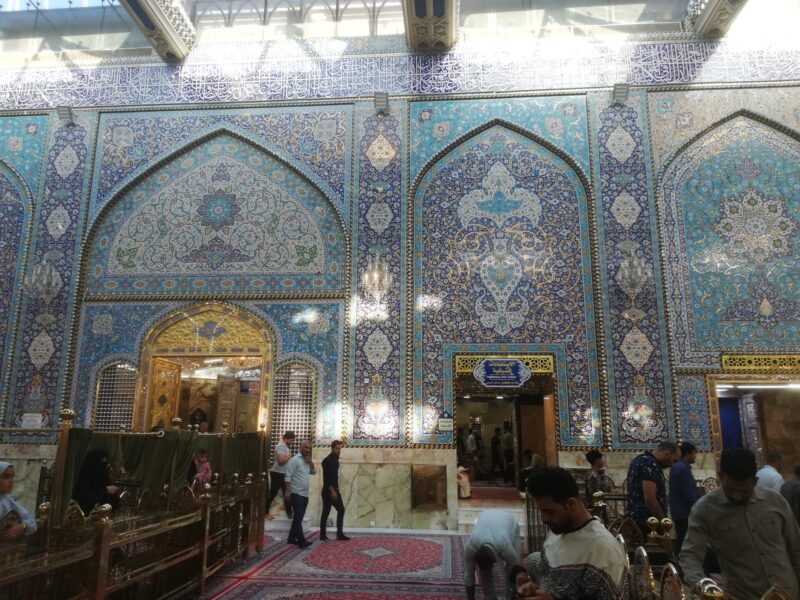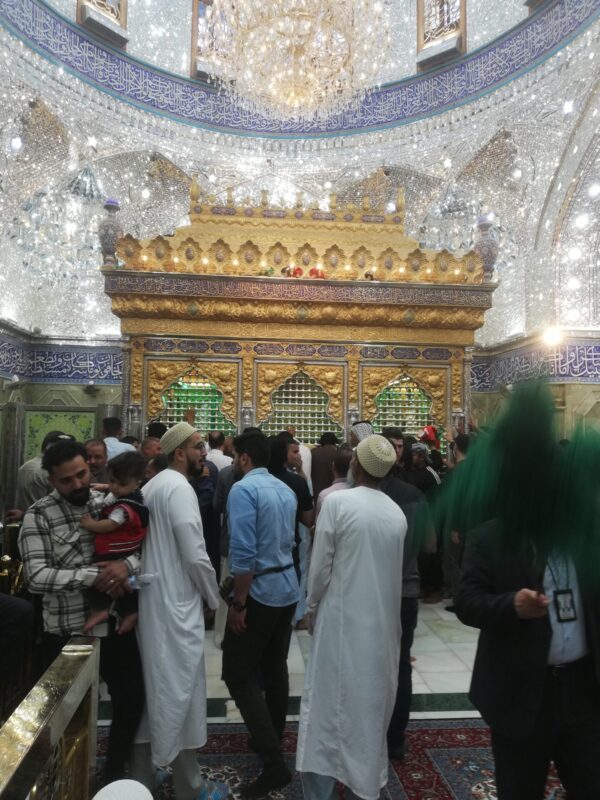 The tomb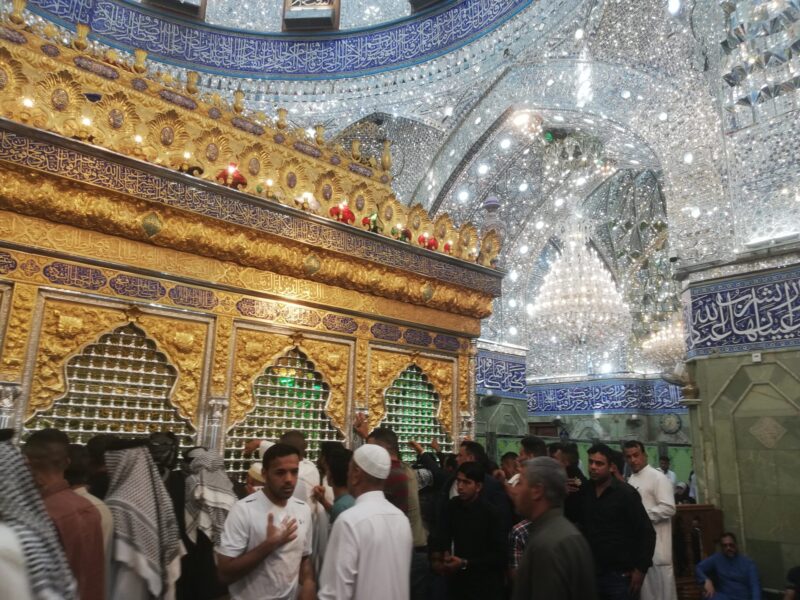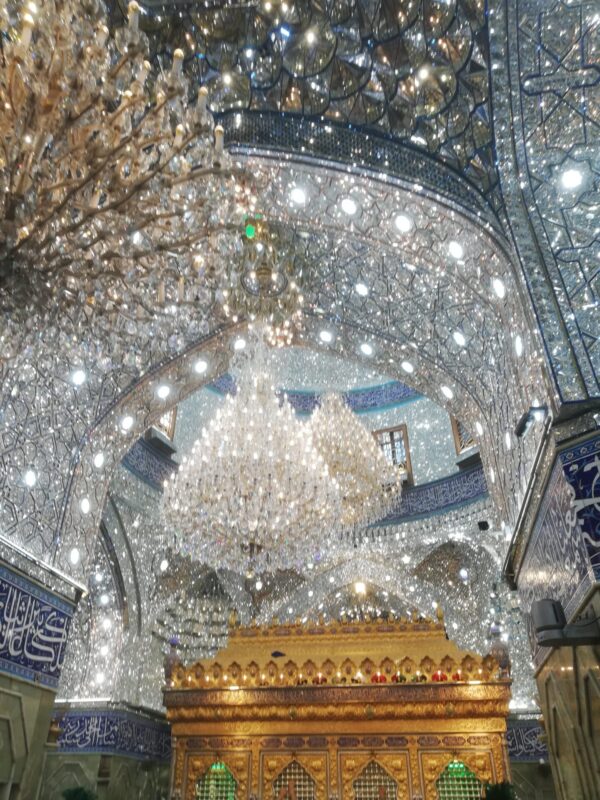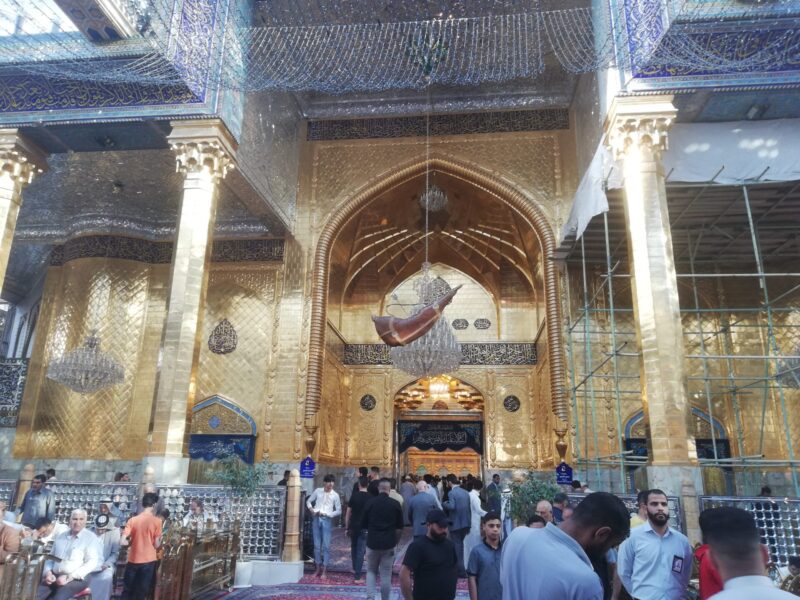 Me and the Emir. I'm on the right
Day 48 (17th April) Kerbala to Rutba
In the morning we drove 31 miles back towards Baghdad and then turned west past the infamous Abu Ghraib prison camp where the Americans tortured Iraqi prisoners by waterboarding, sleep deprivation and electric shocks. From the road it is a very long concrete wall with a barbed wire top. It might still be used as a prison so I didn't dare take a photo. We then passed Fallujah, almost totally obliterated by the Americans in 2005, and Ramadi before a long drive of 160 miles to Rutba. There were no towns or even buildings apart from military bases and look-out towers. At the Ramadi checkpoint we were asked to wait for 30 minutes for a police car which accompanied us for about 30 miles before handing over to another police car for the next 20 miles. The remaining 110 miles to Rutba were covered behind a succession (20 to 30) of various military vehicles including jeeps and armoured cars with guns sticking out of the roof. There were numerous ruined bridges over th motorway which had been bombed during the US invasion. When we reached Rutba we were told that there are no hotels in the town and after much scratching of heads among 10 or so soldiers I was given a phone and heard a man say "You can stay in my compound. I am an Iraqi Army officer".
We followed an armoured car to his compound where a most charming Colonel gave us a room to sleep in and his orderly cooked us a splendid meal of pea soup, rice and mutton stew which was lightly spiced, and a plate of fruit. We had a very nice breakfast in the morning and one of the officers showed us his watch which indicated that, in a few minutes, we would be eating after sunrise during Ramadan. The Colonel and other officers laughed after he had left, suggesting that not everybody is equally devout.
On leaving, I asked if there was a garage in Rutba, and was asked to drive round to the Army fuel base where the van was filled with diesel. I tried to pay for it and they refused to take any money. Once again we were smothered with kindness in Iraq.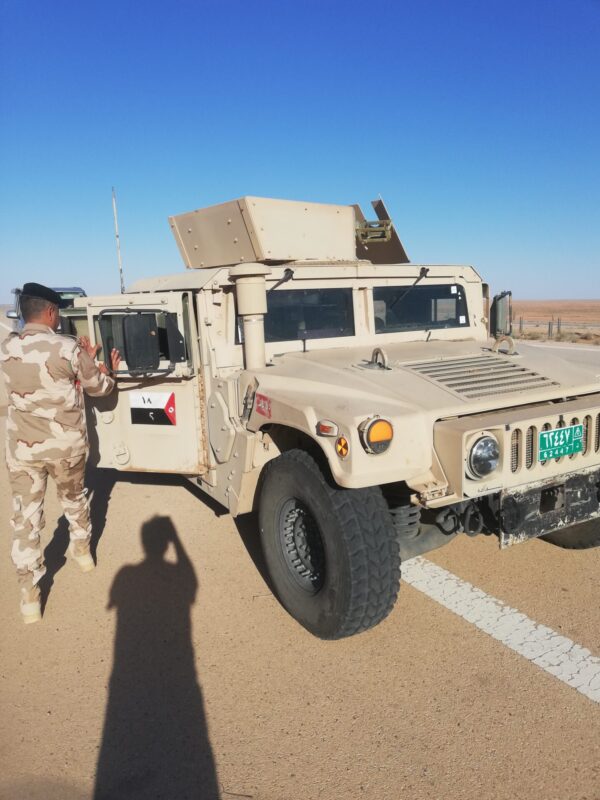 One of our escorts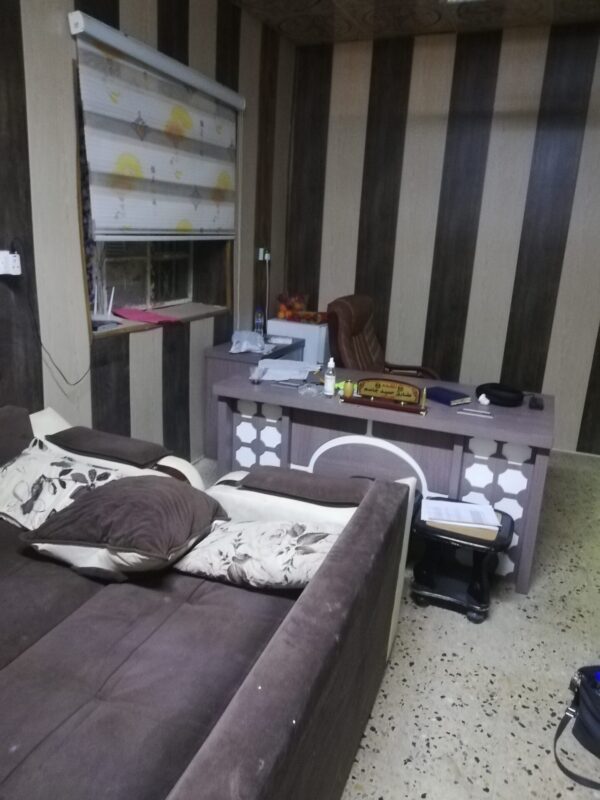 Our room in the officers mess
Day 49 (18th April) Rutba to As-Safawi
A grim day in which we spent three hours struggling to get out of Iraq with many offices to be visited to get slips of paper, other offices to get them stamped and yet others to get them signed. It seems that if you bring a vehicle into Iraq you have to pay $100, and then $35 customs duty and some more for something else. In getting our visas at Baghdad Airport, we paid nothing and didn't have the necessary documents. Getting into Jordan took another 2 hours and was equally expensive. We then drove into the Jordanian desert towards Amman and, after stocking up on food at the dusty desert town of Ruwaishid, slept in a truck park at the town of As-Safawi, I had noticed that the landscape had changed imperceptibly ro practically no vegetation of ant sort but the combination of orange and small grey stones had its own sort of beauty.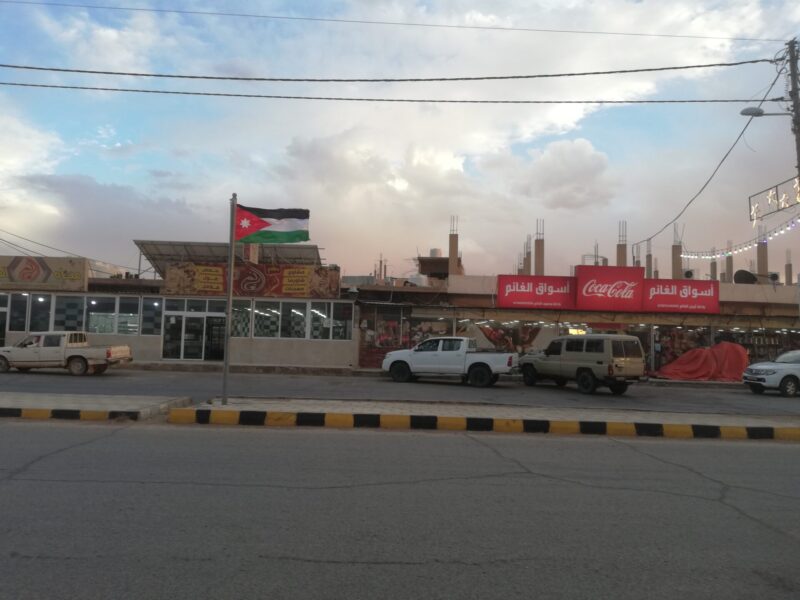 Ruwaishid
Day 50 (19th April) As-Safawi to Jerash
A grim night sharing the van with one million mosquitoes who fortunately ate Jennifer rather than me, probably because she smells better than me. The same number of dogs howling and growling at each other outside.. The long road to Amman passed an interesting castle. With a population of 4.2 million Amman is a big city spread out over seven hills and took hours to drive through, especially after we got lost and found ourselves in Madaba, which is a largely Christian town with a cathedral of Saint George.
We eventually found Jerash and parked in the central car park while I trudged up and down the central street looking for a hotel. Two people recommended the Olive Branch hotel up in the hills and, of course, we got lost looking for it. A man trying to sell a forlorn looking pile of apricots at the side of the road showed me how to get there on his phone. We needed to turn right: the first right turn lead to someone's house, the second was a piddly little road up a steep hill, and the third looked a bit small. At the fourth a man pointed back the way we had come so we tried the third which was blocked by a pile of sand. I tried to turn round as a white car came up the lane. The most least-used road in the whole of the Middle East and the inevitable car comes behind us. **** off you ******* ****** I thought to myself. He turned round, then turned left, flashed his hazard lights at me and turned up the little piddly road. Mere intuition caused me to follow him, debating with Jennifer whether he was going to see his aged granny and how honoured we would be to meet her. And then he stopped and pointed to a sign saying "Olive Branch Hotel". As he turned round, we realised it was the apricot seller; someone must have told him we were lost. Yet again another act of kindness by a complete stranger. Although we didn't get to meet his granny.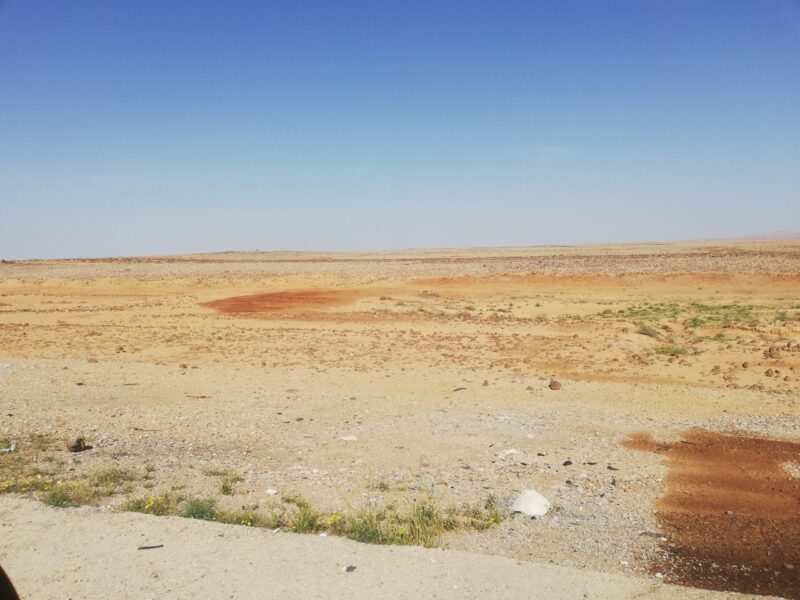 Desert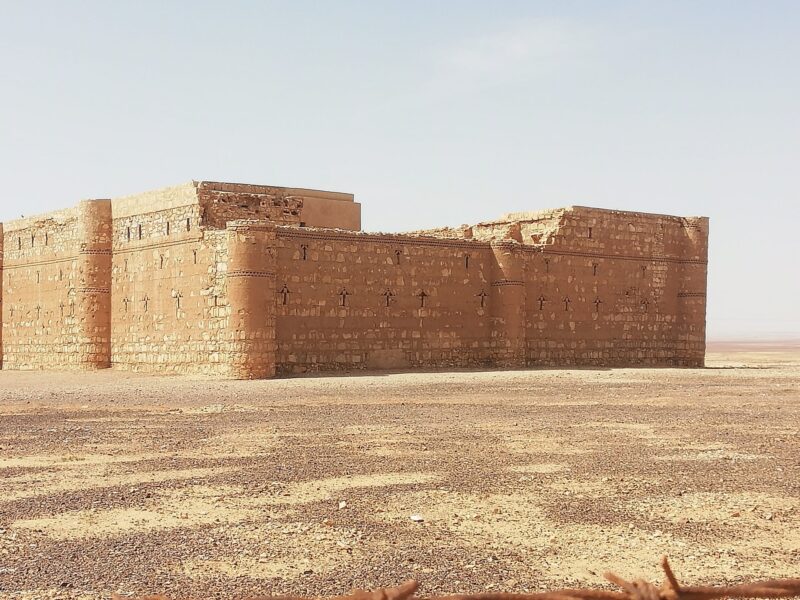 Castle Amra on road to Amman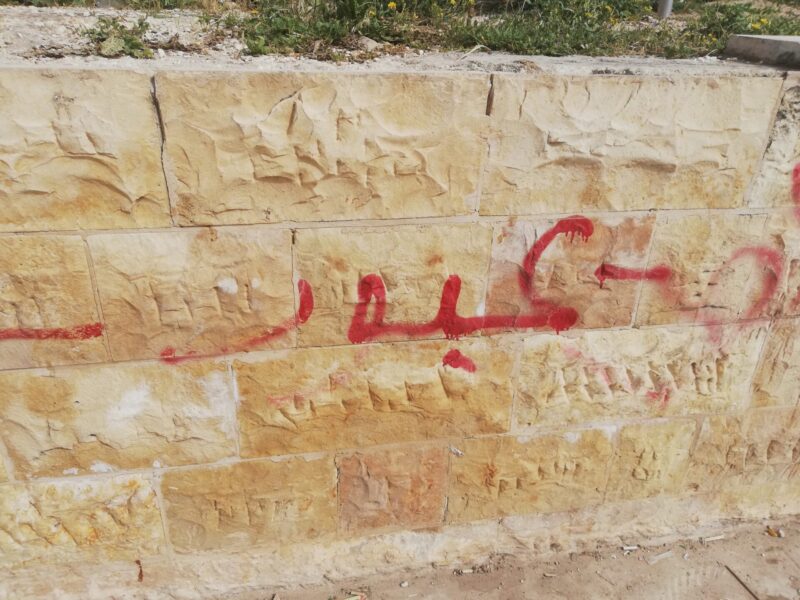 Cuneiform on old city wall plus graffiti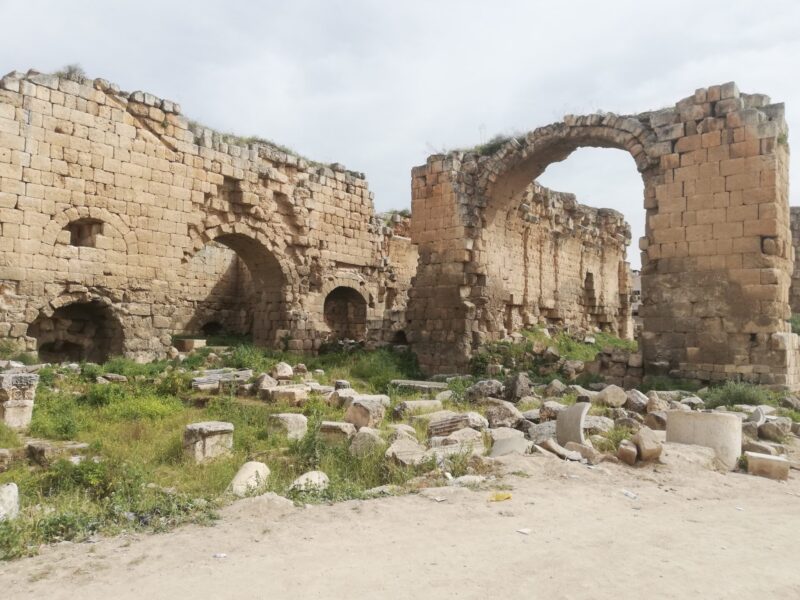 Roman city wall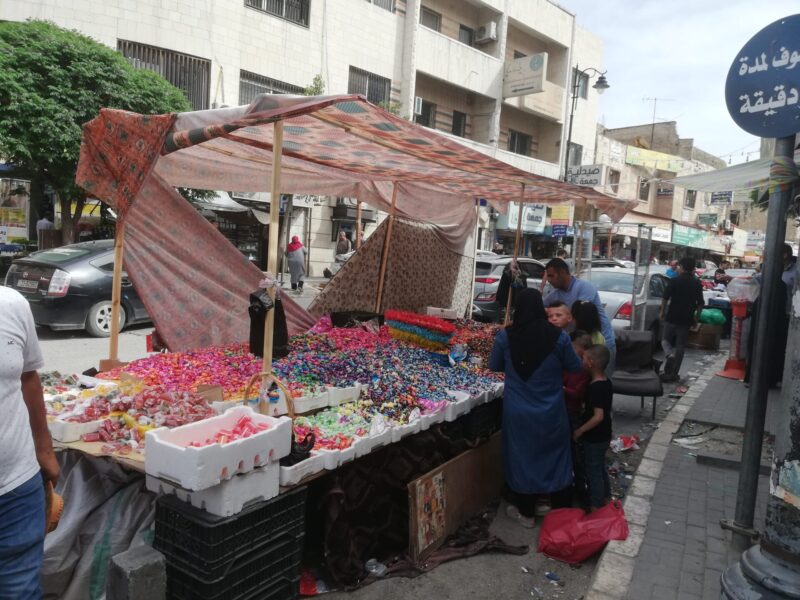 Sweet stall
Day 51 (20th April) Jerash
In the morning, we went into Jerash and used the credit cards to get some dollars and Jordanian dinars after parking the van in the central car park. We then walked across the main road and spotted a track leading up to the Roman ruins. This was apparently an exit and a man guarding the gate let us in for 10 dinars which may, or may not, have been the correct fee, but in any case the visit was worth every penny of it. We walked the length of the Cardo, the main street through the old Roman town and enjoyed the Temple of Artemis (on a hill overlooking the Cardo) and the Arch of Hadrian (named after Emperor Hadrian who visited the city in 129 AD. Of particular interest was the Church of St Peter and St Paul with its mosaic floor containing Greek and Hebrew-Aramaic inscriptions, suggesting that it may have been a synagogue before it was converted into a church during the Byzantine period. The remains of the world's first water-powered mechanical saw for cutting blocks of stone can still be seen as well as an olive press. Much of Jerash was destroyed in 749 by a devastating earthquake., although the Moslems built a fortress which was destroyed by Baldwin II of Jerusalem in 1149.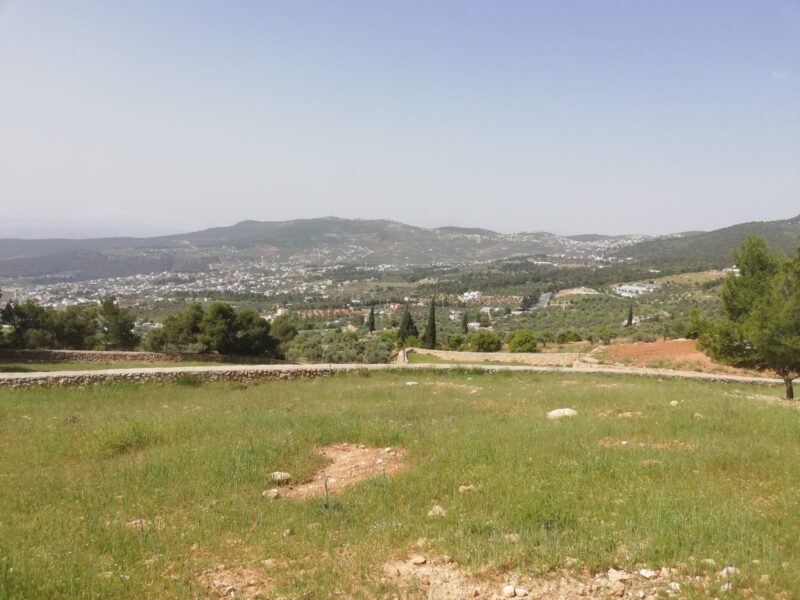 View from the hotel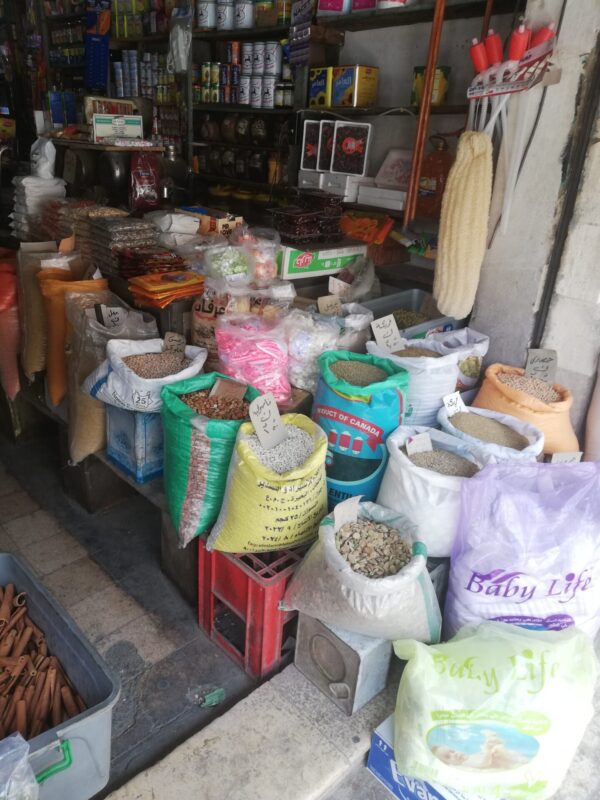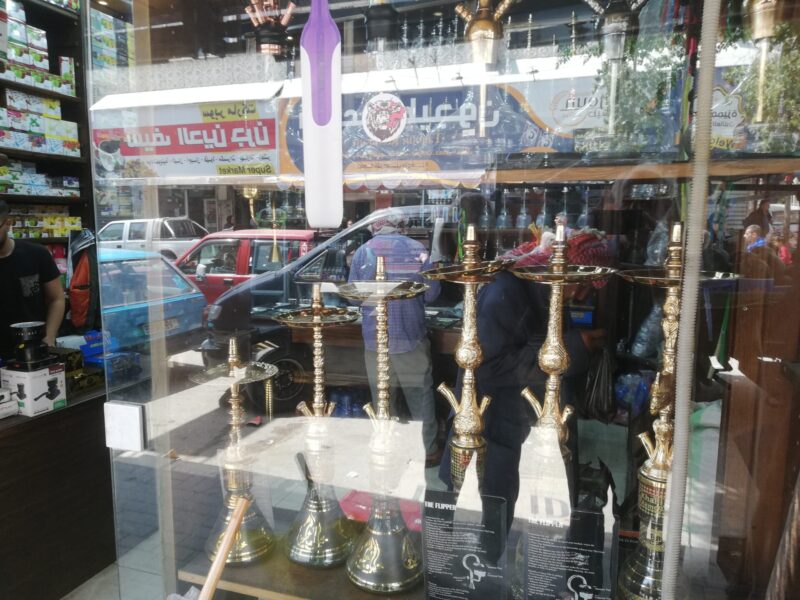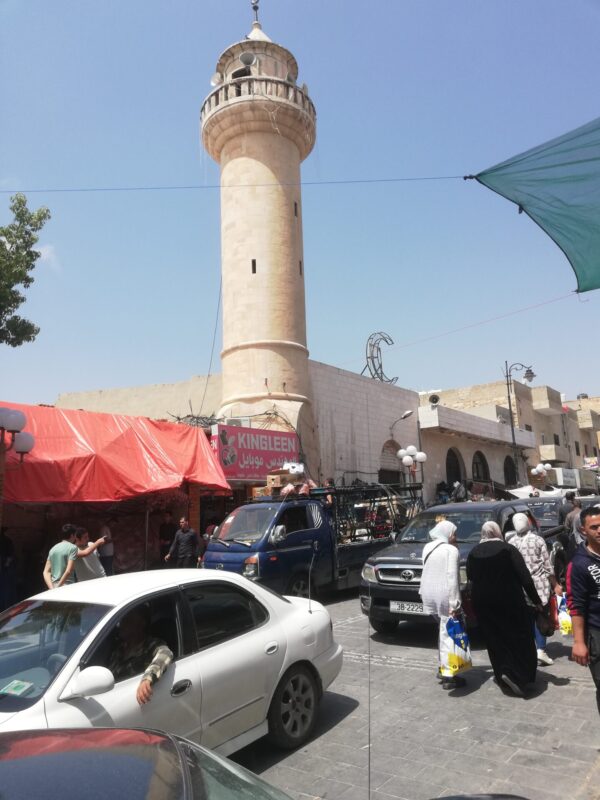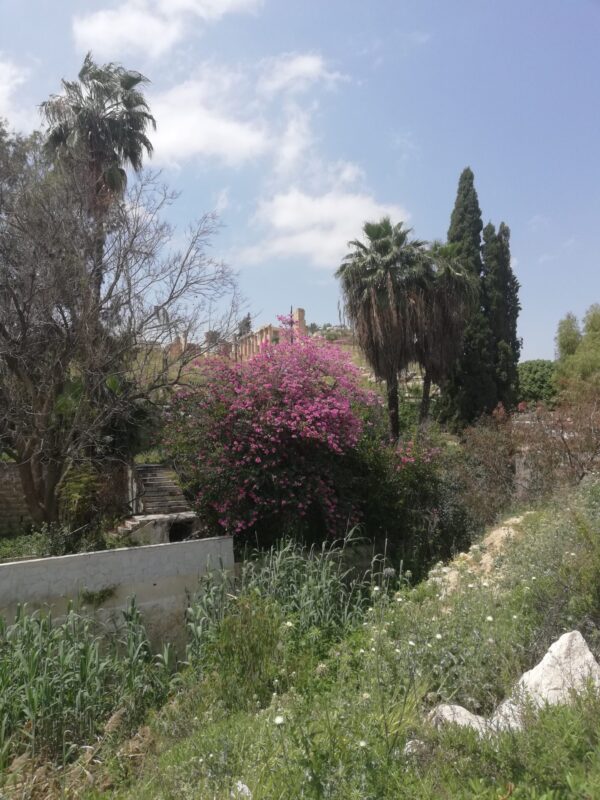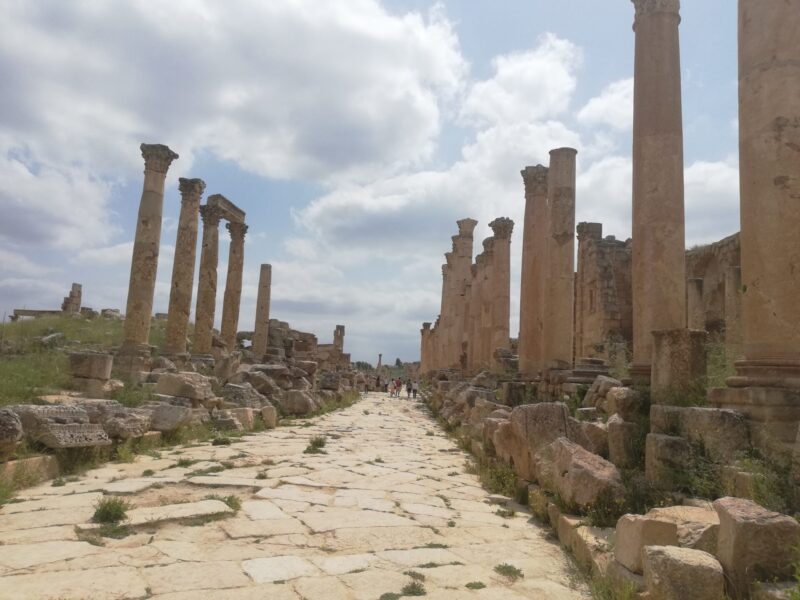 The Cardo (Main Street)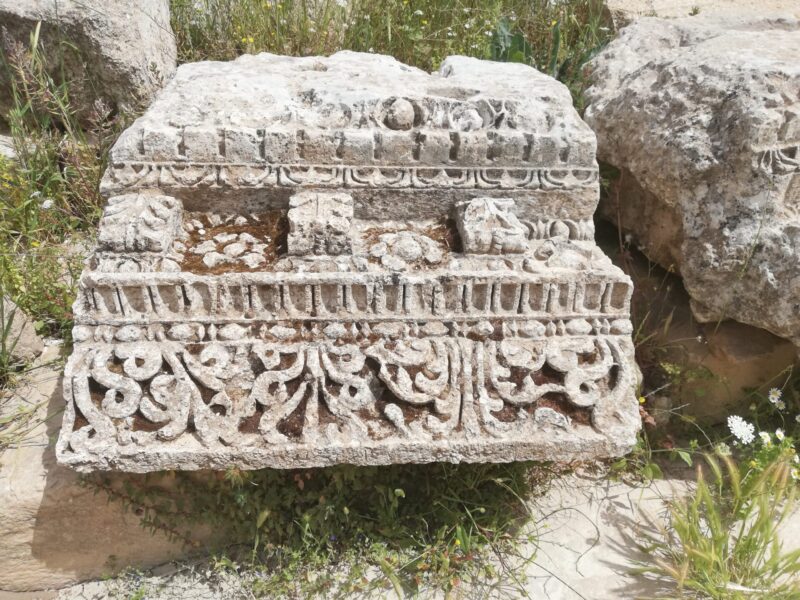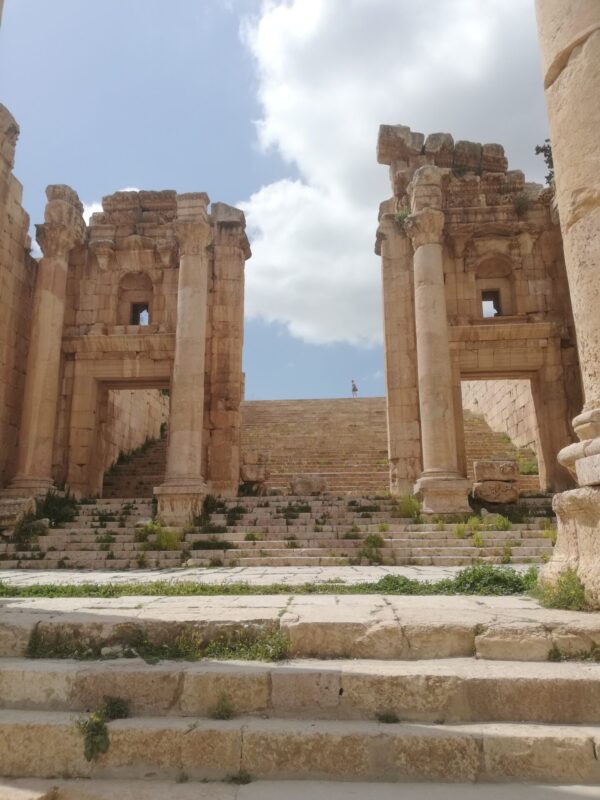 Hadrians arch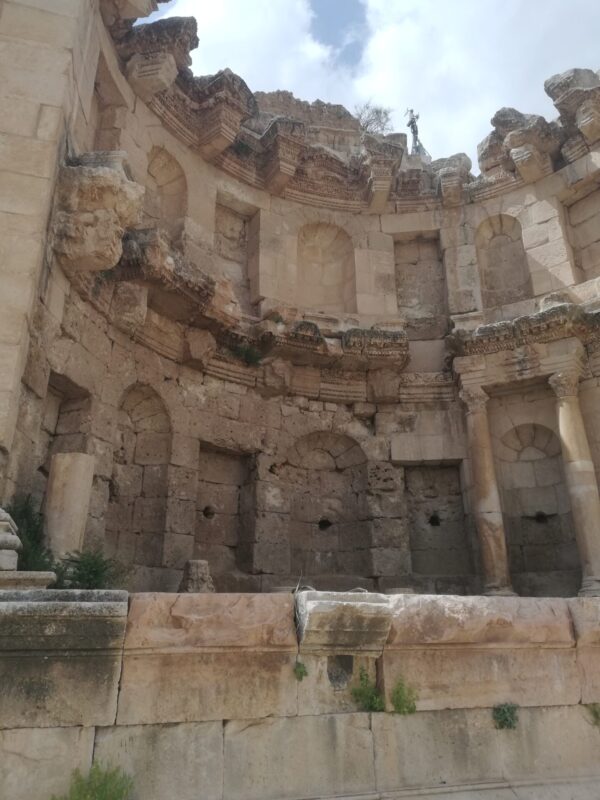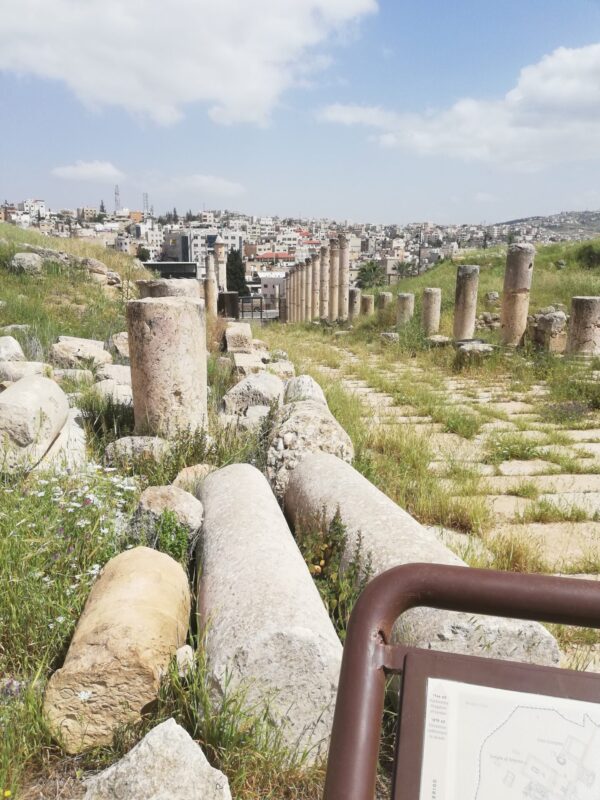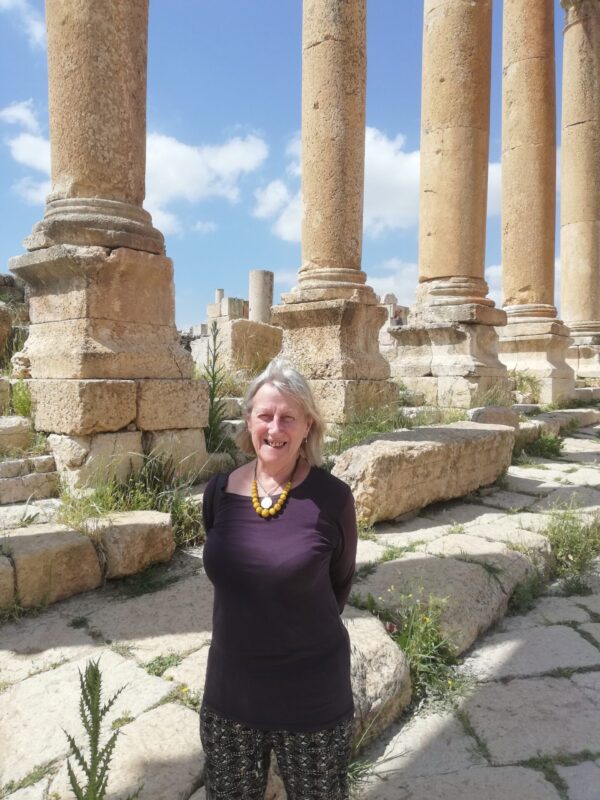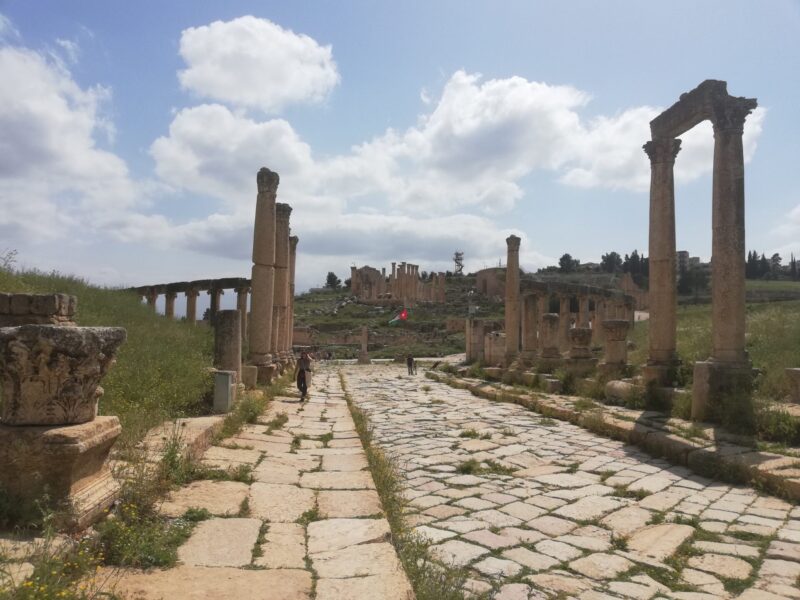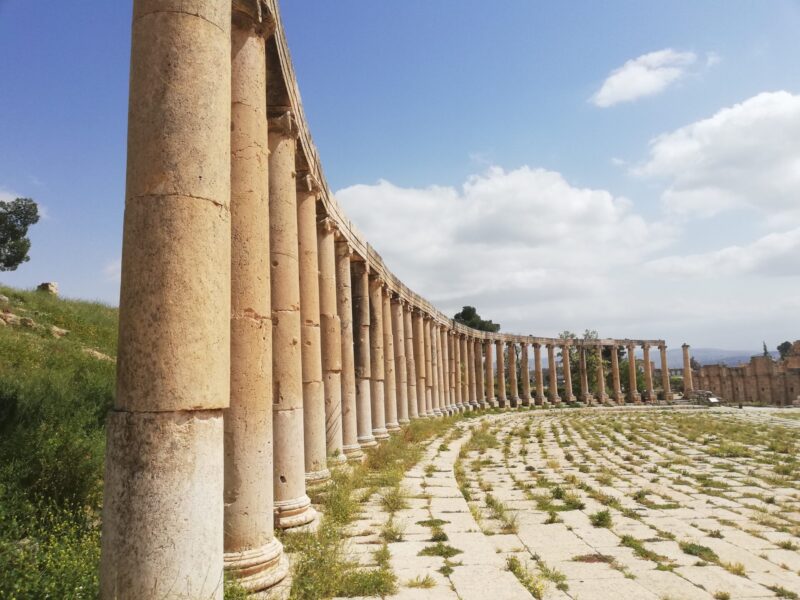 The Plaza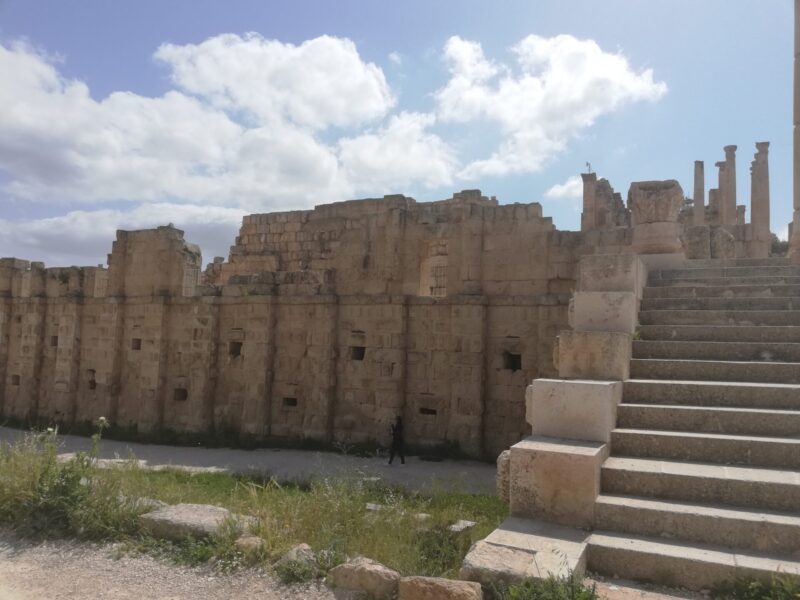 Day 52 (21st April) Jerash to Hasa
This would have been a truly rubbish day consisting largely of getting lost in Amman and following roads which went backwards and forwards from the north-eastern suburb of Zarqa. When we got onto the Amman-Aqaba motorway (sometimes called the Haj Road and at other times the Kings Road), life couldn't have been easier. By accident we saw a brown sign to Umm Ar-Rasas, a World Heritage site, and decided to do something useful during the day by paying it a visit. It was occupied by Christian and Islamic communities and is associated with the town of Mephaat mentioned in the Bible (Book of Jeremiah).
It is a collection of ruined churches of which the best preserved is the Church of St Stephen with a magnificent mosaic floor. It is surrounded by a border containing the names of Christian dioceses in Greek; I identified Philadelphia, which was the Greek name for Amman. Jerusalem, Nablus, Caesaria and Gaza can also be seen. The mosaic floor was laid in 786 and is the best example in Jordan. Another mosaic floor to the north of the church but covered by the same protective roof was laid in 587. We then drove back to the motorway and spent the night at one of the excellent parking places at the side of the road.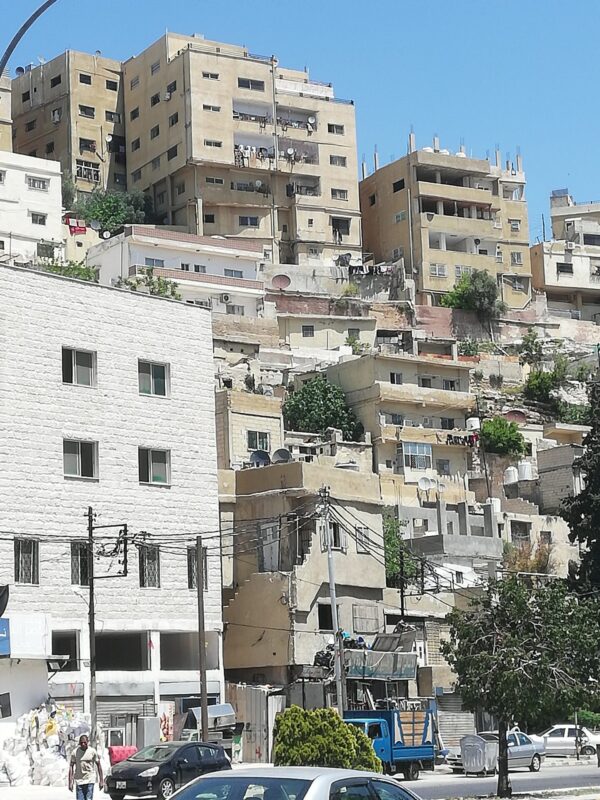 Central Amman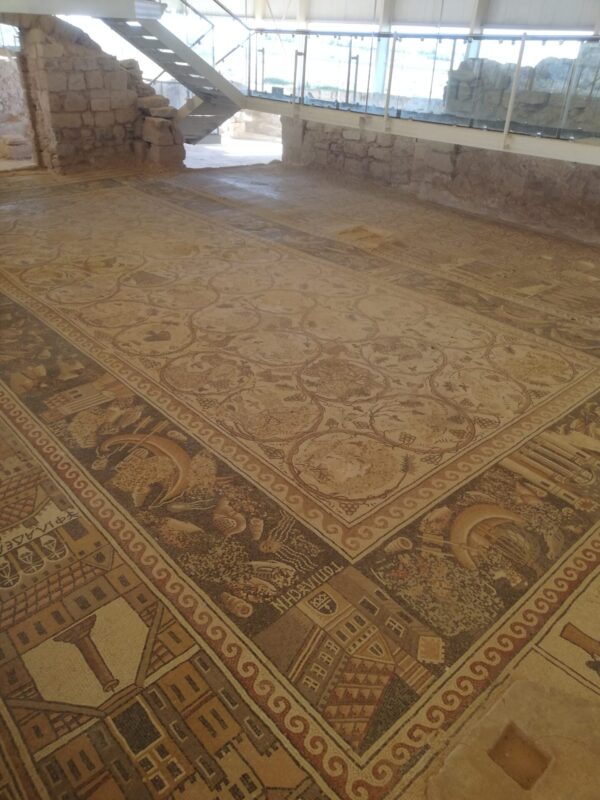 Mosaic floor, St Stephens Church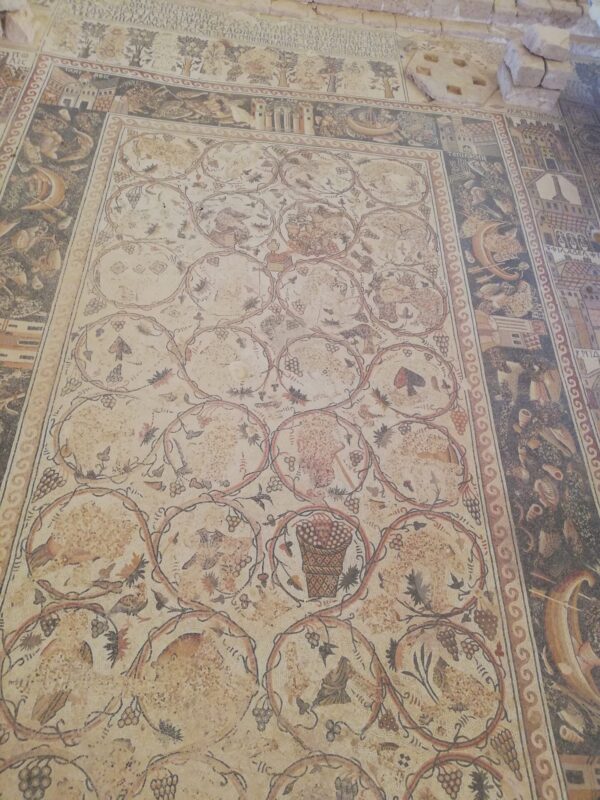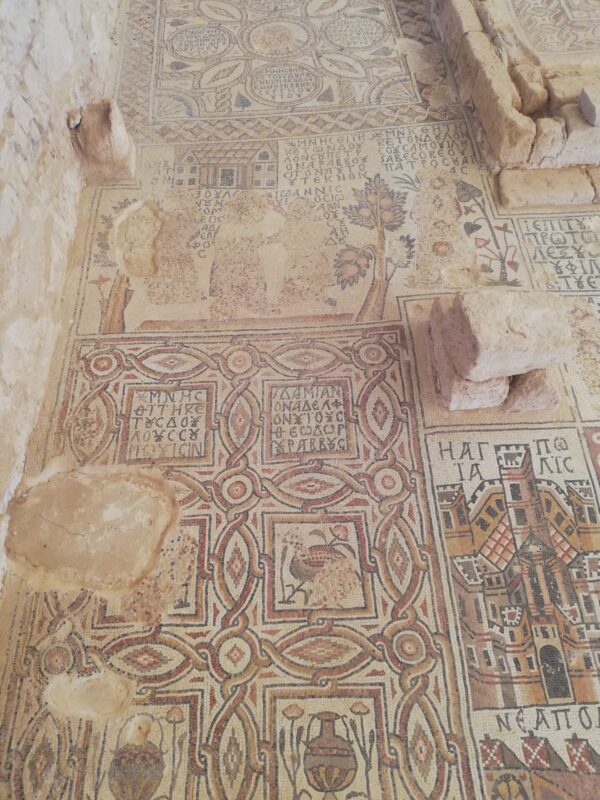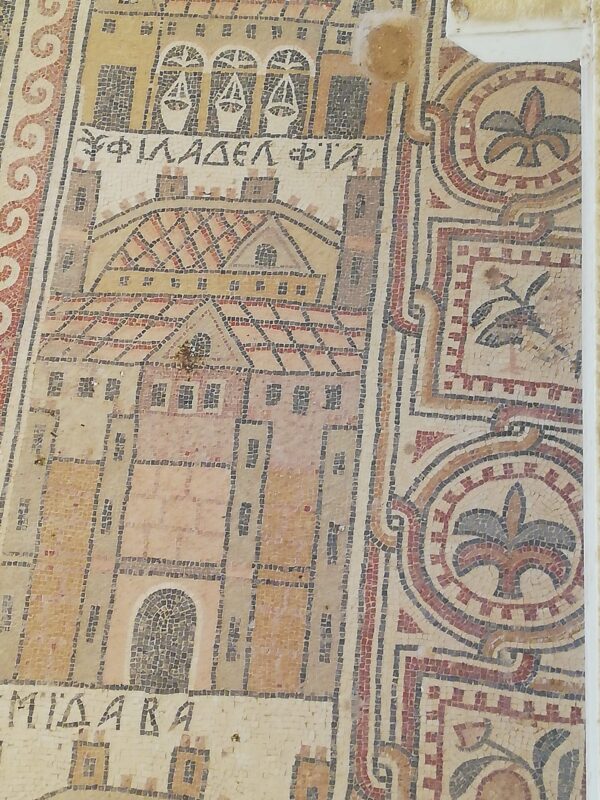 Reference to Philadelphia (top left)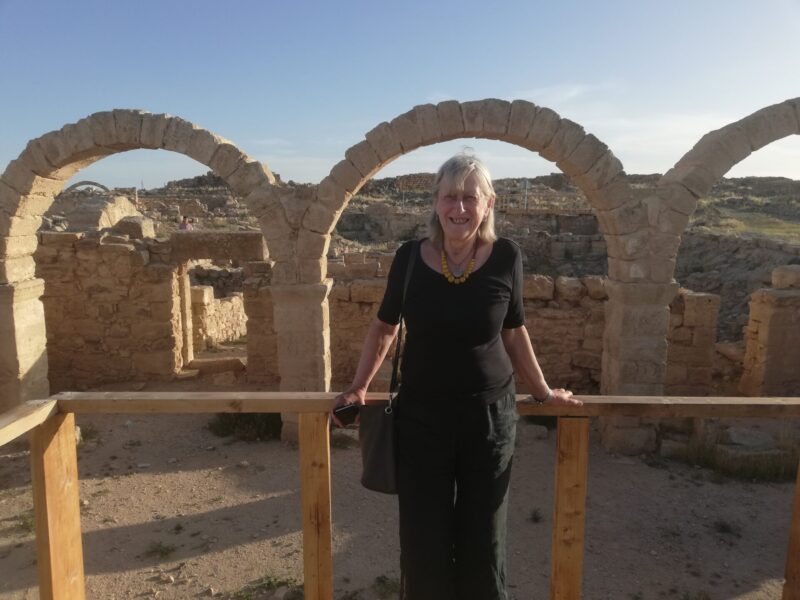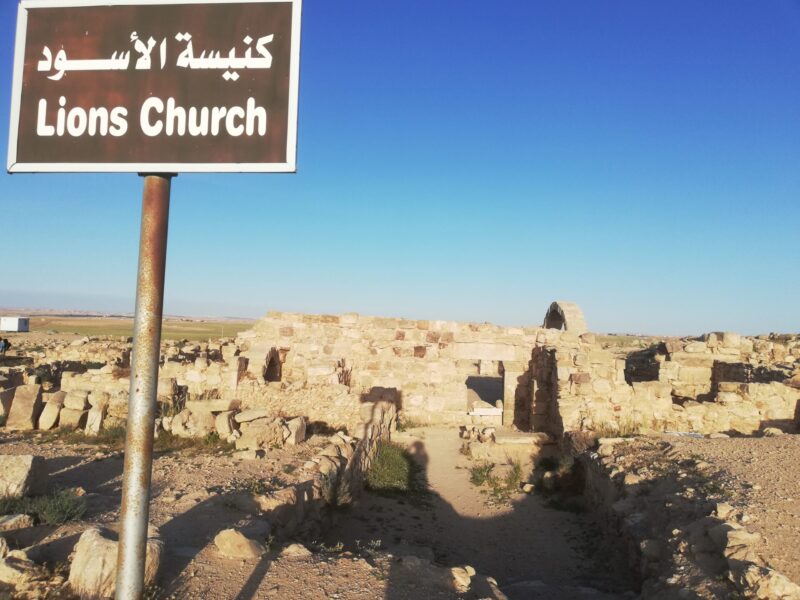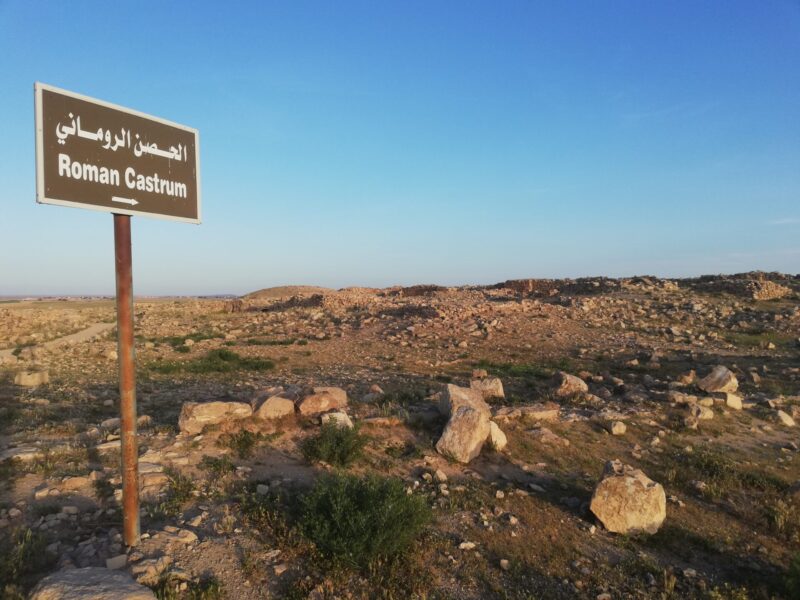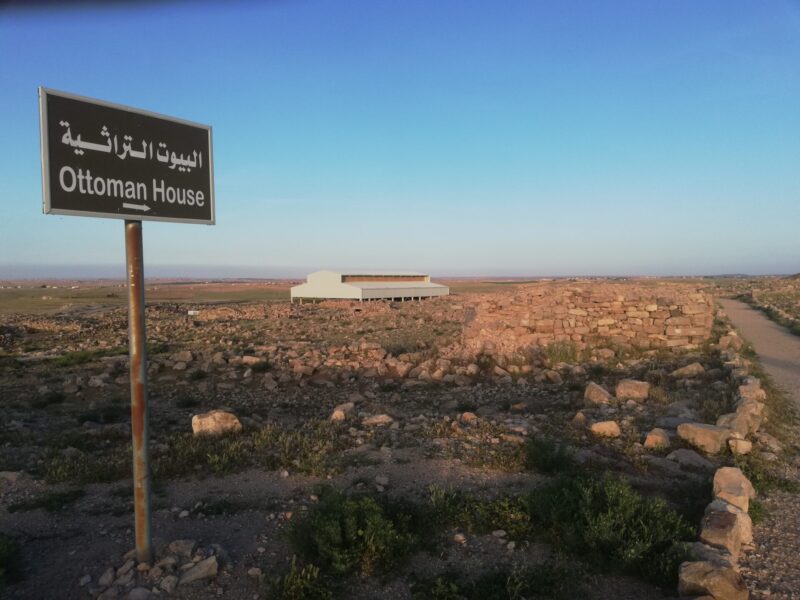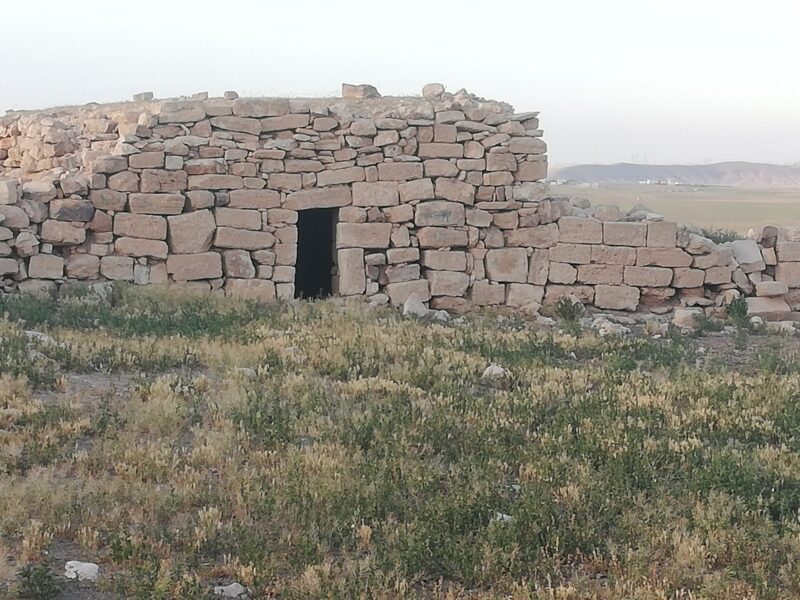 Day 53 (22nd April) Hasa to Petra
We set off down the motorway and, out of the corner of my eye I spotted a brown sign saying "Petra". It pointed down a small road and, thinking that such a major tourist site deserved a bigger road, I carried on down the motorway. Eventually a soldier pointed the way back so we wasted another hour driving up the motorway until we found the sign. This road continued on through what geographers call "Semi-arid steppe land" to Petra and we booked into the 1-star but perfectly adequate Musa Springs Hotel. We then went down to the Petra Visitor Centre and were somewhat surprised, if not shocked, to hear that the basic hike through the various places costs $80 each, and we couldn't buy the ticket and go tomorrow. However we went round the impressive museum and returned to the hotel.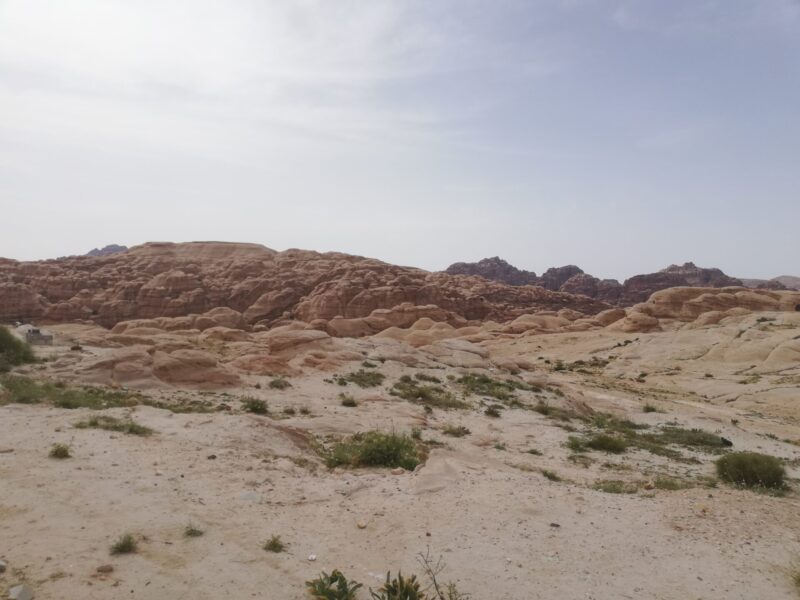 Landscape on road to Petra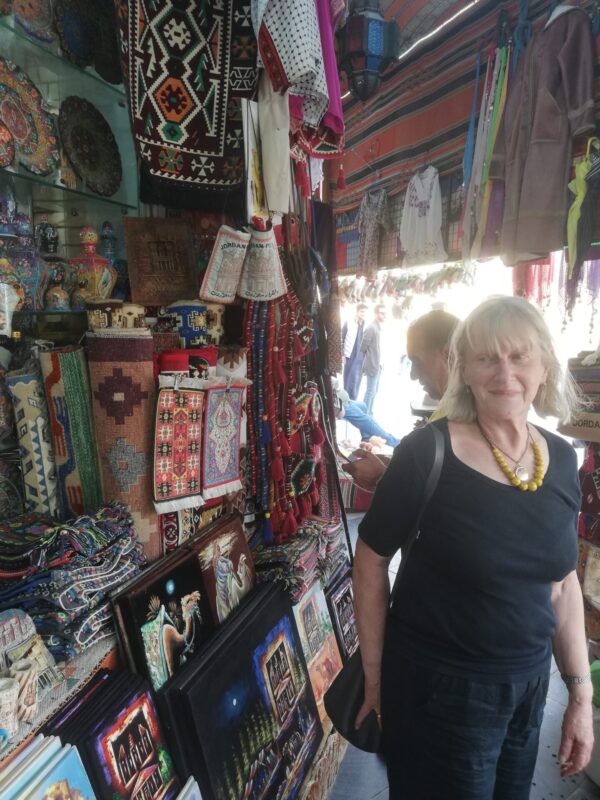 Jennifer shopping!!!!!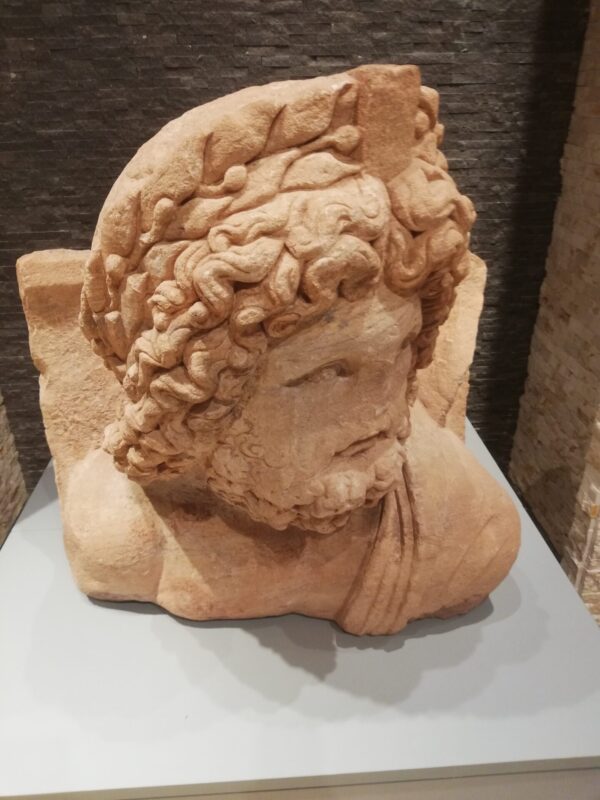 Head of the top man in Petra, Dhushara, seen as a God by the Nabaitaeans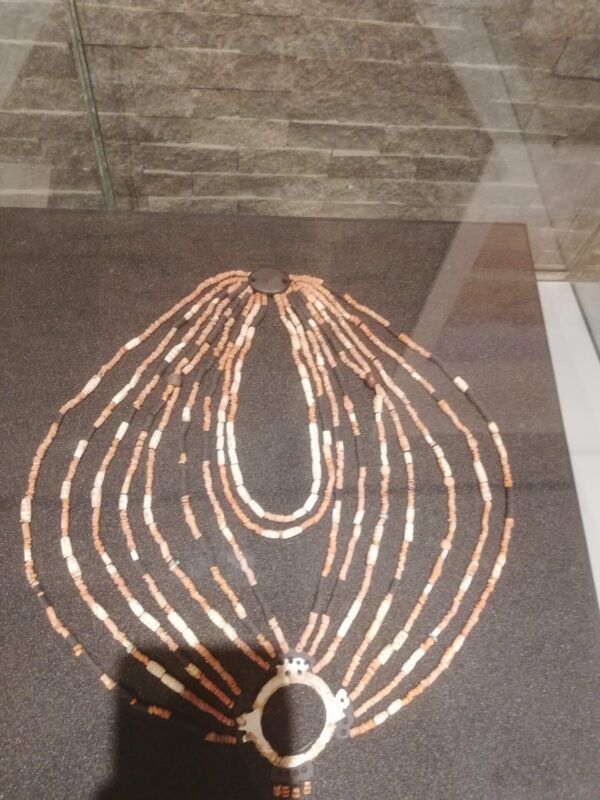 A necklace from 6000 BC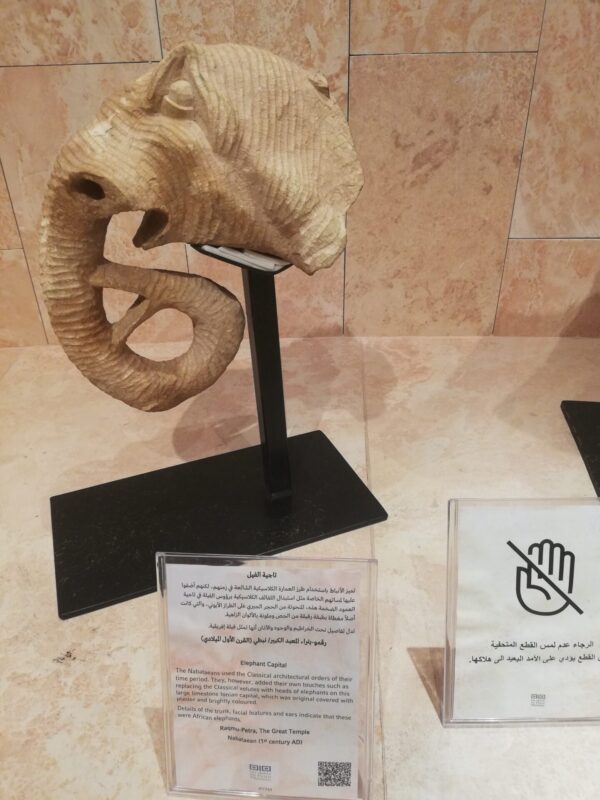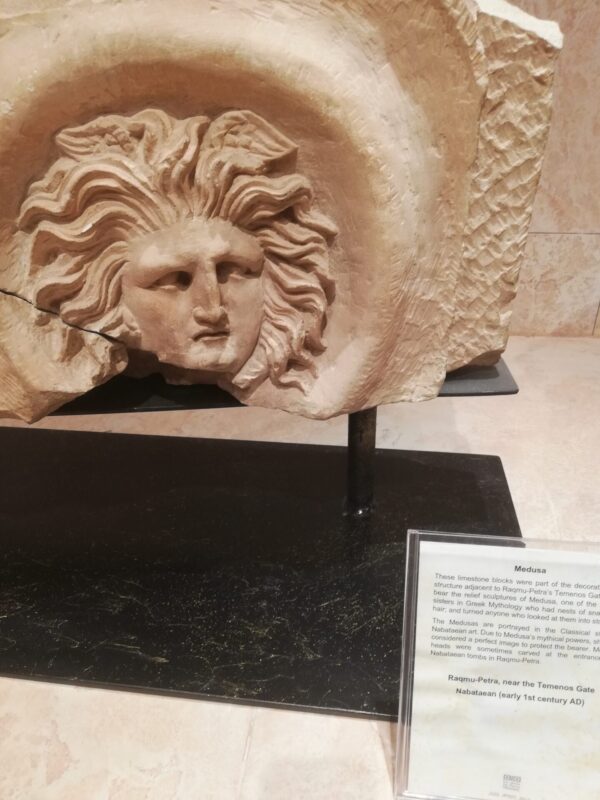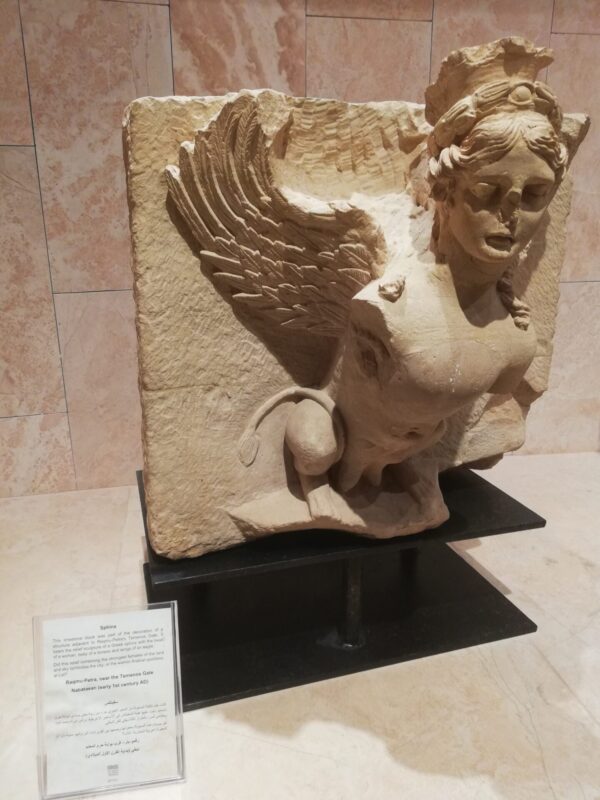 A sphinx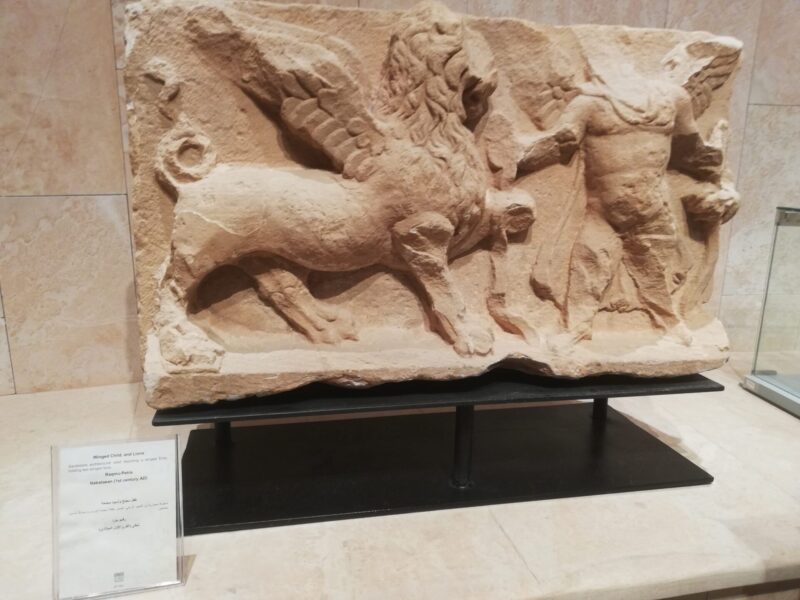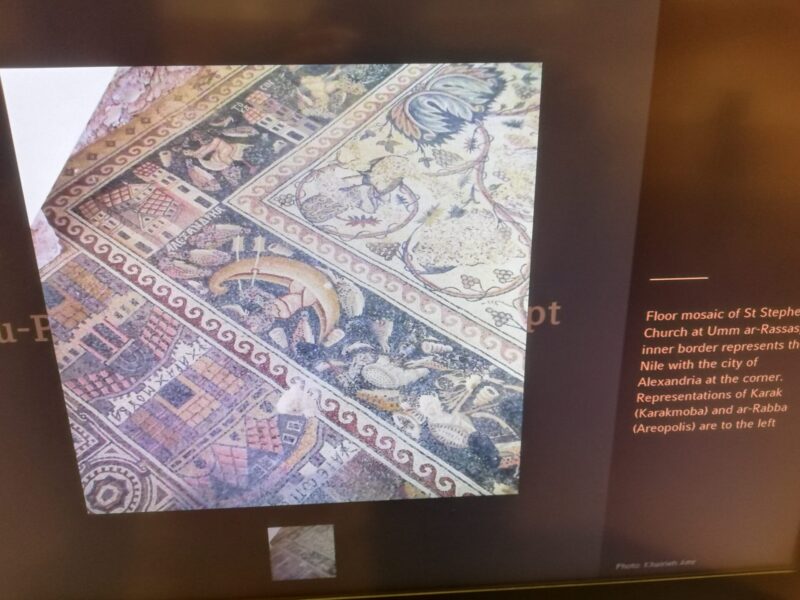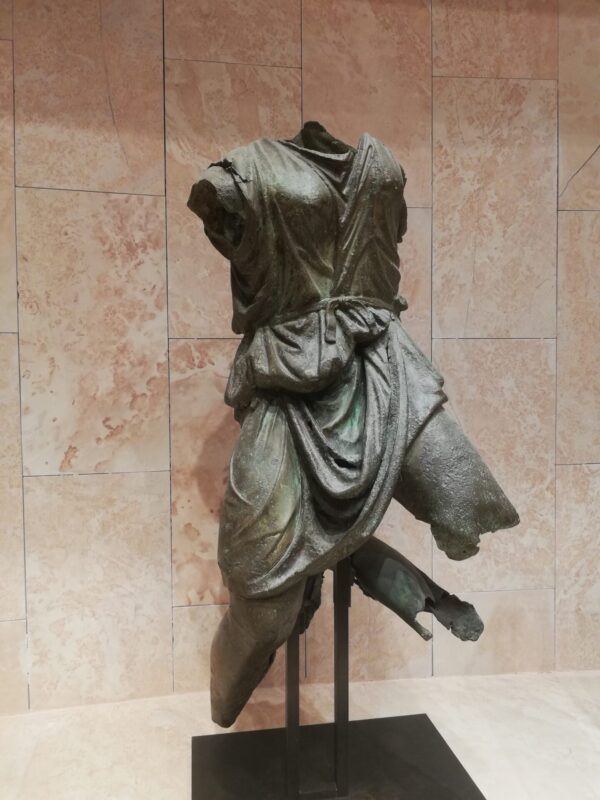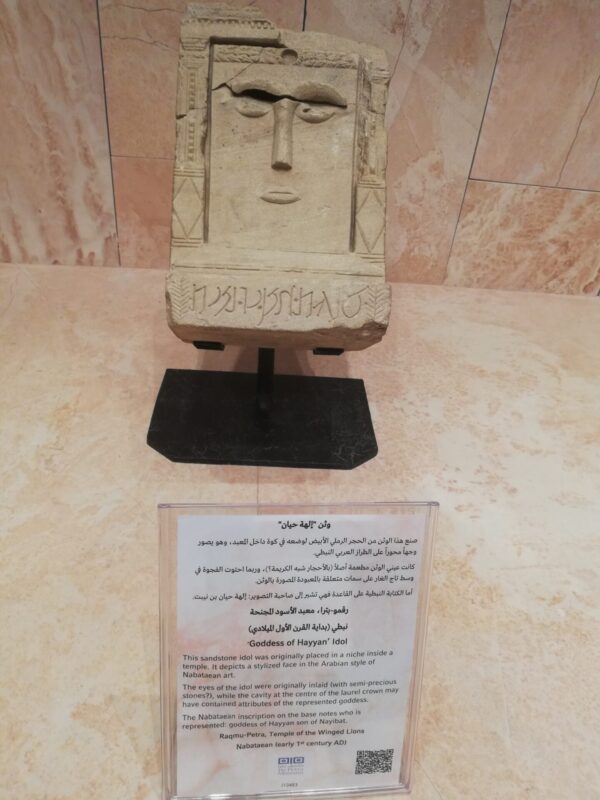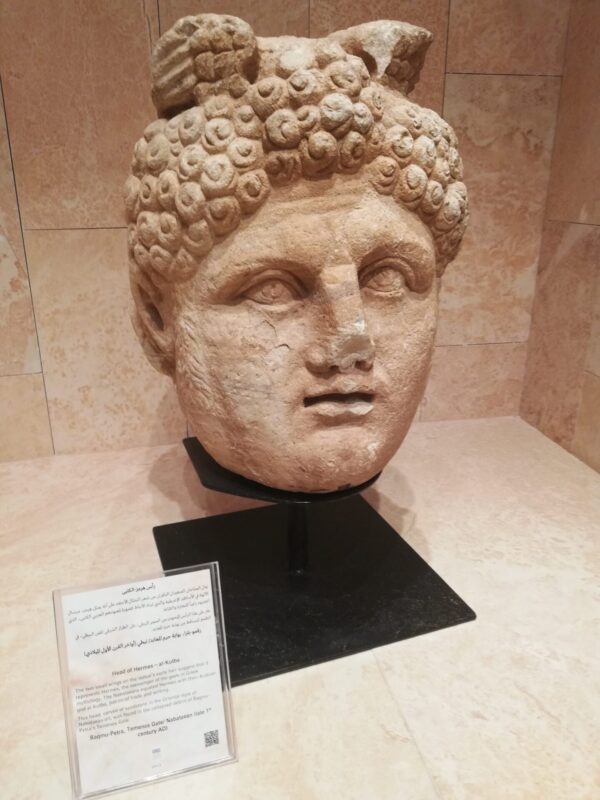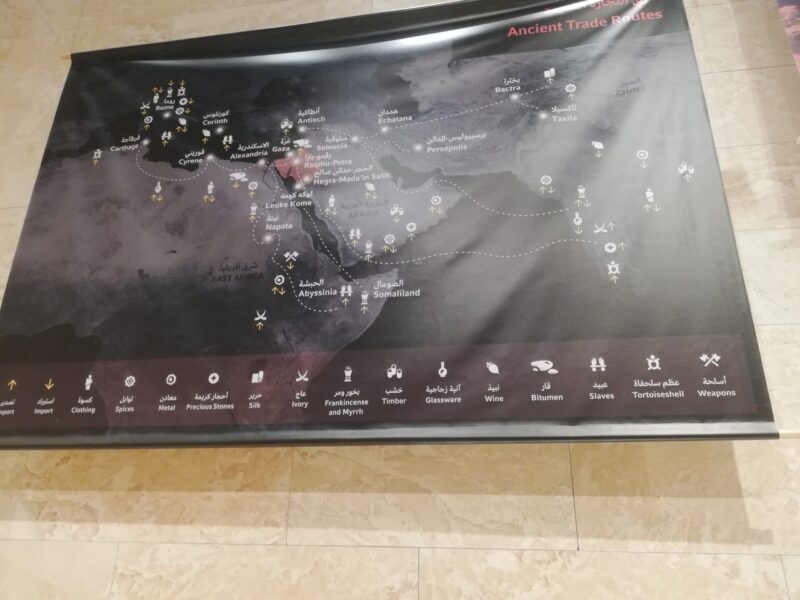 Trade routes of the Nabataeans
Day 54 (23rd April) Petra
A word about our hotel: Petra opened to the public in 1984 and I remember watching a programme about it on the telly in Tyndale Walk. I would have loved to have gone but two small boys aged 3 and 1 made it impossible. In 1985 an enterprising family converted part of their home into a hotel, which they called Musa Springs because it is adjacent to Moses's Spring as mentioned in the Bible. That is where the first intrepid backpackers stayed, and its where we are now!!!
How things have changed. If you want to spend $80 to see (literally) millions of people who have arrived on tour agency coaches and are staying in $200 a night hotels, and (literally) thousands upon thousands of crappy little stalls selling tourist tat at exorbitant prices to undiscerning mugs, then come to Petra. With hundreds of men continually asking if you want to ride a donkey/horse/camel and targeting us because we look old and decrepit, allegedly. Then come to Petra.
Having said which, Petra is incredibly interesting. We did the main tourist route, although Jennifer gave the High Place of Sacrifice (694 steps) and the Deir Monastery (812 steps) a miss. I did them and when I came down from the Monastery, I was so knackered I could barely put one foot in front of another. I was so badly dehydrated that when I finally met up with Jennifer we splashed out £3 on a tiny bottle of Sprite. I must mention the American gentlemen who passed me on the way up and said "Sir, do you want water?" I can't believe I said "No thanks". Perhaps I am going demented.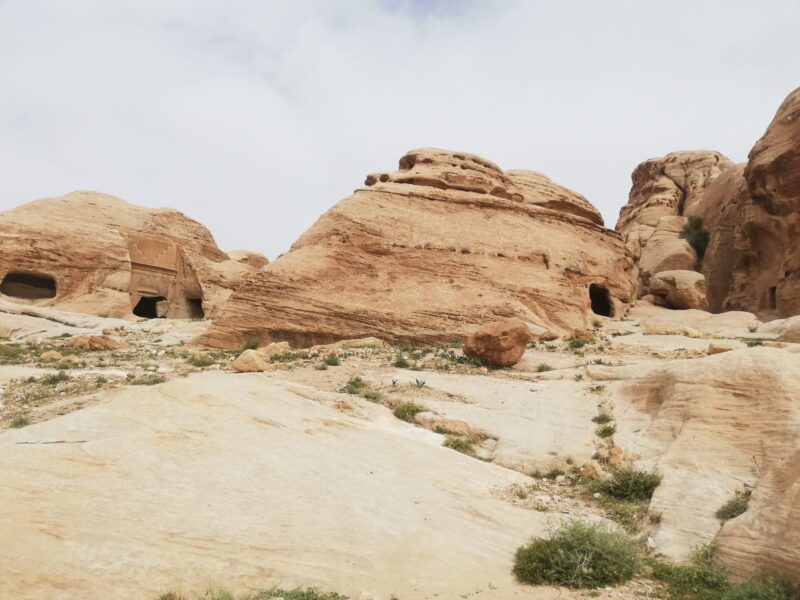 Tombs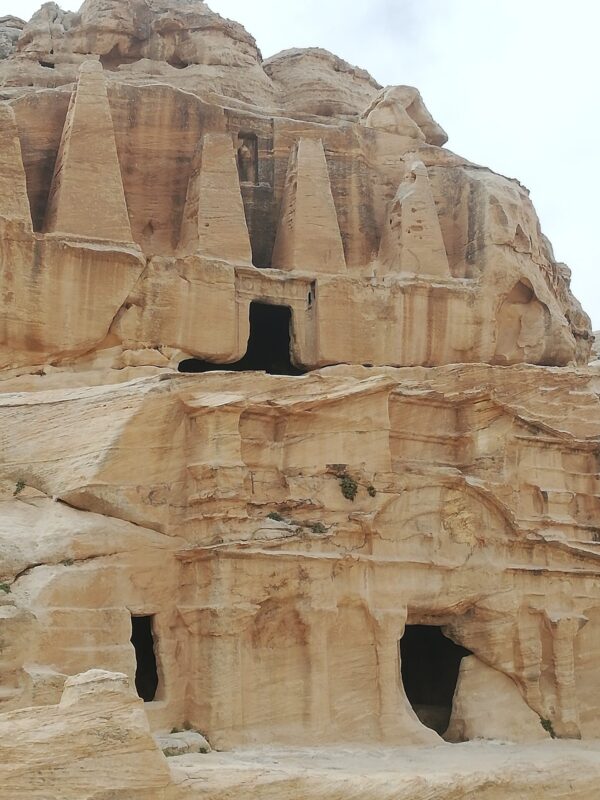 1) Djinn blocks: 4 pyramidal blocks carved above a tomb in the first century BC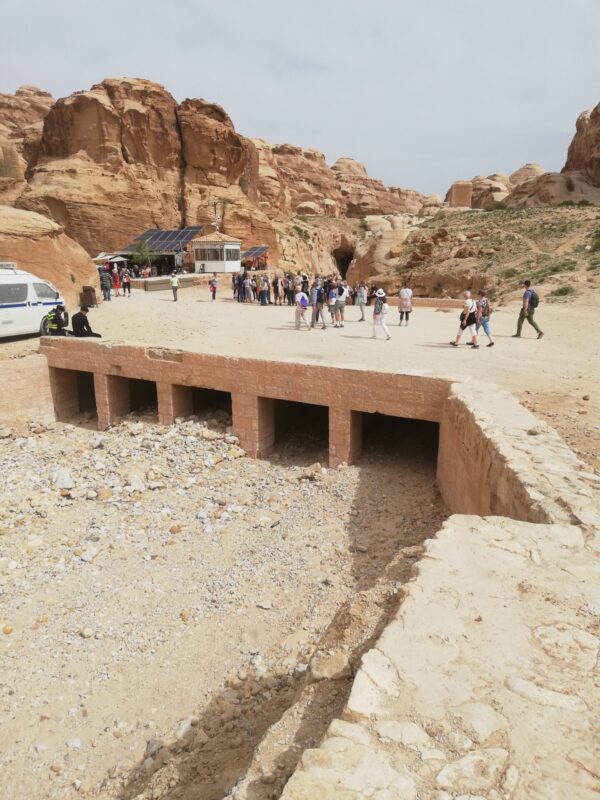 2) The Dam: Built to divert flash floods from Wadi Musa into other wadis.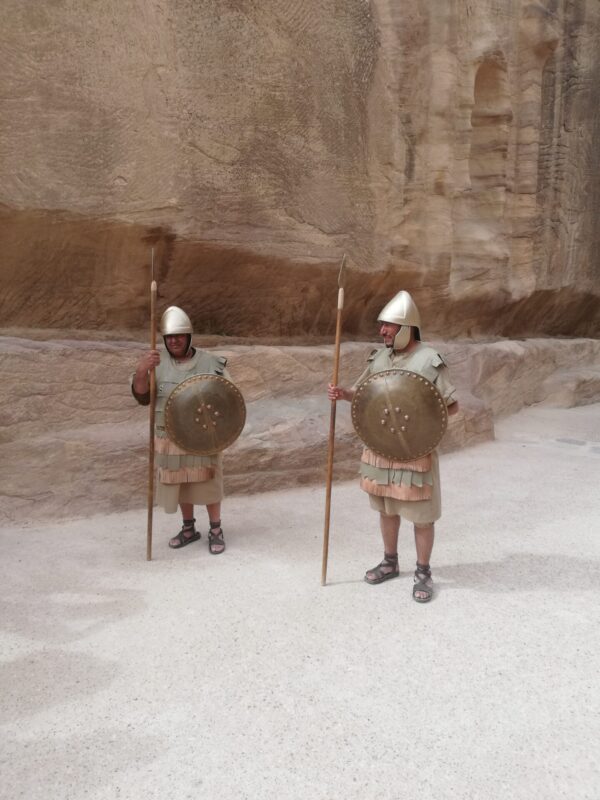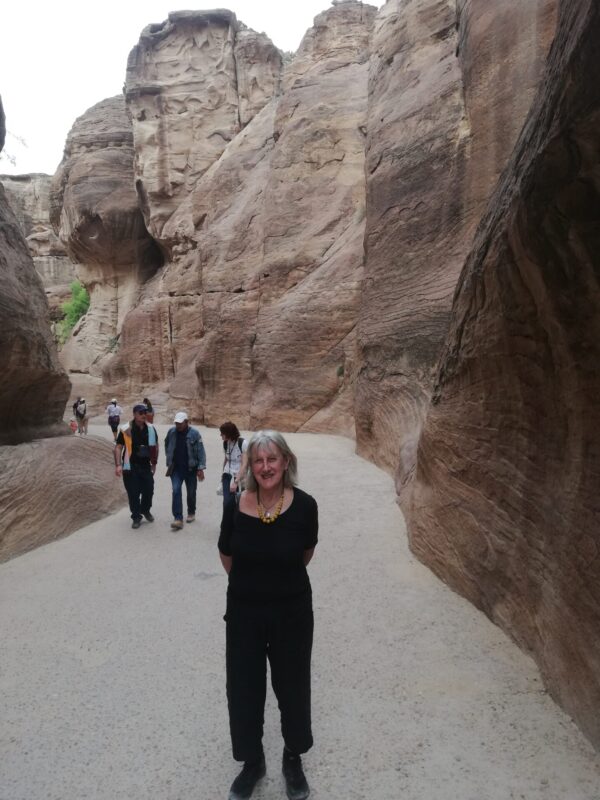 3) The Siq: The paved road into Petra through a narrow gorge with very high sides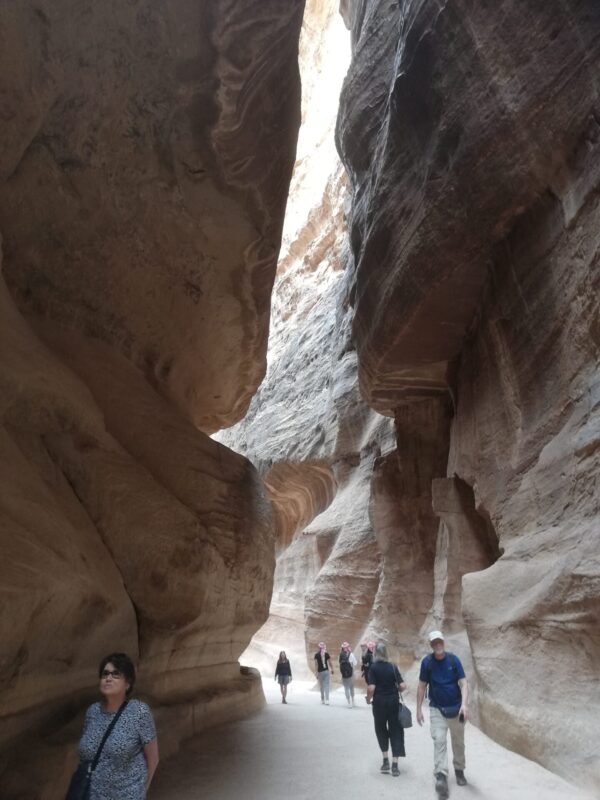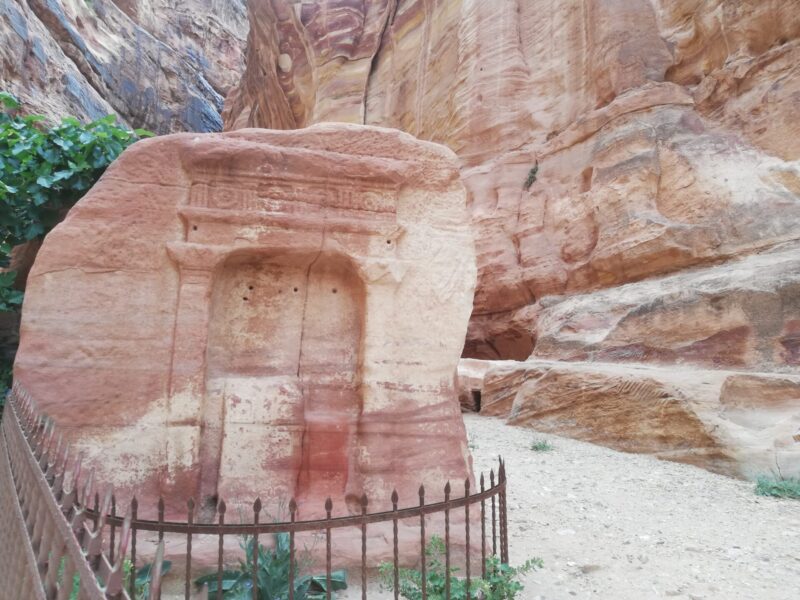 Tomb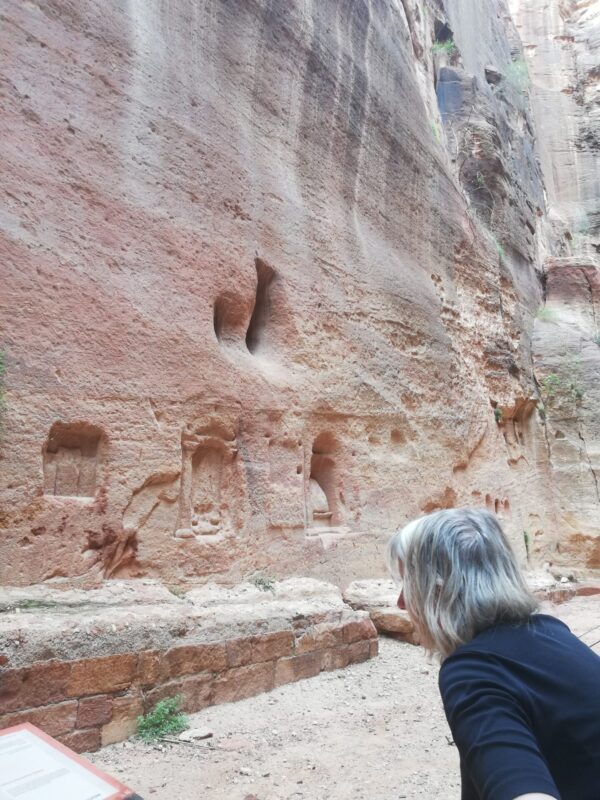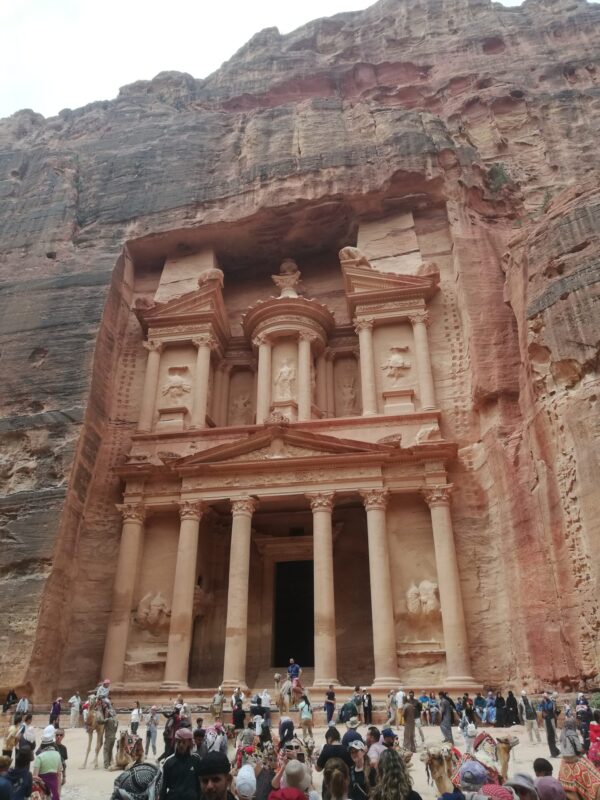 4) Al Khazna (The Treasury): Actually a mausoleum built in the 1st century BC.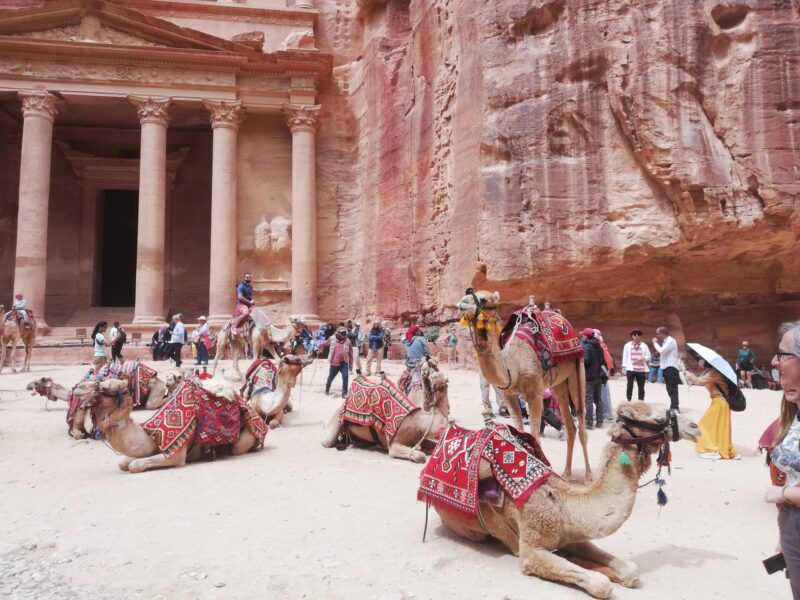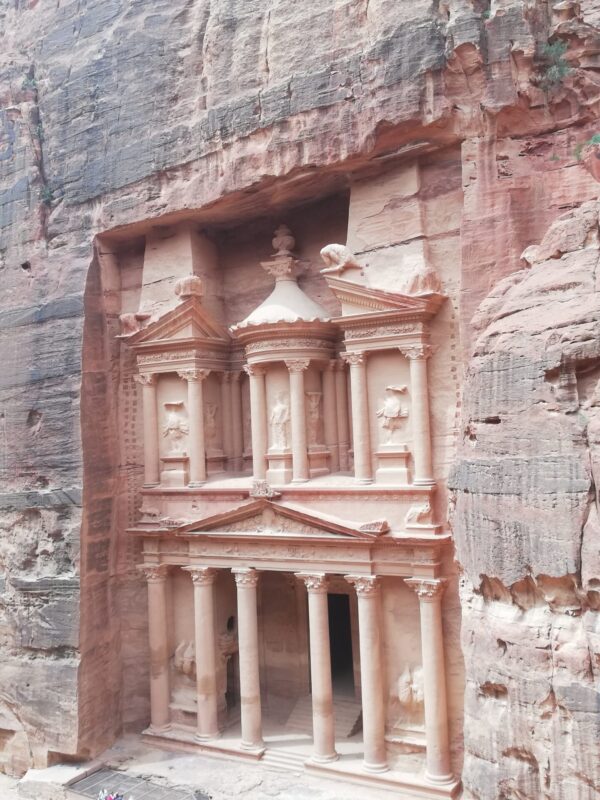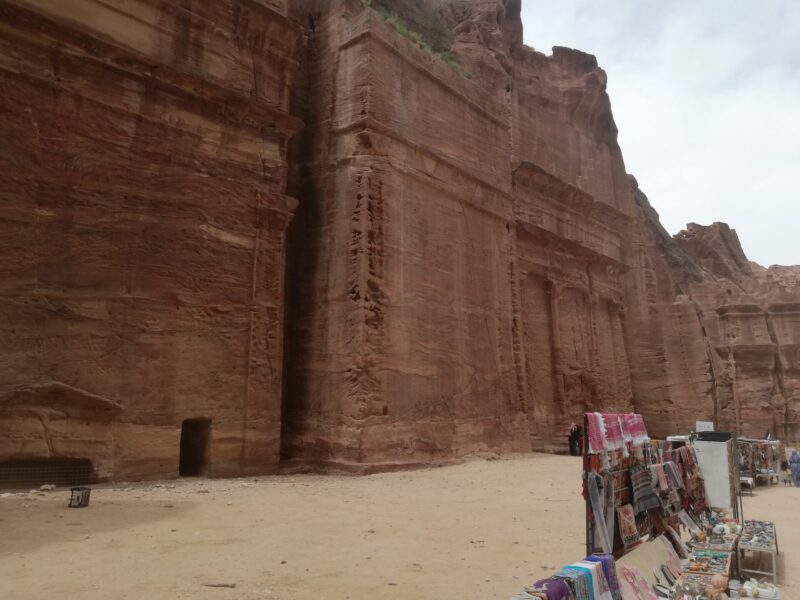 5) The Street of Facades: A row of monumental tombs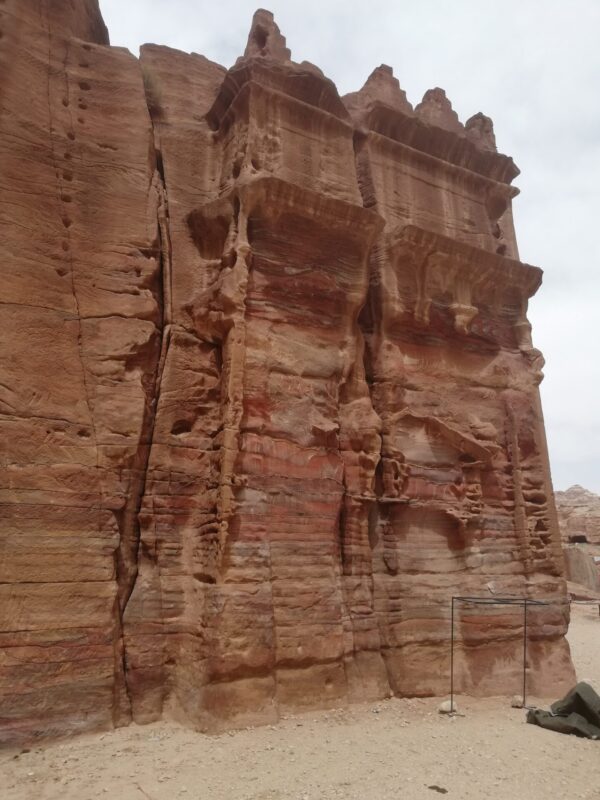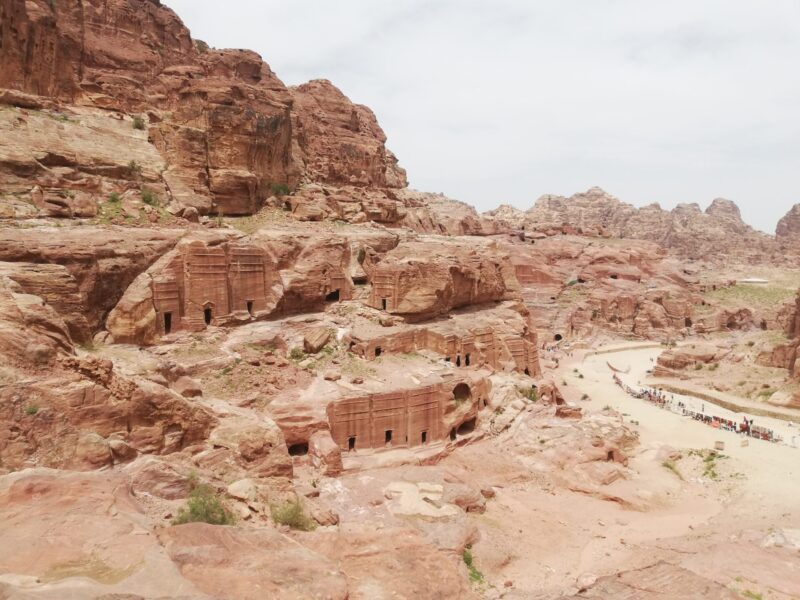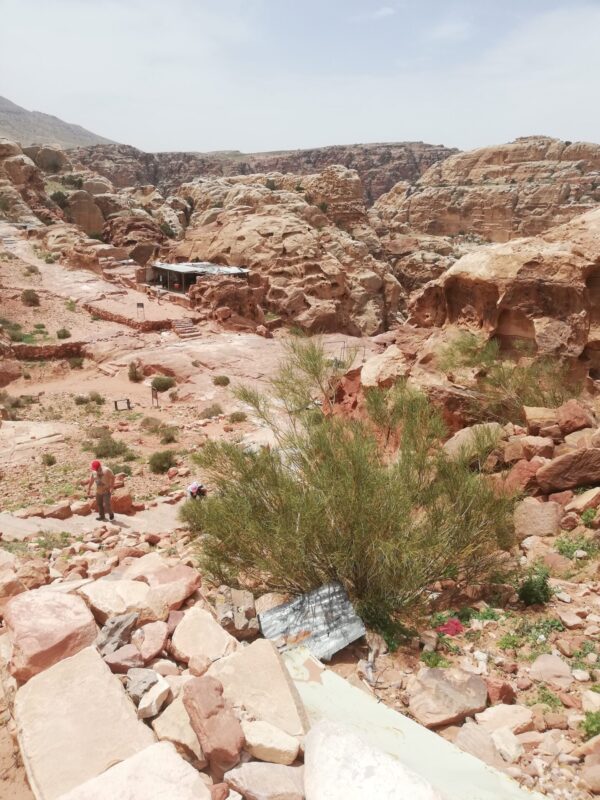 6) The High Place of Sacrifice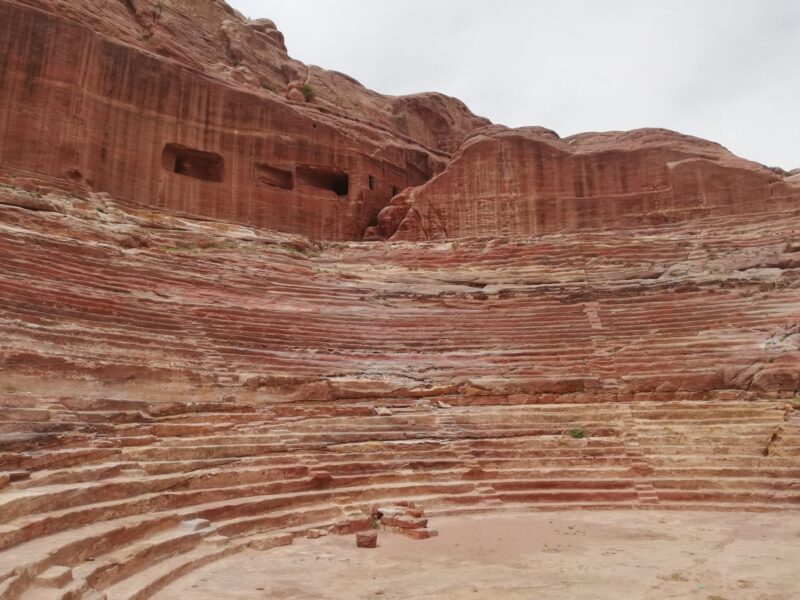 7) The Theatre: Said to be the only theatre in the world cut out of rock. It could hold 4,000 people.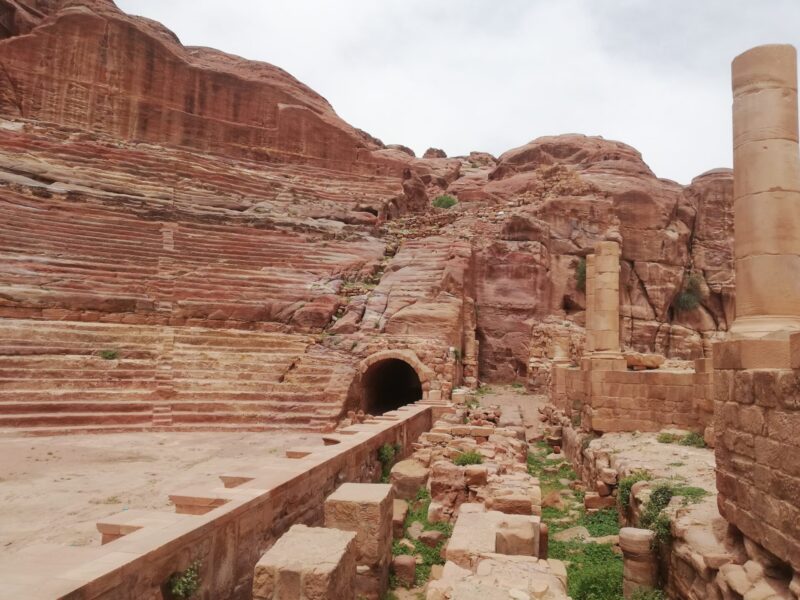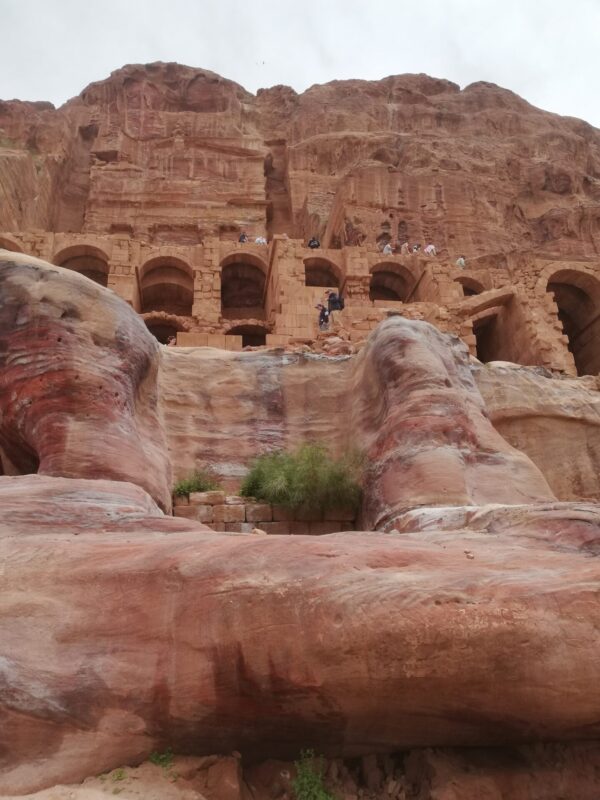 8) The four Royal Tombs I went to see the Umm Tomb with its painted ceiling.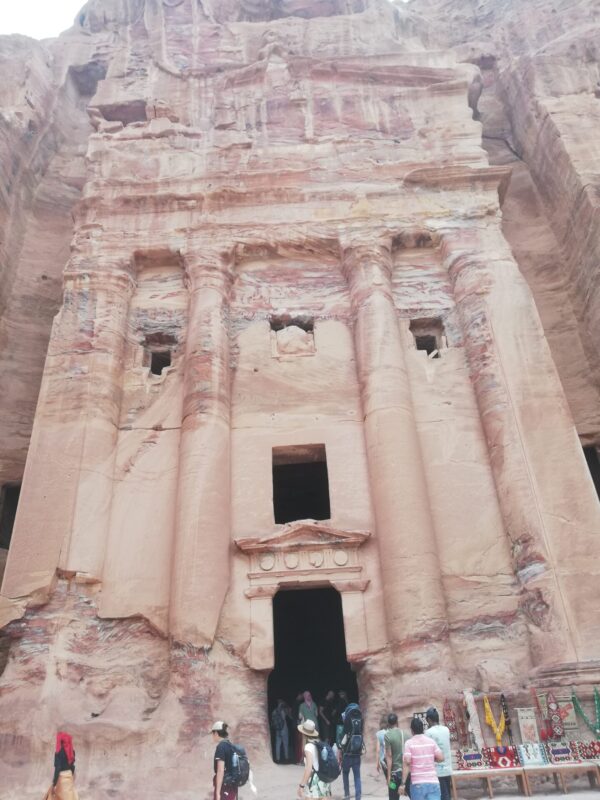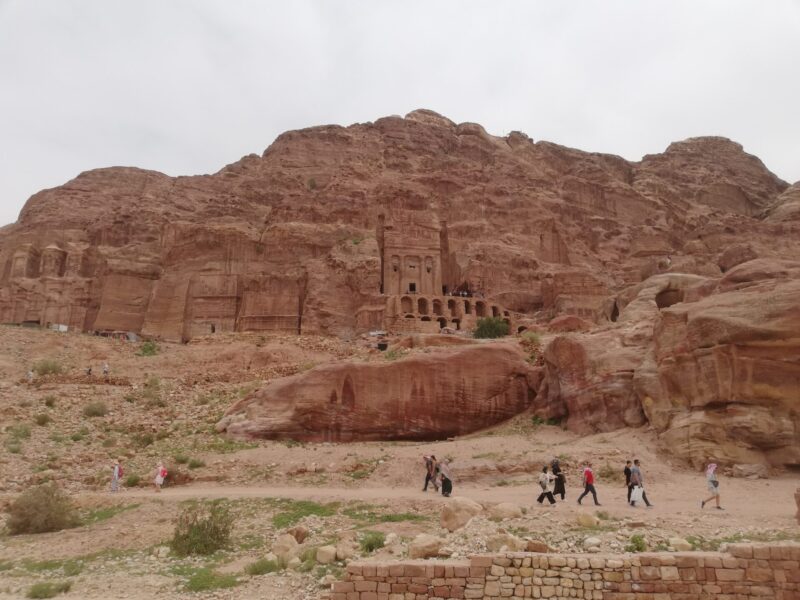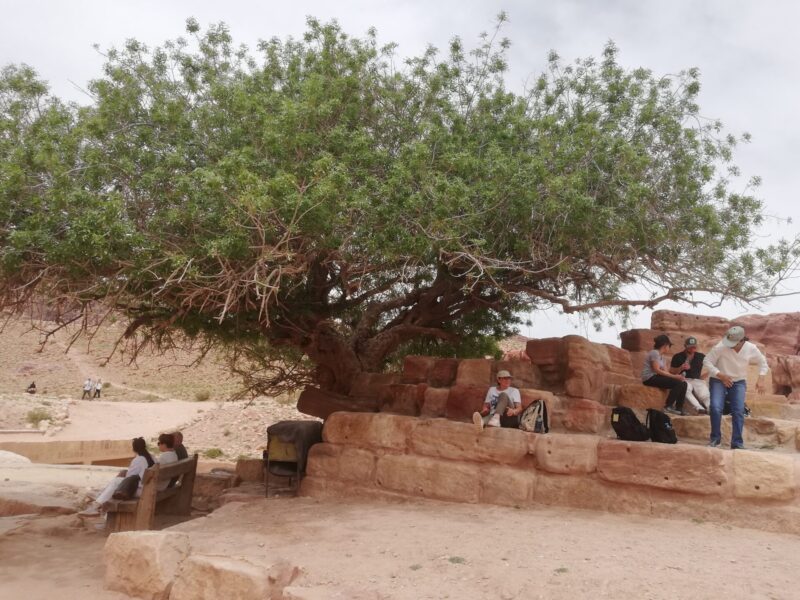 9) The Nymphaeum fountain guarded by a 450 year-old pistachio tree.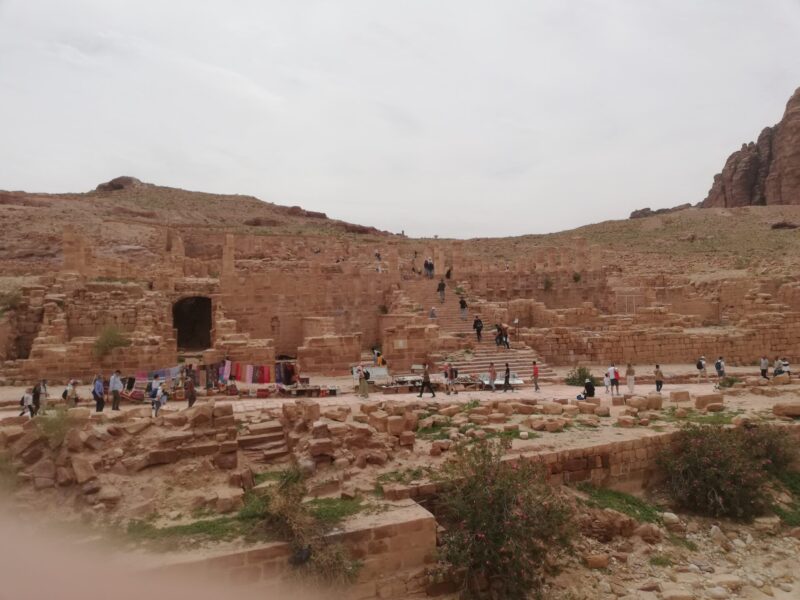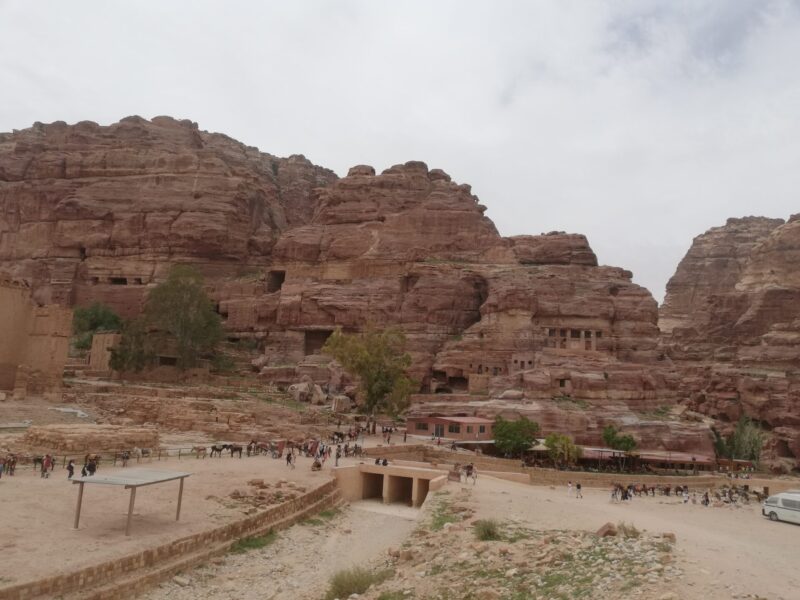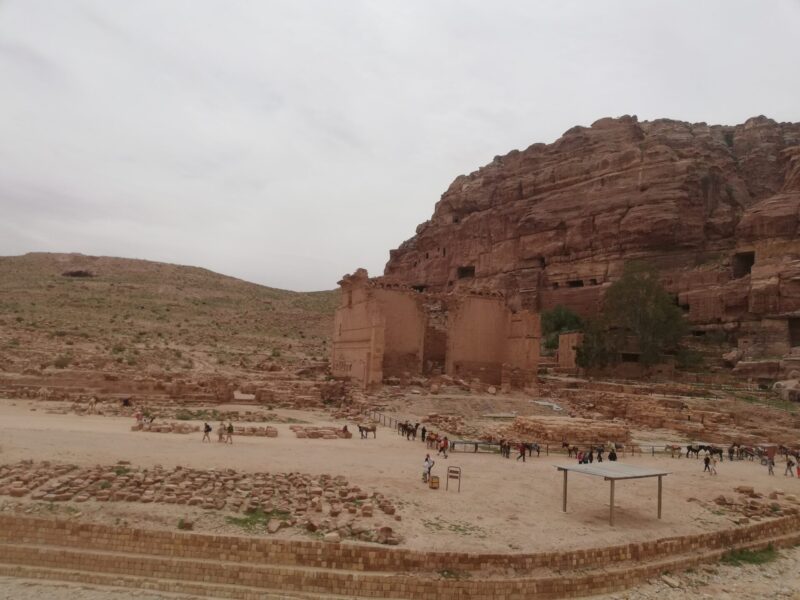 13) Qasr al-Bint. It was the main temple of Petra, dedicated to Dushara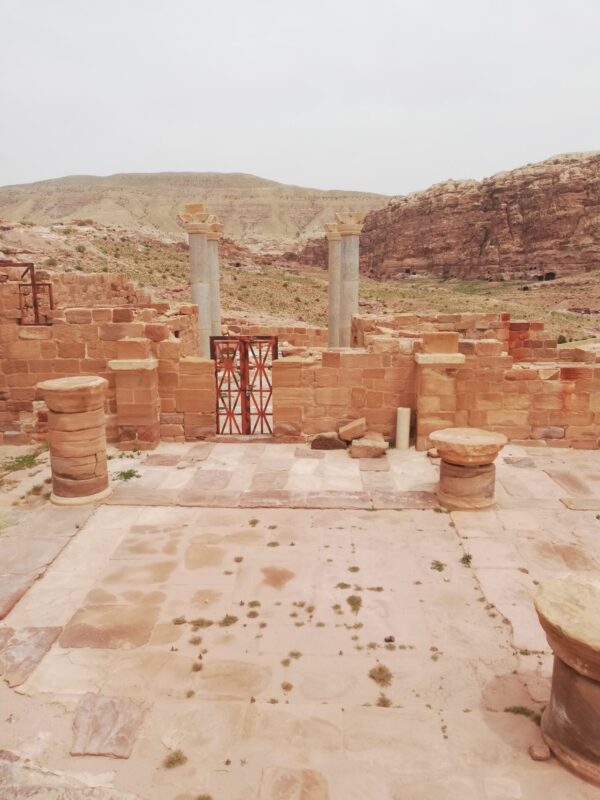 10) A byzantine church built at the end of the 5th century and destroyed by an earthquake.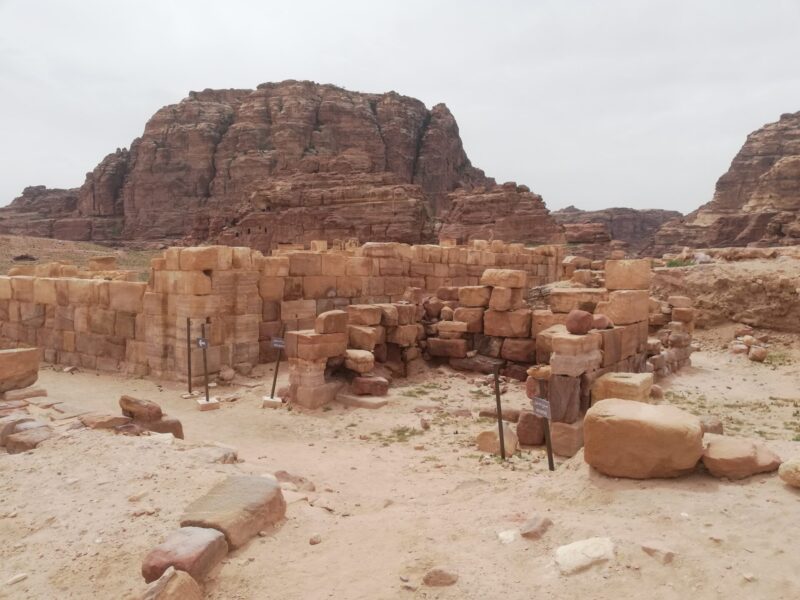 Temple of the Lions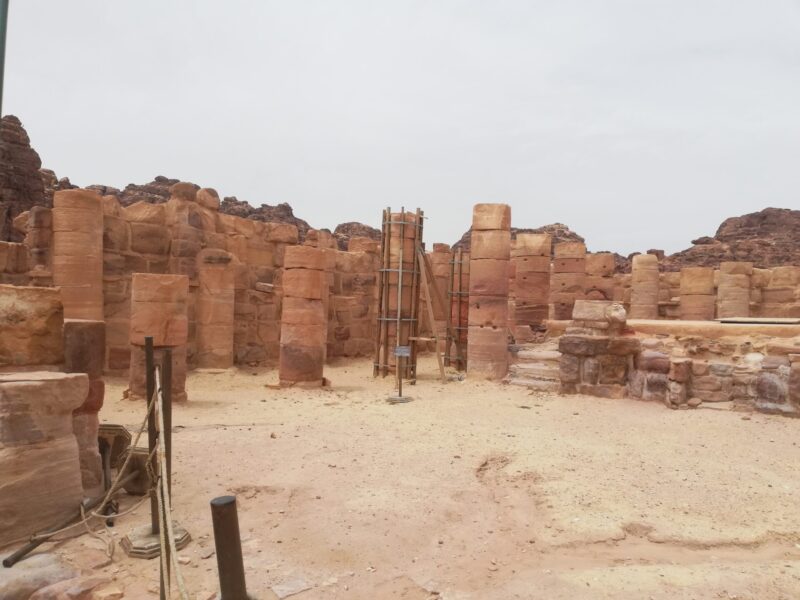 11) The Collonaded Street, similar to that which we saw in Jerash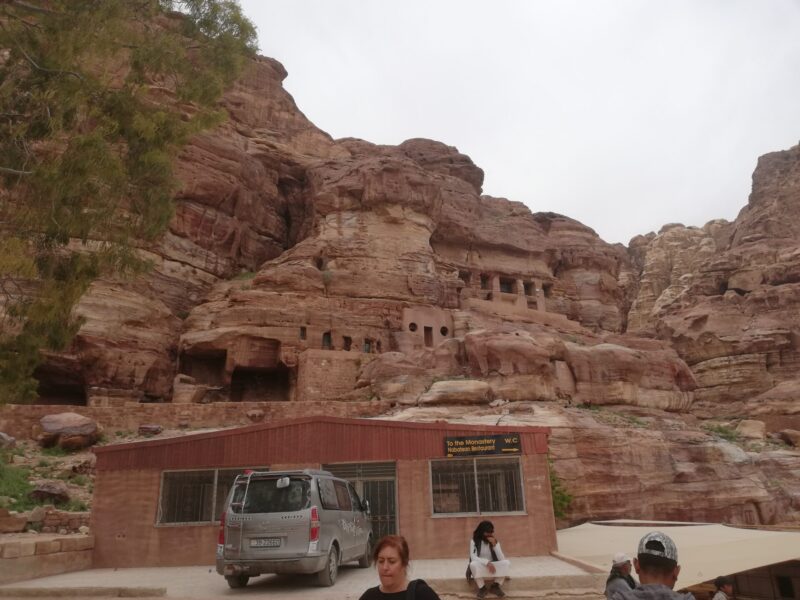 14) The Lion Triclinium, so-called because of the lions carved on both sides of its entrance.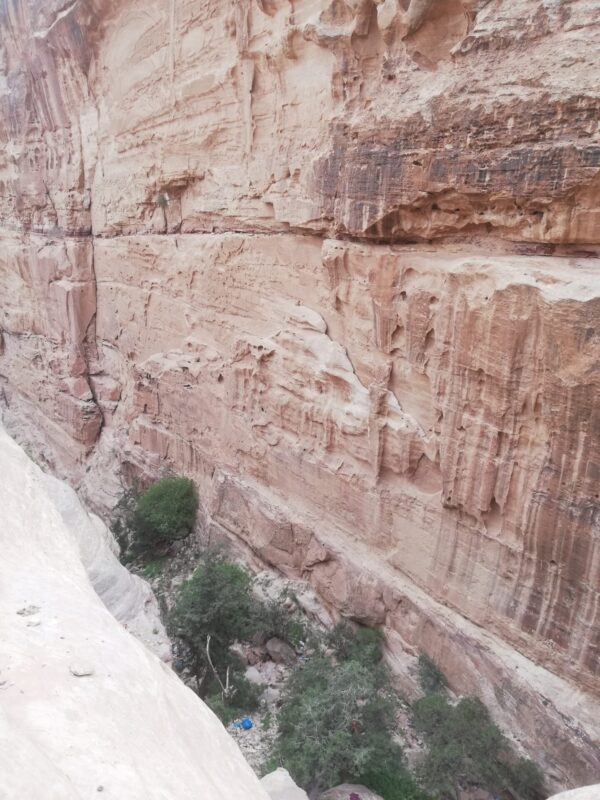 The gorge on the way to the monastery
15) De Ad Deir Monastery, carved in the 2nd century AD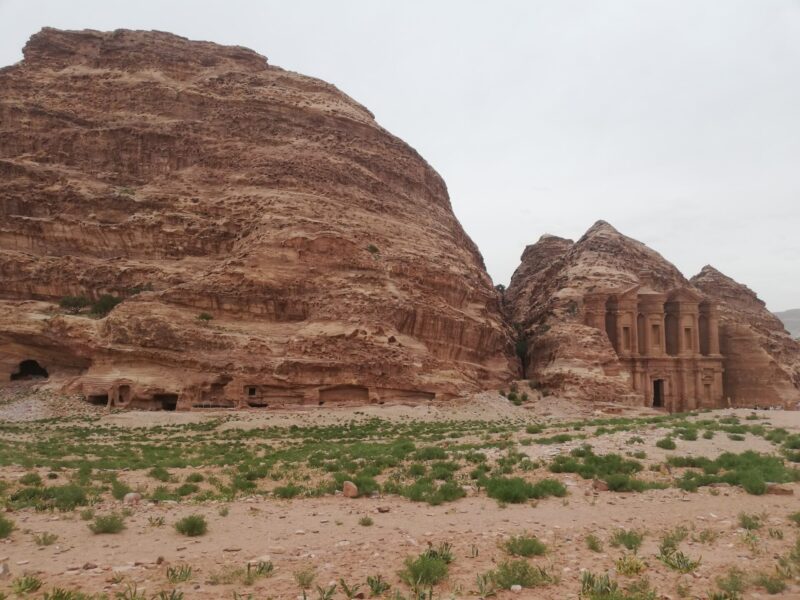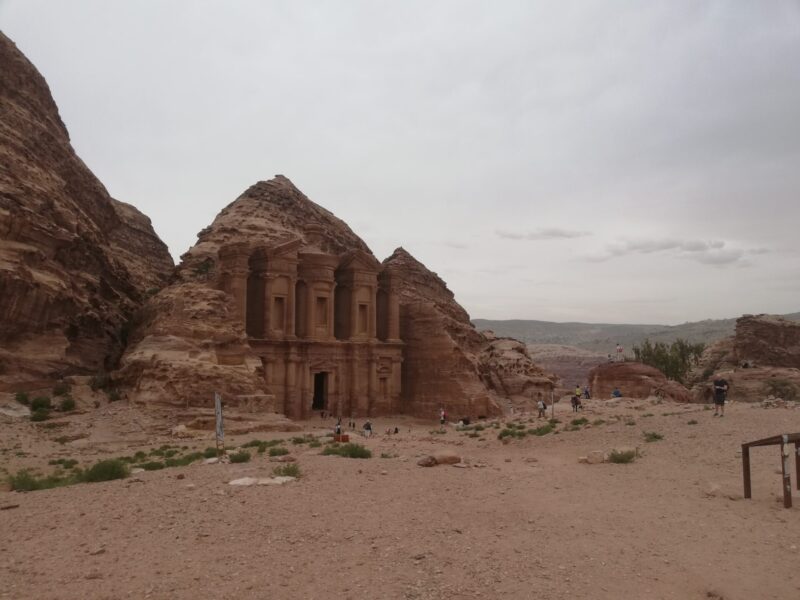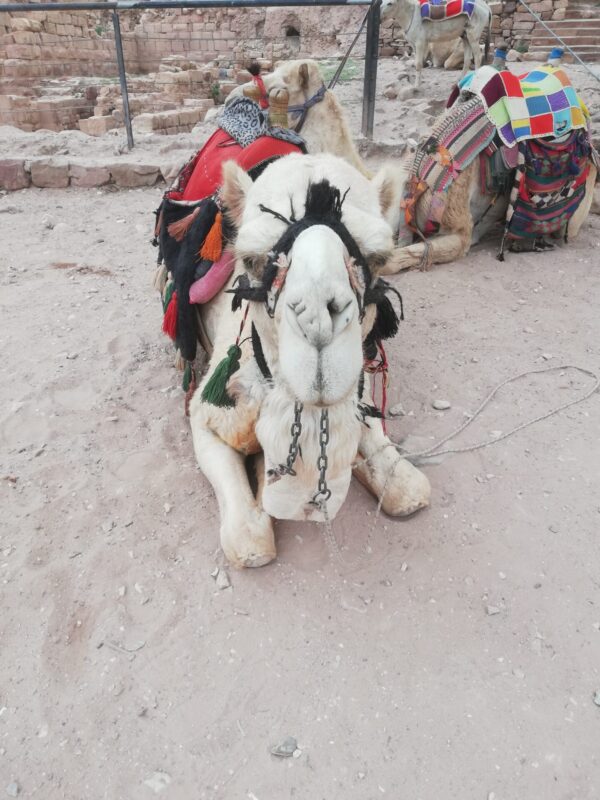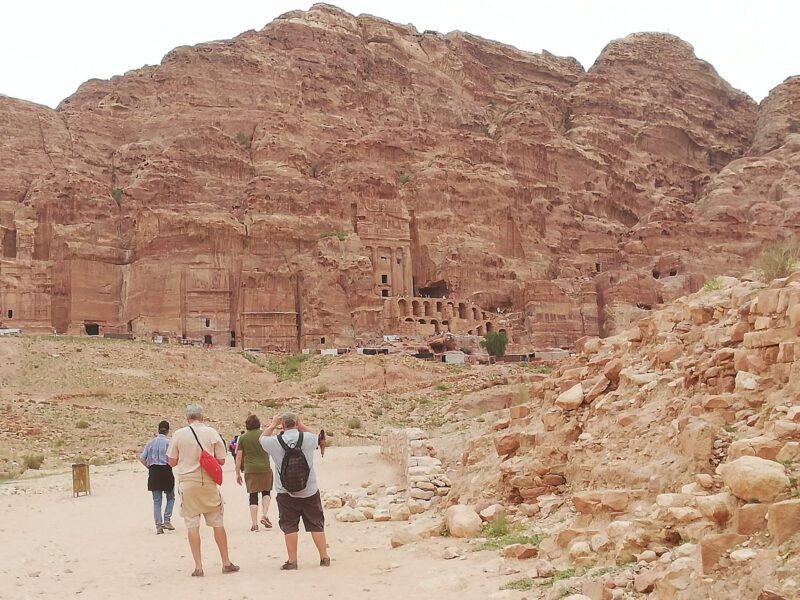 Day 55 (24th April) Petra to Amman
Big problem. I had filled with ad-blue yesterday when the remaining mileage was down to 650 miles. It stuck at 650 then continued to go down. I emailed the only VW centre in Jordan at Amman and drove the 150 miles to arrive and find it closed for the Eid holiday. We spent the rest of the day (and night) parked outside the Nuqul establishment at Na'ur which we had difficulty finding. After asking several people and getting increasingly confused a car drew up alongside and invited us to follow him. I'm sure he wasn't one of the people I had asked but he seemed to know we were lost and where we wanted to go. So we followed him and arrived at Nuqul.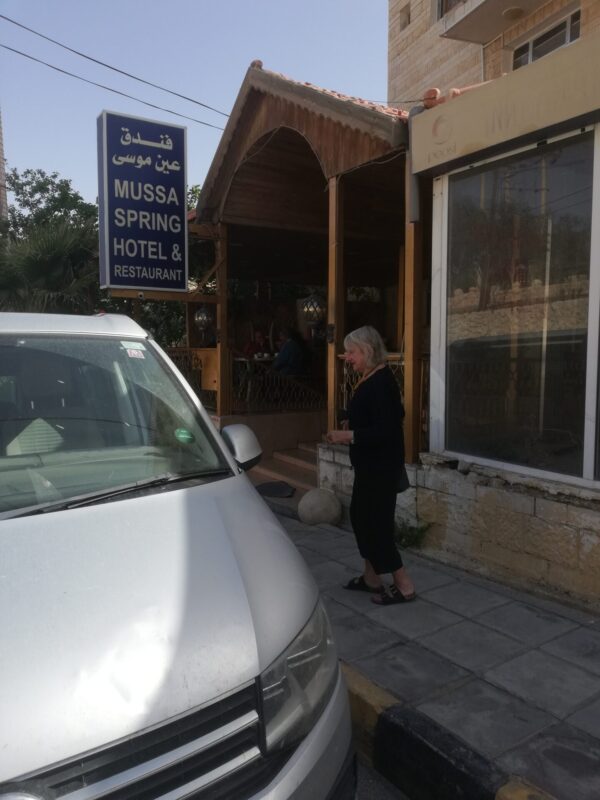 Our hotel. The first to be built in Petra in 1985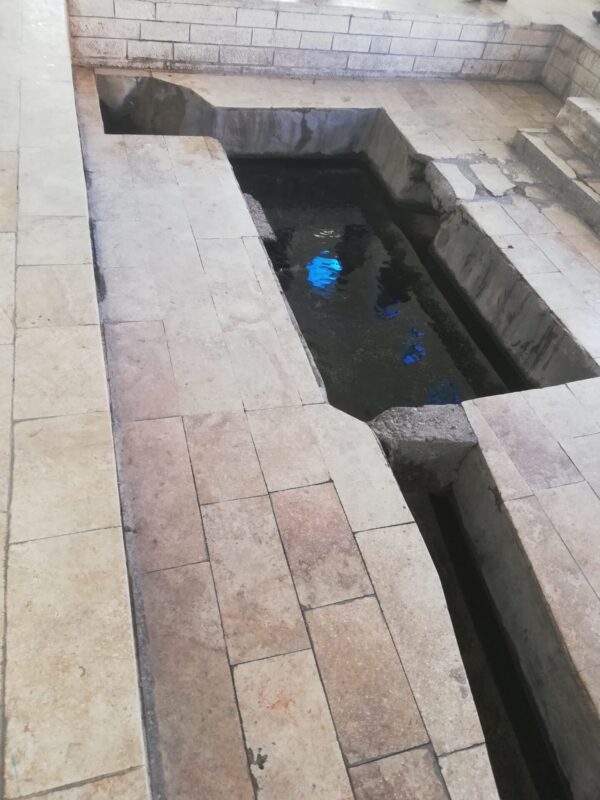 Moses's Spring
Day 56 (25th April) Amman
Nuqul is actually at Na'ur on the south-west edge of Amman on the Dead Sea Road to Madaba and Swemeh on the Dead Sea. A helpful man spent from 08.00 to 16.30 trying to solve the problem but couldn't. His computer suggested that the problem would fix itself if we drove at a steady speed for 30 minutes. So we followed the Dead Sea Road through Madaba and Swemeh to the Dead Sea coast and followed it down towards Aqaba until the ad-blue mileage counter was down to 60. So I turned inland up a series of hairpins to al-Karak and asked about a hotel. A kind man asked us to follow him to the White House hotel where we booked in and ate a sandwich in the van.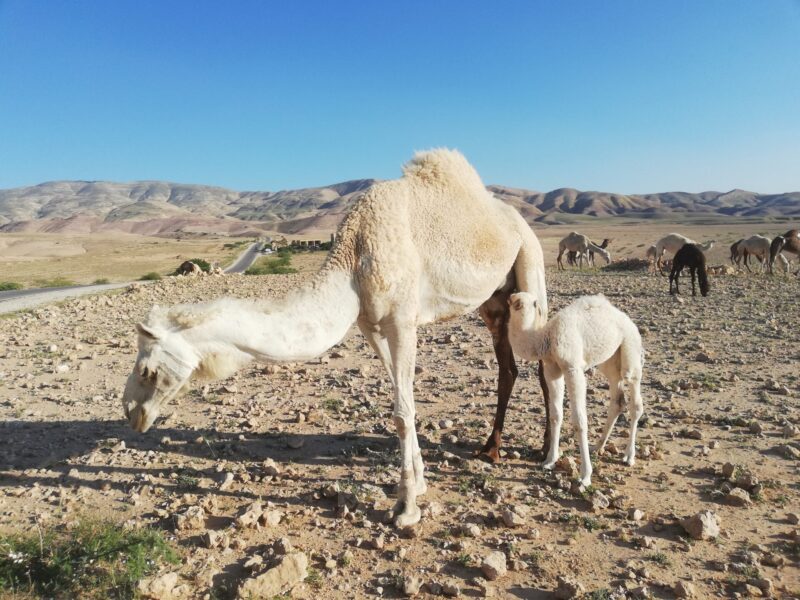 Camels on road from Madaba tp Swemeh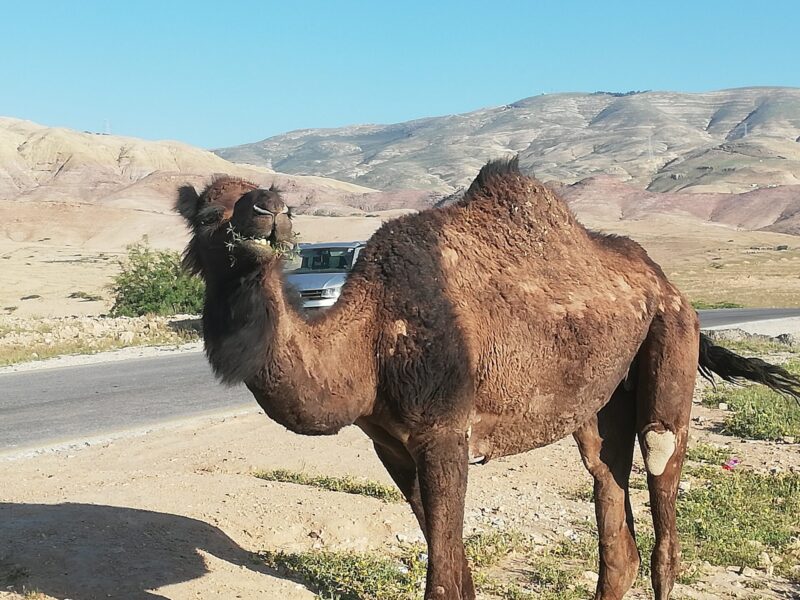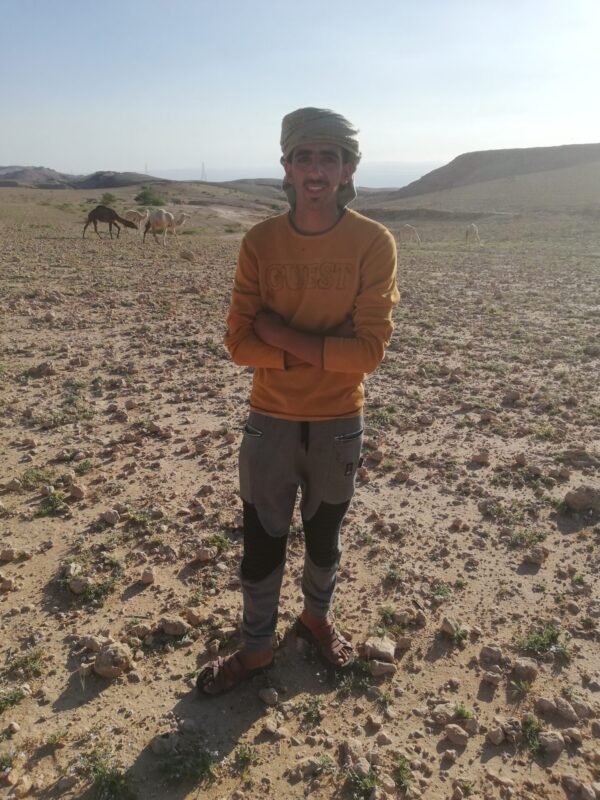 Camel shepherd
Day 57 (26th April) al-Karak
We spent the day at al-Karak and went to see the huge Crusader Castle which was captured by the Saracens and then rebuilt. We spent another night at the White House Hotel and had a long chat with its owner Sam, an 80-year-old Australian of Jordanian extraction whose wife and daughters still live in Australia while he has returned to al-Karak. His assistant Chris, a young girl from Ghana who, like Sam, is a devout Orthodox Christian, cooked us a beautiful evening meal and washed our clothes. It is an eccentric hotel and we loved it. Sam's friend suggested the ad-blue may be the wrong type and went out and found us a huge plastic can of Jordanian ad-blue for 10 dinars (£15)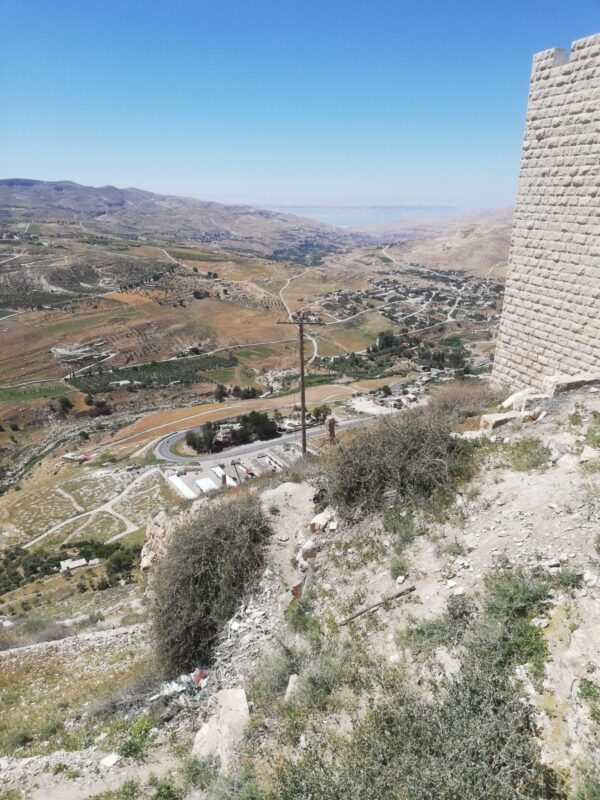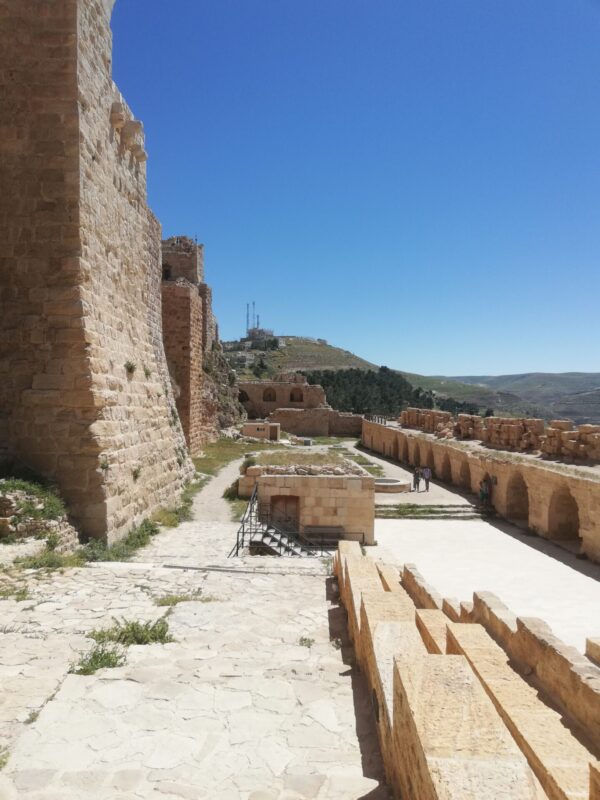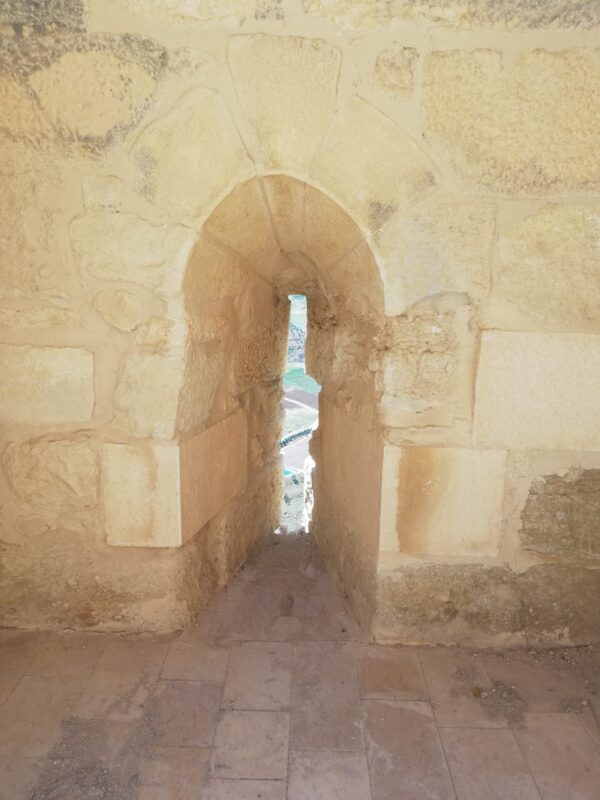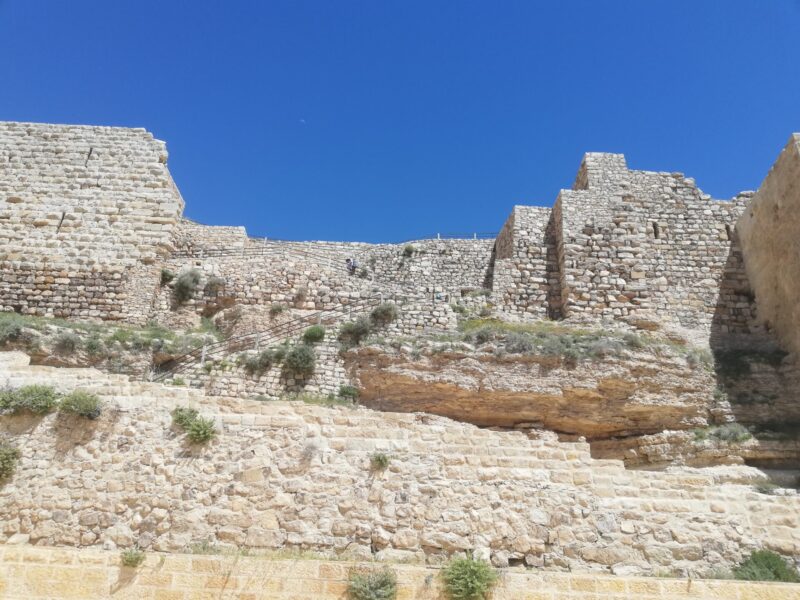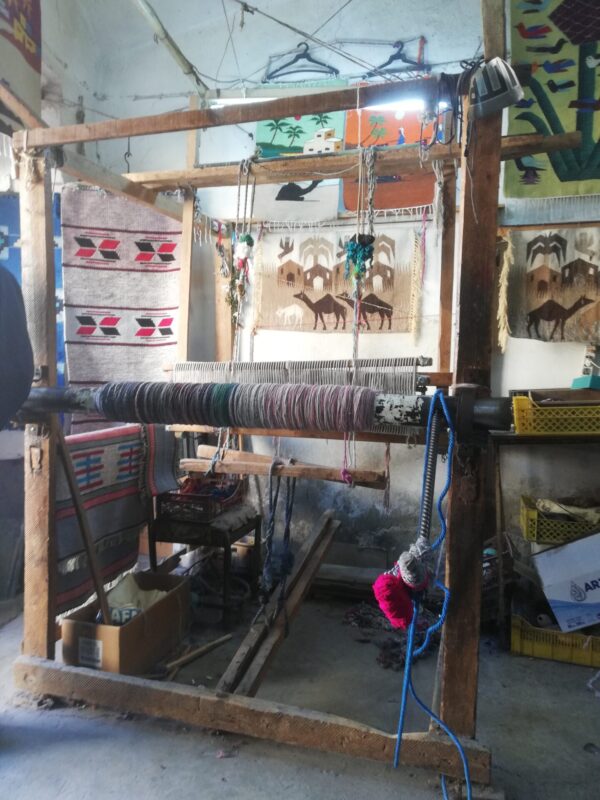 Day 58 (27th April) al-Karak to Amman
I drove to al-Qatrana on the Amman-Aqaba motorway and stopped at a garage to ask for a mechanic. A man tried various possibilities without success including draining out the ad blue and filling with the new stuff. No good. So he took us to a place in al-Karak where a man with a computer tried to diagnose the problem without success. The man from al-Qatrana then contacted a tow-truck man who loaded our vehicle on his tow-truck and drove us to see the lovely Amer Fayz Masha-erh in Amman who with his equally lovely wife and children took us in, ate a beautiful traditional Jordanian meal with us, and urged us to sleep in his living room for the night. We then spent until 1 am trying to fix the van and finally gave up, hoping for better success on the following day.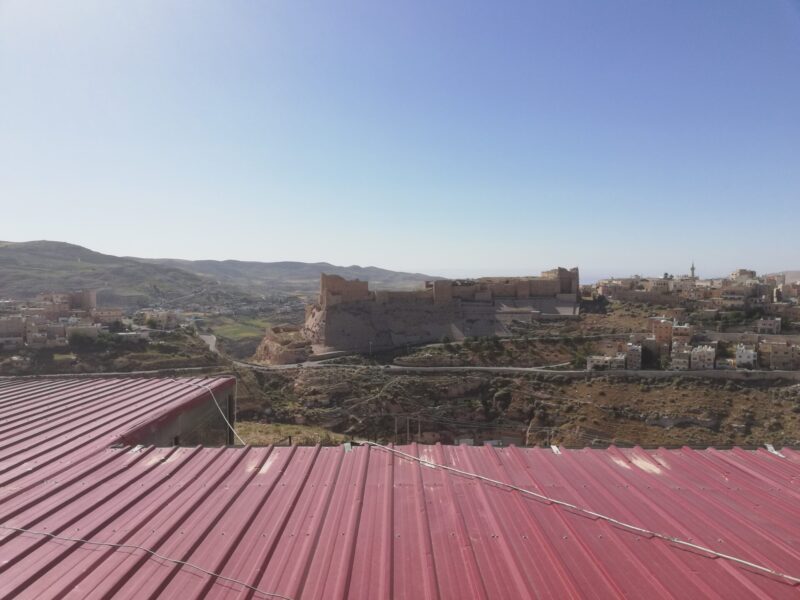 The castle from a restaurant waiting for the tow truck
Day 59 (28th April) Amman
Much time was spent by our dear friend Amer on the van, trying various options before it was discovered that the pump feeding the injector was not working at the correct pressure. As it was Friday (the Islamic Sunday) the workshops in Al-Bayader (thousands of them) were closed so we didn't do much. A relaxing day. In the evening we went to eat a traditional Jordanian pudding called knafeh, which was quite different to anything I had ever eaten before. You can see on Jennifer's facebook what it consists of. We then went to see the Coliseum with Amer and his three brothers and their wives and cousins. I'm not sure whether his sister and her husband were there. There were so many people I lost track of who was who. The Coliseum was built in honour of Emperor Antoninus Pius (138 to161 AD), when Amman was called Philadelphia, and it held 6,000 spectators. It was mainly used for plays but Amer showed where the prisoners were kept prior to public executions. Some Palestinian boys were dancing in a circle with much kicking of legs to music from a large ghetto-blaster and kiddies were kicking footballs about. One ball came to me and I kicked it back; the small boy said (in Arabic) "Thankyou my dear uncle".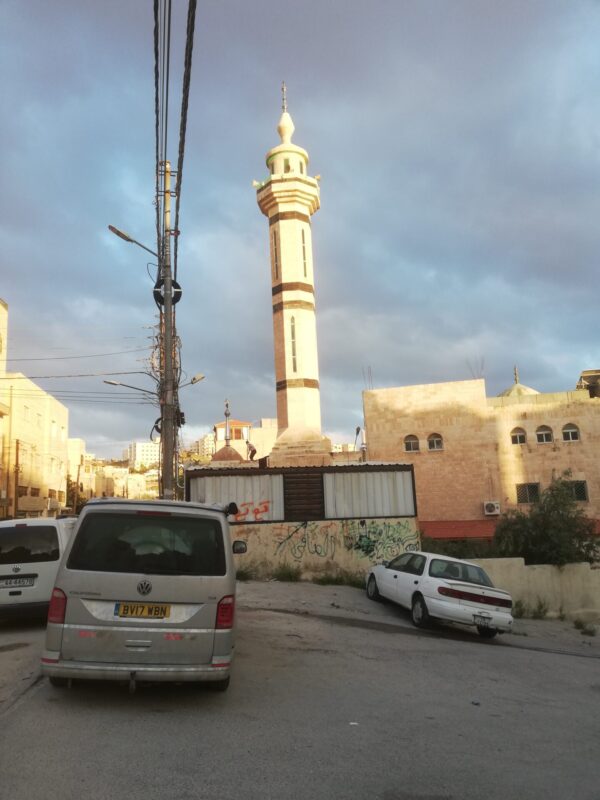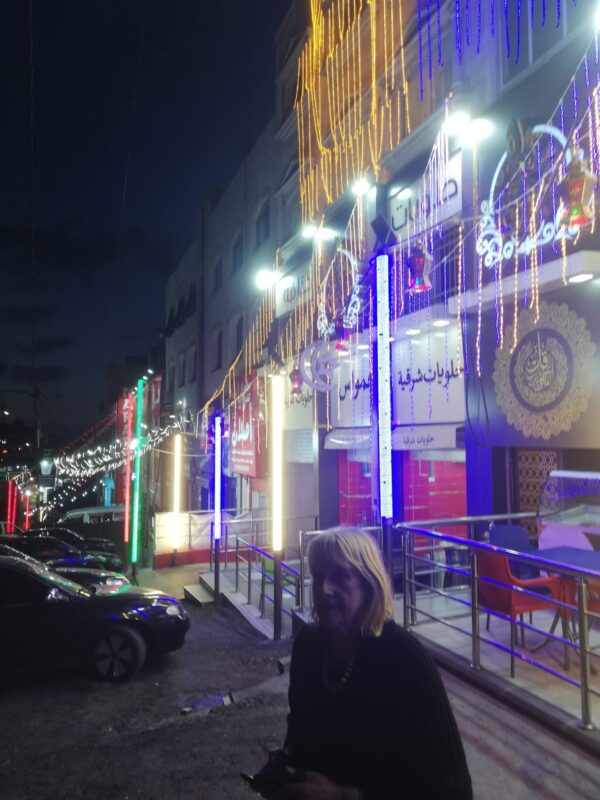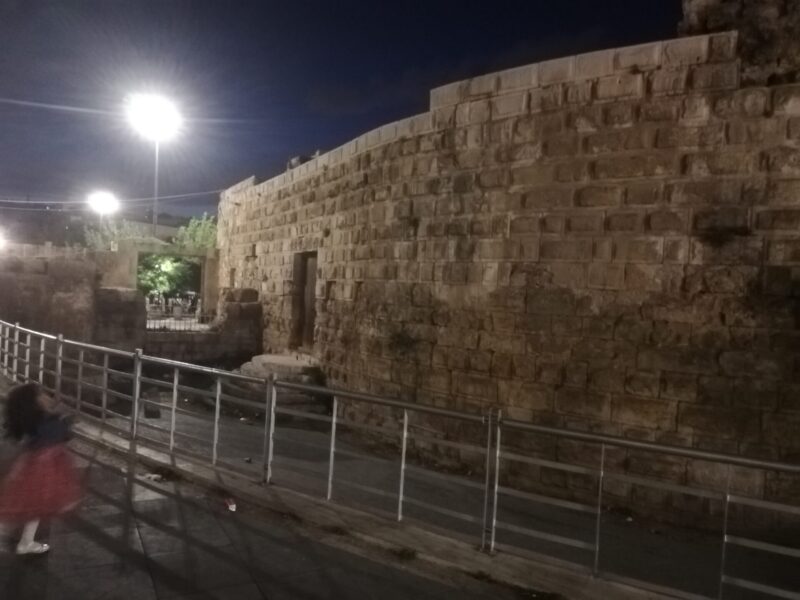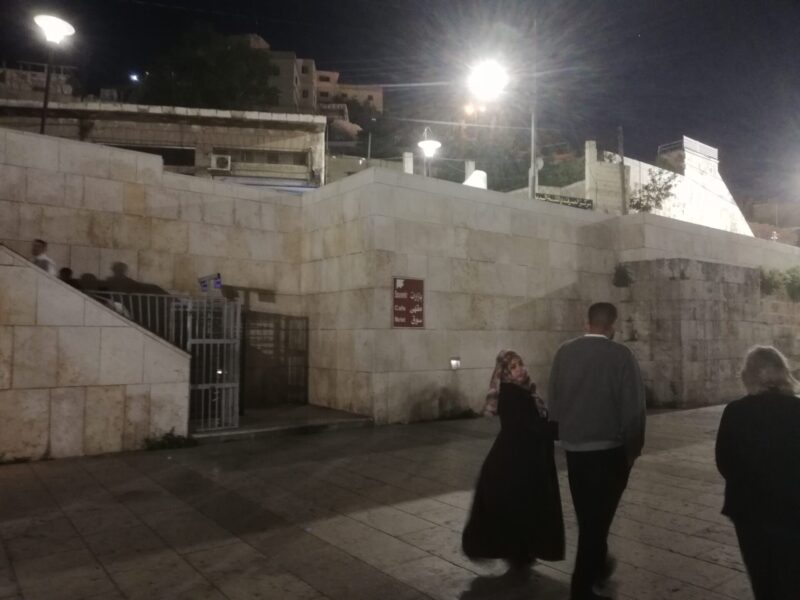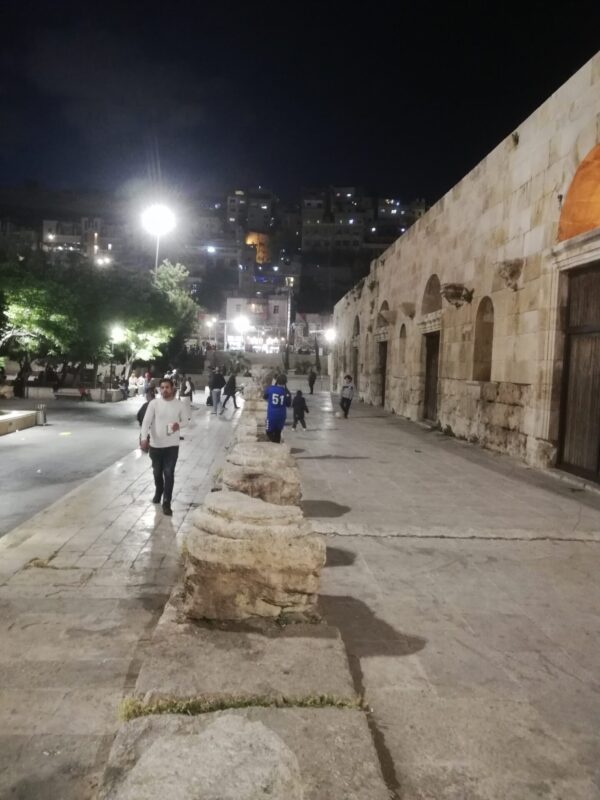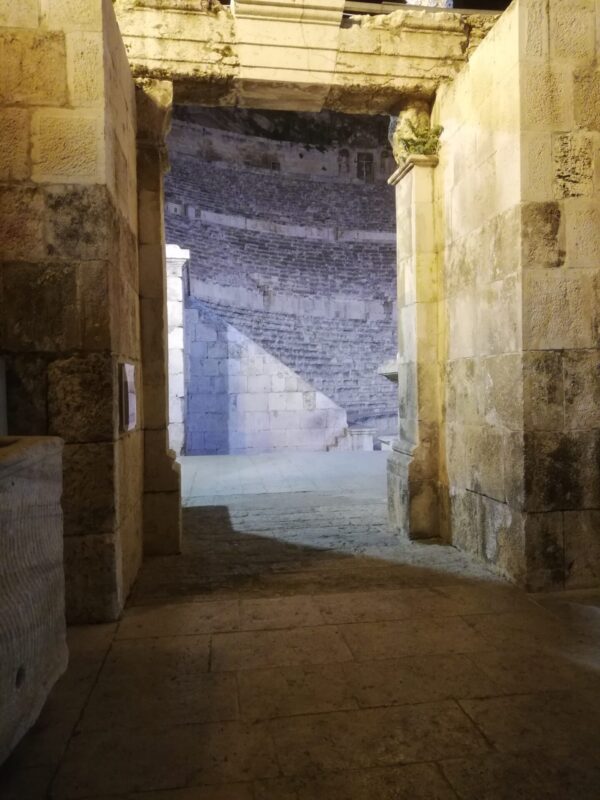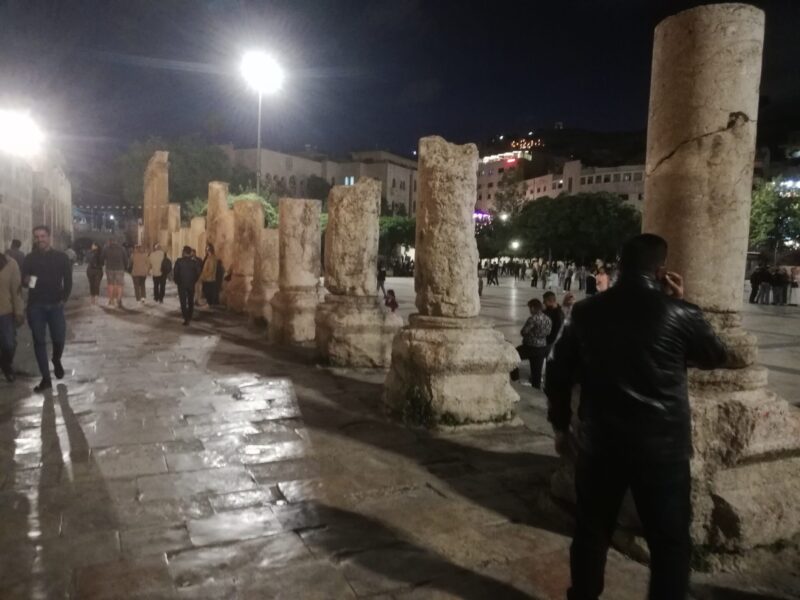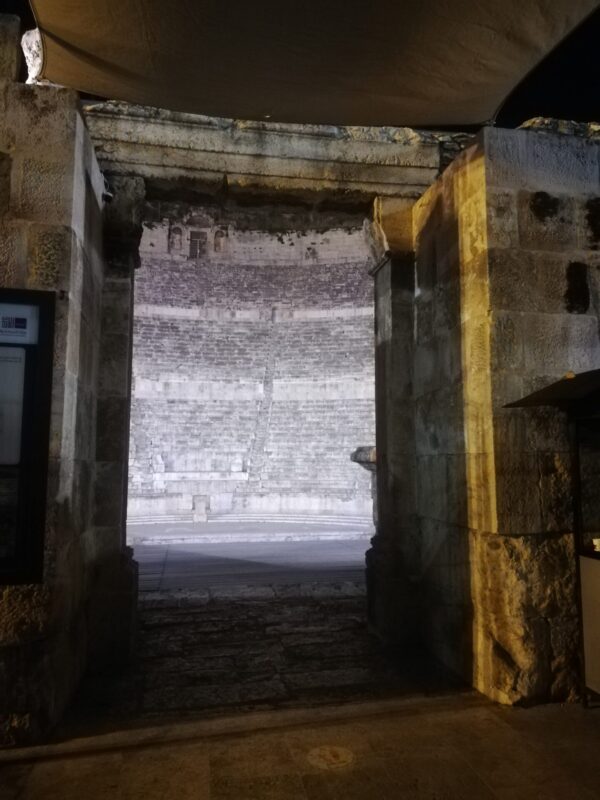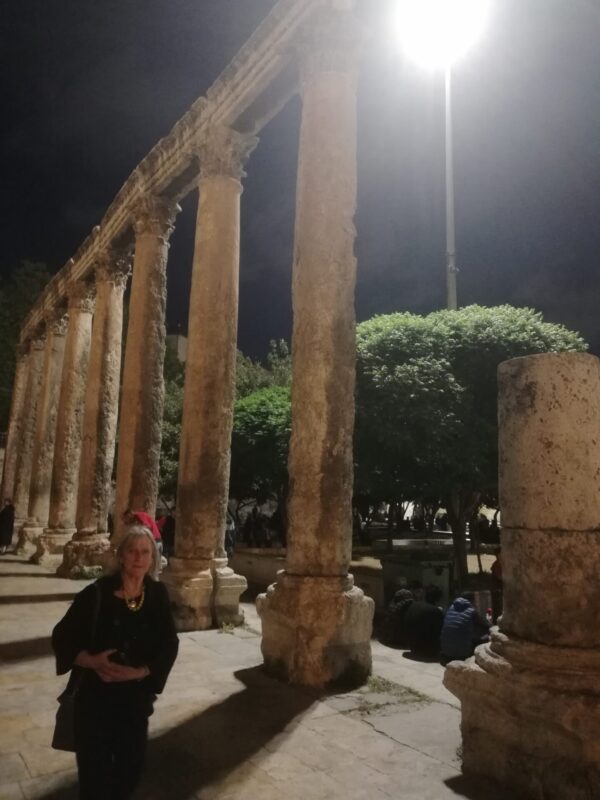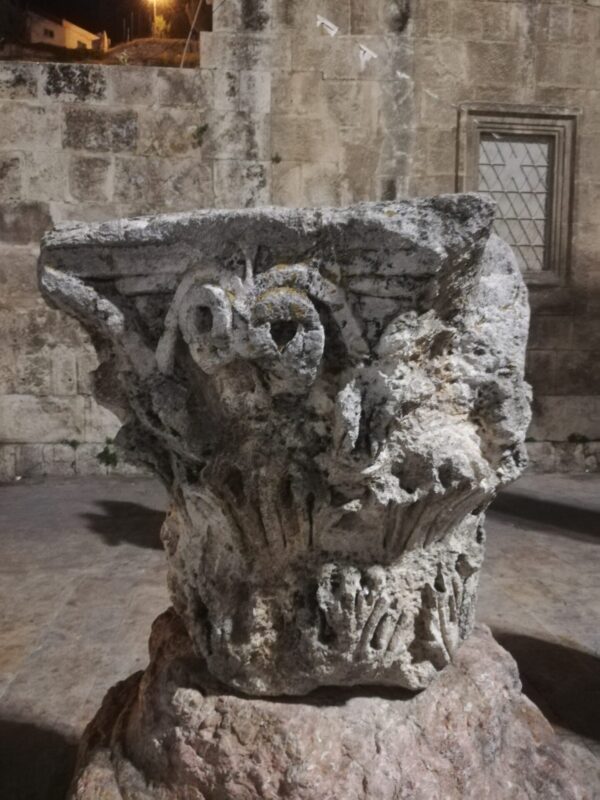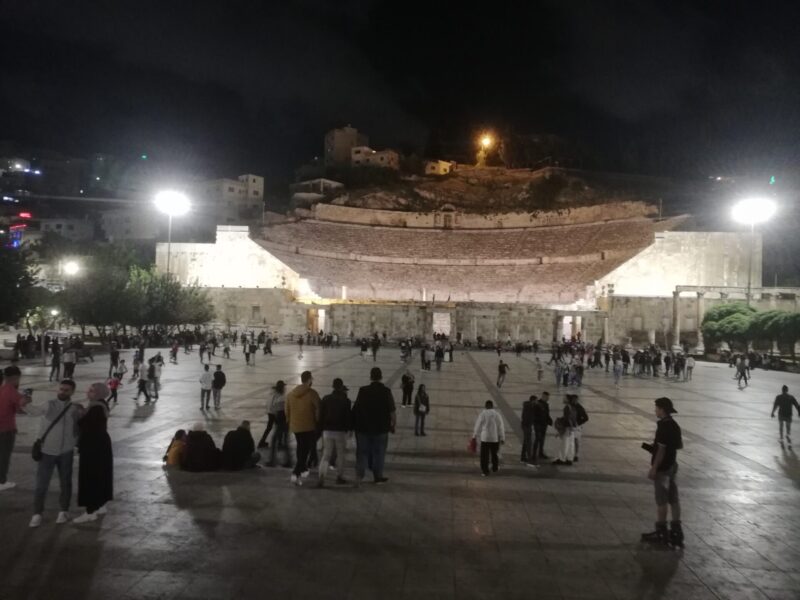 Day 60 (29th April) Amman
We went to Al-Bayader and toured numerous workshops until an 80 year-old man came up with a second hand pump for a Caddy. Amer fitted it and it worked but the van's computer didn't recognise it. In the afternoon we had a barbecue on top of the house in which Amer and his family live. The shish kebabs were delicious and Jennifer volunteered to help make them. We stuffed ourselves because Amer's youngest brother Wael kept putting more into our hands and not accepting that we had eaten enough. We also drank the Jordanian equivalent of airan (yogurt mixed with water) which was more fermented that the Turkish equivalent and had a slightly bitter taste. Very thirst-quenching.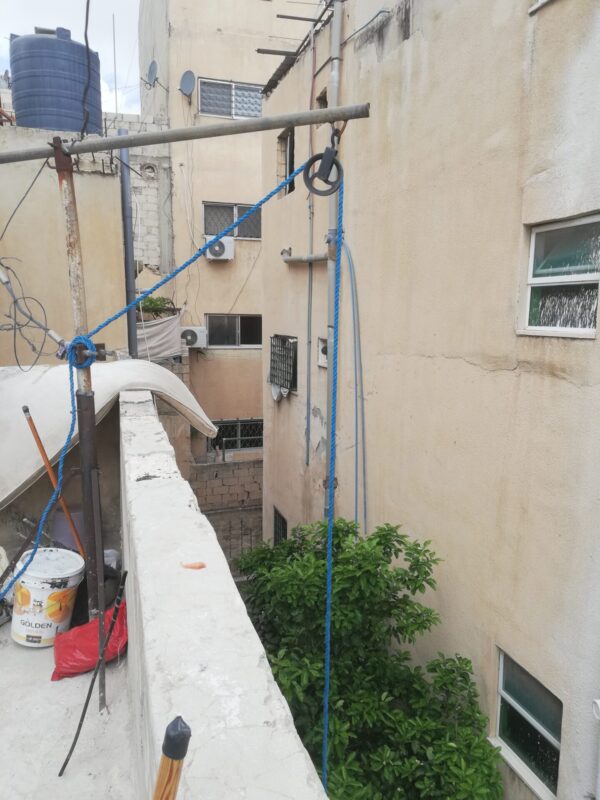 The means of raising barbecue stuff from the ground to the roof.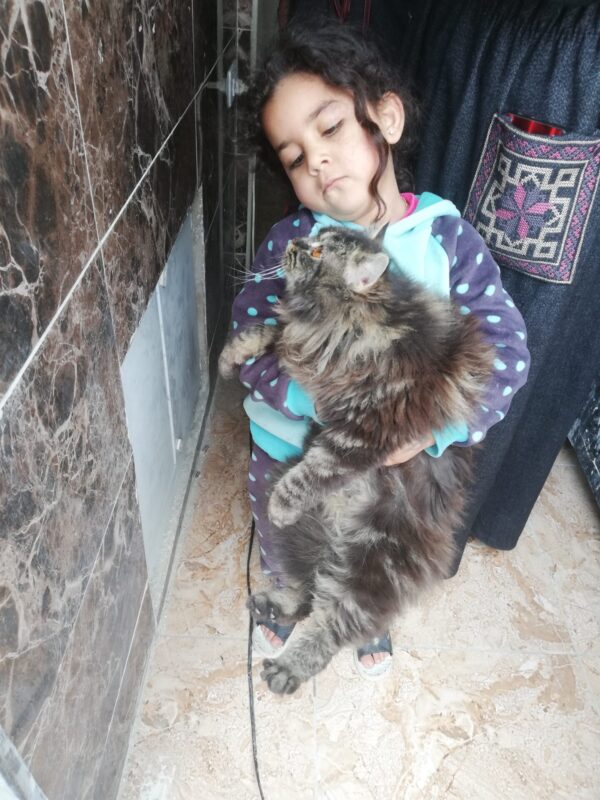 Mira with Waels cat Kofte
Barbecue
Day 61 (30th April) Amman to Aqaba
We decided to leave the van with Amer while he ordered a new pump from the Nuqul VW dealer and continue our travels by public transport and hotel. I looked at the California Club forum to see whether anyone had responded to my plea for help over the adblue problem and several people had written about my previous (floppy clutch) problem.
Amer took us to the bus station where we bought tickets for the bus to Aqaba. Jennifer had to sit near the back with the women while i sat near the front next to a very large man who required one and a half seats while I got half a seat. He wasn't fat, just large and not the sort of person you want to argue with. He took out a bag of little round pastries filled with almond paste and gave me one.
When we got to Aqaba we got a taxi to take us to the hotel Jennifer had booked through Booking.com, only to discover that the official address was "Aqaba, Jordan". Aqaba has at least a million hotels!. The "How to get there" facility showed the hotel to be in Kuwait Street, which has half a million hotels. I rang the phone number and an aggressive man said he didn't know the address but would phone me back. He didn't. So we got a taxi and asked the driver to take us to a 30-dinar hotel, and we finished up in a really nice place. The owner also took us to the nearby travel agent where we booked two return tickets for the ferry to Nuweiba in Egypt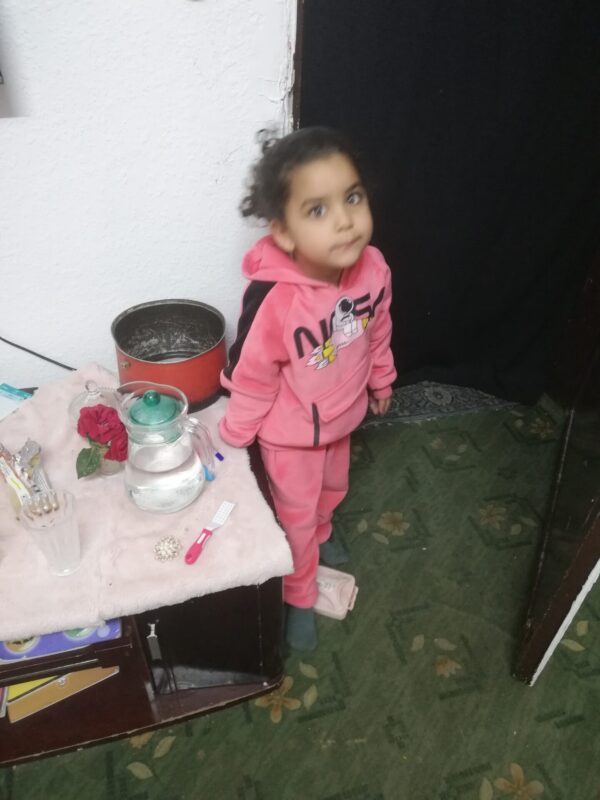 Mira came to tell us she was going to the medresseh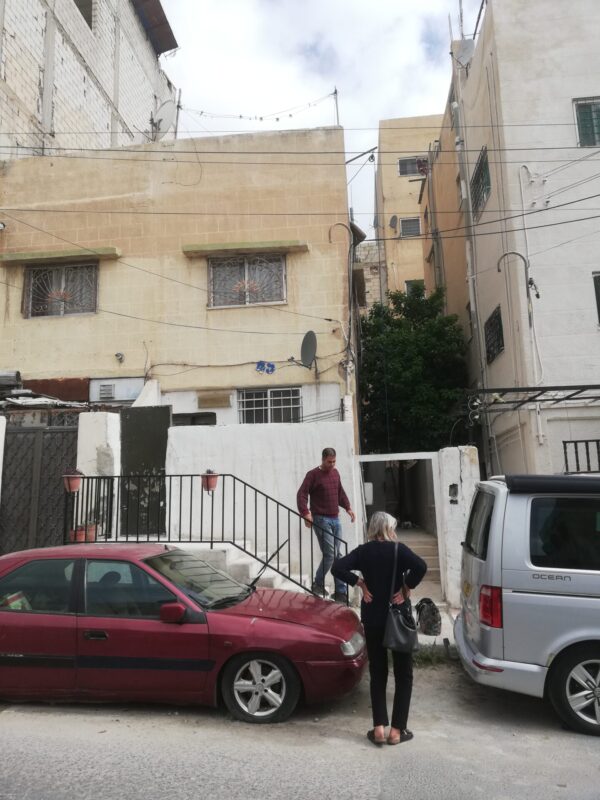 Amer's house in Amman