We set off as soon as we woke because we thought it a bit cheeky to eat breakfast in the car park of a restaurant. We were flagged down by a man whose car appeared to be broken down, and took him and his wife and two small children to Karakor. We drove out of Karakor and stopped at the side of the road for breakfast. Jennifer then put the insides of the van in order. The Naryn river flowed westwards through a dramatic gorge with towering cliffs and was generally a beautiful greeny blue because it was actually the upper reaches if the reservoir for the Naryn hydro station. Further to the west, the scenery was remarkably similar; this time it was the reseroir of the Tashkumyr hydro station. Tashkumyr city was on the other side of the river from the road and looked fairly large, but our road didn't run through it.
From Kochkor Ata, the principal crop is onions and a huge number of roadside stalls were selling them by the sack. Some stalls were also selling tomatoes and we stopped to spend our last 200 som of Kyrgyz money (about 20 pence) to buy a few. In fact we got a huge bag full. Cant say that they were quite as nice as the beef tomatoes we get with salads.
Got lost in Jalalabad and finished up at a little-used border crossing with Uzbekistan where a friendly soldier lead us in his car to the right road. Then got lost in Uzgen but were able to see the 11th century minret and nearby 12th century mausoleum. Finally reached a T-junction on the outskirts of Osh where the bankomat at a bank didn't like our cards, probably because it was empty. We then bought more grub at a supermarket and finally bedded down for the night at the side of the road about 10 miles south of Mady.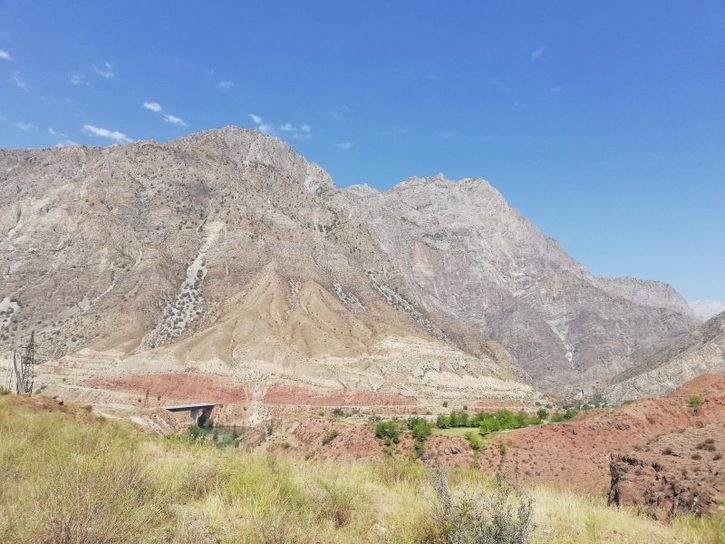 Landscape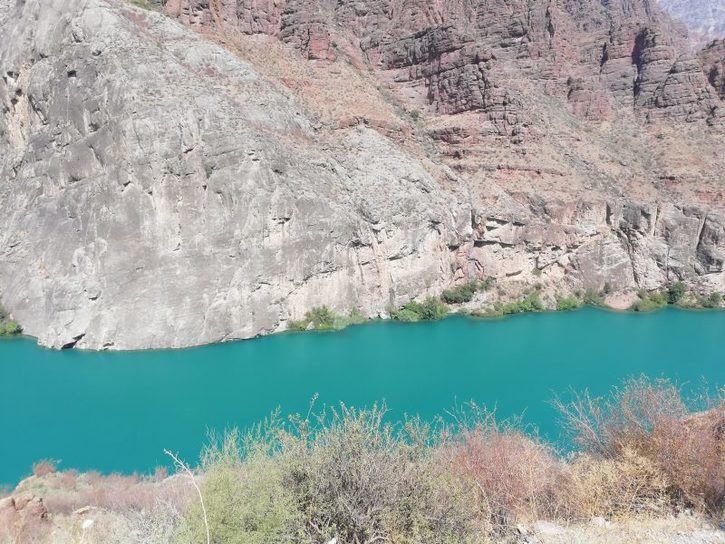 Naryn Reservoir